The bohemian look should not be limited to major rooms like the bedroom and living room. It is still possible to achieve a bohemian bathroom as long as you know how to buy the right décor pieces. Achieving this look involves learning how to combine different décor pieces.
Image: R E E N A
The different pieces will help you to create a unique and functional look. Designing a bathroom might be a little bit tricky because you need to make the bathroom functional and interesting at the same time. Here are some ways to add a bohemian touch to your bathroom:
Add plants
We can never talk about a bohemian look without talking about some greenery. It is important to add some plants to the bathroom to achieve a lively look. There are some special plants that you can plant in your bathroom since they can survive in all conditions.
The Aloe Vera is a good plant for indoors, and it grows in extreme weather conditions. Including plants in your bathroom will bring out the native look which is an important part of the bohemian look. Always combine different plant species to avoid monotony.
Image: H&M
Combine different texture
A bohemian look is all about texture. You need to make sure that you combine different textures to achieve the kind of look that you want. There are various ways of adding texture to you bohemian bathroom. One way to do it is to change the plain floor tiles in your bathroom and replace them with textured ones.
You can also add rugs in the bathroom to enhance texture. In a bohemian look, rugs are not just for the floor. Wall rugs are also important, and they will help create a beautiful look. The best thing about a bohemian look is that décor matching is not a rule.
Image: Apartment therapy
Art is everything
You need to introduce some art into your design. Bohemian art is mainly about animals, and you can introduce some animal art into your design. One of the ways to introduce art in your bathroom is by using animal design hardware.
Replace your normal knobs with animal inspired knobs. When it comes to art, it is the small things that matter. Woven art is also an important part of art, and you can use woven wall art in your bathroom.
Image: Hem & Antik
Colorful or minimalist
The best thing about a bohemian look is the fact that you don't have to be limited by color. It is possible to go for a minimalist look with black and white color pallets. On the other hand, you can go for the full bohemian and paint your bathroom with interesting tropical colors.
Image: Anthropologie
Image: Design*Sponge
Image: Leah Hoffman
Image: Design Sponge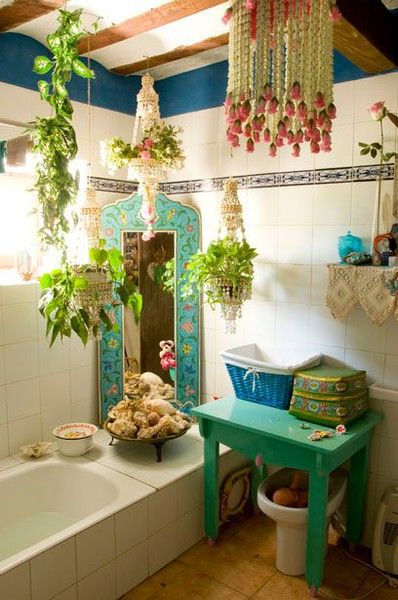 Image: Domino