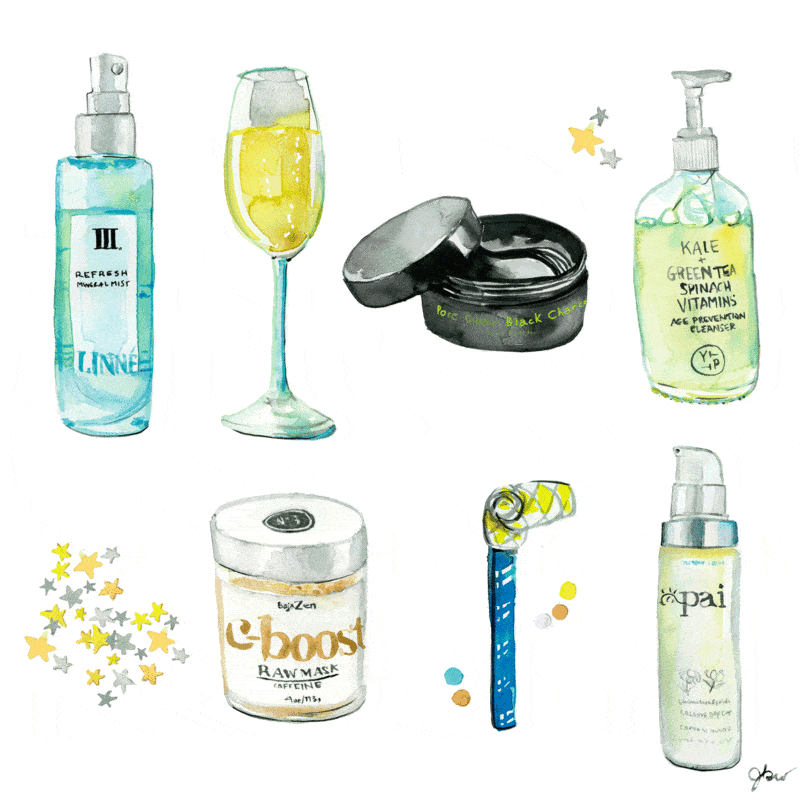 If late nights, salty foods and rounds of alcohol have gotten the best of your complexion, here's your five-step reset.
At this point in the holiday season, much of your diet has probably come from a passed tray — a grilled cheese bite here, a flute of champagne there, a handful of salty nuts. Striving for balanced eating and drinking in the midst of holiday merriment is something that eludes even the best of us. Unfortunately, your complexion is not always so well equipped to handle all the late nights, sodium-rich foods and steady alcohol consumption. The next morning often brings a kind of redness and puffiness that's best described as "the party is over" face. In normal times, this swelling and blotchiness fades away by noon. But when you don't have time to fully rest and recover in busy periods, it can — seemingly —take forever for you complexion to normalize again.
That's when you need a fast-acting solution to calm your skin and make everything good again. This 15-minute, five-step routine is designed to do just that — and make your face, if not the rest of your body, appear healthy and well-rested, until the next invitation hits your inbox.
Step 1: Rinse with cold water and a calming cleanser.
Start taking down redness with a cold-water splash (literally splash your face with cold water for a minute or two; it constricts blood vessels and really works). Then wash with a gentle cleanser like Youth to the People Gel Cleanser, which contains green tea and chamomile to tone down blotchiness.
Step 2: Patch it up.
K-beauty import PureHeal's Black Charcoal Eye Patches deliver a concentrated dose of hyaluronic acid to instantly plump creases and smooth under-eye wrinkles. Purifying charcoal powder, meanwhile, removes dulling pollutants to help brighten up your eyes. Insider tip: Store the patches in the fridge for a nice, cooling effect that also reduces swelling.
Step 3: Try a quick caffeine mask.
The secret to getting rid of puffiness in a hurry is to boost your circulation and stimulate some lymphatic drainage — all of which can help minimize facial bloating. BajaZen's Raw Caffeine Mask combines pure coffee with cocoa and bentonite clay to clear out pores and rev up your body. Mixing the mask with water forms a paste that you can gently massage on (pressing with circulation motions) before letting it dry and rinsing off.
Step 4: Mist, mist, mist.
When your skin is in recovery mode, you really can't max out on hydration. Linne's Refresh Face Mist has a soothing blend of aloe vera juice and mega-moisturizing hyaluronic acid — spritzing it on gives you that healthy, wide-awake glow.
Step 5: Get rid of redness for good.
Blotchiness can be covered up with makeup but the longer lasting solution is to heal your skin from within. We like Pai Chamomile & Rosehip Calming Day Cream, a velvet-y moisturizer with a unique German chamomile Co2 extract — a molecule that's rich in natural healing ingredients matricine and chamazulene — to even out your tone and remedy aggravated skin. Lay it on thick, and you're done.
Last tips:
Drink a lot of water to hydrate your body so it doesn't hold onto water internally (and make your face puffier as a result). And if you get in some movement that helps stimulate your circulation for a healthy complexion; if means working up a sweat to Rihanna, go for it.
+ How do you make your skin look refreshed after late-night parties? Tell us in the comments below!