This Best Ever Rocky Road Fudge lives up to its name! It is loaded with chocolate, marshmallows and toasted almonds. The toasted almonds bring such a rich nut flavor to the fudge. It is the perfect and brilliant combination of flavors and textures.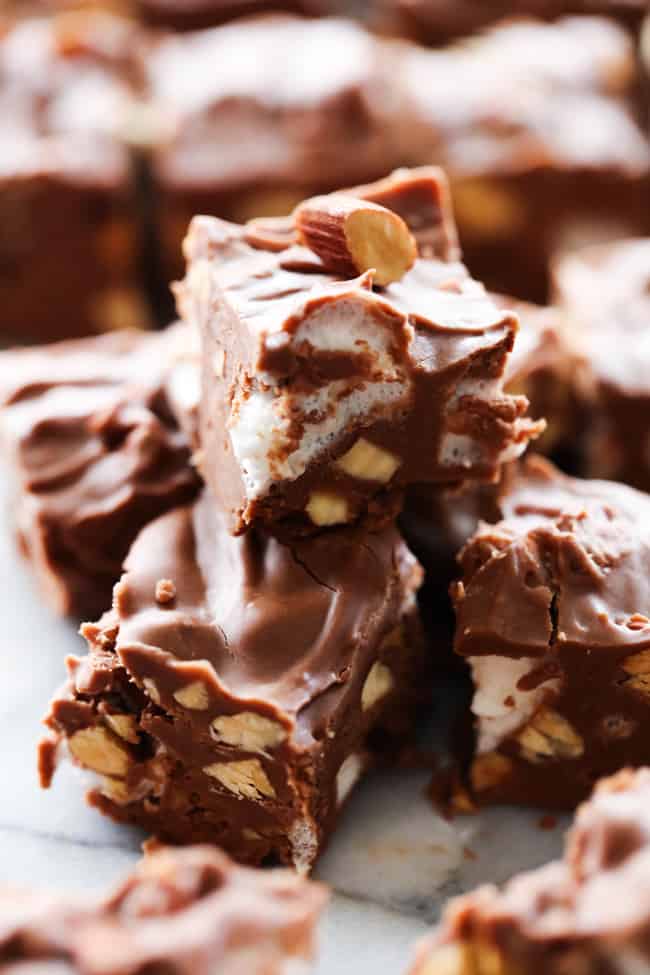 Fudge is a weakness of mine. After YEARS of trying and testing several recipes for a fudge base, I created my absolute favorite, tried and true base chocolate fudge recipe. I actually haven't posted the bare base yet on the blog (though I will soon) but I have posted SEVERAL adaptions of it where I swap out the flavors of chips and ingredients to bring to life completely different recipes. Upon trying to search for my base recipe, I realized what an oversight it was that I didn't have just the base recipe posted on here, so be on the look out for that this week. HOWEVER, today I am sharing and adaption of that recipe that is probably my favorite fudge recipe to date. The Best Ever Rocky Road Fudge.
So many things take this fudge and knock it out of the park, but my favorite probably has to be the toasted almonds.
HOW DO I TOAST ALMONDS:
It is actually SO EASY! All you have to do is roughly chop whole almonds and spread them onto the cookie sheet. Bake at 400 degrees F for 8 to 10 minutes until slightly brown.
Aside from the how, you should know the WHY for toasting your almonds.
WHY YOU SHOULD ALWAYS TOAST YOUR NUTS:
Toasting your nuts enhances their flavor and provides a depth and richness you can't get by simply eating them raw. It also improves their texture. Overall, toasting your nuts will improve any recipe that calls for them. Try it. You won't regret it.
This is extremely true for this recipe. The toasted almonds really take this recipe from great to extraordinary.
The base fudge recipe is so creamy and smooth and balances out the crunchy texture of the nuts. Marshmallows add a texture all of their own and help to compliment the other ingredients.
If you make one fudge recipe this upcoming Valentine's day, or are simply just craving an easy delicious treat, make this fudge. Seriously. Do it. It is now a new staple at my house and we all can't get enough of it!
Best Ever Rocky Road Fudge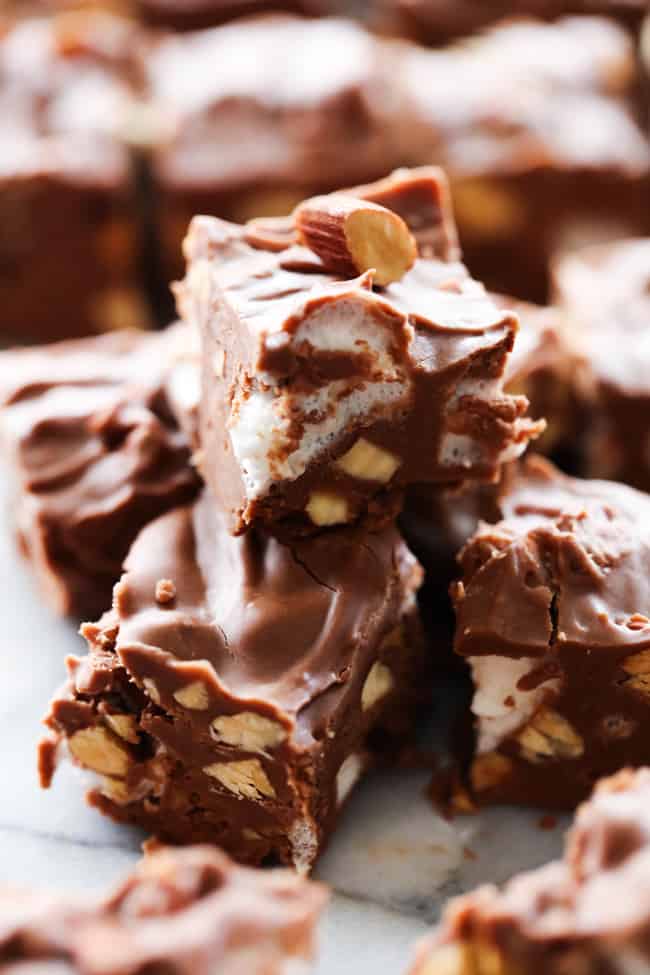 Author: Nikki
Recipe type: Dessert
1½ cups roughly chopped almonds
¾ cup butter
2 cups sugar
1 cup brown sugar
⅔ cup evaporated milk
1 cup Semi-Sweet Chocolate Chips
1 cup milk chocolate chips
7 ounces marshmallow cream
1 teaspoon vanilla
1½ cups roughly chopped toasted almonds
1½ cups mini marshmallows
Preheat oven to 400 degrees F.
Line a cookie sheet with foil.
Roughly chop whole almonds and spread them onto the cookie sheet.
Bake at 400 degrees F for 8 to 10 minutes until slightly brown.
Line a 9×13 pan with foil, or an 8x 8 for taller fudge. Make sure to leave over-hanging edges with foil. Set aside.
In a large sauce pan, over medium heat, melt butter, sugar, brown sugar and evaporated milk together, stirring constantly and bringing it to a full rolling boil. Reduce heat to low and continue to boil and stir constantly for 4 minutes.
Remove sauce pan from heat and stir in all Chocolate Chips until completely melted
Add marshmallow cream and vanilla until smooth.
Stir in almonds, and then BARELY stir in marshmallows. (You don't want to melt them.)
Immediately pour chocolate fudge into prepared pan.
Let set before cutting up.
3.4.3177
Enjoy!
SaveSave
SaveSave
SaveSave
SaveSave