Chinese Hot Pot is a soup with a variety of fresh ingredients in a simmering pot of soup stock. This recipe is easy, delicious for the entire family, especially during cold winter months.
How to Make Chinese Hot Pot
In this Chinese Hot Pot recipe tutorial, you will learn how to serve this traditional delicacy using an Instant Pot, plus all the ingredients you'll need.
Chinese New Year is just around the corner and falls on February 16 and I have the best recipe to share with you all, which is Chinese Hot Pot. Hot Pot is a much celebrated Chinese delicacy; it's served on Chinese New Year's eve as family members gather around the dining table for a scrumptious, hearty and homey meal.
Hot Pot is especially popular during winter months, especially on cold nights. Nothing beats a pot of hot, simmering soup loaded with assortment of fresh ingredients. Hot Pot has become such a global trend that McCormick experts included it as a key element of the 2018 Flavor Forecast! There are numerous versions of soup stock but the most basic Chinese hot pot calls for two simple ingredients: chicken broth and ground white pepper. For my recipe, I chose Kitchen Basics® Original Chicken Stock and McCormick Ground White Pepper.
For the fresh ingredients, you can get really flexible or creative. As a general rule of thumb, the basics are protein (meat and/or seafood), Chinese vegetables such as Napa cabbage and bok choy, fish balls, tofu, and mushrooms. These are the standard ingredients and they are illustrated in the picture above.
Traditionally, we use a special hot pot for this dish. You can make Chinese Hot Pot in an Instant Pot, and the end result will be authentic and delicious nonetheless. To assemble the fresh ingredients, just cut and slice them and then place them on a plate. All family members should gather around the dining table with the hot pot in the middle. The fresh ingredients will be placed alongside the hot pot, and every one will be given a bowl and a pair of chopsticks to savor the meal.
First, you have to bring the soup to a boil, then slowly you add the ingredients. Start with the napa cabbage as the stems take longer to cook, then follow by the meat, seafood, fish balls, tofu and mushrooms. Do not cook the fresh ingredients all at once, it will take an average of 2-3 rounds before all fresh ingredients are used up. Slowly, you scoop up the cooked food and soup with a ladle, eat, chat, and then as you finish all the ingredients in the pot, you add more into the soup.
As the soup continues to simmer in the pot, the flavor develops and it becomes tastier as the meal proceeds. I love adding garlic oil to the hot pot, which adds an earthy nuance to the dish. For the dipping sauce, you can just use soy sauce. If you like a bit of heat, you can add cut chilies or chili oil to the soy sauce. Hot Pot is utterly mouthwatering, so on cold winter nights, use your Instant Pot to make this for your family. Kitchen Basics Original Chicken Stock and McCormick Ground White Pepper can be found at any regular grocery stores. Enjoy!
Disclaimer: This post is sponsored by McCormick. The opinions and text are all mine.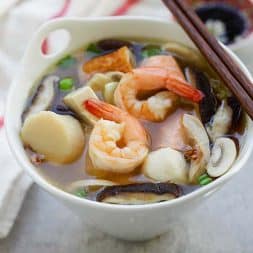 Rate This
Recipe Name
Chinese Hot Pot
Average Rating
REMEMBER TO SUBSCRIBE TO RASA MALAYSIA NEWSLETTER AND GET EASY AND DELICIOUS RECIPES DELIVERED TO YOUR INBOX. If you try my recipe, please use hashtag #rasamalaysia on social media so I can see your creations! Follow me on Facebook | Instagram | Pinterest | Twitter for new recipes, giveaways and more.