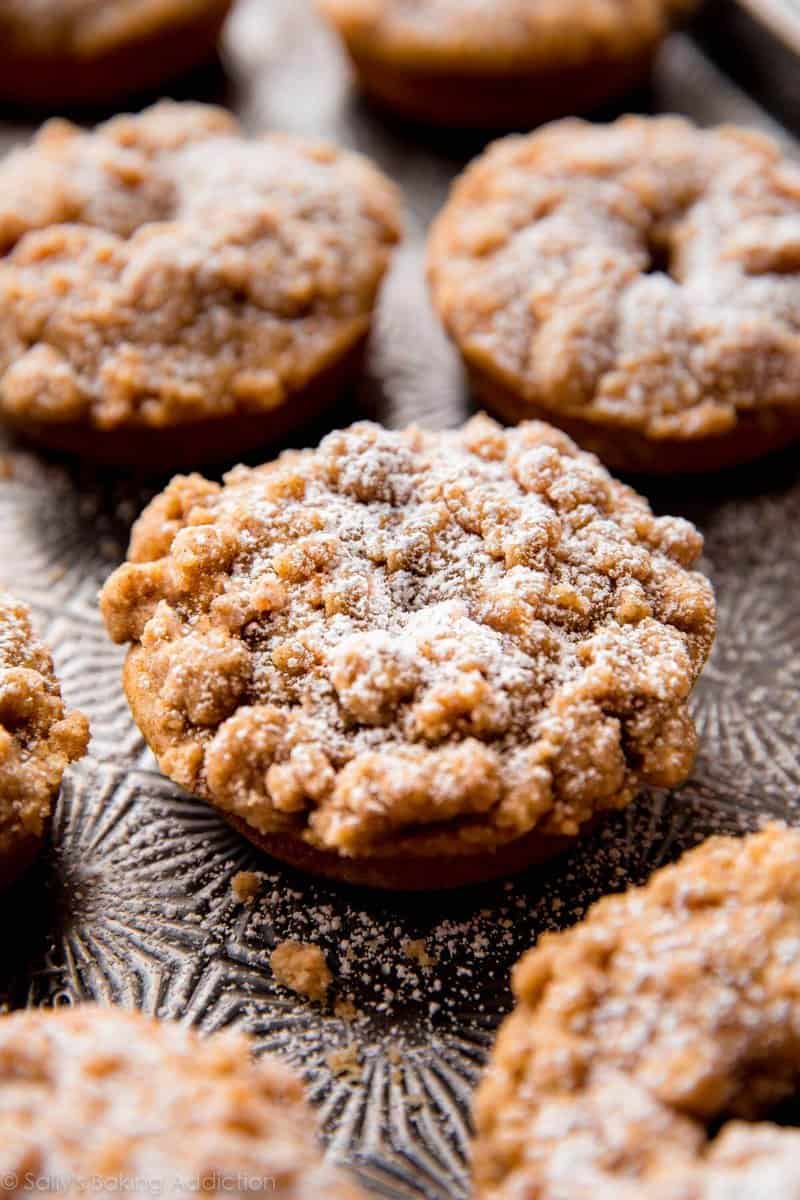 Juuuuuust in case you need one more thing to bake this weekend, here are buttery cake donuts topped with brown sugar cinnamon crumbs. Bake them in your donut pan. If you don't have a donut pan, here's another reason to get one.
Our ovens aren't catching a break anytime soon, are they.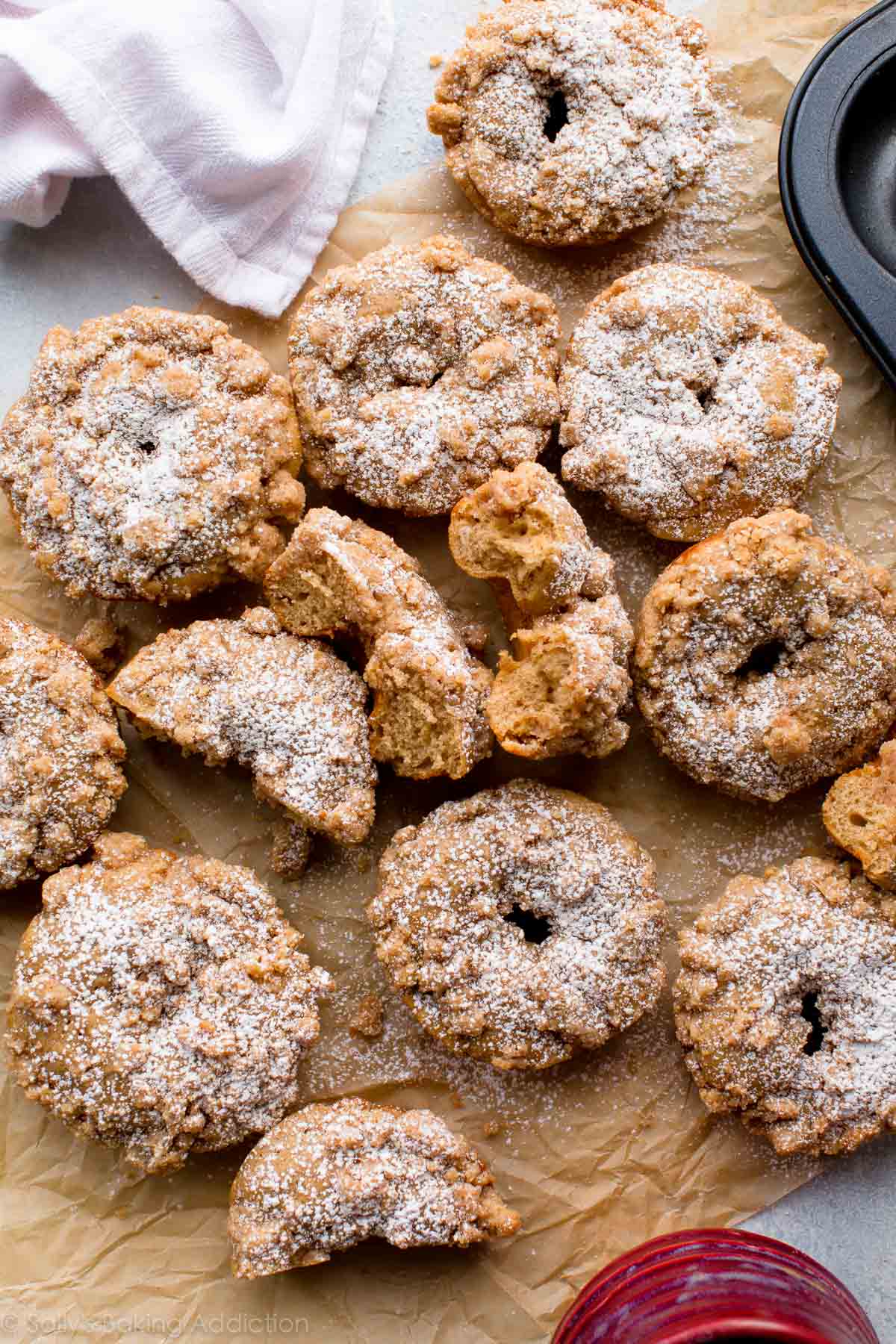 I'm sharing a sweet and kid-friendly recipe on my blog today for 2 reasons: (1) maybe you need something small and special to add to your Christmas morning brunch? and (2) maybe you need something fun to bake (that's not cookies!!!!) during winter break. And, well, here's a 3rd reason and say it with me:
CRUMB CAKE TOPPING!!!
This is my basic standard donut recipe. It's a very thick batter that produces tight-crumbed and cakey donuts. Light and airy? These are not. The recipe uses all very basic ingredients that I know you stock in your kitchen. Flour, baking powder + soda, eggs, and milk. I like to add a little Greek yogurt to the donut batter for a moisture punch and I prefer sweetening them with brown sugar because, well, you know my stance on brown sugar. I like to use melted butter. Why? Melted butter, as opposed to creamed, lends a denser and more buttery tasting foundation. Even plain, these donuts are fantastic.
But plain isn't in our vocabulary, especially this time of year. So let's talk flavor. Add cinnamon to the batter as well as a pinch of nutmeg. Nutmeg leaves the donuts with a familiar bakery-donut flavor. After you mix this donut batter together, the aroma alone will remind you of a donut shop. It's the nutmeg.
The crumbs are made with the same ingredients you'll use in the donut batter, plus a little granulated sugar. You'll use melted butter in the crumb topping too.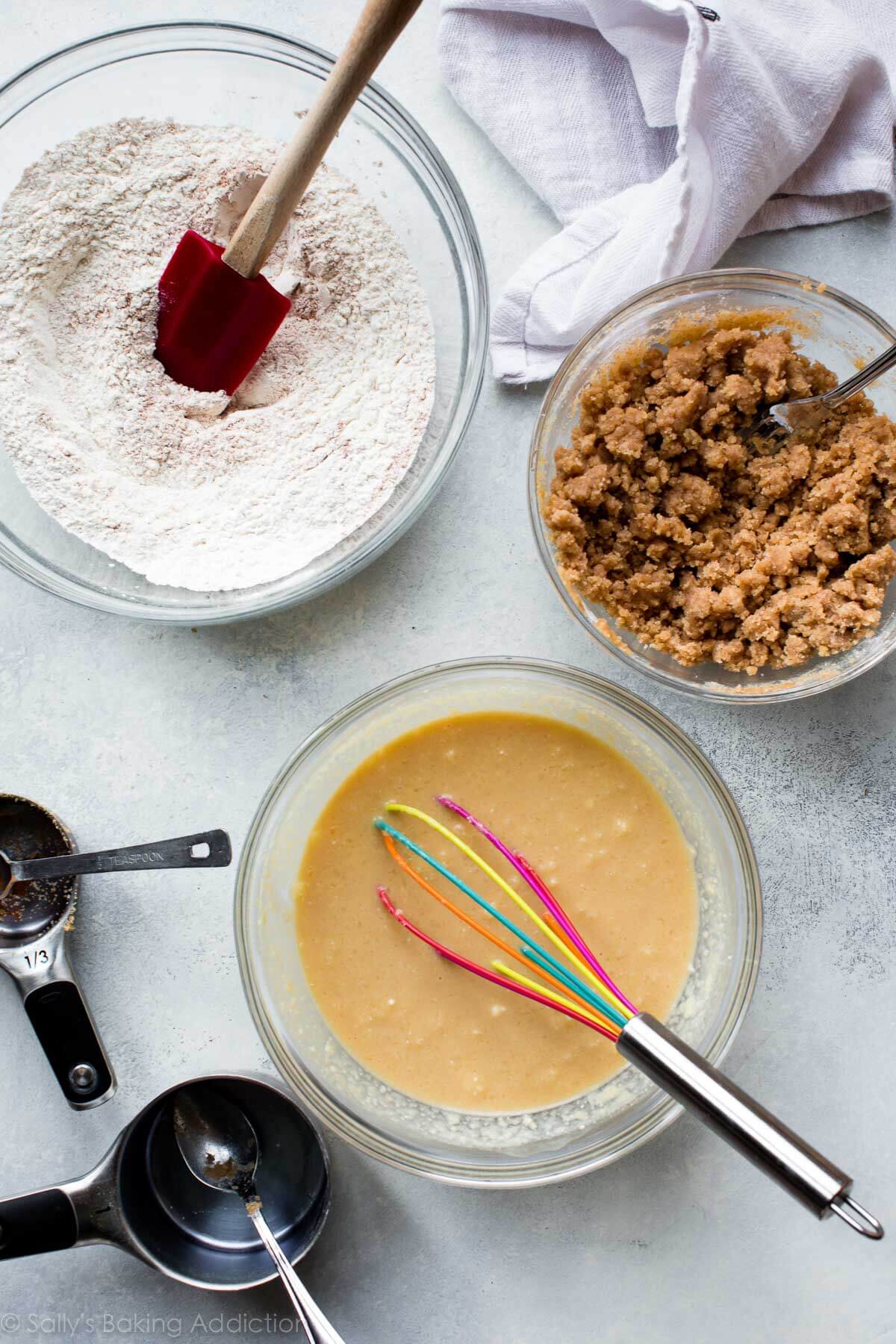 3 bowls: dry ingredients, wet ingredients, crumb topping.
While our ovens aren't getting a break right now, at least our mixers can take the morning off. You don't need one for this recipe!
Don't Overfill!
Avoid over-filling the donut pan. You'll need less donut batter than you think for each donut. If you fill the donut pan too high, the donuts will overflow and all the crumb topping will spill off. Just fill about halfway – 2/3 full with batter.
Speaking of filling the donut pan. Transferring donut batter into the donut pan can be tricky, so I always suggest using a zipped-top bag to pipe the batter. Here's a picture of that in this lemon donut recipe post. Just spoon the batter into a large zipped-top bag, trim off a bottom corner, and squeeze the batter into the pan. The donut batter is thicker than you'd expect, so it pipes pretty neatly.
The crumbs go on top of each donut before baking. The KEY is to really press the crumbs down into the donut batter. And add them with wild abandon, please. Squeeze as many crumbs as you can on top because while the donuts themselves are great, extra crumb topping is never a bad idea!!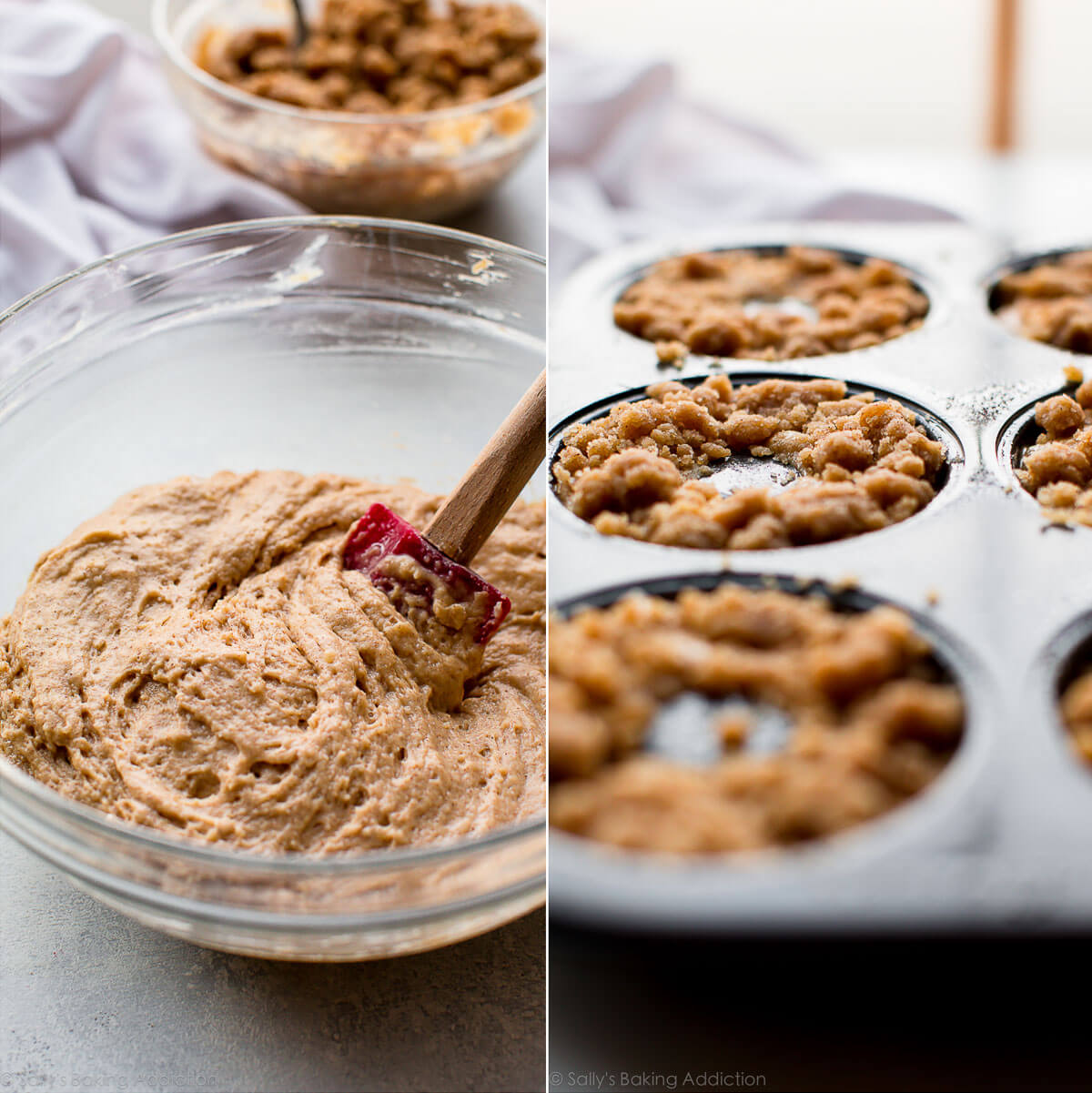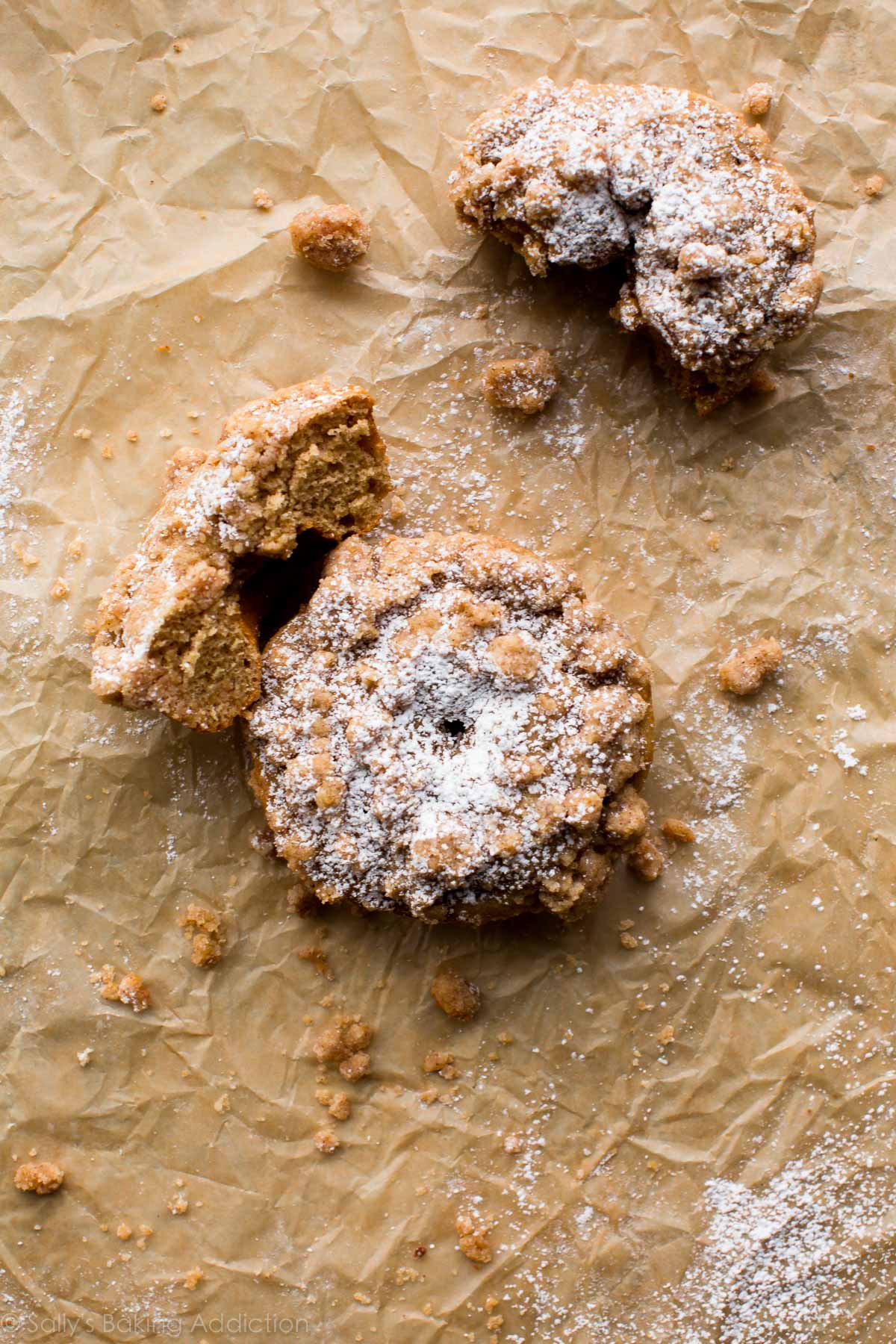 After baked, the crumbs take on a wild array of textures. These little guys have lots of personality! Some crumbs are super soft and melty; other crumbs- the ones at the tippy top of the donut- are slightly crunchy and crisp. All this on top of a warm soft cinnamon-spiced donut. The varying textures in each bite is everything a sweet treat should be.
A flurry of confectioners' sugar finishes each crumb cake donut off. You can totally leave it off because there's sugar in the crumb topping, too. And because our bellies are already happy and full of Christmas cookies.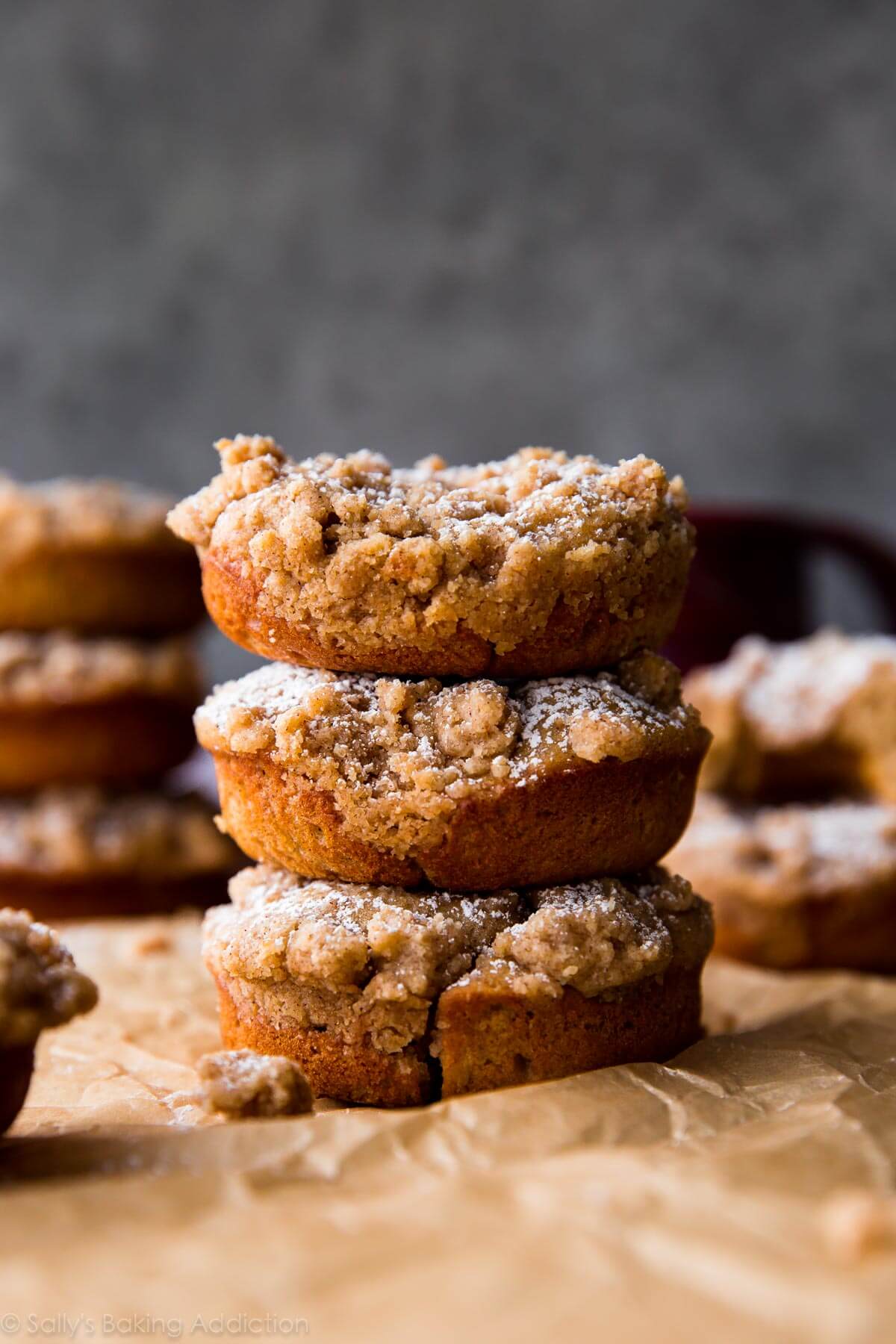 And if baked donuts, layers of crumb topping, and a snowfall of confectioners' sugar doesn't convince you- these are simple. Trust me. My productivity level is low at the moment and I still managed to bake these twice in 1 week. (They freeze well, FYI!)

Ingredients:
Crumb Topping
1/3 cup (67g) packed light or dark brown sugar
1/3 cup (67g) granulated sugar
1 and 1/2 teaspoons ground cinnamon
1/2 cup (1 stick; 115g) unsalted butter, melted
1 cup + 2 Tablespoons (140g) all-purpose flour
Donuts
2 cup (250g) all-purpose flour, (spoon & leveled)
2 teaspoons baking powder
1/2 teaspoon baking soda
3/4 teaspoon salt
1 teaspoon ground cinnamon
1/4 teaspoon ground nutmeg
1/4 cup (1/2 stick; 60g) unsalted butter, melted and slightly cooled
2 large eggs, at room temperature
2/3 cup (135g) packed light brown sugar
1/2 cup (120ml) milk, at room temperature
1/2 cup (120g) plain yogurt or sour cream, at room temperature
2 teaspoons pure vanilla extract
optional: confectioners' sugar for dusting
Directions:
Preheat oven to 350°F (177°C). Spray donut pan with non-stick spray. Set aside.
Make the crumb topping: Mix the brown sugar, granulated sugar, and cinnamon together in a medium bowl. Stir in the melted butter using a fork, then add the flour. Mix and crumble with a fork. Set aside.
Make the donuts: Whisk the flour, baking powder, baking soda, salt, cinnamon, and nutmeg together in a large bowl. Set aside. Whisk the melted butter, eggs, brown sugar, milk, yogurt, and vanilla together until completely combined. Pour the wet ingredients into the dry ingredients and mix until just combined. Do not overmix. The batter will be very thick.
Spoon the batter into the donut cavities—I highly recommend using a large zipped-top bag for ease. Cut a corner off the bottom of the bag and pipe the batter into each donut cup, filling about halfway. Grab a handful of crumb topping and press down onto the batter of each donut. Pressing it snug into the batter helps prevent the crumb coating from falling off the donuts. (If you only have 1 donut pan, keep the remaining batter in the bowl at room temperature until you can bake the next batch.)
Bake for 10-11 minutes or until the edges and tops are lightly browned. Allow to cool for about two minutes then transfer to a wire rack set on a large piece of parchment paper. Bake the remaining donut batter and once baked, transfer to the wire rack. Dust the tops of each with a light coating of confectioners' sugar, if desired.
Donuts are best served immediately. Leftovers keep well covered tightly at room temperature or in the refrigerator for 2 days.
Make ahead tip: You can freeze the donuts for up to 2 months. Thaw overnight in the refrigerator and warm up to your liking in the microwave. I usually just zap 'em for a couple seconds.
Recipe Notes:
How about making muffins? You absolutely can! This recipe will yield about 1 dozen crumb cake muffins. Same oven temperature for about 20-22 minutes.
I tested this recipe for a larger crowd, just in case you need it for holiday entertaining. But if you don't need 15 donuts laying around, halve the recipe to yield around 7-8 donuts instead. That's the amount I usually bake.
Did you make a recipe?
Tag @sallysbakeblog on Instagram and hashtag it #sallysbakingaddiction.
©
Sally's Baking Addiction
. All images & content are copyright protected. Please do not use my images without prior permission. If you want to republish this recipe, please re-write the recipe in your own words, or link back to this post for the recipe.
SHOP THE RECIPE

Here are some items I used to make today's recipe.
Some of the links above are affiliate links, which pay me a small commission for my referral at no extra cost to you! Thank you for supporting Sally's Baking Addiction.