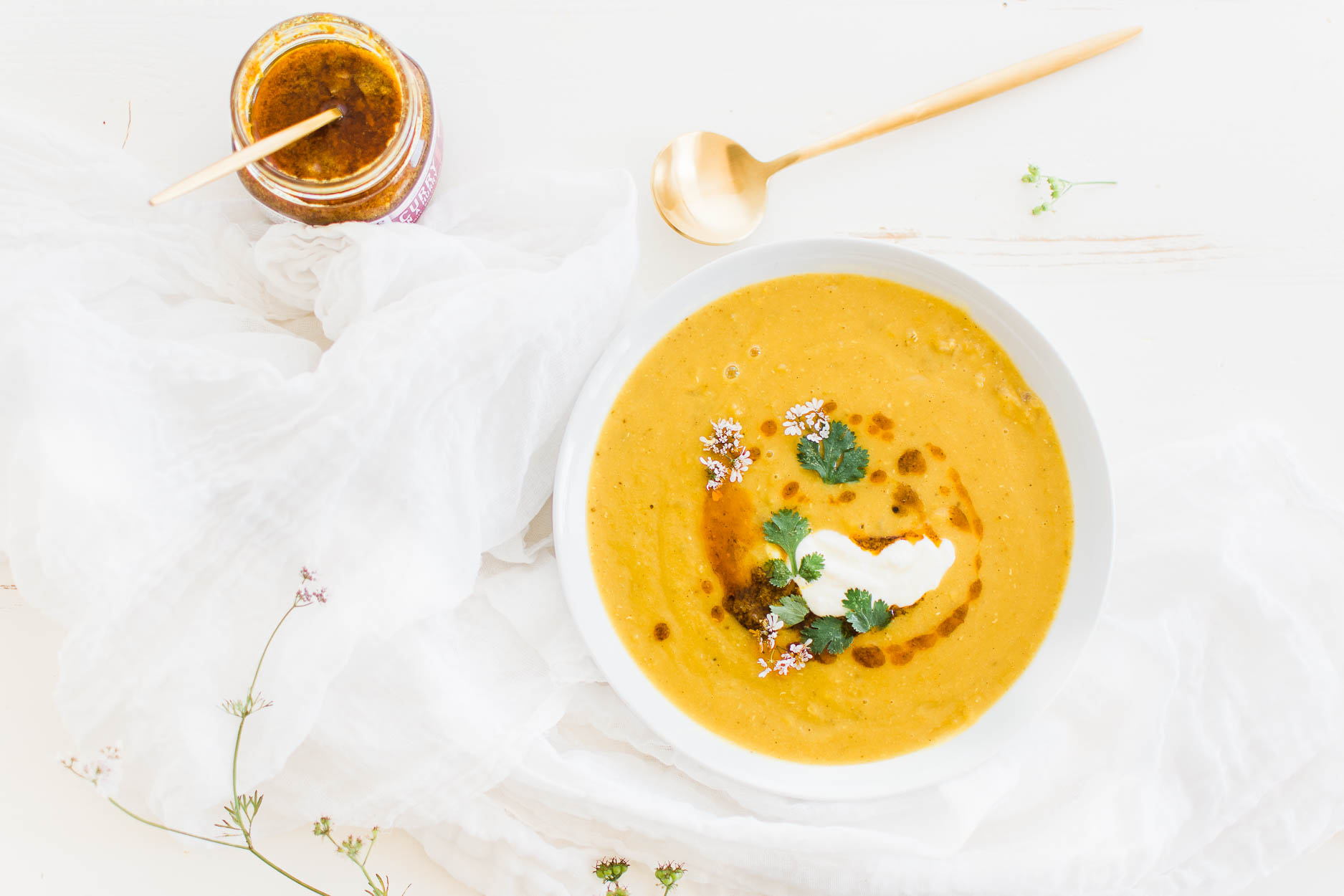 Red lentils sit in a gallon-sized glass jar in my cupboard. Fragile and thin, they cook in the blink of an eye, melting into a delightful puree. One of our favorite ways to use them is in classic masoor dal. You can serve it over rice, or with flatbread, but sometimes I enjoy just sipping dal on its own, flavored with yogurt and fresh cilantro.
The blessing of this red lentil dal is that it comes together in nearly an instant. And when you're pressured after a long day at the office, or sandwiched between errands, it's nice to toss all the ingredients together in the pressure cooker, and have a nourishing meal that's ready in only a few minutes.
Making Red Lentil Dal in the Pressure Cooker
Dal is traditionally prepared by toasting spices, and simmering lentils slowly until they soften and break down. That slow simmering helps infuse lentils with the rich and robust flavors of spices like coriander, cumin, ginger, fenugreek, fennel, chiles and black pepper. A pressure cooker cuts that time down to just a few minutes, and a swirl of Madras curry sauce, which blends grass-fed ghee with spices, gives this almost instant version all the flavor and richness of a traditional, slowly simmered dal.
| | | |
| --- | --- | --- |
| Instant Pot Red Lentil Dal | | |
Recipe type: soup
Cuisine: Indian
Author: Jenny McGruther
Prep time:
Cook time:
Total time:
Serves: 8 servings
Spiced with Madras curry, this red lentil dal takes only six minutes in the Instant Pot.
Ingredients
1 yellow onion, finely chopped
2 cups red lentils
6 cups chicken bone broth or water
2 teaspoons sea salt
3 tablespoons Madras Curry Sauce, plus additional to serve
Yogurt, to serve
Cilantro, to serve
Instructions
Place the onion, red lentils, chicken broth, salt and Madras curry into your pressure cooker. Pressure cook for six minutes, and then allow the pressure to release naturally. Puree with an immersion blender, and then serve warm with additional curry sauce,
Curry in a Hurry
Not only is this Red Lentil Dal take only a few minutes in the pressure cooker, and a prepared Madras curry sauce makes it even faster. It's a exquisitely robust simmering sauce made with grass-fed ghee, olive oil, turmeric, ginger and other spices. It's also an excellent seasoning for chicken. Order it from Pure Indian Foods here.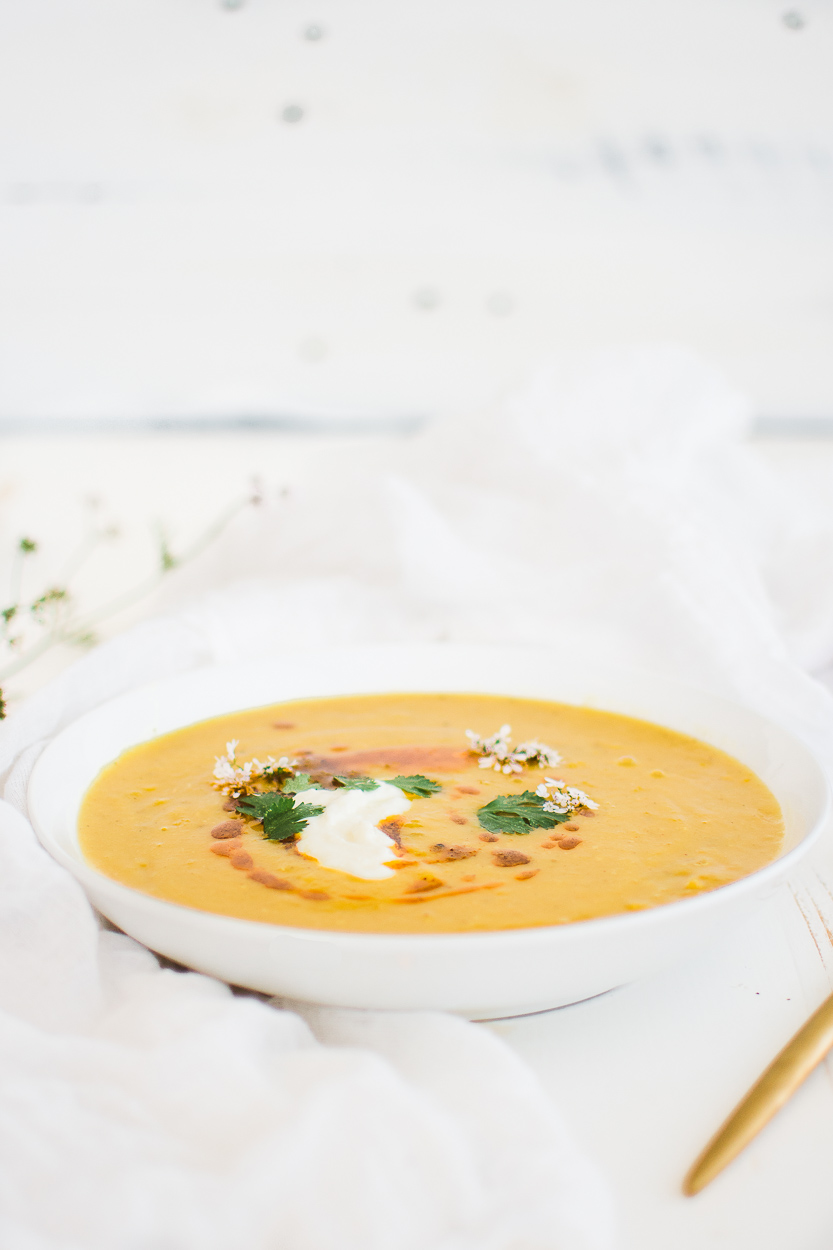 Favorite Lentil Recipes
Lentils are pulses, and like all pulses, they're both inexpensive and filling. They're also fairly nutrient-dense, rich in micronutrients like folate and thiamin, various minerals and dietary fiber.
Curried Lentil Soup with Coconut Milk blends lentils and yellow split peas with coriander, cumin and fenugreek as well as a spoonful of coconut milk.
Smoky Sprouted Lentil Soup with Andouille and Turkey is perfect for fall, both hearty and deeply satisfying with a delicate smoky flavor.
Lentil Stew with Winter Vegetables and Mustard Greens marries root vegetables like parsnips and carrots with French lentils, broth and mustard greens for a soothing, simple soup.
Red Lentil Masala with Spinach is an easy, vegetarian, soup that couples red lentils with cumin, ginger, garam masala, tomato and cilantro.
First appeared on nourishedkitchen.com