Start your morning off with this delicious Raspberry Almond Baked Oatmeal that is filling, wholesome and naturally sweetened for a perfect healthy breakfast!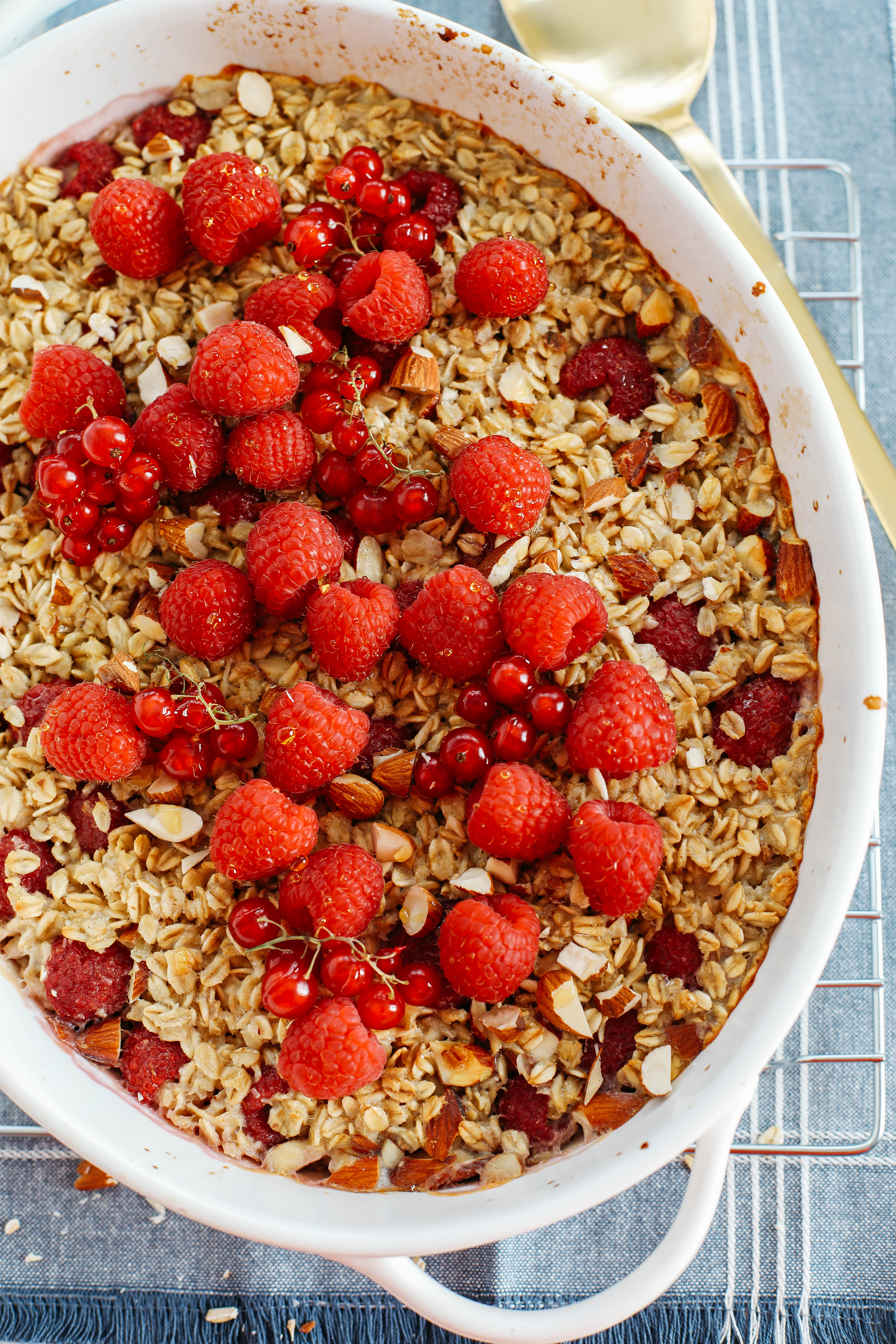 There is nothing better than starting your morning off with delicious baked oatmeal loaded with your favorite berries and crunchy almonds! Not only does this recipe make your whole kitchen smell absolutely amazing, but this my friends is comfort food at its finest!
I love baked oatmeal for breakfast because it's such a great source of fiber and definitely keeps me full well into lunch time which is important while I'm pregnant haha. I'm constantly hungry guys! This recipe is also perfect during these cold months too because everything about this dish screams warm, cozy and comforting.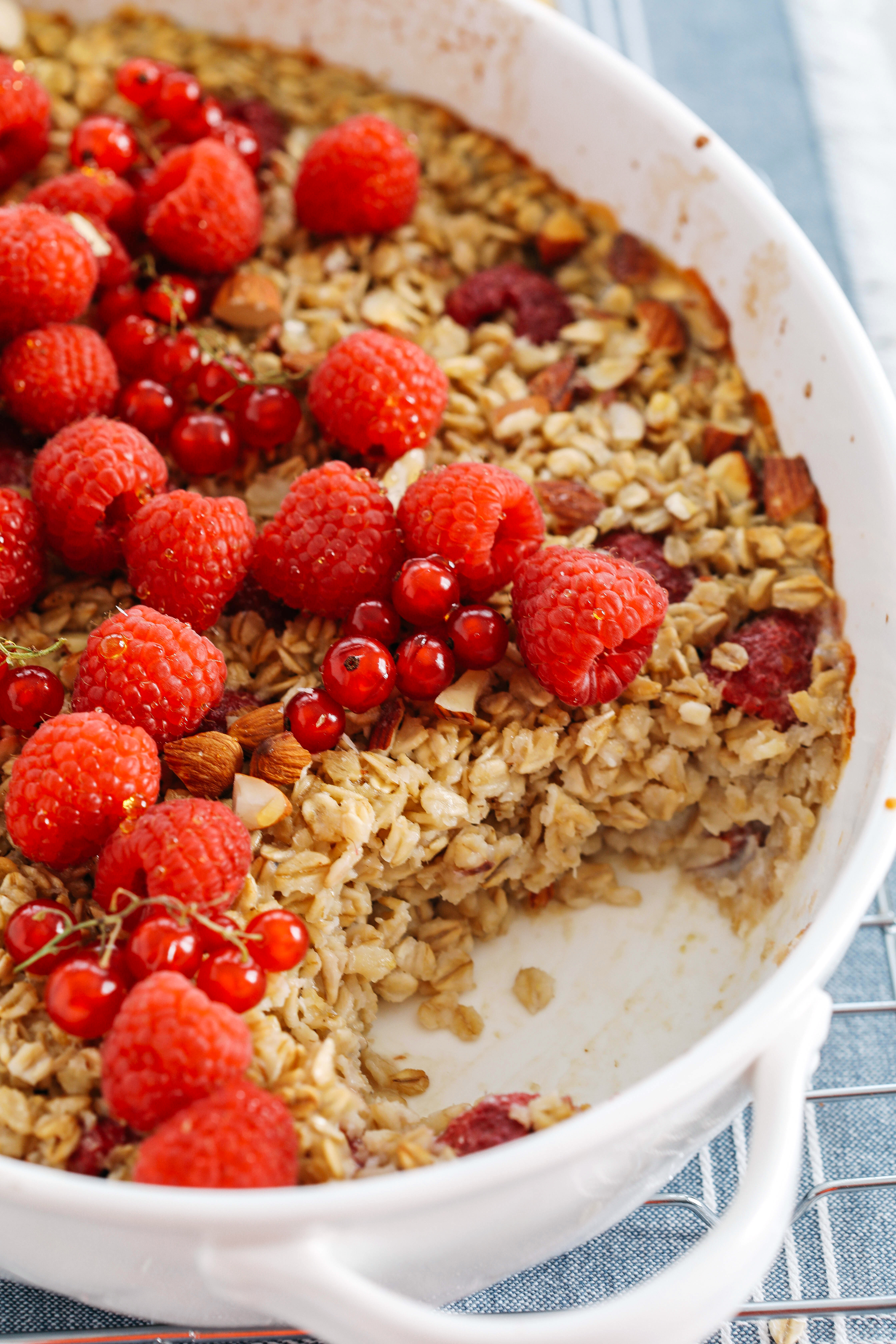 Another reason I love baked oatmeal for breakfast is because it's the perfect make-ahead dish that even tastes better the next day! It's also a great recipe to add to your meal prep rotation because you can easily re-heat leftovers and I usually like to add a splash of milk just to keep the oatmeal from drying out. Feel free to top your oatmeal with even more berries, chopped almonds and a drizzle of honey or maple syrup!
Helpful Tips and Tricks:
To prep this recipe ahead of time, simply mix all of your ingredients together and place in a prepared 8×8 (or 9×9) baking dish, cover and refrigerate overnight. Then just pop it in the oven and let it bake for 30 to 40 minutes while you get ready for work!
This recipe uses no eggs which makes it a great vegan option, simply use maple syrup instead of honey. This can also be easily made gluten-free by substituting with gluten-free oats.
Feel free to make this a seasonal dish by swapping the berries and almonds with fresh chopped apples, pecans and some cinnamon or you can add a mashed banana which will make this oatmeal even more moist!
This recipe will keep in your fridge for 3 to 4 days, just reheat in the microwave with a splash of milk for about 50 to 60 seconds.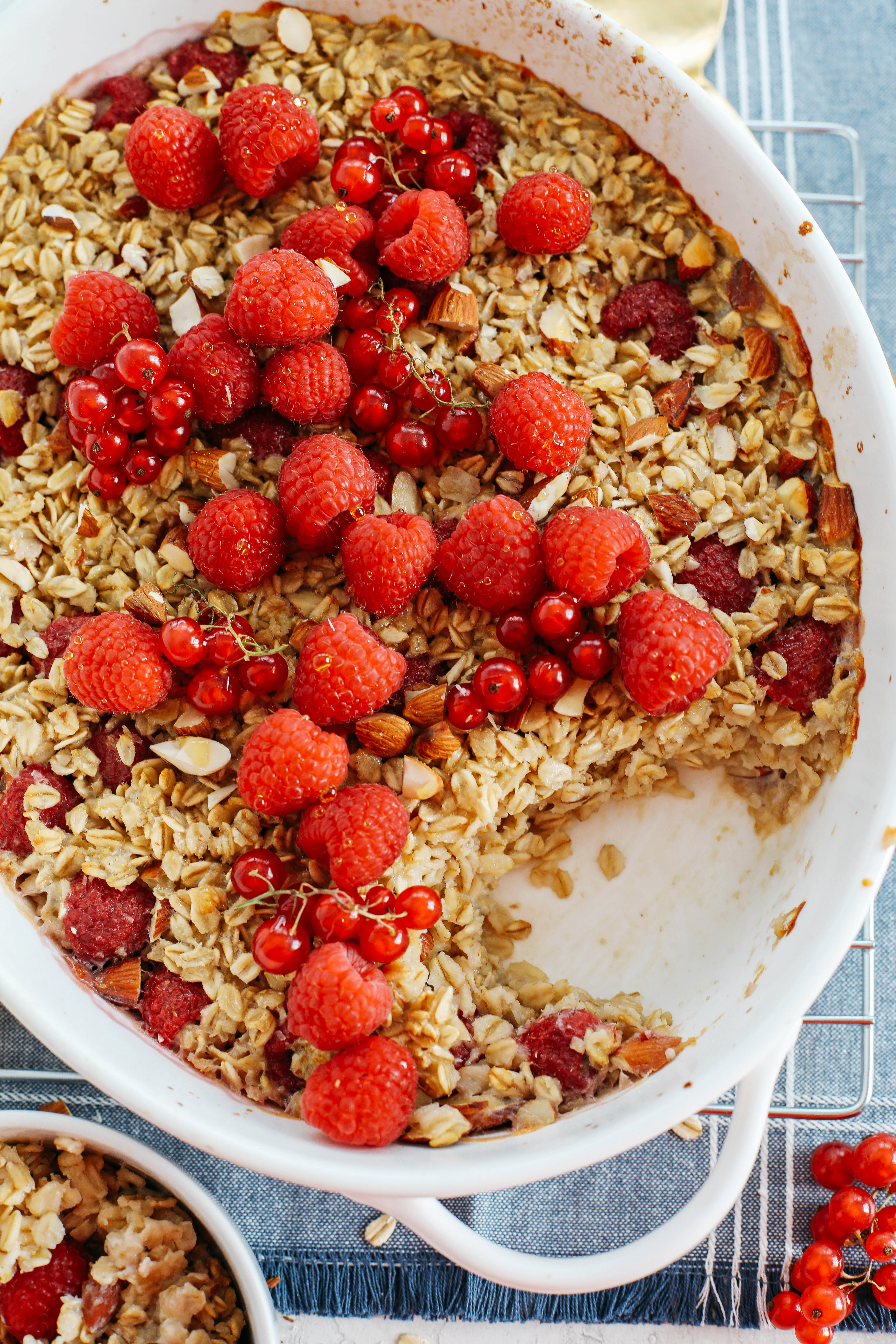 Hope you all enjoy this recipe as much my family does! It really is super simple to throw together and everyone will feel like they're enjoying dessert for breakfast, which is NEVER a bad thing! Am I right??
Raspberry Almond Baked Oatmeal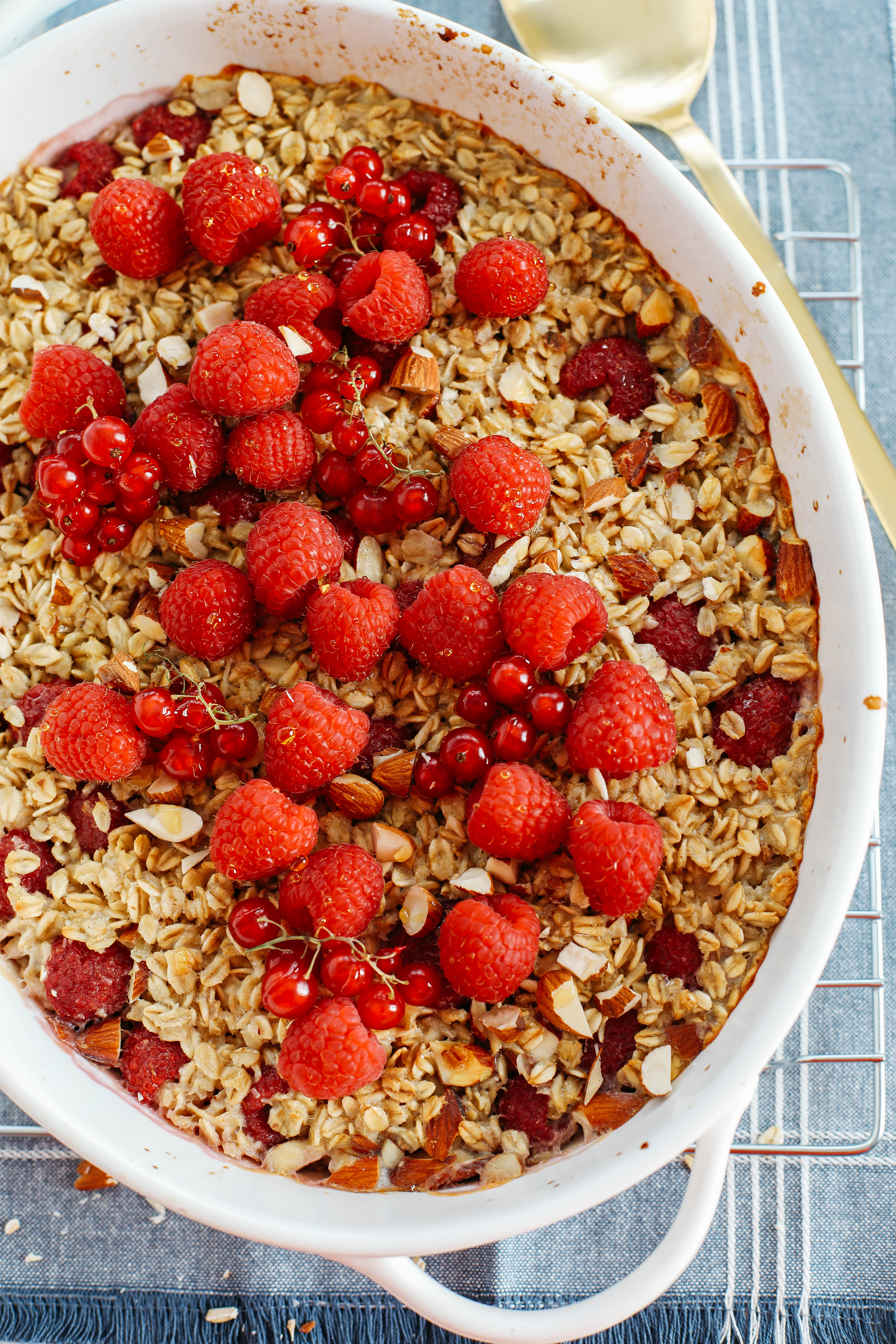 ¼ cup dry-roasted almonds, coarsely chopped
2 cups of unsweetened almond milk (or milk of choice)
¼ cup honey (or maple syrup)
1 cup fresh raspberries + more for topping
Preheat oven to 350 degrees F.
In a large bowl, combine oats, ginger, salt, and chopped almonds.
In a separate bowl, whisk together milk, honey (or maple syrup), oil and vanilla then add to oat mixture, stirring until just combined. Fold in fresh raspberries or berries of choice.
Spread oat mixture into a prepared 8×8 (or 9×9) baking dish and bake for 30 to 35 minutes until oats have set.
Remove oatmeal from oven and let stand for 10 minutes. Top with additional fruit and drizzle with a little honey or maple syrup if desired. Enjoy!
Serving Size: ⅙th of recipe • Calories: 211 • Fat: 8.7 g • Saturated Fat: 1.1 g • Carbs: 31.9 g • Fiber: 4.7 g • Protein: 4.4 g • Sugar: 12.6 g • WW Freestyle Points: 7

READ ALSO
Vegan Chocolate Chia Mousse – The Chriselle Factor
READ MORE
First appeared on eatyourselfskinny.com