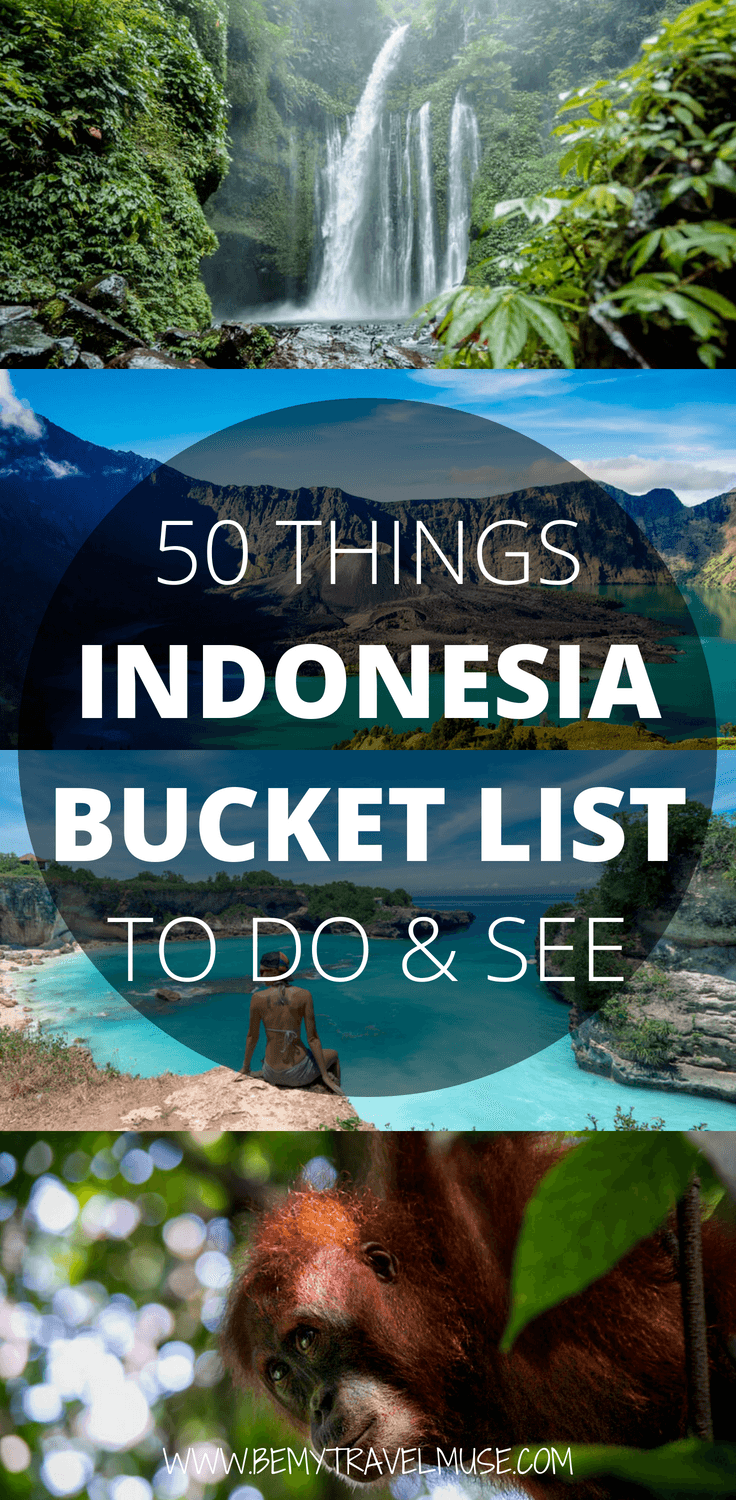 It's hard to think of a country with more to do in terms of culture, amazing landscapes, incredible beaches, and delicious food than Indonesia. I love how each island has something different to offer in terms of all of those things. Some have incredible wildlife encounters, some are all about diving and surfing, and others have incredible old temples to explore.
Whether you're the outdoorsy type or just want to chill on the beach all day, there's something on this list for you. These are 50 Indonesia bucket list items to make your trip planning that much more varied and exciting, broken down by island:
Java
Chances are good that your beginning point in Indonesia will be in the capital – Jakarta on Java. This list has some of the best of the island, including some famous temples and volcanoes:
1. Hike Mount Bromo Independently
While there are numerous tour companies that offer sunrise jeep tours to see Mount Bromo, it's a unique and rewarding experience to hike your way up to what's perhaps Indonesia's most popular volcano independently. Not only do you get to save money, it also makes the experience more flexible and exciting. The hike itself is not as challenging as some of the other volcano hikes in Indonesia, but the view on top is just as rewarding. Here's a full guide to hiking Mount Bromo without a tour.
2. Spend a day in Surabaya
The city is not as well known as other places in the country, but since you are likely to have to spend a night or two here before or after the hike to Mount Bromo, you may be surprised to find how pleasant it is to take a long stroll around the city that's friendly and little known to tourists. Many locals from all over Indonesia flock to Surabaya for its delicious local food. G-Walk and Pasar Atum are some of the great places for local food and people watching.
3. Explore Borobudur Temple
The Borobudur Temple is stunning in both photos and in person. The UNESCO World Heritage site is an important monument to the Buddhist civilization, and is worth the USD 25 entrance fee. The temple's vastness and beautiful architecture reminds one of the equally stunning Angkor Wat in Cambodia. The temple is open to the public from 6am – 5pm daily, but if you are into photography, book a sunrise tour with an authorized tour company, or stay at the Manohara Resort (they are the only hotel that's allowed to sell early entrance tickets) for early entrance.
4. Visit Candi Prambanan Temple
The Prambanan Temple is the largest Hindu temple in Indonesia. The UNESCO World Heritage site is said to have been built to replace Borobudur (and Buddhism) as Hinduism's power was on the rise back in the 9th century. Many tour companies include both Borobudur and Prambanan in one day, but there's really no need to worry about being templed out, as the two temples are so different from each other. The Prambanan Temple is made of individual temples dedicated to Brahma, Vishnu, and Shiva.
5. Hike Mount Ijen Independently
Mount Ijen was easily the most brilliant part of my first 9-month stint in Southeast Asia back in 2013. It was also a challenge to do solo and independently of a tour, as online information was scarce and Kawah Ijen is a little more off the beaten path. Here's a full guide to trekking Mount Ijen independently. Absolutely do not miss the blue flames and sunrise, they were what made Mount Ijen so brilliant to me.
6. Chase the Baturaden Waterfalls in Puwokerto
While a popular destination for local tourists, you won't be seeing too many foreigners at the Baturaden Waterfalls, as the place is not readily accessible to tourists. But if you are renting a motorbike, it is only about 30 minutes away from Puwokerto. Pack a proper swimsuit, some snacks and drinks and you are good to go. Many local families like taking their kids to the waterfalls on the weekends, so plan accordingly based on if you'd like a quiet experience, or a chance to hang out with the locals.
7. Hike Dieng Plateau
Both Mount Bromo and Mount Ijen have gained their well deserved popularity, and should definitely be on your Indonesia bucket list. For something that's currently still off the beaten path (though I doubt it will stay that way for long), include Dieng Plateau in your itinerary. Dieng Plateau is a unique volcanic complex that offers its pilgrims gorgeous green hills, multi-colored lakes, and of course, volcanoes. This blog provides a pretty comprehensive guide to hiking Dieng Plateau independently.
8. Hike to Tompak Sewu Waterfalls
It is not the only set of waterfalls in Java, but sure looks the most gorgeous! Once a local secret, the word is out now as travel vloggers and Instagrammers began flying their drones in the area to show just how majestic the waterfalls are. You can hire a local guide to take you there and see the waterfalls from a view point, or do it yourself to get up close and personal. The path to the bottom of the waterfalls is steep, slippery and not the safest, so be your own judge and don't do anything you are not completely confident in.
9. Embrace the crazy traffic in Jakarta
The metropolitan city is unlike anywhere else in Indonesia. It's fast paced, rapidly developing with skyscrapers and mega malls. It's a great place for a few days stay in between your adventure in the jungles and on the islands. Aside from shopping and great restaurants, the capital of Indonesia is also notoriously known for its insane road traffic. Getting to a place that should take no more than 30 minutes could sometimes end up as a 3 hour journey (no kidding!). It's definitely one way to blend into the local culture, just keep your fingers crossed for an entertaining driver to keep you sane.
Bali
Bali is the most popular island in Indonesia thanks to the great surf, multitude of pool villas, the unique culture, and the laid back hippie vibe in Ubud mixed with the glitz and glamour of Nusa Dua. Though it's the most touristy part of Indonesia, there are still some hidden gems, great food, and awesome islands just off the coast worth exploring.
10. Stay in a gorgeous pool villa
Bali is filled with so many gorgeous villas and resorts that it can be overwhelming when trying to make a choice. The trick is to just decide on a budget and look for a place with decent ratings. So many places offer private pools, floating breakfasts, in-house massages, and so much more. I am not usually a luxury traveler but can surely appreciate a little splurge here and there in my travels, and Bali is definitely the best place in Indonesia to do just that. Personally, I stayed at Komaneka Resort and loved the quiet black sand beach on the property, just as much as I loved soaking in rosebud-infused water in the bath tub and enjoying a cute little floating breakfast in the pool.
11. Learn how to surf
Bali is the perfect location for any adventurous soul hoping to learn to surf. If you have been wanting to pick up a new hobby, why not give it a try while you are in Bali? Check out this comprehensive guide to learning how to surf in Bali for more details.
12. Become a vegan for a day (because it's so easy and delicious!)
I have recently turned mostly vegan and it's been a surprisingly simple and delicious journey. Indonesia was my first country that I visited as a vegan and I was wowed by the options. From the local produce such as tempeh and gado gado, to amazing plant based cafes as well as cafes and restaurants with lots of vegan options, I was spoiled! Whether you are a vegan or not, I think it's fun and oh-so-yummy to try eating only plant-based food. Here's a list of the best vegan eats in Bali that should really be on your foodie bucket list!
13. Sample Balinese cuisine
Non-vegans, I got you covered, too. Now, with cafes lined up at every single corner of the street, you could possibly spend the entire trip in Bali eating just "western" food, but where's the fun?! Balinese cuisine is unlike anywhere else in the country. I loved Satay, which is essentially meat on a stick that's barbecued to perfection. Dip it in peanut sauce and it's easily the best thing in the world. Other classic Balinese food includes Babi Guling (translated as "rolling pork"), Tempeh (fermented soy bean), and of course, the classic Nasi Goreng (fried rice).
14. Explore Sekumpul Waterfall
Once a little gem of Bali, Sekumpul Waterfall is now The waterfall of Bali, alongside with the Aling Aling Waterfall. Both waterfalls are stunning, and while it can be pushed through in a day's trip (both waterfalls are about 2 hours drive from Ubud), a better idea is to spend a night in Bedugul.
15. Go to a beach club and dance the night away
You are in Bali, after all! Some of the popular beach clubs in Bali are the Potato Head Beach Club and Ku De Ta in Seminyak, as well as Old Man's Bar and Finn's Beach Club in Canggu.
16. Hike Mount Batur
Mount Batur is accessible from anywhere in Bali. Aside from the 2am morning call, which could be excruciating to some, the hike is relatively easy compared to Mount Rinjani or Mount Lombok, and can be completed in just one morning.
17. Participate in a yoga retreat
What's Bali without some relaxing yoga sessions? Have a good stretch at one of the many yoga studios in Bali. The Yoga Barn in Ubud has multiple beautiful studios in their compound, complete with an in-house cafe, hostel, and private accommodation. Other than daily classes, they also organize retreats and courses if you are interested. If you are in Canggu, check out The Practice.
The Devil's Tear on Nusa Lembongan is a wave smashing up against a rock for quite the display when the swell is big and it's high tide. It is quite the display of Mother Nature especially when the tide is high during golden hour! I personally find the tide pools next to The Devil's Tear more impressive, but you should go see both and make the call yourself. Here's a complete guide to Nusa Lembongan.
19. Check out the Blue Lagoon on Nusa Ceningan
If I didn't see it with my own eyes, it would be difficult for me to believe that such baby blue exists in the tropics. The Blue Lagoon was the highlight of my trip to Nusa Ceningan. Nusa Ceningan is the smallest island nestled between Nusa Lembongan and Nusa Penida, and is perfect for a day trip, if I had to pick one.
20. See the Kelingking T-Rex on Nusa Penida
I am sure you've seen photos of this T-Rex named peninsula (or whale, it's really a bit of both!). It is the most popular photo spot on the island, and for good reason! The viewpoint truly does promise a stunning view, but don't end the trip there – challenge yourself with a steep climb down to the gorgeous beach below. If you can, give yourself a few days on the island as it's not the only awesome thing to do on Nusa Penida. Check out my guide to the secret spots of the island here.
21. Stay in a real treehouse
My heart skipped a beat when I found this treehouse on Airbnb. Waking up in Rumah Pohon on Nusa Penida got me feeling like Wendy in Peter Pan, and it truly is one of the dreamiest places I've stayed in. Since the word got out (my bad!), people have flocked to the treehouse for a photo op – most of them do not actually spend the night there, and just walk up the stairs to take photos. However you can only get the sunrise shot if you actually stay there. Should you spend a night here? Read my full review on the Rumah Pohon and decide for yourself.
22. Shop at a local market
Ask your guesthouse where the local ladies get their groceries and check out the local morning market in the region of Bali you're staying in. If you're lucky, they might just let you tag along. I loved devouring sweet, tangy mangoes while watching the ladies negotiate with each other.
West Nusa Tenggara
This part of Indonesia is my personal favorite and the part of the country that I keep returning to. To me, this is what Bali was before Eat, Pray, Love, back when it was still small and rural. For a taste of Indonesia without the crowds, check out this region.
23. Take a local boat trip from Flores Island to Lombok
There are many boat trips from Lombok to Flores Island, and the experience can be absolutely amazing. From luxurious, air-conditioned cabins, to cuddling with your shipmates on the open air deck every night, there's definitely something for everybody. The boat trips are fun and overall a unique experience, but make sure you pick a reputable one as the waves could be rough at times, and shipwrecks have been reported in the past. Personally, I took the public ferry and that was an experience in itself! Both can easily be booked in person for the best rates.
24. Trek Mount Rinjani
Up for a true challenge? Mount Rinjani delivers. It was one of the toughest hikes I've done in Southeast Asia, but definitely also one of the most memorable and rewarding. I wrote a full guide on how to hike Mount Rinjani on a budget here.
(Note: Unfortunately, the recent earthquake has shaken the northern side of this beautiful island full of beautiful people. If you are traveling to Lombok soon, please check with the local authorities on the safety in Northern Lombok.)
25. Stay in a beach bungalow
There are so many cute beach bungalows that are affordable on Lombok, in the Gilis, and in Sumbawa, so why not? Plus, you totally deserve a little R&R after the trek to Mount Rinjani. There are so many options on Airbnb (here's $25 off if you book through this link!) and Booking.com (here's $30 off if you book through this link!).
26. See Tiu Kelep Waterfall
When I first visited Lombok 5 years ago, nobody was talking about this waterfall. Nowadays it's usually included in most Rinjani trekking packages. I am not mad about it though – it gave me a reason to come back! There's no better way to cool off your feet after what could have been an exhausting hike to Mount Rinjani. It's stunning and powerful.
27. Explore Benang Stokel and Benang Kelambu Waterfalls
There are actually five waterfalls on Northern Lombok. If you have a full day, I recommend hiring a driver / renting a motorbike if you are comfortable and explore all five of them.
28. Hike Bukit Pergasingan
This is the hike that will give a much nicer view of the rice fields! You could start the trek early in the morning, or do an overnight trek. A guide is a good idea to find your way. You can ask anyone in Senaru to help you book it.
29. See the rice fields from Bukit Selong's wooden star
If Rinjani and Bukit Pergasingan sound a bit too challenging, there are still options! You only need to "hike" for 5 minutes to get to the wooden star platform. It's pretty cool and a nice place to relax after an early morning hike, or as your one and only hike in the area.
30. Visit Semeti Beach
Most of the beaches on the south side won't have a sunset view, except for Semeti Beach! I had so much fun climbing all over them and exploring while waiting for the sun to set. The road is terrible, but if you're confident on a motorbike, don't miss this one.
31. Spend some time alone on Tampah Beach
Tampah Beach was one of my favorites as it was the cleanest and least crowded beach in Kuta Lombok. In fact, there was no one else when I was there so if you are looking for some quality alone time, you know where to go.
More beautiful beaches in Kuta, Lombok here:
32. Try paragliding
In the Kuta area, there's hill after hill and bay after bay with an almost limitless number of areas to paraglide, and the sport is really catching on. One of the best spots in order to get a view of the sunset is the Mandalika resort area, with tandem flights offered by Lombok Playground.
33. Take a day trip to Sumbawa Island
If you're into snorkeling, want to surf a wave that almost nobody else is on, or just want to have a beach almost entirely to yourself, take a boat trip to Lombok's neighboring island, Sumbawa.
34. Kick back and relax on the Gili Islands
The Gilis are the perfect place to kick back and relax, eat good food, and spend some time island hopping. There is nothing quite like the golden glow of a Gili sunset as the sun bathes the powdery sands and sweeps the shallow shores. Lots of people catch the sunset over one of the many swings on the beach, which is cute. Here's a guide to Gili Air, my favorite of the three, to get you started.
35. Learn to Freedive
The Gilis are the perfect place to learn how to freedive. Each island has freediving schools, the water is warm, and the instructors are good! Plus, once you learn how to do it, you can visit the underwater statues. Click here to read more about my experience with Freedive Flow on Gili Air.
East Nusa Tenggara
This is another one of my favorite parts of Indonesia, with some of the world's best diving and most beautiful beaches in Komodo National Park.
36. Hang out with the Komodo Dragons on Komodo Island
It's the only place in the world where you can see the Komodo Dragons, so obviously it has to be on your bucket list. Komodo Island is a UNESCO World Heritage Site that close to 2000 Komodo Dragons call home. They roam freely on the island, can smell blood, and move fast. Make sure you follow the rangers when visiting them! Bonus points if you make this part of your liveaboard diving experience.
37. Dive in Komodo National Park
I had the pleasure of diving with the manta rays during my 6-day liveaboard diving trip in Komodo National Park. Up until today, I still can vividly remember the huge and magnificent manta ray that swiftly swam past me. It is a beautiful experience you need to try out yourself!
38. Take a multiday boat trip around the Flores Islands and Labuan Bajo
With an abundance of manta rays, diverse species of sharks, turtles, untouched corals, drift dive opportunities and unimaginable underwater landscapes complete with a dive site with more species of fish than the entire Caribbean, the Komodo Islands are perfect for a multi-day boat trip. I loved going with Wicked Diving.
39. Discover Sumba Island
A trip to Sumba Island feels like a journey back in time. Expect to be blown away by thatched traditional clan houses in the hilltop villages, where the most indigenous traditions are kept for generations. The powerful waves are also perfect for professional surfing. While it is pretty much off the grid, you will be surprised to find quite a number of luxurious resorts,as well as a unique on-campus hotel school tended by local students on the island. Whether you are looking to immerse in unique, authentic local culture and stay in a hotel that allows interaction with locals, or a luxurious holiday with plenty of challenging surfing opportunities, Sumba Island will not disappoint.
West Papua
For an off the beaten path experience and some of the world's best diving, head to West Papua. It's remote, but oh so worth it.
40. Go on a live-aboard diving adventure in Raja Ampat, West Papua
It was one of the best trips I've ever done in my life. This is coming from a girl who has been traveling solo around the world in the last 6 years. The diving was incredible, and sailing through the Robinson Crusoe-like islands, most of which are uninhabited, had me giddy each and every day. Click here to read more about the liveaboard trip I took.
41. Get off the beaten path in Arborek, Raja Ampat, West Papua
For those looking for an authentic Raja Ampat experience, a stay at Arborek Village whose inhabitants have been living worlds apart for an eternity, will enable you a rare glimpse into the authentic world of West Papua. Here's a full guide on getting off the beaten path in Arborek, Raja Ampat.
Sumatra
Yet another incredible corner of Indonesia, Sumatra is famous for being one of the only places in the world where you can see orangutans. It's also popular for huge and uncrowded surf, and some of the more remote areas of the country.
42. See the orangutans in their natural habitat
If you want to see orangutans, head to Bukit Lawang in Sumatra. Most of the orangutans you will see are "semi-wild," meaning they were most likely orphaned, have been rehabilitated, and have since been released back into the wild. Visiting the areas where they live also help keep their homes preserved as we prove to the local authorities that this could be a lucrative opportunity.
43. Hang out with the locals in Bukit Lawang
Bukit Lawang is a tiny trekking town in the north of Sumatra. Most people just breeze through, using it as a hub for the nights before and after their jungle trek. As a result, there are fewer tourists who stay in the area, and so the locals tend to be much more receptive and curious. The town itself is lovely but it was the people that made the place wonderful.
44. See an Island Lake within a Lake within an Island
Huh? That was my answer when someone asked if I wanted to go see an island lake within a lake within an island. That's Lake Toba for you, and that was interesting enough for me to want to see it. It's peaceful and quiet, has nice, chilly weather that I definitely appreciated after sweating all over elsewhere in Southeast Asia.
45. Explore the tallest waterfall in Indonesia
Sipiso Piso Waterfall is the tallest waterfall in the country. Naturally, the waterfall is nothing short of stunning and magnificent. Combine Lake Toba mentioned above with Sipiso Piso Waterfall for an amazing 2-day trip.
46. Hike Mount Sibayak
Mount Sibayak is one of the two active volcanoes in Berastagi. It's not a technically challenging hike, but it pays to hire a guide to lead the way. It's best to start your hike in the wee hours as it may get unbearably hot in the day.
47. Scuba dive in Weh Island
Weh Island is perfect for divers looking to scuba dive in a secluded island that's off the beaten path. It's a gorgeous dive site but doesn't see nearly as many tourists as other islands in Indonesia, as there's not too much entertainment or other activities on the island. It's Sumatra's best-kept secret, so if you are a diving enthusiast, check it out!
48. Visit Lebengki Island in southeast Sulawesi
It is currently one of Indonesia's best kept secrets. Getting there involves flying to Kendari Airport, followed by a taxi ride to the harbor, and a boat to the island. The infrastructure is limited, and tourism is just about to get started, so getting around on the island might also take some planning and working with what you can get. The rewards? An absolutely authentic and unforgettable Indonesian island experience. Sounds like a pretty fair trade to me!
49. Explore the original spice islands
The Maluku islands were once a popular travel destination, until religious war broke out in 1999. The islands received few visitors after that. This forgotten spot is a paradise for those who are looking for a truly off the beaten path travel experience in Indonesia. While you could catch a local flight to Neira Banda Neira, a much more memorable way to travel to the original spice islands is to take the massive cargo ship, Pelni Ship. On the islands, give yourself plenty of time and serendipity to be able to appreciate the beauty of Maluku islands that has been long forgotten by the world.
Summer love with Bali – The Fashion Fruit
One can easily spend 2 weeks to 2 months in Indonesia and barely scratch the surface. Perhaps the best thing about traveling in Indonesia is that regardless of your length of stay, it is possible to explore Indonesia on a small budget. Back when I was backpacking in Southeast Asia in 2013, I spent $30 / day and was able to see and do everything I wanted to. Challenging yourself to travel in a country on a small budget not only will help you save some money, but also encourage creativity.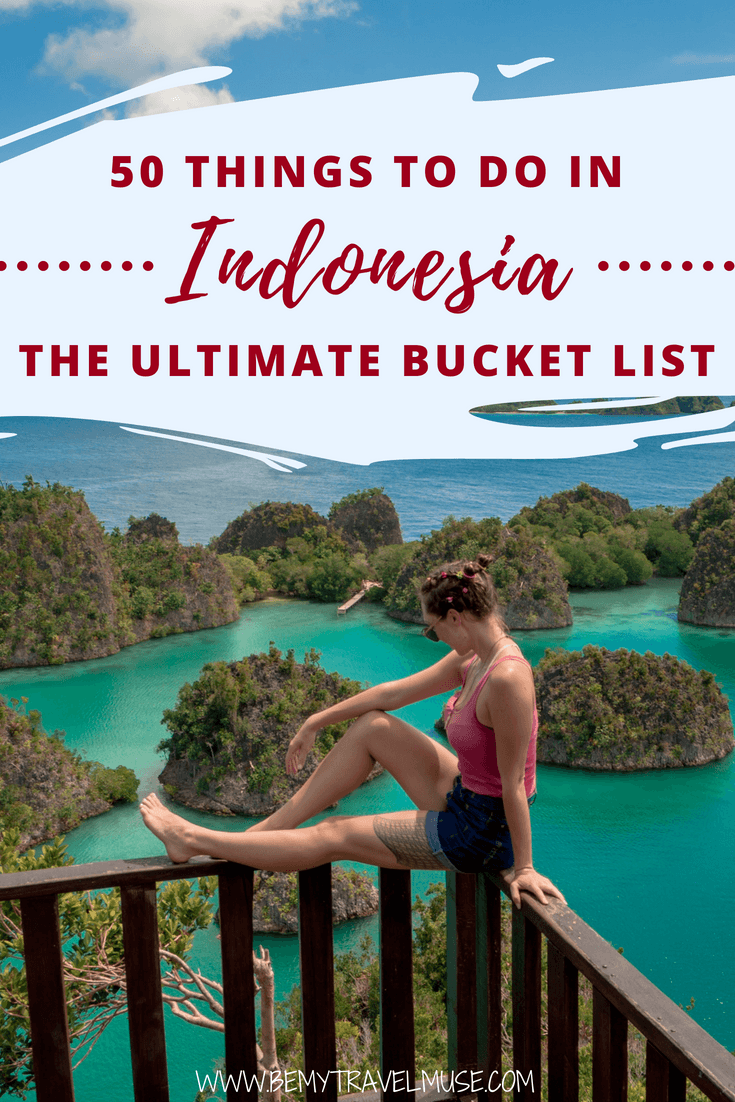 Inspired to go on an Indonesia adventure yet? I hope this list helped you to discover some amazing activities and places that you didn't know about, and opened up more possibilities! Indonesia is perfect for exploration over several months, or several trips. It's a place I keep going back to, and can never get tired of.
READ MORE #TravelTheRainbow: Colorful destinations from across the globe
ALSO READ Kings Catzillas by the Artist Fransdita Muafidin In Urban Landscapes