A simple marinade with two kinds of balsamic vinegar, fresh herbs, and grainy mustard gives this grilled balsamic chicken topped with an easy olive and sun dried tomato tapenade a classic Mediterranean flavor zing.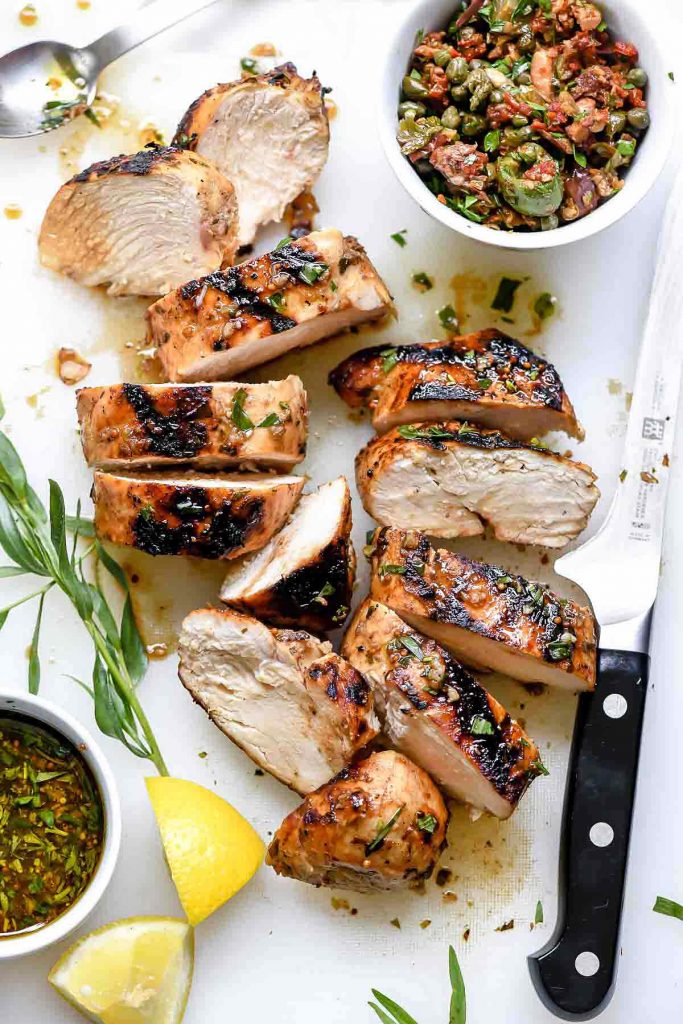 This recipe is brought to you by Kroger
It's no secret that I have a love affair with Mediterranean flavored food, and there's no better season than summer to really get into exploring all the flavors as a cook and relishing every bite as an eager eater.
From Italian-style Burrata and Heirloom Tomato Caprese Salads to classic Greek Pork Souvlaki and The Best Lebanese Fattoush Salad, summer is the season to take advantage of Mediterranean vegetables in their prime, fresh herbs at their peak, and outdoor grilling techniques that naturally become the dinnertime norm.
This grilled balsamic chicken served with a super-simple-to-make olive and sun dried tomato tapenade is one of my favorite, and easiest gateways to making healthy Mediterranean eating a weekly ritual.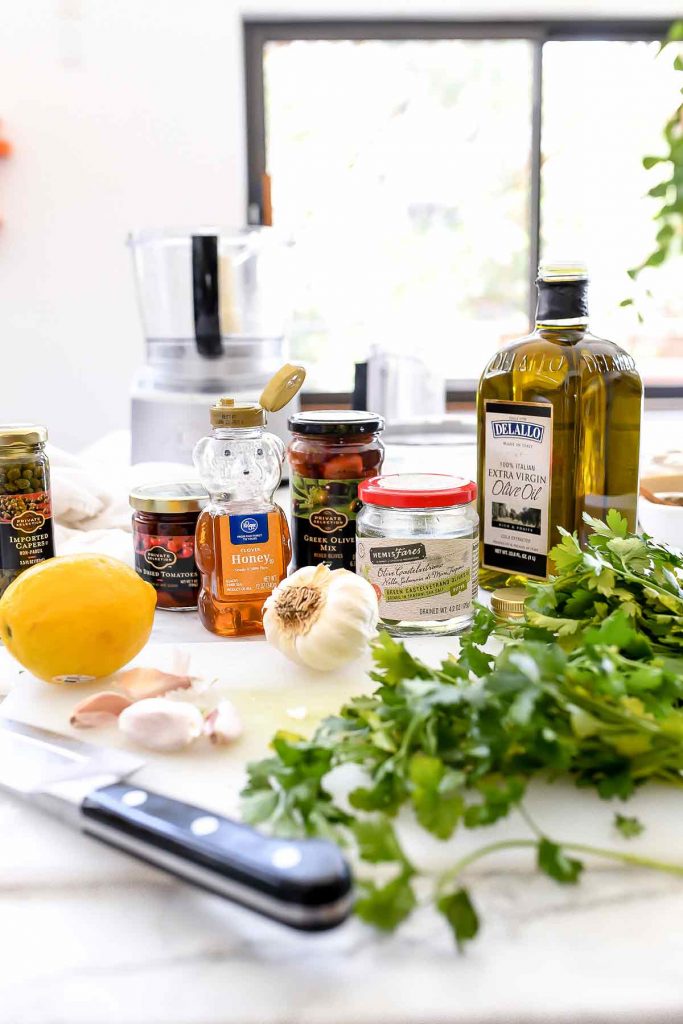 I developed this grilled chicken recipe for my visit last month to Kroger's Cincinnati headquarters where several other ambassadors and I met with the Kroger team to learn about the new innovations, products, and services Kroger is rolling out to it's family of grocery stores.
Here's a just a few of the highlights of what's on the Kroger horizon:
Zero Hunger Zero Waste: While Kroger is constantly evolving, it's their commitment to quality products and community that keeps me a loyal fan, and I was thrilled to learn about Kroger's Zero Hunger Zero Waste initiative to become a zero waste company by 2020 and a zero food waste company by 2025. If you know much about the amount of waste that occurs every day in the U.S., then you know this is a huge commitment. And along with that, they are accelerating company food donations to provide three billion meals by 2025 to feed people facing hunger in the places Kroger calls home. And they're not just donating products in boxes or cans, but donating real food whole meals!
ClickList Online Grocery: Ordering groceries online and on your phone is all the rage and Kroger is leading the charge not only with in-store pick-up delivered straight to your car, but now with in-home delivery straight to your door. Their online ordering system is so easy and I have total piece of mind about the food quality (hello produce!) because I see their ClickList shoppers shopping right beside me as I cruise through the aisles. Sign up for your nearby store's ClickList here.
OptUP App: This one is a literal game changer because it makes monitoring good nutrition exactly that: a game! OptUP is Kroger's new smartphone app that tracks your grocery purchase choices, gives them a nutritional score, and then provides healthier recommendations based on what you tend to buy. So instead of buying the full-fat sour cream (with a low score) try Greek yogurt instead (with a higher, healthier score.) Now, I'm checking my score every week to see how many points I go up or down. 600 is the target number, and I'm up 4 points this week to 721! Download the app here and see how you're doing.
After a day of learning we all competed in a cook-off challenge in their brand spankin' new test kitchen—and whoa!—talk about good eats! And this Mediterranean grilled chicken recipe is the recipe I cooked for the comptetition.
So did I win? I'll let you be the judge of that…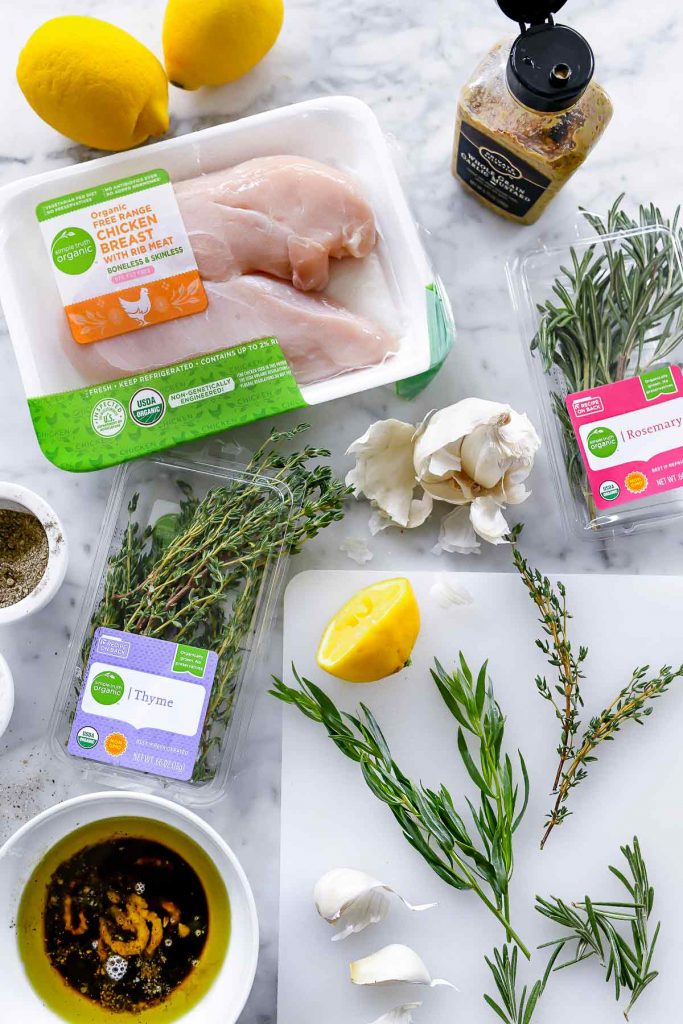 Tips for Making This Marinated Balsamic Chicken Recipe
Balsamic marinades are a favorite way to prepare chicken for several reasons. First, balsamic vinegar adds a natural sweet balance to the acidic vinegar that when cooked caramelizes and becomes even sweeter. The vinegar also helps break down meat or poultry's fibers for a more tender and juicy bite.
But that balsamic sweetness can also lend it's own set of cooking challenges, and for the same reason it's so loved: caramelization of the sugars. When cooked on too high of heat too quickly, the sugars will easily burn the outside of the chicken with the inside still in need of cooking time.
To offset this potentially-hot-on-the-grill situation, I'm sharing several tips below to keep in mind.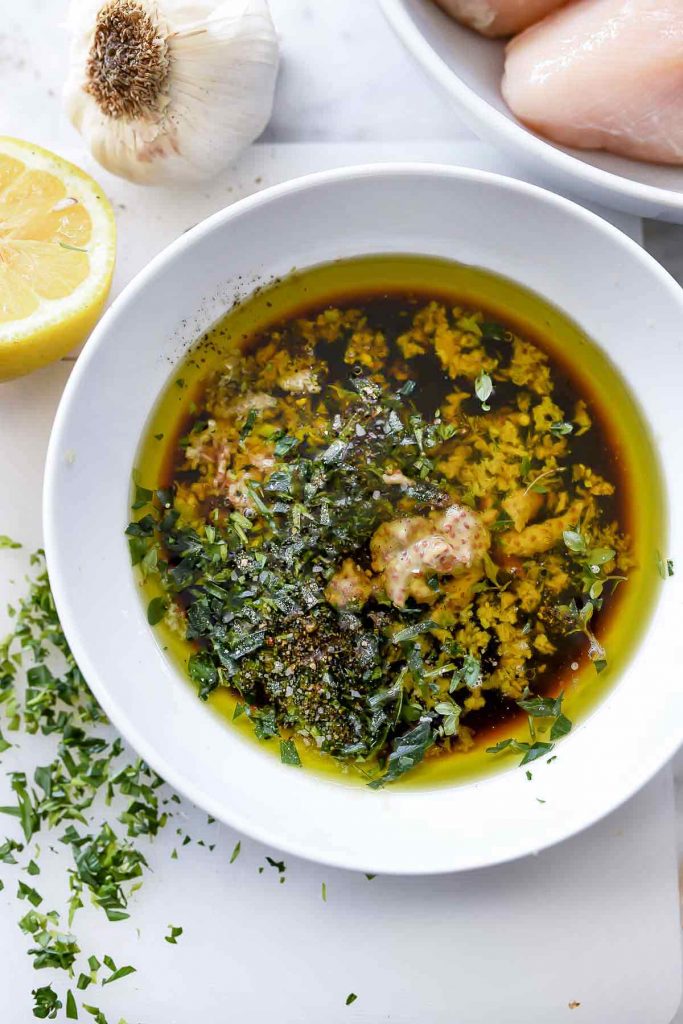 Preparing The Balsamic Marinade
I've seen plenty of balsamic marinade recipes out in recipe-land that call not only for the concentrated sweetened sour flavor of balsamic vinegar but also sugar or honey to sweeten it even more. I've even done the same.
But because we are cooking a thicker cut of chicken for a longer time on the grill with a higher potential for burning, I skip the sugar all together. Tip: Always choose a good quality brand of chicken for the best results. I like the Simple Truth Natural Boneless Skinless Chicken Breasts found in my Smith's meat section.
Instead, I use a combination of traditional dark balsamic vinegar—which is more concentrated and puckerywith golden balsamic vinegar that has a more mellow flavor. The combination of this with fresh lemon juice mellows the acid just enough.
But what makes this marinade even more balanced and more delicious is the addition of whole grain mustard. I use Kroger's Private Selection Whole Grain Garlic Mustard because it has the creaminess of Dijon mustard with the seeds of a grainy mustard.
A few cloves of garlic and chopped fresh herbs add the fresh, Mediterranean factor. I love fresh chopped tarragon in this marinade with its slightly licorice taste, but classic fresh rosemary, or oregano, or a combination of all work their wonders too.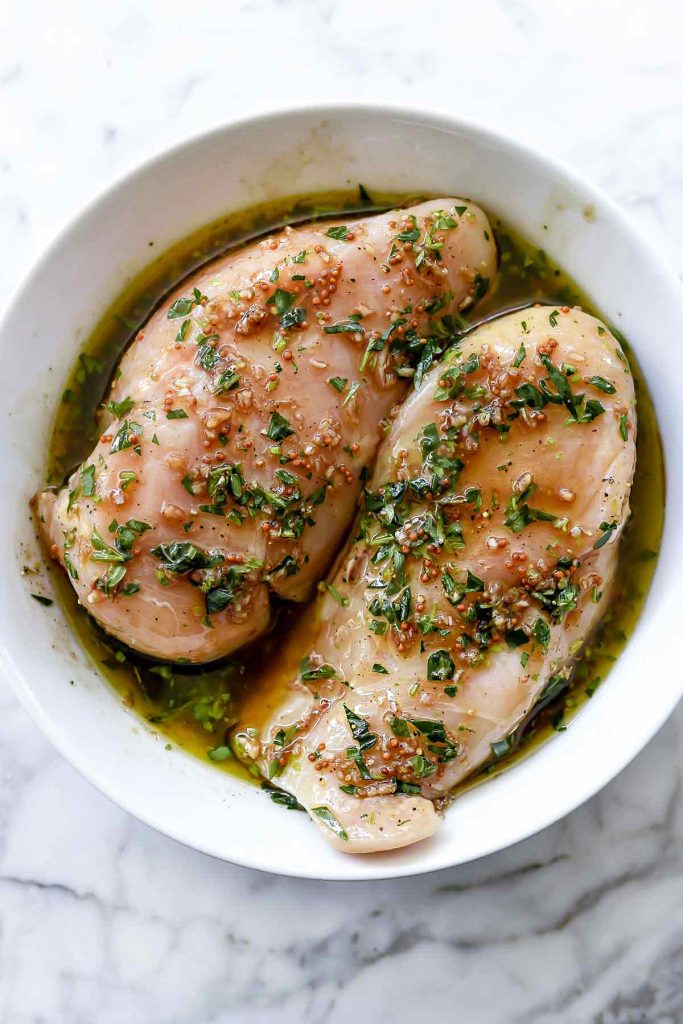 How to Avoid the Sugar Burn
As mentioned above, grilling with sweet marinades can quickly go up in flames. Here's how I avoid the situation:
Strip your marinade. Before grilling, remove as much of the marinade as possible.
Get oily with it. Clean your grill grates well and then oil them even better. But even then I take another layer of precaution and drizzle oil on my marinated meat to add another barrier of protection.
Start high then go low. Unlike my recipe for the best grilled chicken breasts that go on the grill minimally bare and can stand longer cooking time on a higher heat, I've found it best to give this marinated chicken a quick sear of only 1-2 minutes on each side or until I get a good start on grill marks, then move them to the side of the grill with the heat turned off, so the chicken bakes instead of sears, turning the chicken every 5 minutes or so with additional basting of the marinade with each flip. If I see the chicken isn't browning, I'll set it on the hot side of the grill for a minute or two to add color, then place it back to the cooler side to continue to bake. Repeat until the internal temperature reaches 165°F, which should take about 30 minutes depending on the thickness of the chicken.
TIP: If you want a quicker grilled chicken breast, slice the boneless breasts in half lengthwise before marinating for a thinner slice that will cook twice as fast.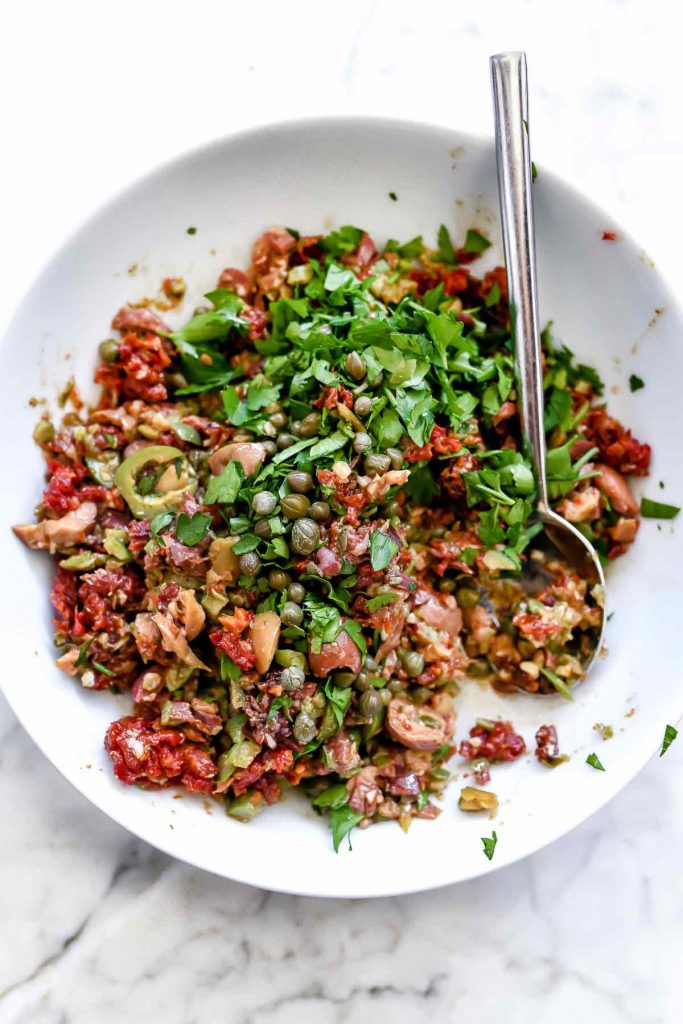 Dress Up Your Mediterranean Bird
While I love the flavors of this balsamic infused chicken, it's the olive tapenade that really drives home the Mediterranean flavors. I make it with a selection of some of my favorite Private Selection ingredients: a variety of Greek olives, sun dried tomatoes, capers, garlic, lemon juice, and fresh parsley whizzed in the food processor or blender for a quick topping that adds loads of flavor.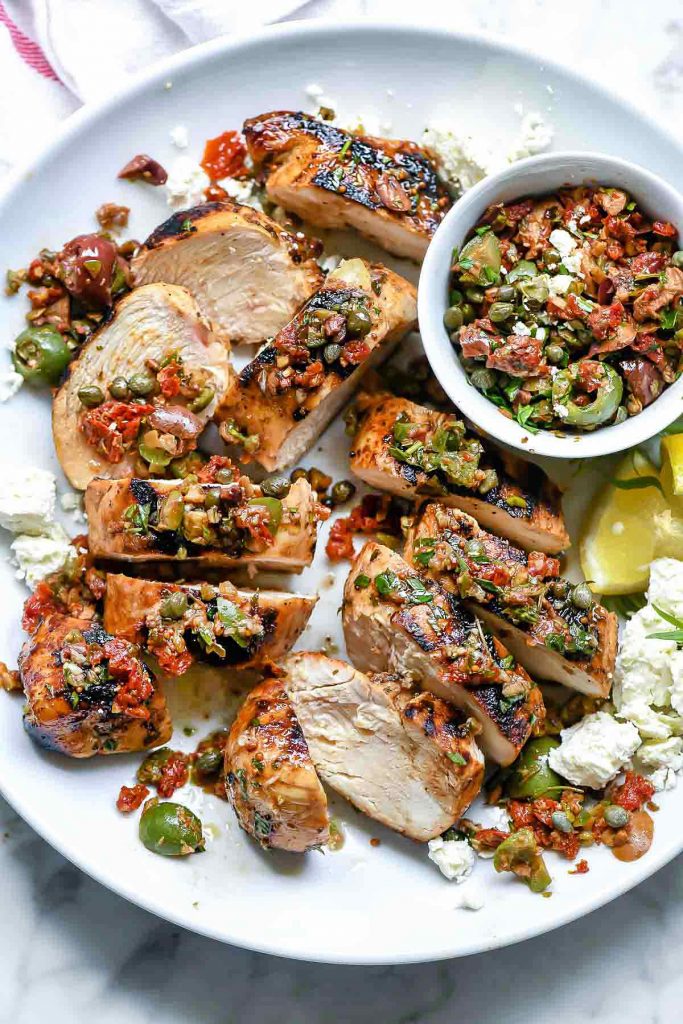 If you make this recipe, please let me know! Bookmark this recipe and leave a comment below, or take a photo and tag me on Instagram with #foodiecrusheats.
READ ALSO Marinated Flank Steak Salad ⋆ Design Mom
Mediterranean Grilled Balsamic Chicken with Olive Tapenade
Trim any extra fat from the chicken breasts and place in a bowl or a gallon size freezer bag.
In a small bowl, whisk the olive oil, balsamic vinegars, mustard, garlic, lemon juice, herbs, and salt and pepper. Reserve half of the marinade and add the other half to the bowl or bag with the cihcken. Marinate for at least 30 minutes up to overnight, turning occasionally.
When ready to grill, bring one side of an outdoor grill to high heat with the other side off.
Oil the grill grates well and drizzle the chicken breasts with more olive oil, then place the chicken breasts on the hot grill. Cook for 2-3 minutes or until grill marks appear, then flip the chicken and cook for another 2-3 minutes. Move the chicken to the cooler grates of the grill, cover, and cook for 10 minutes. Transfer a few tablespoons of the reserved marinade to another bowl and use it to baste the chicken with and flip. Continue cooking, basting, and flipping until the breasts have an internal temperature of 165 degrees. Move the chicken to the hot side of the grill to add more grill marks and color to the chicken breast but be sure to watch them so the balsamic marinade doesn't burn.The length of cooking time will depend up on the thickness of the breasts but you should count on the whole cooking time to be about 30 minutes.
Transfer the chicken to a platter and cover with a piece of aluminum foil and let rest for 5 minutes. Serve with olive tapenade, chunks of feta cheese minced herbs and drizzle with any leftover marinade or olive oil.
Mediterranean Olive Tapenade
3 cloves garlic, pressed or minced
¼ cup olive oil
½ cup sun dried tomatoes, drained and coarsely chopped (7 ounce jar)
¼ cup capers, drained and divided
1 4-ounce jar green olives, drained and pitted (I use HemisFares Green Castelvetrano Olives)
1 6-ounce jar mixed Greek olives, drained and pitted (I use Private Selection Greek Olive Mix)
Juice of 1 lemon
2 teaspoons balsamic vinegar
½ teaspoon freshly ground black pepper
⅓ cup fresh chopped Italian parsley
Add the garlic and olive oil to the bowl of a food processor and process on high until well combined. Scrape down the sides of the bowl with a spatula then add the sun-dried tomatoes and ⅛ cup of the capers and process until the tomatoes are chopped. Add the green olives and the Greek olive mix and pulse two times so the olives are just coarsely chopped. Stir in the lemon juice, balsamic vinegar, pepper, parsley and the reserved capers. Serve on chicken, in pasta, on bruschetta, or grilled meats. Will keep refrigerated for 2 weeks.
What to Make With this Chicken Recipe and Turn It Into a Meal
This post is sponsored by Kroger. As always, thank you for reading and supporting companies I partner with, which allows me to create more unique content and recipes for you. All opinions are always my own.
Thanks for reading and subscribe to FoodieCrush to have each post delivered straight to your e-mail box.
READ MORE Roast chicken with Brussels Sprouts. The ultimate roast chicken recipe by Souvlakiforthesoul