Morning Glory Muffins are like carrot cake for breakfast! They are made with shredded carrots, apples, raisins, and whole wheat flour.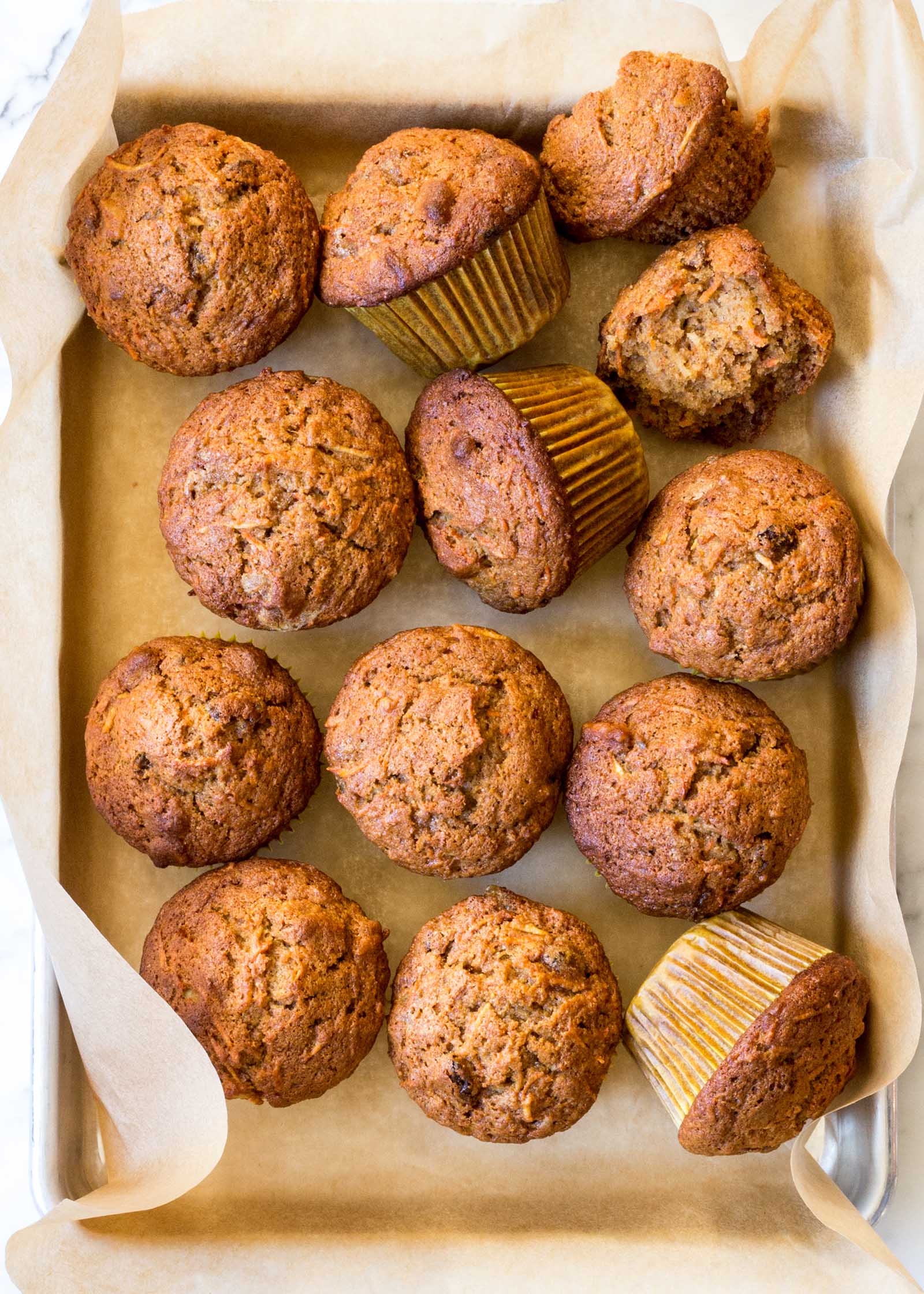 Photography Credit:
Sheryl Julian
Everyone needs one great muffin recipe. This is mine.
These Morning Glory muffins are like carrot cake cupcakes, though not as sweet and at least somewhat more nutritious. They're mixed with grated carrots and apple, along with raisins, walnuts, and spices.
Curious about where Morning Glory muffins first originated?
Most bakers attribute them to the Morning Glory Cafe on Nantucket, an island off the coast of Massachusetts. That was in the 1970s when bakers were first starting to experiment with adding vegetables such as grated carrots and zucchini to their baked goods.
This wasn't an entirely new phenomenon: during World War II, bakers used grated beets as a cheap way to intensify chocolate cakes.
In these muffins, carrots add moisture and color, and when you bite into one, the familiar taste of carrot cake will please and delight you.
Morning Glory Muffins Recipe
Ingredients
3/4 cup (90g) all-purpose flour
3/4 cup (85g) whole wheat flour
3/4 packed cup (160g) light brown sugar, packed
1/2 teaspoon salt
1 1/2 teaspoons baking soda
1/4 teaspoon baking powder
2 teaspoons ground cinnamon
1/4 teaspoon ground nutmeg
1/4 teaspoon ground allspice
3 large eggs
3/4 cup (149g) canola oil
1/4 cup (85g) honey
1 teaspoon vanilla extract
2 medium carrots, grated (about 1 1/4 cups)
1 small apple, peeled, cored, and grated (about 1/2 cup)
Zest from one medium orange
1/2 cup golden or dark raisins
1/2 cup walnuts, chopped
Method
1 Preheat the oven to 400°F. Line a 12-cup muffin pan with paper cups or grease with butter.
2 Combine the dry ingredients: In a bowl, whisk together the flours, sugar, salt, baking soda, baking powder, cinnamon, nutmeg, and allspice to combine. Use a spoon to smash apart any remaining brown sugar lumps. (If you shake the bowl, any lumps will rise to the surface.)
3 Make the batter: In a large bowl, stir the eggs to break them up. Add the canola oil, honey, vanilla, carrots, apple, orange rind, raisins, and walnuts. Stir thoroughly. Stir in the dry ingredients until well blended.
Divide the batter among the muffin cups, filling them almost to the top. Tap the muffin pan once, hard, on the counter to settle any air pockets.
4 Bake the muffins for 22 to 25 minutes, or until they are firm and a toothpick inserted into the middle emerges clean. Set the muffins on a wire rack to cool. Muffins keep well for several days stored in an airtight container.
Hello! All photos and content are copyright protected. Please do not use our photos without prior written permission. If you wish to republish this recipe, please rewrite the recipe in your own unique words and link back to Morning Glory Muffins on Simply Recipes. Thank you!