Architect David Dworkind has designed and built a variety of ash wood tables, benches and stools to accommodate as many diners as possible at this narrow cafe in Montreal, which serves Lebanese snacks and baked goods.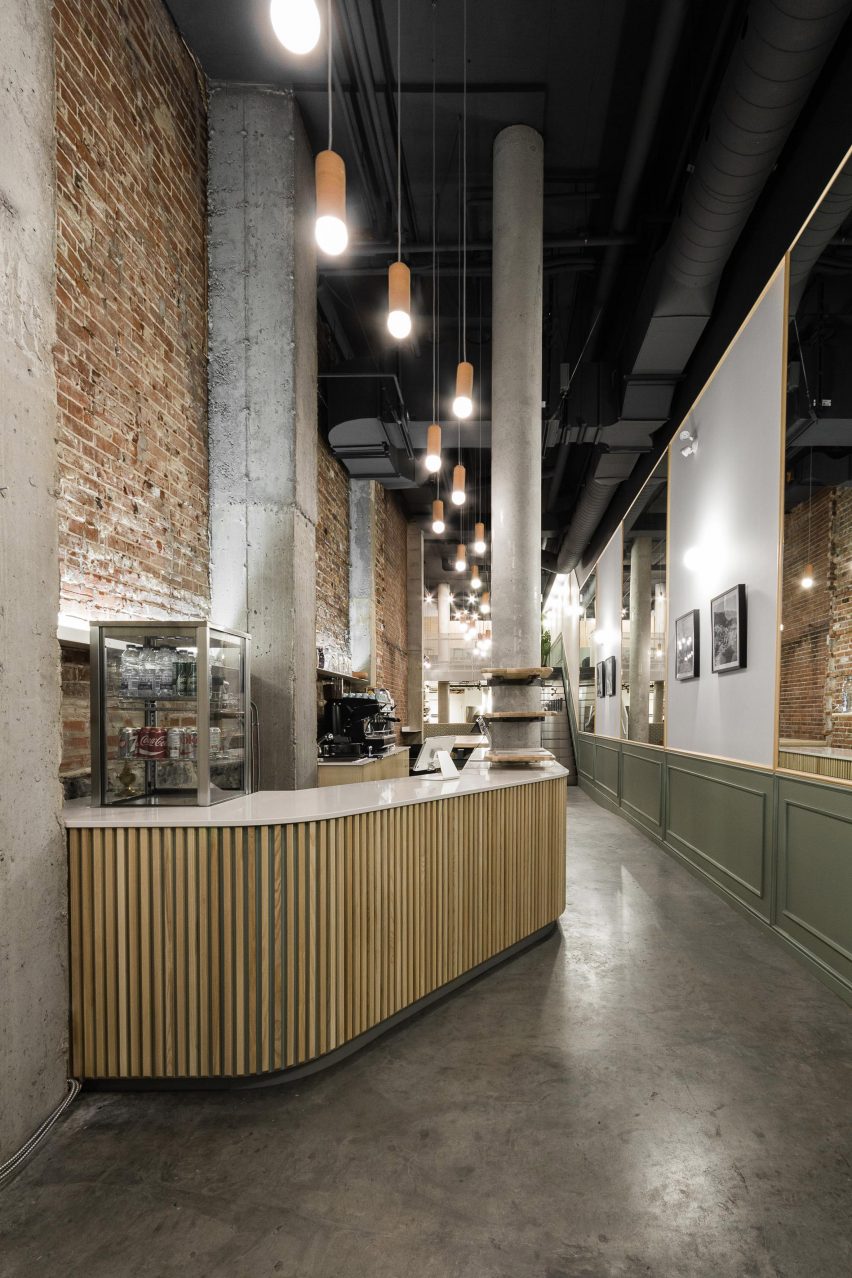 The concept of the casual Lebanese eatery Jouney is the brainchild of Patrick Abdelahad, who named it after his hometown Jounieh – a coastal city north of Beirut.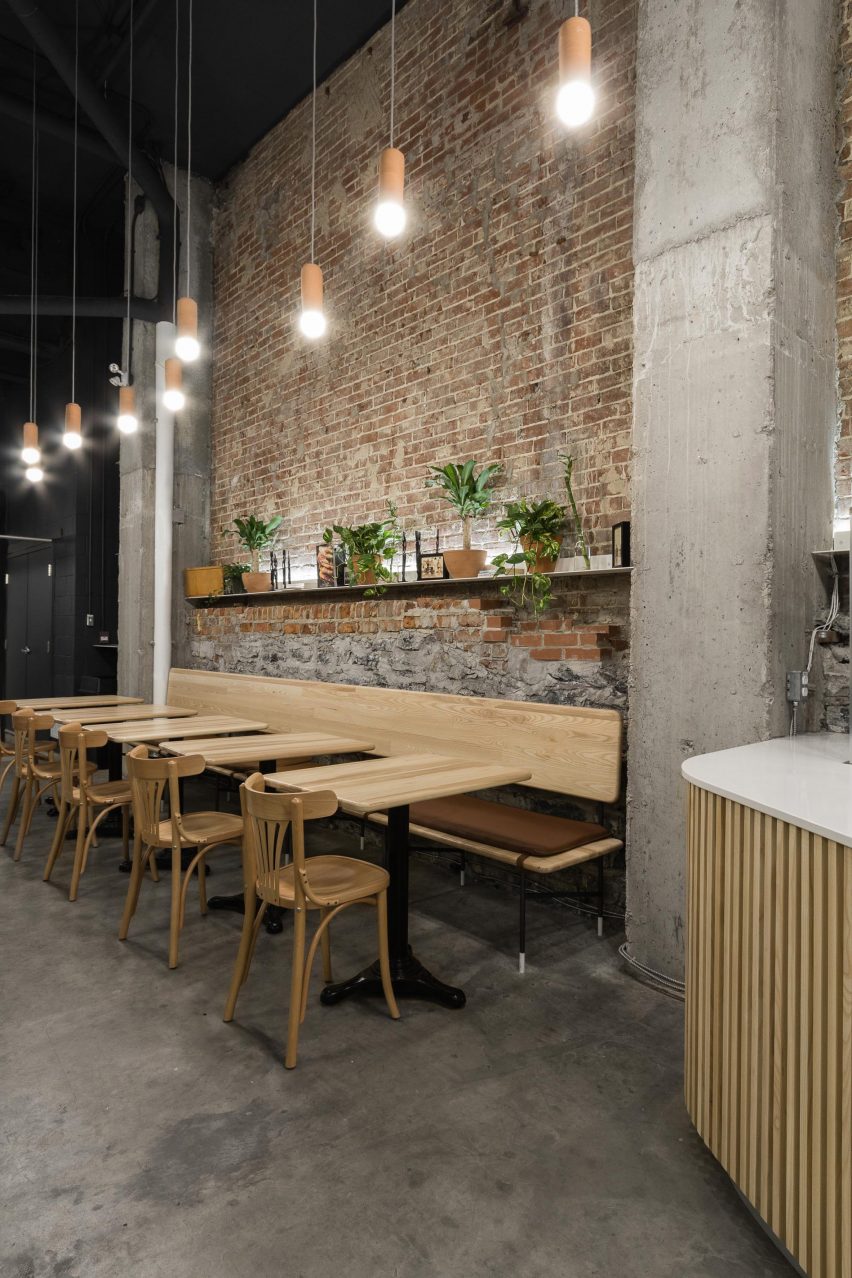 Abdelahad tasked David Dworkind to transform the 1,750-square-foot (162-square-metre) Jouney cafe on Rue Bélangerin in Downtown Montreal.
The locally based architect aimed to make the most of the space's unusual long and narrow proportions, as well as encourage different eating styles.
"The long narrow restaurant can seat 40 in an array of different seating options," said Dworkind.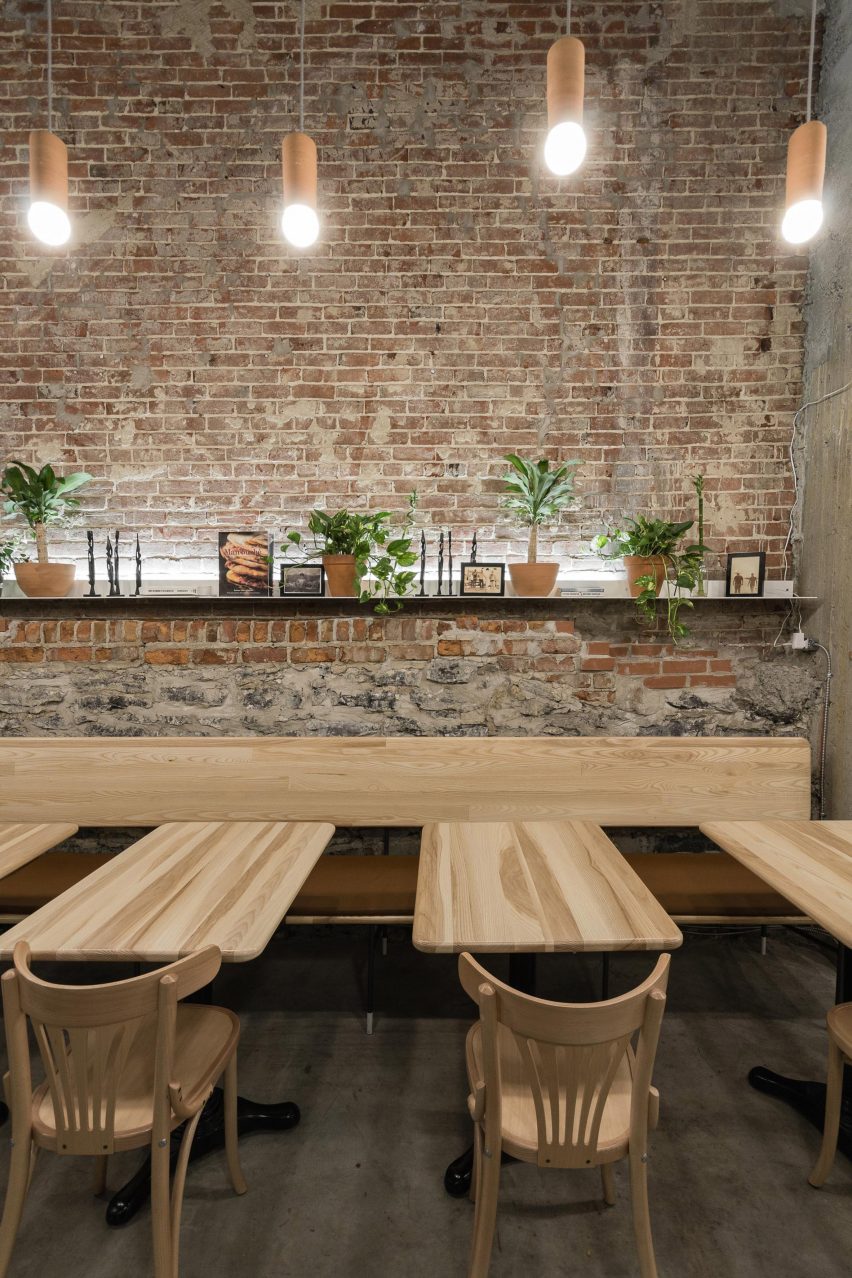 Customers, who order at a curved counter fronted by wooden slats in the centre, can dine as singles abreast of each other on the bench at the front of the cafe where circular table tops extend from levers attached to the wall.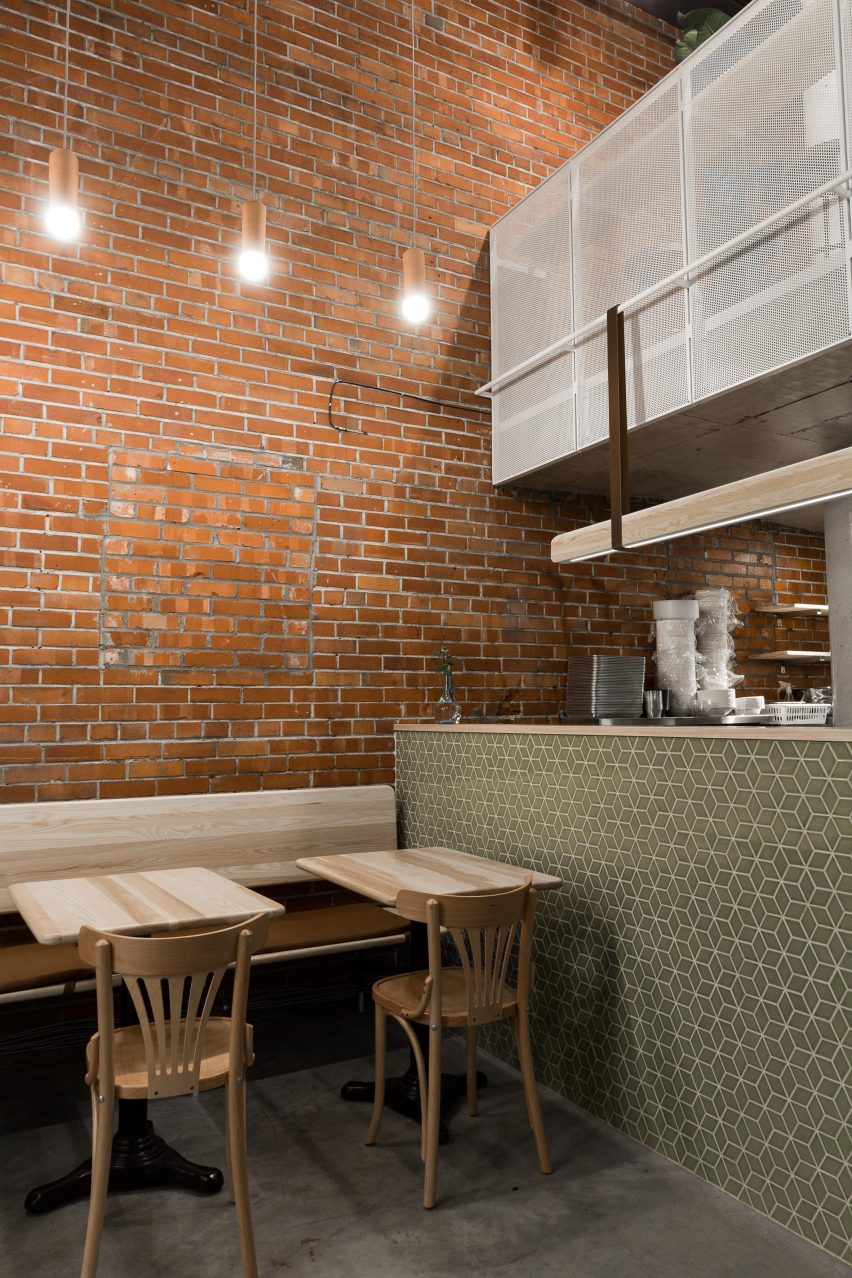 A row of rectangular tables is placed on the opposing wall to provide banquette seating, while a larger table at the rear suits communal eating. The wooden table top is supported by a black metal I-beam structure that bridges a slope in the floor and its accompanying stools are similarly fixed into the floor.
Bar stools are also placed along the balcony on the mezzanine level offering views across the cafe. A lounge-style set up, including a sofa, also occupies this upper level.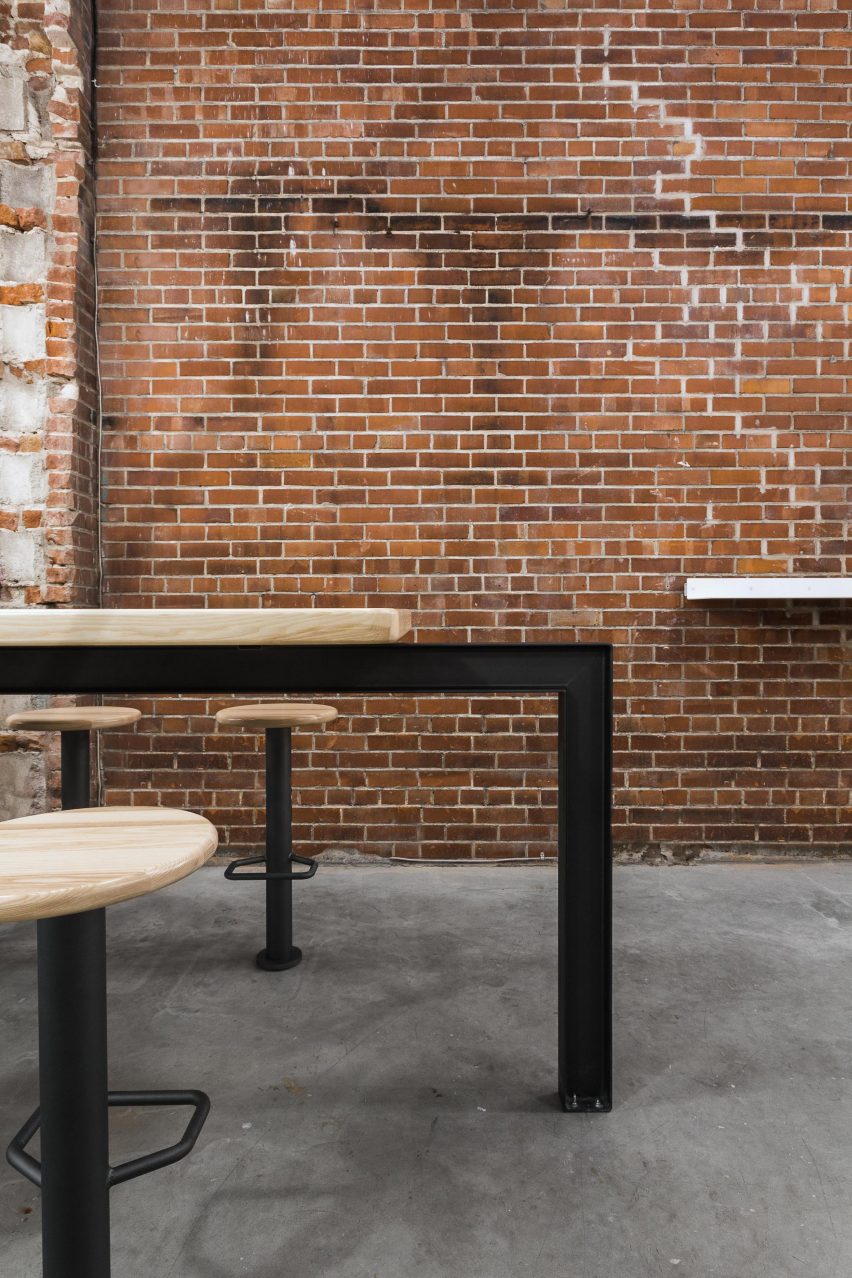 Dworkind's overhaul of the space exposes the existing industrial-style fittings, including the nearly five-metre-high brick walls on one side, which feature patches that have been replaced, and the weathered concrete columns and flooring. The ceiling fittings are also revealed but painted black.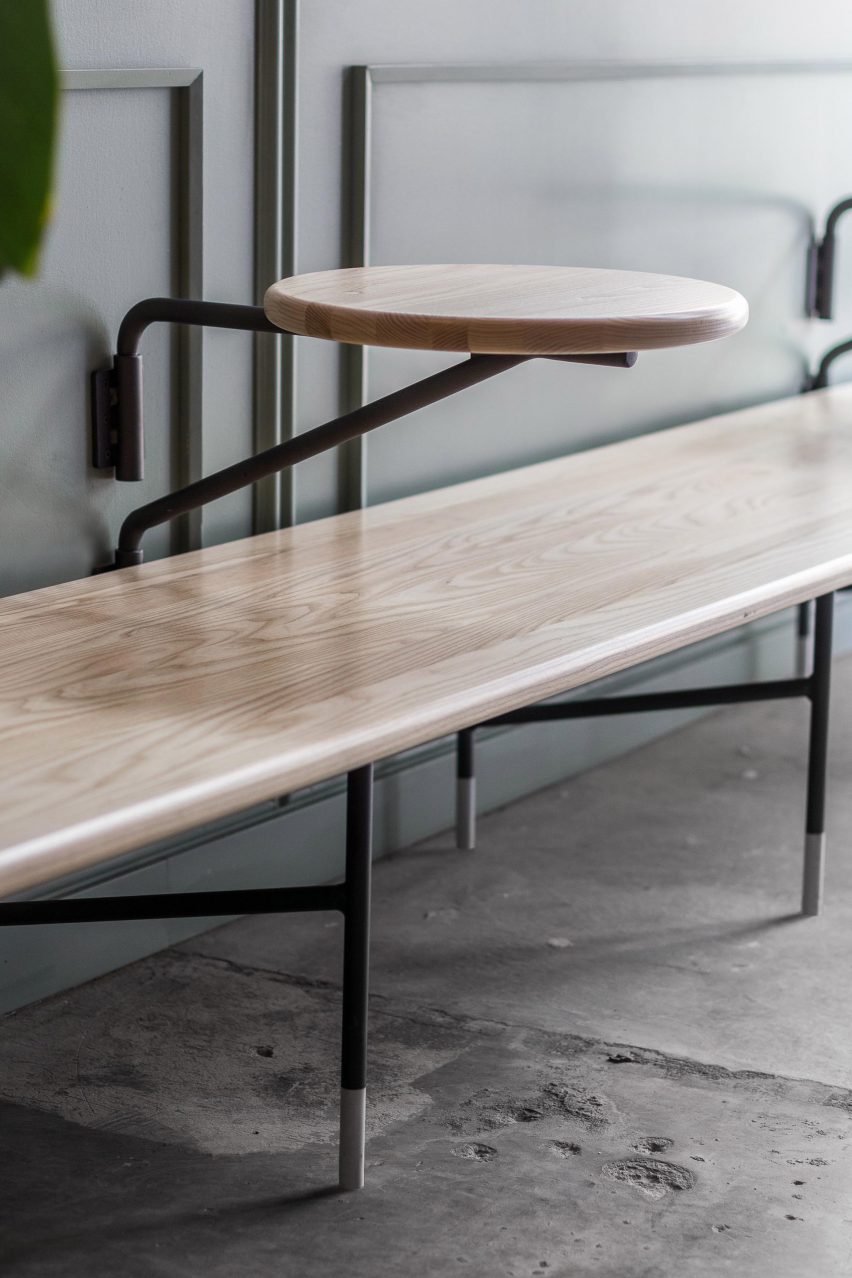 The architect chose neutral colours of green, black and white and a simple material palette to complement the concrete and brickwork, much like Appareil Architecture's design of another restaurant in Montreal.
Inside Jouney, decorative siding along the base of the wall opposing the brickwork is painted green. The white-painted upper half is fitted with large mirrors that makes the space appear bigger.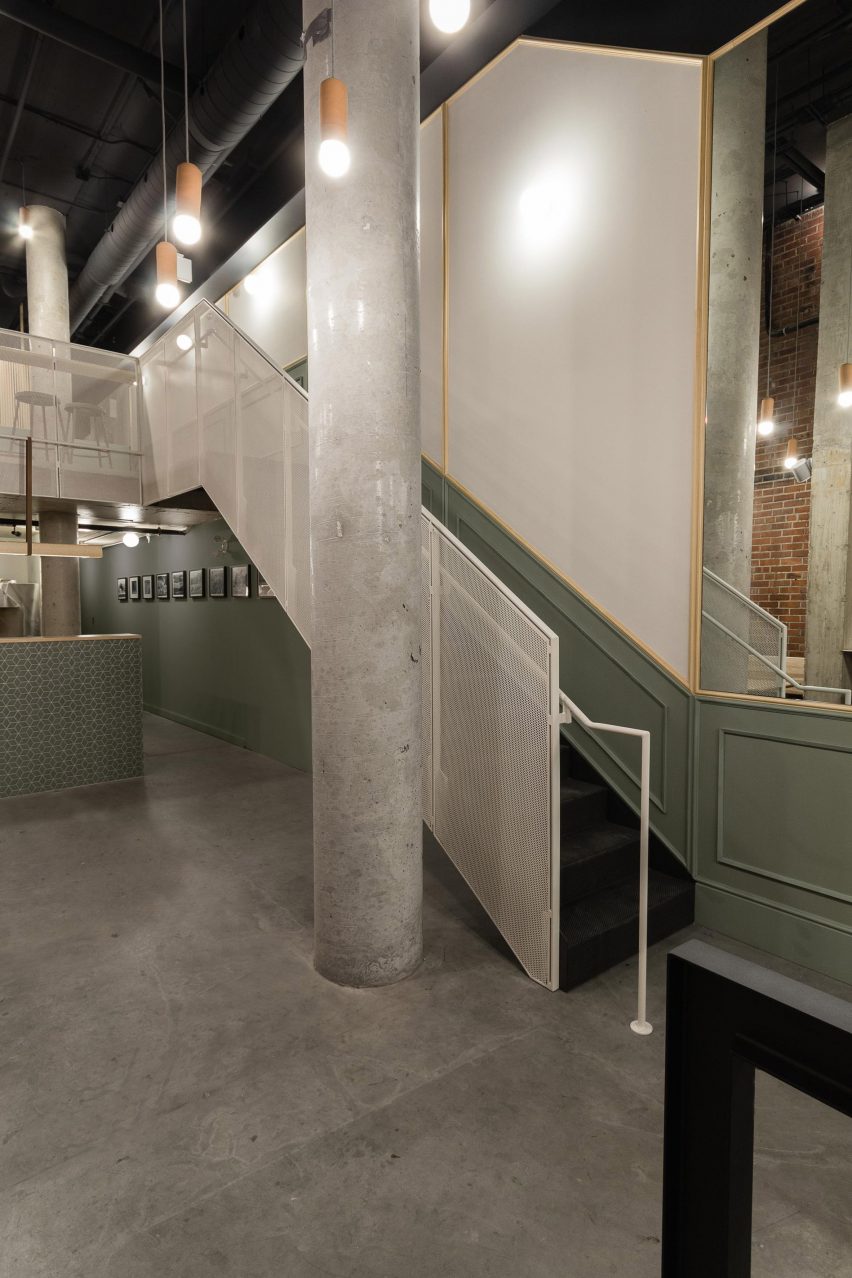 Ash wood tables and chairs detailed with rounded edges and patterned green terracotta tiling "inspired by the tiled roofscapes of Lebanon" that front the kitchen at the rear of the cafe are among the new fittings.
Other terracotta details include the handmade tubular pendant lights that run down the length of the cafe hanging at different lengths, and plant pots displayed on shelves alongside photographs and ornaments.
The monochrome perforated steel staircase that leads up to the mezzanine floor comprises a white balustrade and folded black steps.
Photography is by David Dworkind.