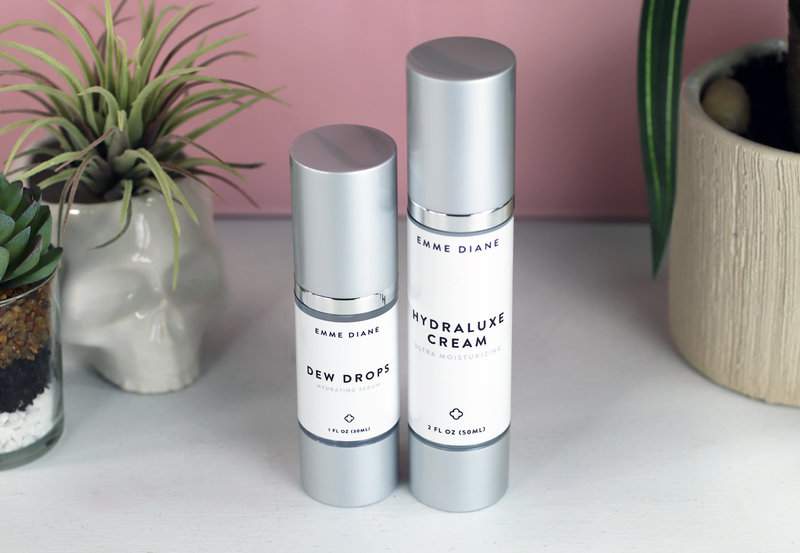 Question of the Week: What's your biggest skincare issue, and which product(s) do you use to help with that issue?
My biggest issue right now is that I have dry skin AND acne, so I'm battling both at the same time.
I know I've been talking about Emme Diane skincare a lot lately, but I'm honestly over the moon with these products (and equally blown away by Emme's acne coaching). My skin is prone to getting painful and GIANT cystic acne, but at the same time it always seems to be dehydrated. This winter has been super dry and my skin is actually DRY for the first time in my life – but I'm still fighting acne!
The really great (and unique) thing about Emme Diane is that she will coach you via email. Most brands just sell products and it's up to you to decide if they're right for you, when to use them, how often to use them, how to combine them, and when to switch it up and use different products. Emme's coaching has made all the difference in the world to me. I've asked her about one of her products and she's told me flat out – nope that will fry your skin – that's not for your skin type! So recently, she's told me to cut back on the acne-fighting products and focus more on hydrating.
None of the Emme Diane products have acne-clogging ingredients, so I feel safe using the extra hydrating products on my acne-prone skin. (And side note – the list of ingredients that can trigger acne is surprising. Ask for her free Acne Bible ebook for a list!) To hydrate my winter-ravaged skin, I've been using Dew Drops (a humectant blend) followed up by the Hydraluxe Cream (an emollient blend).
Dew Drops Hydrating Serum is a very light cruelty free and vegan serum that I put on right after washing my face. It's important to use your moisturizers right after cleansing or getting out of the shower, so the moisture doesn't evaporate and dry out your skin even more. The Dew Drops serum is made with hyaluronic acid, green tea, cucumber, sage and arnica. My skin drinks this stuff up – and I can immediately see it looking more hydrated and plump. I'm obsessed with this stuff. I feel like this is a pretty amazing, universal hydrator, but I highly advise contacting Emme with some pics of your skin so she can advise. She also has a Skin Quencher Gel Hydrator and many other serums. She'll be able to look at your skin, ask you a few questions and tell you exactly what you need.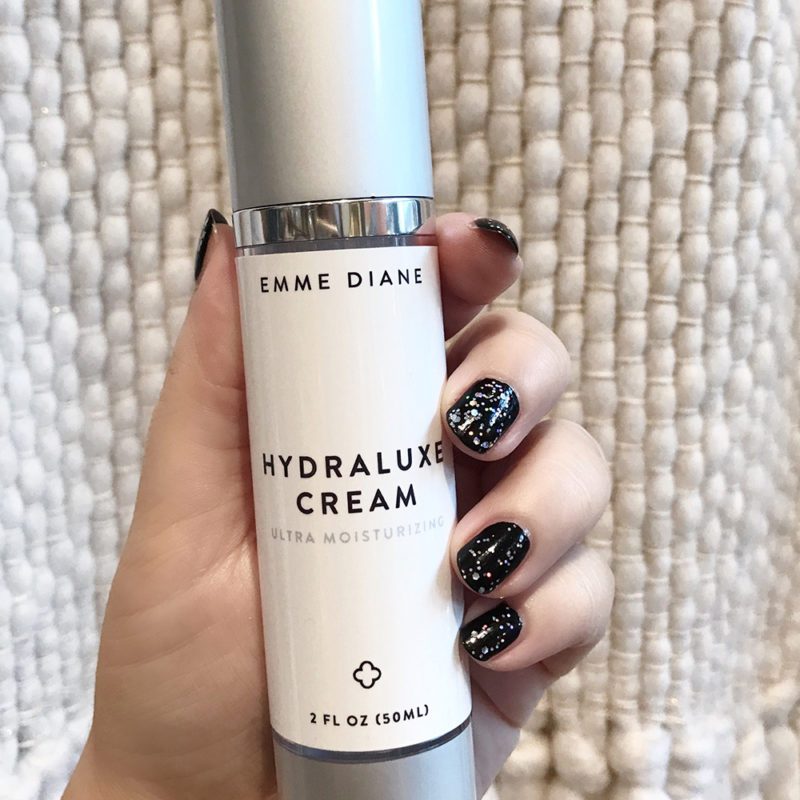 After applying the serum, I lock in the moisture with the Emme Diane Hydraluxe Cream. It's a light/medium cream (cruelty free and vegan) that soaks in right away leaving my skin feeling super hydrated but NEVER EVER greasy. The formula is made with ceramides and safflower oil (one of the few oils that won't trigger acne). This stuff is a dream come true and I don't ever want to be without it!

The Lipstick League – week of 1.8.18
Please note that not all Lipstick League posts are cruelty free.
My Beauty Bunny – Jen wants to set the record straight about this "fake news" meme that has gone viral with her name on it.
Phyrra – Have you seen the Urban Decay Kristen Leanne Collection? I'm in love with it! I do a demo with all of the eyeshadows on my eyes and the rest of the products on my face. You need to see it.
Prime Beauty – There is a fabulous new makeup subscription box called Deck of Scarlet. Every two months you will receive a new makeup palette curated by a popular YouTuber. I got ahold of the January/February Edition from Nikkia Joy!
we heart this – Can't afford a stay at famous and fabulous The Golden Door? Us either. BUT! You can get a bit of its vibe at home with their skincare line, including the uber-luxurious Golden Face Oil.
Blushing Noir – LIVE your most colorful life! The Urban Decay x Kristen Leanne Collection is available now and you definitely need to get your hands on ALL OF IT. Check out the full review, swatches and multiple looks here.
EauMG – Here's a list of all the random beauty stuff I bought off of Amazon in 2017.
(Wondering what the Lipstick League is? Find out here.)
My Beauty Bunny is Currently Craving: the new Vanish Flash Highlighting Sticks from Hourglass Cosmetics. Cruelty free, weightless, easy to use, and comes in five shades? Sign me up!
Related