by: Allison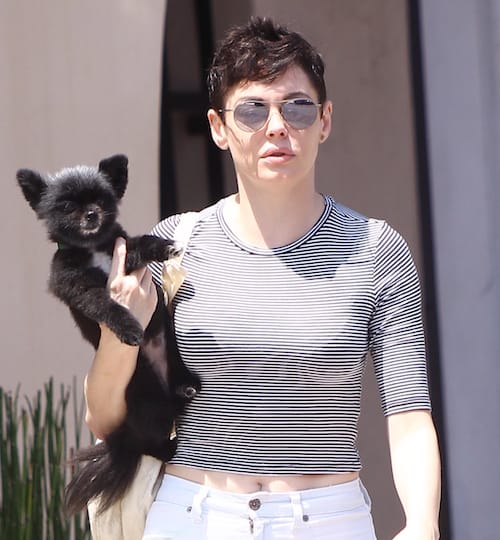 Rose McGowan has had a rough couple of months, but one of the messier situations she found herself in recently was getting busted for drugs last October. A narcotics arrest warrant was issued after illegal drugs was found in a wallet that Rose left behind at an airport in January 2017. A month later in November, Rose turned herself in and was charged with possession of cocaine.
Rose pled not guilty to cocaine possession. And according to Rose, the only person guilty in this situation is Harvey Weinstein.
TMZ says that Rose is so sure she was framed, she wants the case tossed. According to Rose, the timeline is all too suspicious. She claims five hours passed between the time she got off the plane to when her wallet (with coke inside) was found by the plane's cleaning crew. Her lawyer argues, "There is simply no point in time at which the evidence places Ms. McGowan and the cocaine together in the same place."
Rose's lawyer has implied the coke was planted, and accuses Harvey Weinstein of maybe being the coke wallet culprit. So it's not just a coke arrest, but the result of "the underhanded targeting of Ms. McGowan."
Harvey's people haven't yet responded to the allegations that he framed her.
What we don't know is how Harvey allegedly cooked up such a scheme. Did he get a Weinstein Company lackey to hack into the universal airport ticketing agency website, find out what flight Rose was on, book a seat two rows back, get through security with a bag of coke squirreled up their ass, wait with anticipation that she might forget a piece of luggage, grab it, dust it with coke, and drop it back under her seat?
It especially doesn't look good for Harvey. He'll have one less supporter after Lindsay Lohan discovers this news. "I can't believe you never once secretly slipped coke in my wallet. I thought we were friends!"
Pic: Wenn.com
Our commenting rules are pretty simple: If you make any overly offensive comment (racist, bigoted, etc..) or go way off topic when not in an Open Post, your comments will be deleted and you will be banned. If you see an offensive or spammy comment you think should be deleted, flag it for the mods and they'll be forever grateful and give you their first born (although, you probably don't want that).