Our Oman itinerary took us on a 10-day road trip around the north of the country. We visited stunning mosques and sandcastle-like forts, hiked up sand dunes and along the rim of the Grand Canyon, swam in the crystal green waters of wadis, and took long walks on empty beaches.
Oman is one of the safest countries to visit in the Middle East, it's easy to self-drive, and you'll have many places to yourself as tourism is only just beginning to grow here. It's also the perfect place for some winter sun.
If you have less time, you could easily do this Oman road trip in a week.
Oman Self-Drive Tips and Resources
Visa
Most nationalities can get a 30-day Omani visa on arrival from the currency exchange desk just before immigration at Muscat International Airport. This costs 20 OMR and must be paid for in cash only. There's no ATM but you can pay with any currency, although the rates aren't very good. It cost us US $60 each paying in dollars when 20 OMR should be $52.
Do you need a 4WD in Oman?
Most people recommend a 4WD for an Oman road trip, but they are at least double the price of a regular 2WD car and whether you need one depends on your itinerary.
We decided to rent a small 2WD SUV as it has higher clearance than a regular sedan. For this route we didn't need a 4WD except for going up Jebel Akhdar mountain where we hired a driver at the base to take us up. The road up Jebel Shams was steep and unpaved in parts but we managed in a 2WD. Most roads in Oman are paved, quiet, and in good condition.
If you can afford it, a 4WD will give you peace of mind and will allow you to explore some of Oman's exciting off-road tracks, but you can manage without one.
Oman car hire
We rented a Nissan Kicks small SUV through RentalCars.com for £261 for 10 days from the Thrifty office at Muscat airport. We had a limit of 200km a day which is common in Oman and was plenty for us. Technically you need an international driving permit in Oman but we were never asked for one.
We have a separate annual car hire insurance policy which covered the excess.
In Oman you drive on the right. The speed limit is usually 120km/h or 60km/h in urban areas.
Fuel stations are attended—you can leave a small tip but it didn't seem to be expected. Most stations have a shop and some have toilets and a restaurant. Petrol is cheap—less than 40p a litre.
Accommodation
We booked most of our accommodation on Booking.com, which often worked out cheaper than booking direct. Prices in Oman are quite high for what you get. Everywhere we stayed was well equipped (ensuite, air conditioning, WiFi, free parking) and functional rather than stylish. Hotels add 17% tax.
If you are on a tight budget, the cheapest option is to buy a tent and wild camp for free almost anywhere in the country.
SIM Card
We bought an Omantel SIM card from the desk at the airport. The Hayyak "New Welcome Pack" cost 2 OMR (£3.75) including 1.5 GB data (valid for 10 days) and 1 OMR credit. Other packages are available and the staff speaks English.
The data package was very useful as we used Google Maps for directions (although turn by turn is not supported). The mobile signal was often faster than the hotel WiFi.
Oman Travel Costs and Money
The current exchange rate is 1 OMR (Omani rial) = £1.87, €2.12 and $2.60. The rial is divided into 1000 baisa.
There are a few ATMs at the airport and there was no charge to use them with a foreign card. It's best to stock up on cash as some hotels and petrol stations are cash only.
We used our Trail Wallet app to track our Oman expenses. We spent £134 ($173/€145) a day for two people with the most expensive items being accommodation (£68 a day) and transport (£38 a day).
We found food inexpensive in local restaurants (rather than hotels) and it cost us less than £14 a day (not including the meals that were included in two of our hotels). We didn't spend a lot on entertainment as there aren't many expensive attractions and our favourite activities—hikes and wadis—were free.
Our costs don't include flights to Oman. We flew Bangkok-Muscat-London with Oman Air. It wasn't the cheapest option but we preferred to fly direct. You can search Kiwi and Skyscanner for the best flight deals.
When to Visit Oman
Winter is the best time to visit Oman as the summers are extremely hot. Our trip was in early December and the weather was perfect—around 25ºC and sunny during the day with pleasantly cooler nights. The nights at Jebel Shams mountain and Wahiba Sands desert were very cold and we needed warm clothing.
Travel insurance
Travel insurance is essential in case anything goes wrong on your trip. We used True Traveller as always—they are the best deal we've found for UK and EU residents. World Nomads is another well-respected company we've used in the past.
Water
We heard mixed reports about whether the water in Oman was drinkable. As I have a sensitive stomach we decided not to risk it and drank bottled water instead.
Our Oman Itinerary
Muscat – 2 nights
Nizwa – 2 nights
Jebel Shams – 2 nights
Wahiba Sands – 1 night
Ras Al Hadd – 1 night
Sur – 1 night
Muscat – 1 night
Our Oman road trip was for 10 nights and we drove 1378km around the north of the country. Distances aren't long on this route and we had quite a lot of down time, so you could easily do this itinerary in seven days. If time is short, reduce the first stay in Muscat to one night, the Nizwa/Jebel Shams area to three nights, and skip the night in Sur (you can visit on the way from Ras Al Hadd to Muscat).
When you are planning your Oman itinerary, remember that as Oman is a Muslim country the weekend is on a Friday and Saturday and many places close on Fridays.
Our Oman Road Trip Map
Note: The distances of each leg of our journey are taken from Google Maps (which we used for navigation) and the times are the actual time it took us. I've noted if we stopped for a break.
Days 1-2 Muscat (2 nights)
Our flight arrived at Muscat International Airport at 7 pm and we picked up our rental car and drove 30 minutes to the Mutrah area.
The next day we got an early start (arriving at 8.30 am) for Muscat's best attraction—the Sultan Qaboos Grand Mosque. This stunning, huge, modern mosque is open to visitors from 8 am to 11 am every day except Friday and is free. There is a strict dress code—women must cover up completely with long sleeves, long trousers or floor-length skirt, and a headscarf (I used my sarong). Abayas are available to rent if you don't have anything suitable to wear. Men should wear long trousers and cover their shoulders.
Don't miss the mosque—it is absolutely gorgeous, both the serene grounds and the extravagantly decorated main prayer hall. I recommend arriving early to enjoy it before the tour groups arrive.
In the afternoon we rested back at our hotel before heading out at 3 pm for the 30-minute walk to Mutrah Corniche. This was my favourite part of Muscat (and one of the few walkable areas) with a lovely promenade with white buildings backed by rugged mountains overlooking the sea. It's especially pleasant at sunset.
The nearby Mutrah Souq reopens after the afternoon break at 5 pm. The crowded alleyways are touristy but a good place for souvenir shopping.
Where to Stay in Muscat
We stayed at Mutrah Hotel between the Little India area of Ruwi and the Mutrah Corniche. The decor was dated but our room was huge with a seating area, ensuite, fridge, air con, OK WiFi, and room service. We had a view of the mountains behind the hotel and there is a SPAR supermarket across the road as well as a few cheap Indian restaurants nearby. It was one of the cheapest hotels we found in Muscat and we were happy with our choice.
Where to Eat in Muscat
We had lunch at Welcome Restaurant, a small, simple, vegetarian Indian restaurant near our hotel. At lunch they only had thalis but it was very good with an array of curries, puffy puri bread, and a sweet for only 2.5 OMR (£4.70) for both of us including water.
We had dinner near the Mutrah Souq at Bait Al Luban, an upmarket restaurant serving traditional Omani cuisine. It's named after frankincense (which is grown in Oman) and the pungent scent smokes through the restaurant. They even add it to the water.
We sat on cushions and ordered from the decent vegetarian section—our Omani vegetable curry and fava beans in tomato sauce with date flatbread were good. Afterwards they brought us a big bowl of delicious Omani dates. Bait Al Luban is more expensive than most restaurants in Oman, but it's not unreasonable and it's worth it for a special meal as there aren't many destination restaurants in Oman.
Day 3 Muscat – Nizwa (2 nights)
Distance: 176km
Time: 2 hours
The drive to Nizwa was easy on good quality highways through the desert surrounded by barren mountains, passing the occasional oasis town. We continued past Nizwa to the 17th-century Jabrin Fort (also known as Jabreen or Jibreen Castle), one of the best forts to visit in Oman. Entrance was only 500 baisa (£0.95) and it wasn't very busy. There's a labyrinth of rooms to explore and you can enjoy views of the date palms and mountains from the battlements.
You could also visit nearby Bahla Fort but we were exhausted so headed back to Nizwa to check in to our hotel.
Nizwa isn't a particularly attractive town. It's very spread out and the outskirts (where the hotels are) are full of strip malls and fast food chains. The fort and souq area are worth a visit though and we went in the late afternoon. The Nizwa Fort is now open from 8 am to 6 pm (except on Fridays when it's 8-11.30am and 1.30-8pm) and the souq opens in the mornings and from 5 pm to 8 pm.
We have mixed feelings about Nizwa Fort. It is beautiful, especially the massive circular tower which you can climb for views of the city and mountains beyond, but it now costs 10 times what it used to—5 OMR (£9.40). For that price you would expect it to be better maintained, but the lights in the exhibition area flashed annoyingly. It probably didn't help that we're not super into forts, so if you aren't on a tight budget or are a history buff then you should visit.
On our second morning in Nizwa we visited Jebel Akhdar (Green Mountain). The base of the mountain is in Birkat al Mawz, a 15-minute drive from our hotel. When you reach the town follow signs to turn left to Al Jabal Al Akhdar. You drive up the mountain until you arrive at a car park and police checkpoint—it's 4WD only beyond this point. As we were in a 2WD we parked and a young guy called Mohammed immediately approached us in his shiny 4WD and offered to drive us up for a tour for 35 OMR (£66).
On the way up we stopped at various viewpoints for spectacular views of the rugged mountains and villages that cling to its sides. At the Saiq Plateau you realise why it got its name as the green refers to the terraces of fruit trees and roses that are grown in the villages. Spring is a better time to visit to see everything in bloom.
We spent about two and a half hours enjoying the views and taking short walks in the cool air (take layers!). An interesting addition would be the two-hour hike between the villages of Al Aqr and Al Ayn.
We were back at our hotel by lunchtime, so you could skip the extra night in Nizwa and continue to Jebel Shams.
Where to Stay in Nizwa
Most of the hotels in Nizwa are quite far from the centre. Al Karam Hotel Apartment was one of the cheapest places we found but was surprisingly good, despite its random location off a highway surrounded by desert. Our one-bedroom apartment was spacious, clean and comfortable, if rather characterless. We liked having a separate living room with couch and used the small kitchen to self-cater. WiFi was pretty good (4 Mbps up and down). A breakfast buffet is included in the price.
Where to Eat in Nizwa
There didn't seem to be anywhere particularly good to eat in Nizwa, so we self-catered at the amazing, huge Lulu Hypermarket. It really has everything you could possibly need including an excellent prepared food section where we stocked up on samosas, dahl, curries, rice, salads, hummus, and bread. They even had all of our favourite British chocolates and it's a good place to buy inexpensive dates.
The Nizwa Fort Coffee Shop between the fort and the souq looked like a pretty good option for a coffee, juice, and snack.
Day 5 Nizwa – Jebel Shams (2 nights)
Distance: 108km
Time: 2 hours 20 minutes via Misfat
You could visit Jebel Shams as a day trip from Nizwa but we decided to spend a few nights up there to enjoy the views and tranquility. On the way we stopped at Misfat al Abryeen, one of Oman's oldest and most picturesque villages. From the modern side of the village there are fantastic views of the old village clinging to the mountainside and surrounded by lush date palms—walking through the oasis is a highlight.
Misfat is an interesting place but we felt a little intrusive exploring the village itself. It's a tiny, traditional place of crumbling mud houses and has become popular with visitors. There are signs everywhere reminding guests to cover their shoulders and knees and warning people away from walking down private alleyways. It might be more rewarding to stay overnight at Misfah Old House guesthouse, although it's expensive for what you get.
We continued to the top of Jebel Shams. A 4WD is recommended but we heard it was possible to make it up in a 2WD. And we did, but I do not recommend it for nervous drivers or if you have no off-roading experience. There's a 7km section of steep, rocky dirt track, some parts sandy and rutted, and if we had got stuck we would have been in trouble.
At the top, just before Jebel Shams Resort, there's a viewpoint where you can see down into the dizzying depths of what's known as Oman's Grand Canyon and admire the long hair goats posing on the ledge.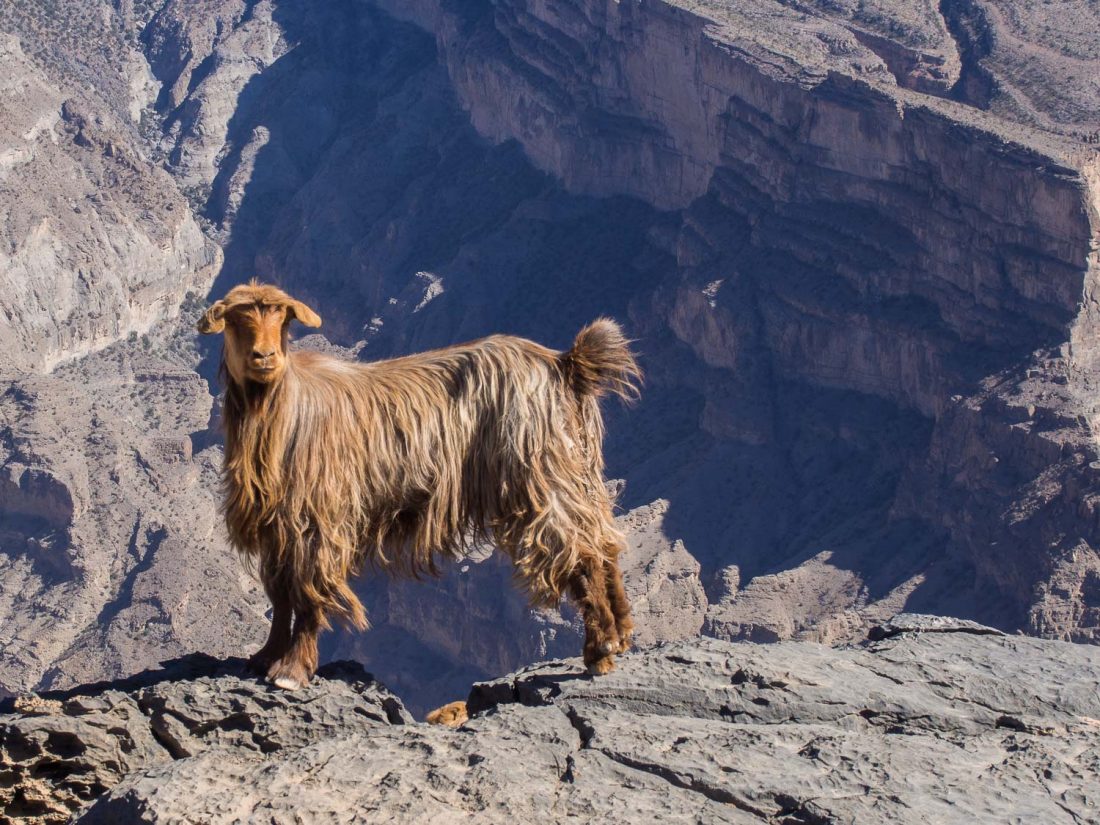 We spent the afternoon relaxing at our hotel and got an early start the next day for the highlight of Jebel Shams—the Balcony Walk. The hike (a section of the W6) starts 10 minutes further down the road (another off road section) from the tiny hamlet of Khateem. Just follow the red/yellow/white splotches of paint on the rocks to follow the trail along the edge of the canyon. It's an out and back hike and the views are amazing straight away so you could just walk a little way.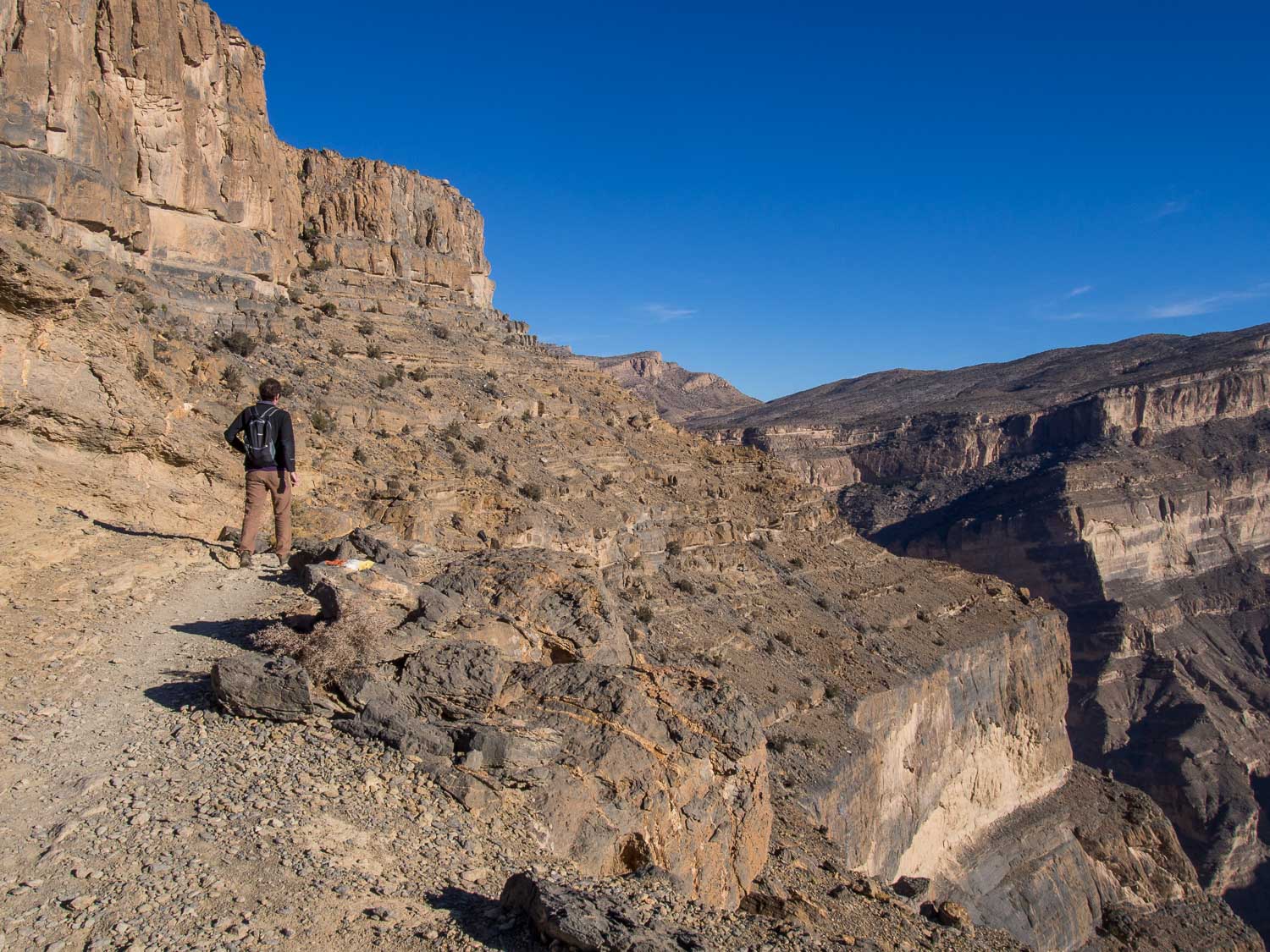 It's worth continuing to the abandoned village of As Sab where tiny stone and mud houses perch precariously on the edge of the canyon under a ledge of rock. It's unbelievable that people lived in such a harsh (if beautiful) environment.
The entire hike (3.5km each way) took us 2.5 hours including a break at As Sab. We were the first people to arrive at 8.20 am and had most of the hike to ourselves and avoided the worst of the heat. We spent the rest of the day relaxing at our hotel.
Where to Stay and Eat in Jebel Shams
Unless you want to wild camp, there are only two places to stay at the top of Jebel Shams. We stayed at the nicest of the two—Jebel Shams Resort. It's not much of a resort and it's quite expensive, but we enjoyed our tranquil stay. Our Sunset Chalet had twin beds (unfortunately they all do), a couch, table and chairs on the terrace, a fridge, and a small heater (needed on the cold nights). There is supposed to be WiFi at reception but it didn't work for us and we didn't have mobile signal either.
Breakfast and dinner are included in the price—the food was decent and had vegetarian options. I recommend bringing bottled water, snacks and lunch as the small snack bar is only open 12-3pm and has a limited menu. There are no other restaurants or shops on the mountain.
The nearby Sama Heights Resort is cheaper if you stay in one of their furnished tents.
Day 7 Jebel Shams – Wahiba Sands (1 night)
Distance: 253km
Time: 4 hours 45 minutes including detour to Ibra and lunch break
Wahiba Sands is what you picture when you think of the desert—rolling sand dunes, camels, and Bedouin tents. To explore the area it's best to stay the night in one of the desert camps. We wanted somewhere simple (we didn't need A/C and a pool), quiet (some are close to noisy 4WD trails), away from towns with minimal light pollution, and near a large sand dune that we could climb. Many camps offer camel rides and 4WD dune-bashing drives but we were content to explore on foot.
The Desert Retreat Camp met all of our requirements and had the benefit of feeling remote but being only a 20-minute drive into the desert. Most camps require a 4WD to reach them or you can pay a high price for a transfer from the town of Al Wasil, but we were told this camp was accessible in our small SUV. And it was, but it was nerve-wracking driving through the sand.
The meeting point is at 3 pm at the Desert Retreat Camp office at the Al Maha petrol station in Al Wasil (there's a shop and restaurant there too). We paid in cash (make sure you stock up in advance) then followed the guide's dust cloud as he sped through the sand.
The Desert Retreat Camp is the last camp in this part of the desert and there's nothing else around except for a few buildings where locals store feed for the goats that wander nearby. As there was only one other guest that night, and there's no WiFi or 3G, it was wonderfully peaceful.
We were greeted with Omani coffee in tiny cups and the best dates we'd eaten so far. The Bedouin goat hair tents are laid out in a double ring at the foot of a dune, all with their own private but separate bathroom. Many camps don't have electricity but we had a light and a dodgy looking power point. Our tent was furnished simply with two twin beds pushed together, a table and a coat rack. It was all we needed as we were here to enjoy the setting.
It's only a 15-minute walk up to the top of the dune but it's a tough climb as you sink into the sand constantly. It's worth it for the views of rolling dunes, especially in the glowing light at sunset and sunrise.
Dinner and breakfast are included in the price and were good—vegetable curries, homemade flatbread, rice, salad, and hummus followed by delicious Omani halva. We spent the night drinking tea around the campfire, then gazing at the explosion of stars.
Day 8 Wahiba Sands – Ras Al Hadd (1 night)
Distance: 213km
Time: 4 hours via Wadi Bani Khalid
From Wahiba Sands we headed towards the coast with a stop at one of Oman's most popular wadis, Wadi Bani Khalid. It's a stunning drive over the mountains off Highway 23 through small villages—just keep following signs to the cave/water pools.
From the carpark it's a five-minute walk to the clear green pools surrounded by date palms and rocky mountains. It has been developed with a few bridges, seating areas, and a restaurant, but it doesn't detract from its beauty.
We spent a blissful few hours swimming in the cool water, getting foot massages from the nibbling fish, and sunbathing on the rocks. It was one of our favourite places in Oman. We had the buffet lunch (4 OMR) at the restaurant but you are better off bringing a picnic if you can.
The desert stretches all the way to the sea at Ras Al Hadd. It's a bleak little town, but it does have a stretch of wild, empty beach with golden sand and turquoise waves. It's better for walking than for sunbathing or swimming, though. We chose to stay here to be close to the Ras Al Jinz Turtle Reserve that's a 15 minute drive away—it's much cheaper than staying at the reserve.
Where to Stay in Ras Al Hadd
Ras Al Hadd Guesthouse is the cheapest place we found in the area at just 18 OMR (£34). It's difficult to find as although it's marked correctly on Google Maps it's unclear how to get there. Follow the guesthouse sign off the main road and drive off-road over a wide section of dirt then onto an area of broken up tarmac that feels like an airport runway. Make sure you look up photos of the hotel in advance so you can head towards the large green and white building.
Despite the odd location, the guesthouse was fine. As usual, the rooms were characterless but functional with a fridge, TV, A/C, balcony with sea view, and unreliable but decent when working WiFi. The staff was friendly. Note it's cash only and there's no ATM nearby.
Where to Eat in Ras Al Hadd
There's a strip of simple coffee shops (Omani style restaurants) on the main road. We chose the first coffee shop on the left past the Ras Al Hadd Motel coming from our hotel. As often happened in Oman they didn't stick to the menu but gave us a choice of veg or non-veg, rice or paratha bread. We ended up with a surprisingly decent Indian thali with dahl and a few vegetable curries. It only cost 2 OMR (£3.75) for both of us including soft drinks.
Day 9 Ras Al Hadd – Sur (1 night)
Distance: 42km
Time: 40 minutes
We woke up early for the 5 am tour (you can also do one at 9 pm) at the Ras Al Jinz Turtle Reserve, which we had booked a few weeks in advance by email (reservations are recommended). They send a guide out onto the beach first to locate the turtles, but sadly they couldn't find any so we returned to our hotel disappointed. At least we weren't charged the 7 OMR (£13) fee. Winter isn't the best time to see the turtles (high season is July to October), but you do have a chance of seeing a few year round.
After a nap and wander on the beach, we headed to the nearby town of Sur stopping at the fishing village of Al Ayjah for lunch and a stroll. You can also visit the dhow boat-building yard nearby.
There wasn't much to do in the afternoon, but at sunset we went for a stroll on the beach where hundreds of local men were playing huge football games. We didn't see a single local woman walking anywhere in Sur.
In retrospect, we could have skipped the night in Sur and continued to Muscat.
Where to Stay in Sur
Sur Hotel was the most basic place we stayed in Oman. Our small room had rather depressing decor, but it had all the usual facilities and was very cheap at 11.7 OMR (£22). It was fine for one night.
Where to Eat in Sur
Sahari has good Arabic mezze with a view of the lagoon between Al Ayjah and Sur. Service was slow and it's more expensive than most places (you're paying for the setting).
Our Indian dinner at Sea Sur restaurant next to our hotel was decent.
Day 10 Sur – Muscat (1 night)
Distance: 382km
Time: 2 hours 20 minutes
On our way from Sur to Muscat we stopped at Wadi Shab, one of Oman's best attractions. It involves a 45 minute hike in a stunning canyon then a swim through a series of pools to reach a small cave which contains a waterfall. We arrived at 8.20 am and were the first people there, but this resulted in us getting terribly lost. We'll be writing about this soon so you don't make the same mistake! I do recommend an early start, though, as it gets very busy by late morning. It's a beautiful place and well worth a visit.
If you have the time, you could also stop at nearby Wadi Tiwi and the Bimmah Sinkhole.
In Muscat we stayed in a different area, the diplomatic enclave of Qurum next to the city's best public beach. It felt like a different world from Mutrah with fancy villas, foreigners wearing skimpy clothes, a scarcity of cheap shops and restaurants, and more Western chains like Costa Coffee and Pizza Express.
We could have paid 5 OMR (£9.40) to use the pool of the extravagant Grand Hyatt hotel next door, but late in the afternoon it wasn't worth it, especially as we would have spent a fortune on food and drinks. We went for a walk along the beach instead.
Where to Stay in Muscat
Beach Bay Hotel was one of the nicest hotels we stayed in Oman, although it's comfortable rather than special, and a little dated. It's only a few minutes walk from the beach and the breakfast was my favourite in Oman with a large selection of mezze. It's significantly more expensive than Mutrah Hotel where we stayed previously, but it's one of the best value in this area. It's convenient for the Grand Mosque and airport.
Where to Eat in Muscat
We walked about 30 minutes along the beach to the Oasis by the Sea shopping centre where there are a number of restaurants. We had a tasty and inexpensive falafel sandwich at Arax Falafel.
Our Oman road trip ended in Muscat with a flight out the next morning.
What to Pack for Oman
Everyone should dress modestly in Oman. For men this means t-shirts and long trousers (although you can get away with knee-length shorts). Women need to cover their shoulders and knees, and outside Muscat I usually covered my arms and legs. My usual outfit was linen trousers or jeans plus a long sleeve shirt. Or I'd wear a t-shirt and take a cardigan to cover up with when I got out of the car. You only need to cover your hair at the Grand Mosque—I used a sarong.
For swimming in wadis, I wore capri leggings and a baggy t-shirt of Simon's. For hiking the Balcony Walk, I also wore a t-shirt and capris plus a few long-sleeve layers for the cold morning start.
A few other things to pack for Oman:
For more information about Oman read my posts on What's It Like to Travel in Oman and 11 Beautiful Places to Visit in Oman.
If you enjoyed this post, pin it!