This post contains affiliate links, where we receive a small commission on sales of the products that are linked at no additional cost to you. All opinions are always our own. Read our full disclosure for more info. Thank you for supporting the brands that make Local Adventurer possible.
It is one of my favorite cities and one that I keep going back to. I love the vibrant color of the city. We've talked about living in SF for a year, but so far it was hard for us to stomach the rent cost. Maybe after a year in NYC, though, it might soften the blow.
With the help of our friends Hsiao (just moved from SF to NYC) and Young (lived there for 10+ years), we put together the ultimate San Francisco bucket list for both first-time visitors and those living in the city who need a little extra inspiration to get out there and explore.
101 THINGS TO DO IN SAN FRANCISCO
WHAT WE COVER [ CLICK LINKS TO SKIP AHEAD ]
Date Created: Feb 5, 2018
There's so much to see and do packed within 49 square miles. On my personal list, I still have 300+ things I want to check out, but I thought that might get overwhelming. As we go back to visit, we'll continue to update and modify this list. We also tried our best to group them not just by category but by location too. There's a map at the bottom, though, to help you see what's around you.
TOURIST ATTRACTIONS
Alcatraz Island – you can do the audio tour or the night tour to make it spookier (only a few hundred available per night). You can also try to win the lottery for an Alcatraz sleepover – only 18 overnights per year. Photo Tip: Inside you can get a view of SF from a window in a cell block. (map)
Golden Gate Bridge / Marin Headlands – walk across or bike across to Sausalito. It's not for inexperienced bikers and a lot farther than you think. The Bridge itself is 1.7 miles. They have bike + ferry packages. There is vehicle traffic-free Sat April through Sept where you can run, ride, walk on the bridge.
Sausalito – cute houseboats and a great view of the skyline.
Fisherman's Wharf, North Beach/Telegraph Hill – Pier 39 to visit the sea lions and have clam chowder in a bread bowl at Boudin at the Wharf.
Ghirardelli Square, Russian Hill – according to our local friends, the food isn't good and this is the dumbest attraction in SF (think M&M store in Times Square), but most tourists still do it.
Lombard Street, Russian Hill – Crookedest Street of San Francisco with 8 hairpin turns. The best photo opps are from the bottom since you can only see the first two turns from the top.
Japantown – Peace Plaza and Pagoda for your photo opp, eat ramen and Shabu Shabu, play Japanese arcade games, get your Japanese nail art done, and end the night in a karaoke room.
Painted Ladies, Alamo Square, Western Addition – The park is a nice place to picnic. The houses are often mistaken as the Full House house, The actual house is down the street (1709 Broderick – it was purchased by the show creator. Photo Tip: go mid-morning after the sun peeks over the buildings across the street or on a cloudy day).
San Francisco Cable Cars – You can ride the entire 2.1-mile route or portions of it. Bring exact change. The best views are along Hyde between Chestnut and Bay St and California and Drumm is less touristy. Best photos are from the front-left side and on the outside runner. Another option is the Historic Street Cars for $2 you can get on the F-Line and see Civic Center, Downtown and Fisherman's Wharf instead of paying for Grayline Bus.
Chinatown – The country's largest Chinatown. The tourist side is Dragon's Gate and the local side is towards North Beach on Stockton St (SF's "Little Italy"). The local side is mainly made up of small groceries, herb shops, and old school divey Chinese bars that have strong pours (go at your own risk). Golden Gate bakery has famous egg tarts and China Live has one of the best Sheng Jiang Bao in SF.
Cupid's Span at Rincon Park, Embarcadero / SoMa – It's a quick stop 5-10 min walk from the Ferry Building.
San Francisco Ferry Building, Embarcadero / SoMa (map) pick up some blue bottle, sample or buy some McEvoy Ranch lotions (formerly 80 acres), stop by Humphry Slocombe for the famous Secret Breakfast Ice Cream. Also, if you go on a Tues, Thurs, or Saturday, you can also check out the Ferry Plaza Farmer's Market.
Bay Bridge (San Francisco-Oakland Bay Bridge) – the walking/cycling path. You need a car or it's a long trek to get to the start on the East Bay.
49-Mile Scenic Drive – Starts and ends at City Hall. It's a PITA to drive around the city though. Be warned.
MURALS + PHOTO SPOTS
16th Ave Tiled Steps, Inner Sunset (map)
Murals in the Mission – Balmy Alley Murals, Cypress St, and Lilac St are close together then Clarion Alley is 1 mi north. The Mission can be a choose your adventure. Stay in Valencia to see the gentrified "nice" stuff or you can go up and down 24th st and see a lot of the old school Mexican owned businesses. Artists offer cultural guided mural walks on weekends starting from Precita Eyes Mural Arts Center.
San Francisco City Hall, Civic Center – popular with photographers. During lunch on weekdays, you can see Off the Grid food trucks.
Transamerica Pyramid Building, Financial District – not impressive to go to, but it's a landmark that photographers like to shoot (the best shot is arguably from the Mandarin Oriental).
MUSEUMS + MONUMENTS + MEMORIALS
Conservatory of Flowers, Golden Gate Park (map) – has more than 2000 species of plants and flowers.
California Academy of Sciences, Golden Gate Park (map) – World's greenest museum with a planetarium, natural history museum, aquarium, scientific research program and a four-story living rainforest with 1.7 million native plant species. Check out: 21+ adventure on Thursdays and Yoga class in the aquarium.
De Young Fine Arts Museum of San Francisco, Golden Gate Park (map) – Hamon Observation Tower and Gift Shop gives you 360 views of the city for free. Friday Nights in June there are after hour art programs, cocktails, lectures, performances, and workshops.
Japanese Tea Garden, Golden Gate Park (map) – free before 10 am on MWF. It's small.
San Francisco Botanical Garden, Golden Gate Park (map)
Legion of Honor, Land's End, Sea Cliff (map) – part of Fine Arts Museums of SF.
The Walt Disney Family Museum, Presidio (map) – great for Disney lovers especially if you're interested in behind the scenes. You need 3-4 hours if you don't want to rush through it.
San Francisco Maritime National Historical Park, North Beach/Telegraph Hill – National Park Unit
Cartoon Art Museum, North Beach/Telegraph Hill
USS Pampanito, Pier 45, North Beach/Telegraph Hill
Musee Mécanique, Fisherman's Wharf, North Beach/Telegraph Hill
Aquarium of the Bay, North Beach/Telegraph Hill
The Exploratorium, North Beach/Telegraph Hill – the learning lab with 600 hands-on exhibits, feel around the Tactile Dome. Exploratorium After Dark on Thurs Nights 18+, cocktails and music. – fun for all ages. so much to do. regular visits allow a couple hours. it can get crowded so popular areas will have a line.
Cable Car Museum, Nob Hill
Contemporary Jewish Museum, Union Square / SoMa
SFMOMA (San Francisco Museum of Modern Art), SoMa
Asian Art Museum of San Francisco, Civic Center
The Institute of Illegal Images, Mission – SF's LSD Museum – schedule a visit with Mark McCloud, who has collected over 30k sheets of acid tabs (also read this interesting article on how LSD came to SF through the CIA)
Oakland Zoo – better than San Francisco Zoo, which is covered in fog 90% of the time.
UC Berkeley Campus – Sather Tower gives you good views of the campus and city. They started charging.
Pacific Pinball Museum, Alameda – $15 for unlimited play
Hanna "Honeycomb" House by Frank Lloyd Wright's, Stanford. One of his first works in the Bay area. Reserve ahead of time. Tours fill up fast.
Stanford University Campus – Hoover Tower gives you a good view of the campus and city.
THE OUTDOORS + URBAN PARKS
Angel Island State Park, Tiburon – Take a ferry ride. 13 miles of hiking trails. Hike to the highest spot Mt Livermore for 360 view of SF skyline. Camp here with unbelievable views. Popular with kayakers that launch from SF or Sausalito. Beware of currents. Take a guided tour for beginners.
Billy Goat Hill Park, Glen Park – view of the whole city
Golden Gate Park – one of the largest man-made parks in the world. It's California's Central Park but 20% larger. Points of Interest: Paddle boating in Stow Lake, the Buffalo Field, Rose Garden, Shakespeare Garden, Lawn Bowling + Archery (Sunday at Noon), Lindy in the Park (free swing lessons between Richmond and Sunset districts), Casting Pools (practice fly fishing here), and don't forget to Find the Faery Door (there are more throughout SF. You can read messages left for the fairies and their answers here).
Golden Gate National Recreation Area, Marina/Cow Hollow

Hawk Hill, Marin Headlands – see the entire 8980 ft span of the Golden Gate and the SF skyline.
Golden Gate Bridge Welcome Center, Presidio and get your stamp.
Vista Point is the popular shot of Golden Gate, but make sure you also head up into Marin Headlands also.

Lands End, Golden Gate NRA – Lands End Trail is a popular and easy hike that takes you to Sutro Baths, the Labyrinth, and Eagle Point. Sometimes you spot sea lions, dolphins, and migrating grey whales. Wear sneakers. Get drinks or food afterward at Cliff House.
The Presidio of San Francisco, Golden Gate NRA – former US Army military fort turned into a park. There are 11 miles of hiking trails and you get views of the Bay, Alcatraz, the city, and Golden Gate. The park encompasses Baker Beach, Marshall's Beach, Crissy Field, Fort Point and more. Walk Lovers Lane, Hike to Inspiration Point (views of SF Bay, Alcatraz, Angel Island and the Presidio forest), walk the Golden Gate Promenade, Batteries to Bluffs Trail, and see 3 installations by Andy Goldsworthy – the Spire, Wood Line, and Tree Fall. Presidio Picnic os on Sundays with food trucks and games.
Ocean Beach, Golden Gate NRA – SF's longest beach and most reliable surfing spot. Skimboard, bike, skate the esplanade, fly kites. Adjacent to Land's End. swimming is not recommended due to strong riptides. Bonfires are first come, first served and fun with a group of friends. BYOB.
Baker Beach, Presidio, Golden Gate NRA – up-close view of Golden Gate, great at sunset. Popular spot with portrait and wedding photographers.
Crissy Field, Presidio, Golden Gate NRA – view of the skyline and Golden Gate. Great place to barbeque and fly kites.
Stinson Beach, Golden Gate NRA – Camp or go to the nude beach. – whole day thing and can be difficult to get to if it's a nice day. So many cars.
Coit Tower Hike, Telegraph Hill – 210 ft tower with views of entire city, bay, and Transamerica Pyramid is framed by tower's arches. Lots of stairs that take you through cool parts of the area – Climb the Filbert Steps or Greenwich street stairs to get there. $7 for the elevator to the top). Check out the free views first. It's a great View but not sure if the price is worth because there is a fence all around the top. Allot more time if you want to find the famous Parrots of Telegraph Hill. They're also at Cole Valley and Fort Mason.
Twin Peaks, Nob Hill – Two hills at 925 ft in the center of SF. You can drive to the top and get the best view of the city at sunset. It's super windy so pack layers. Tourists have also gotten mugged here, so be aware of your surroundings.
Sutro Tower, Twin Peaks – Can't beat the downtown views. You're not allowed to the top of it though.
Corona Heights Park, Castro & Corona Heights – panoramic views of the city.
Crown Beach, Alameda – see SF skyline from the East Bay.
Fort Point National Historic Site, Presidio – southern side just under Golden Gate and is very photogenic. There are ranger-led candlelit tours for free but reserve in advance. Also high five hopper's hands on the fence and surf here when the conditions are just right.
Mount Davidson, Sherwood Forest – the highest point in the city at 928 ft. It gives you views of Twin Peaks and downtown.
Kirby Cove, Marin Headlands, Sausalito, Golden Gate NRA – The "secret" swing is no longer there. Great camping spot and recreational area with a view of Golden Gate
Lyon Street Steps, Pacific Heights – run, walk, enjoy the view from the top for a workout.
Dolores Park / Mission Dolores Park, Castro – pick up a burrito, a cone at Bi-rite, Pizzeria Delfina, or Tartine Bakery and bring it for a picnic. The view NE over Dolores park offers a great view of the greenery and urban skyline.
Mt. Tam or Mount Tamalpais State Park, Mill Valley, Marin County, North Bay (14.1 mi / 30 min no traffic) – Hike or mountain bike over 100 miles of trails. It's the highest point in Marin County. Mt Tam is sometimes referred to as the mountain biking birthplace. It's also great for beginner rock climbing with views of the Bay Area.
Muir Woods National Monument, Golden Gate NRA, Mill Valley – Check out the Dipsea Trail. It has some of the last remaining coastal redwoods.
San Francisco Bay – Go for a swim in Aquatic Park, take a cruise on the bay, go sailing, or on a high-speed powerboat ride. Go sea kayaking or SUP out to a Giants game to try your luck in catching a home run. Start from McCovey Cove – one of the most popular trips.
Bernal Heights Park, Bernal Heights – Lovely view of the city, and there are secret slides (Esmerelda Street Slides).
Grizzly Peak, Berkeley (19.3 mi / 49 min by car) – Hike or drive up to the lookout to see the entire Bay Area. Another great sunset spot.
Bolinas Ridge Trail, Point Reyes, Olema (32.2 mi / 1 h away)- drive up to watch the sunset
Fort Funston, Golden Gate NRA, Lakeshore – popular for hiking, horseback riding, and one of the top hand gliding launch points in the US.
Glen Canyon Park, Diamond Heights – in town bouldering
Mt Diablo Summit Hike, Clayton, East Bay – the highest point in the Bay Area at 3849 ft. On a clear day if you bring binoculars you can see Half Dome. You can also find trad, top rope, and sport climbing routes.
Pacifica State Beach, Pacifica – go to the fanciest Taco Bell and surf. Mori Point Trail is a cool hike and not crowded. It's far from the city, so it's more worth it if you're into surfing or really into Taco Bell, since the beach isn't much diff from Ocean Beach
Point Reyes National Seashore, Inverness – take your gram at the tree tunnel, kayak, hike to Alamere Falls, bike, camp. Other points of interest: Point Reyes Lighthouse, Tomales Bay – Oyster Farm, Point Reyes Shipwreck.
Treasure Island – an artificial island with great skyline views.
Whale Watching Cruise – near the Farallon islands, which are called California's Galapagos. Not great for swimming, but you can see the islands on clear days. Also, it's known to be a popular Great White Shark feeding grounds.
SHOWS + VENUES
AT&T Park, South Beach – Take a tour, watch a Giants Game, and eat the famous $13 crab sandwich. Bring Layers.
Audium, Lower Pacific Heights – 49 seat theatre of sound-sculptured space.
The Castro Theater, Castro – Big independent theater that shows lesser-known films. Participate in sing alongs to a movie (with lyrics on screen) and enter the costume contest. Also has an organist who plays on stage before each show
Palace of Fine Arts Theater, Marina District – visit the swans and take photos.
The Fillmore, Western Addition
The Independent, NoPa, Alamo Square – world-renowned concert venue. It's medium-sized venue but all the best bands come here.
Chase Center, Mission Bay – Golden State Warriors Game
Marrakech Magic Theater, Tenderloin
Mr. Tipple's, Civic Center – low key jazz spot
SFJAZZ Center, Hayes Valley – You can bring your own cocktails.
War Memorial or Beaux Arts Opera House, Civic Center/Hayes Valley – a memorial to WWI soldiers and also home to San Francisco Opera and Ballet.
Davies Symphony Hall, Civic Center, Hayes Valley
The Speakeasy, the Palace Theater – buy tickets and then they'll give you instructions. Dress code – 1920s or you can rent them there. You Follow 35 characters on a choose your own adventure during the Prohibition Era – similar concept to Sleep No More.
Cobb's Comedy Club, Russian Hill, North Beach – hosts bigger acts – Young or Punch Line San Francisco, Financial District – same owner's as Cobb's where you can catch up and coming comedians.
MISC ACTIVITIES
Wave Organ, Marina District
Grace Cathedral, Nob Hill – yoga on the Labyrinth Tues nights.
Church of 8 Wheels, Lower Haight, Hayes Valley – 120-year-old former Catholic church turned into a burning man type roller skating rink. Fri and Sat nights are adults only. Wear your costumes.
Seward Street Slides, Castro – slide down. bring cardboard, or there's some there at the bottom.
SHOPPING
Union Square – popular shopping area.
City Lights Bookstore, Chinatown – largest collection of banned books
Amoeba Records (not many remaining), The Haight / Haight-Ashbury – is known to be great for thrifting. Other great areas for shopping are Pacific Heights and Hayes Valley.
FOOD
Golden Gate Fortune Cookie Factory, Chinatown
The Starlight Room, Union Square – Sunday Drag Brunch
The Palace Hotel, Financial District – Afternoon Tea
Anchor Brewing Company, Potrero Hill – brewery tours at SF's original craft brewery. More brewery tours at Barebottle Brewing Company, Lagunitas Brewing Company, Speakeasy Ales & Lagers, and Trumer Pils Brauerei.
Hangar 1 Distillery Tour, Alameda
Wat Mongkolratanaram, South Berkeley – Thai Brunch at a small Thai Buddhist Temple. Every Sunday the temple hosts a communal Thai brunch. You make a donation, get tokens, then buy food with your tokens.
SEASONAL
MAP TO HELP YOU GET AROUND
TIPS FOR FIRST TIME VISITORS
If you're heading out of the city, it takes a lot more effort and time than the mileage seems. Traffic is bad. Getting to East Bay can take over an hour. If you're leaving the city, you'll need at least half a day to get there, so plan a few things to do when to make it worth it.
In SF, uber/lyft/cabs and public transit is much better than driving yourself. Last time we visited, we talked about leaving our car in South Bay and taking public transport into the city.
Dress in layers. San Francisco can still be cool in the summer. Layers will help you stay prepared for whatever weather you get.
Wear comfortable shoes. It's very much a driving city.
Locals don't like to hear 'Frisco' or 'San Fran'. They are the uncool nicknames that tourist gave the city.
Expect fog, and be pleasantly surprised to get clear days. Esther still hasn't seen the Golden Gate on a completely clear day.
MORE RESOURCES
DID YOU ENJOY THE POST? PIN IT FOR LATER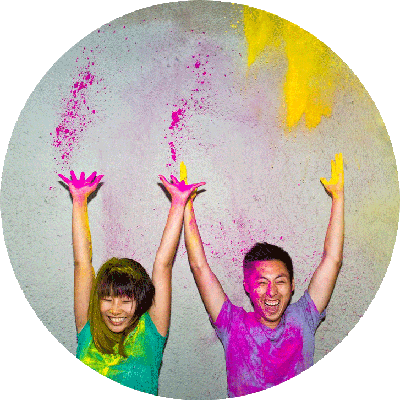 ESTHER + JACOB
Esther and Jacob are the founders of Local Adventurer, which is one of the top 50 travel blogs in the world. They believe that adventure can be found both near and far and hope to inspire others to explore locally. They explore a new city every year and are currently in NYC.

The post The Ultimate SF Bucket List – 101 Things to Do in San Francisco appeared first on Local Adventurer » Travel Adventures in Portland + World Wide