by Dara Kerr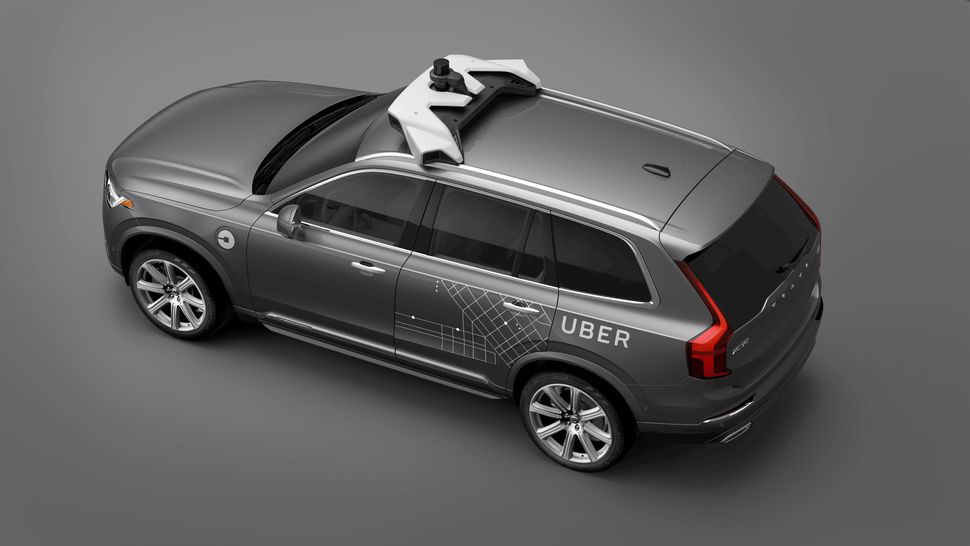 Sunday marked a turning point for self-driving cars. For the first time, a car in full autonomous mode struck and killed a pedestrian.
It happened at 10 p.m. in Tempe, Arizona, where ride-hailing company Uber had been picking up passengers in autonomous vehicles for more than a year.
Elaine Herzberg, 49, was walking her bicycle down a four-lane road and was starting to cross when the gray Volvo, operated by Uber, hit her at about 40 mph, according to local police. It's believed Herzberg was homeless. She was pronounced dead by the time she reached the hospital.
Although the car was driving itself, Uber vehicle operator Rafaela Vasquez, 44, was behind the wheel.
"Our investigation did not show at this time that there were significant signs of the vehicle slowing down," Tempe Police Sgt. Roland Elcock said in a press conference Monday. The police are "going to attempt to find who was at fault and how we can better be safe," he added.
Almost every automaker in the world — including General Motors, BMW, Ford, Tesla Motors and Toyota — has plans to offer self-driving cars in the next few years. Several Silicon Valley giants such as Intel and Google have invested years in developing the technologies as well. The promise: greater safety, since such vehicles use software and sensors that let them "see" and react to their surroundings supposedly faster than humans can.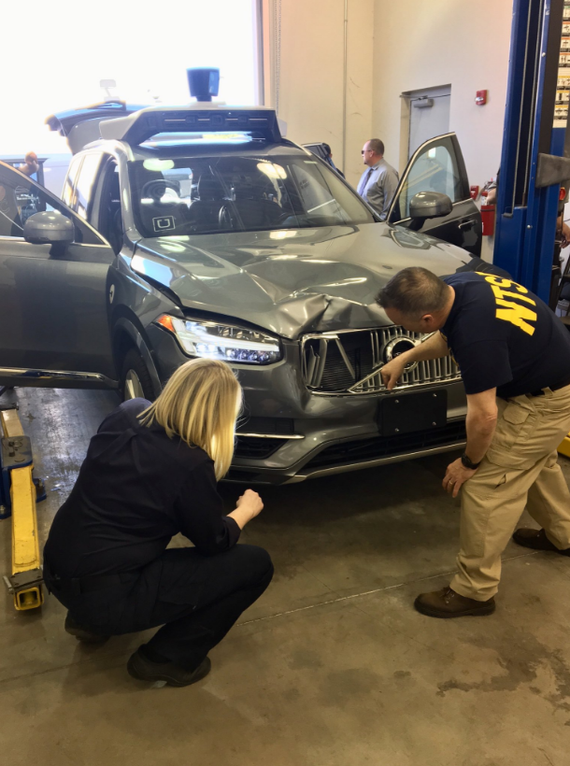 Earlier this month, Uber also began regular operation of self-driving trucks hauling cargo in Arizona, after it wrapped up its testing period. The trucks always have a safety operator who's a licensed truck driver.
For the most part, testing of the technology has shown the cars to be safe. But autonomous technology is still a work in progress. The vast majority of car tests haven't been done on public roads, and the cars are still learning how to drive. Sunday's fatality has some people questioning if the cars belong on public roads at all.
"This is their vehicle, they put it on the road, and they're responsible for making sure it's safe," said consumer attorney Neama Rahmani, who isn't involved with any of the legal proceedings regarding the accident. "Uber needs to not implement any of this until it's fully vetted and tested and 100 percent safe."
Safety first
This wasn't the first time a self-driving car has been involved in a collision.
Google reported an accident with one of its cars in March 2016, and there have been at least three crashes involving Teslas in autopilot mode, one of which was fatal — though Tesla warns owners that autopilot isn't fully autonomous. One of Uber's vehicles was involved in another crash in Tempe last year, but no serious injuries were reported. And just last week, an Uber self-driving car in Pittsburgh was in a collision with another car.
Uber's cars have also had some other near misses in Pittsburgh, including reports of fender-benders going the wrong way down one-way streets and ignoring traffic signals, according to Quartz. No injuries have been reported.
Within hours of Uber launching its autonomous vehicles in San Francisco in December 2016, one ran a red light. A dashboard camera video of the incident, captured by a Luxor Cab taxi, shows a self-driving Volvo SUV zooming through the light long after it turned red and coming uncomfortably close to a pedestrian.
"Sadly, this is a reminder of the risk that comes with rushing to get more and more self-driving cars on public roads before we know they are safe," said David Friedman, director of cars for Consumers Union, which is the advocacy division of Consumer Reports. "The promise of self-driving cars is that they can avoid fatalities, but this tragedy makes clear they have a long way to go."
What now?
After Sunday's fatality, some regulators are starting to question whether driverless cars are ready for public roads. Both the National Transportation Safety Board and the US Department of Transportation's National Highway Traffic Safety Administration confirmed they've sent teams to Tempe to investigate the collision alongside the local police department.
"The investigation will address the vehicle's interaction with the environment, other vehicles and vulnerable road users such as pedestrians and bicyclists," the National Transportation Safety Board said in a statement.
The NHTSA said that, along with dispatching its Special Crash Investigation team, it's also in contact with Uber and Volvo, and with federal, state and local authorities, about the incident.
Democratic Sen. Edward Markey of Massachusetts has also issued a statement saying he's committed to working with the Senate on creating autonomous vehicle legislation that includes safety protections.
"This tragic accident underscores why we need to be exceptionally cautious when testing and deploying autonomous vehicle technologies on public roads," said Markey. "If these technologies are to reap their purported safety, efficiency, and environmental benefits, we must have robust safety, cybersecurity, and privacy rules in place."
Tempe police said that both Uber and its driver are cooperating fully with the investigation, which is still in its beginning stages. Once they're done they'll submit the investigation to the County Attorney's Office to determine if criminal charges are warranted.
Uber's vehicle was equipped with video cameras that show the accident from several angles, including outside the vehicle and the actions of the person in the driver's seat, according to the police. This footage hasn't been released to the public.
But Tempe Police Chief Sylvia Moir did say the video showed Herzberg emerging from the shadows, according to the San Francisco Chronicle.
From viewing the videos, Moir said, "It's very clear it would have been difficult to avoid this collision in any kind of mode (autonomous or human-driven) based on how she came from the shadows right into the roadway."
However, Tempe police released a statement Tuesday evening saying it has yet to pinpoint responsibility for the collision.
"Chief Moir and the Tempe Police Department would like to reaffirm that fault has not been determined in this case," Sergeant Elcock said in the statement. They added that the investigation will look into driver interaction with the vehicle and opportunities for the vehicle or driver to detect Herzberg before she was struck.
Uber, best known for its ride-hailing service, has temporarily halted its self-driving operations in all cities where it's been testing its vehicles, including Tempe, Phoenix, Pittsburgh, San Francisco and Toronto. Toyota has followed suit and also put a pause on its driverless car program on public roads because of the fatality, said a company spokesman.
In a tweet Monday, Uber's CEO Dara Khosrowshahi said the company is thinking of the victim's family and it will do what it can to help the police figure out what happened. Tempe's mayor, Mark Mitchell, echoed that sentiment and said it's of utmost importance to keep the city's public roads safe.
"I support the step that Uber has taken to temporarily suspend testing in Tempe until this event is fully examined and understood," Mitchell said in a statement. "That is a responsible step to take at this time."
First published March 20, 12:05 p.m. PT.
Update, 3:25 p.m.: Adds comment from Sen. Edward Markey and information on Toyota temporarily halting its driverless car program on public roads.
Update, 6:41 p.m.: Adds statement from Tempe Police Department.
The Smartest Stuff: Innovators are thinking up new ways to make you, and the things around you, smarter.
Blockchain Decoded: CNET looks at the tech powering bitcoin — and soon, too, a myriad of services that will change your life.