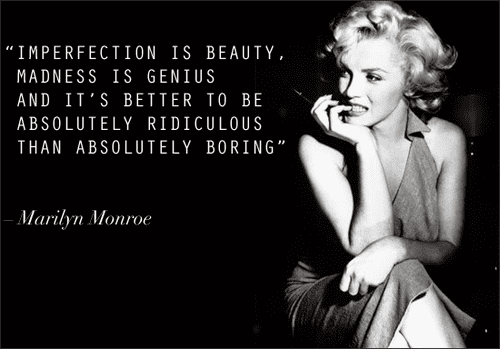 Some facts that you might not know about Hollywood Diva of all times Marilyn Monroe:
Although she was typecast as a dumb blonde (a persona she hated), she was actually extremely intelligent. She had an IQ of 168.

Although she famously sang "Diamonds Are a Girl's Best Friend," in reality Monroe wasn't into expensive jewelry. All the jewelry she owned was costume, expect for a diamond ring and a strand of pearls given to her by her second husband, Joe DiMaggio.

Her agent Johnny Hyde reportedly convinced her to have two plastic surgeries: reshaping the cartilage at the tip of her nose and a chin implant.

She was one of the first women to own her own production company, Marilyn Monroe Productions. The company released only one movie though, The Prince and the Showgirl (1957)

She was an excellent cook!

Monroe helped change the course of Ella Fitzgerald's career by personally calling the owner of the popular Hollywood nightclub, Mocambo, and helping her get booked. Initially the club would not book Ella because she was black.

According to Ella:

"I owe Marilyn Monroe a real debt…it was because of her that I played the Mocambo, a very popular nightclub in the '50s. She personally called the owner of the Mocambo, and told him she wanted me booked immediately, and if he would do it, she would take a front table every night. She told him — and it was true, due to Marilyn's superstar status — that the press would go wild. The owner said yes, and Marilyn was there, front table, every night. The press went overboard. After that, I never had to play a small jazz club again. She was an unusual woman — a little ahead of her times. And she didn't know it."

During her marriage to Miller, Monroe tried to have a child (she desperately wanted to become a mother); unfortunately she suffered both an ectopic pregnancy and a miscarriage.

Monroe made Joe DiMaggio promise to leave flowers on her grave every week if she died before him. He kept his promise and had half-dozen red roses delivered three times a week to her crypt for 20 years.