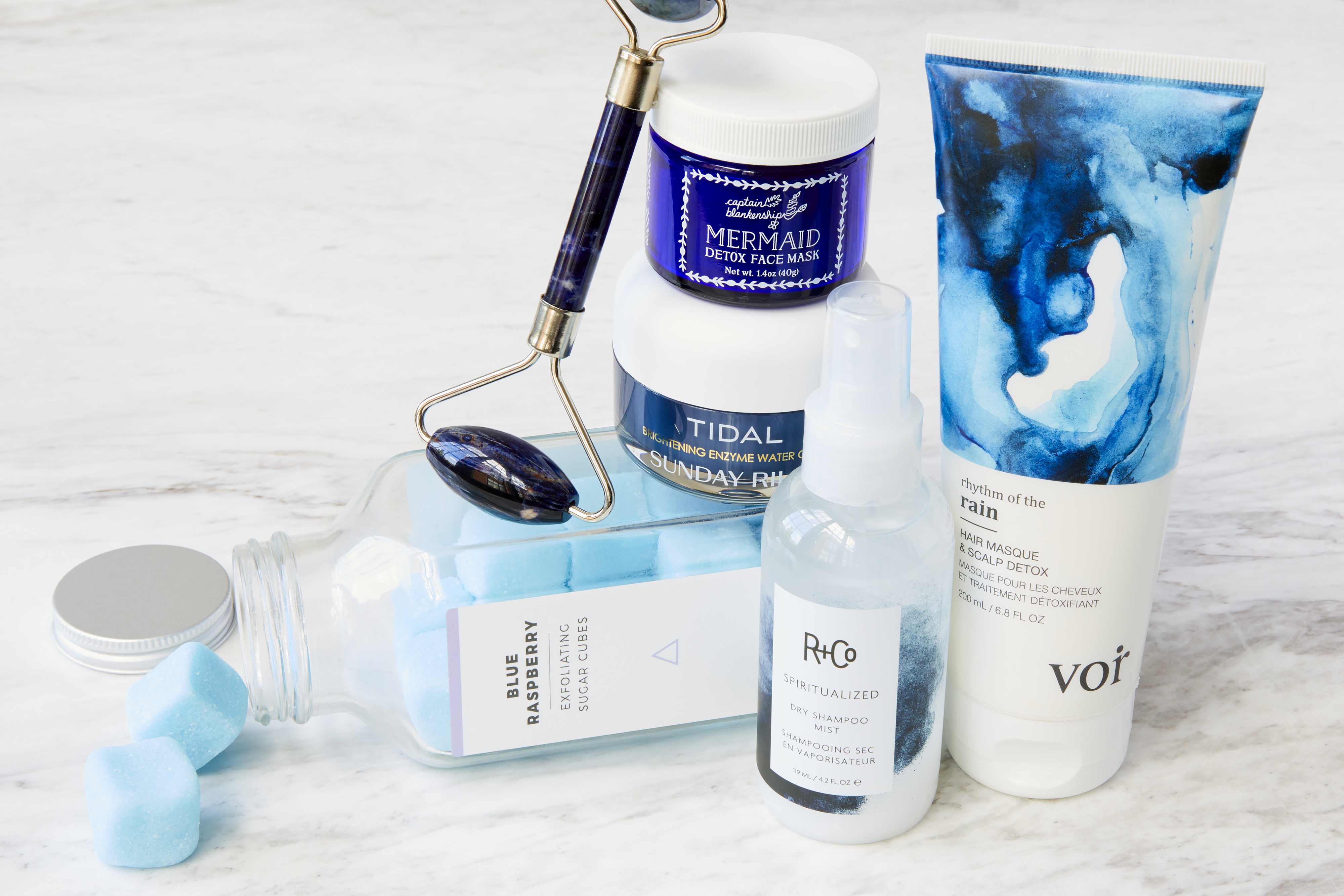 Why not start organizing your beauty products with the most soothing color of them all: blue.
If you're anything like me, the thought of organizing the visible shelves in your home by color sends a perverse little chill up your spin. Call me crazy, but taking an hour to arrange by bookshelf in the vein of Roy G. Biv was one of the best decor decisions I ever made. (I realize this is not groundbreaking — thanks, Pinterest. But it adds a much-welcome pop of organized color to my den and I'm a fan.)
Already sorted your books based on jacket color? Maybe even arranged your closet in the same fashion? Well my friends, the final frontier may just be your medicine cabinet. Sure, it may not be visible to the naked eye — unless you have guests who are snooping — but it does add a fun, soothing element to your skincare routine. And, if you're familiar enough with each product and its label, may just help you find what you're looking for even faster. (My shelves are CROW-DED.)
In that spirit, why not start with the most soothing color of them all: blue. Color of water, sky, antioxidant-rich blueberries, it's no wonder so many gorgeous, good-for-you self-care products are clad in the hue. From your hair to your toes, outfit your whole bathroom shelf in blue with these products.
R+Co Spiritualized Dry Shampoo Mist For those days you just don't have the energy (or time) to wash your hair, or to extend the length of your last shampoo, dry shampoo is a godsend. The only problem is that they are not all created equally in both efficacy and scent. Luckily, R+Co has solved the issue with their dry shampoo mist, a cleansing powder that not only sucks up excess oil, but does so while also cleaning your hair and scalp of buildup. Oh, and it smells like a garden after a rainstorm.
Voir Rhythm Of The Rain Hair Masque Speaking of rainstorms, this hair masque from Voir will do for your strands what a storm cloud can do for a cactus. A combination of natural butters, oils and botanicals seriously hydrate both scalp and strands, and the vital nutrients in the blend stay with hair for days (even with regular shampooing), meaning hair will be soft, silk and not thirsty at all.
COOLA Classic Liplux SPF 15 You know drinking enough water equals hydrated, supple skin, but just in case you came up short on your liquid intake, keep a stick of this COOLA Liplux close by to plump up your kisser when necessary. Soothing and nourishing, this little guy also works to protect lips from the sun's harmful rays.
Sunday Riley Tidal Brightening Enzyme Water Cream With a name like Water Cream, is it any mystery what this gorgeous cream from Sunday Riley does? A water-based moisturizer, this jar houses an intensely hydrating elixir that smooths, brightens and exfoliates, leaving your face looking and feeling like prettiest smooth river rock there ever was. (That's a good thing, btw.)
Harper + Ari Exfoliating Sugar Cubes Eating too much sugar can make your skin do some funky things, but rubbing sugar all over your skin…well, that's a different story. The Blue Raspberry Exfoliating Sugar Cubes from Harper + Ari may look cute and innocent but believe me, they pack a serious sloughing punch when it comes to getting rid of dead skin cells and smoothing everything out.
READ An Ancient Antibacterial Oregon Blue Clay Might Hold the Key to Future Wound Treatment