Every Tuesday, we stop by a local Vietnamese restaurant that specializes in pho – that ethereally fragrant brothy soup that's filled with wonderfully tender rice noodles, thinly sliced meats, herbs, limes and chiles. From time to time, I make pho at home, too, often it's as easy as this Quick Pho, but often enough, I take the time to make Pho Ga, or Chicken Pho.
Chicken pho has a wonderful, clear delicate broth that's perfumed with ginger, shallot and spices. Parboiling the chicken for five minutes before making the broth and keeping it at a bare simmer over low heat helps to retain its clarity, ensuring a beautiful golden broth that's rich in flavor, too. You can serve this soup for dinner, but it makes a particularly good breakfast.
The Goodness of Broth
Savory and fragrant, chicken broth has long held a sacred role in kitchens across the globe. The writings of 10th and 12th century physicians extoll its value, and some of the earliest cookbooks reserve whole sections of their manuscripts for healing foods, which, invariably include broths intended as first foods for babies or to nurse the ill and convalescent back to health. Traditionally prepared bone broths are sacred foods.
When my family is feeling under the weather, sniffling and sneezing, I make a pot of chicken broth for them to sip and enjoy. And as their spirits and bodies mend, I make this chicken pho, which is always a favorite even when we're not sick, ladling the steamy broth over bowls of hot rice noodles and thinly sliced white and green onions. They top the bowls with lime and herbs and a few slices of jalapenos, and we all feel better.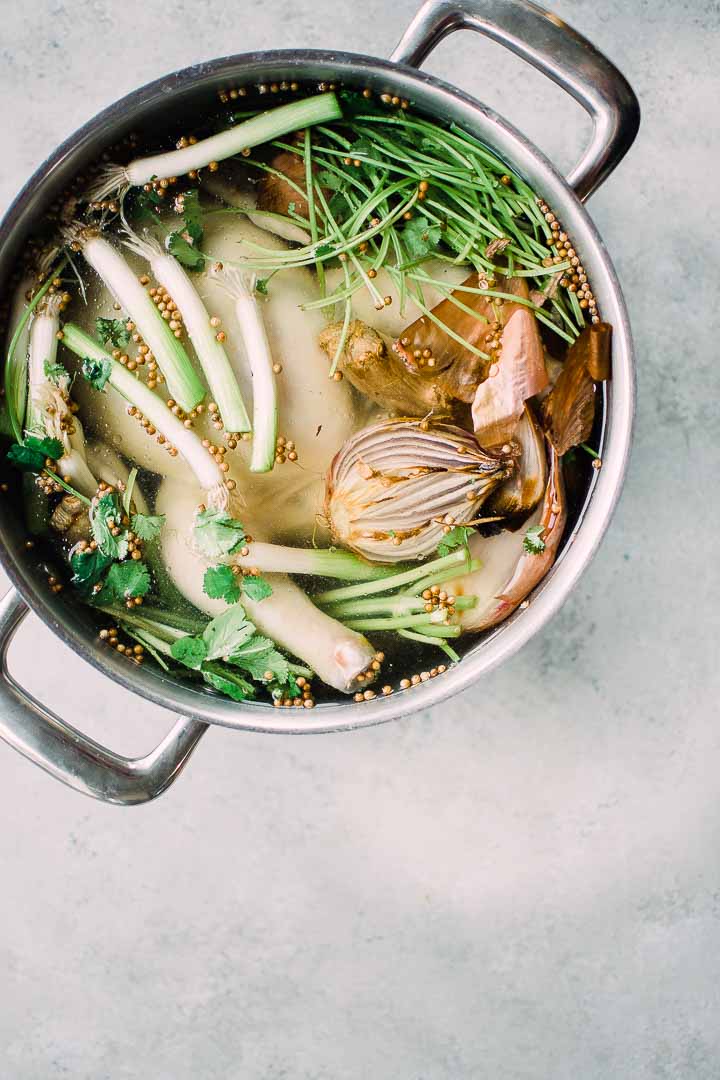 | | | |
| --- | --- | --- |
| Pho Ga (Vietnamese-Style Chicken Noodle Soup) | | Print |
Recipe type: Soup
Cuisine: Vietnamese
Author: Jenny
Prep time:
Cook time:
Total time:
Serves: 6 servings
Fragrant with the rich aroma of ginger, coriander and star anise, this Vietnamese-style chicken noodle soup is deeply aromatic and utterly soothing. Serve it over tender rice noodles, topped with plenty of fresh herbs and chiles.
Ingredients
1 whole chicken
2 chicken feet, if available
1 (4-inch) hand ginger
1 bunch cilantro
2 large shallots
8 large green onions
1 tablespoon coriander seeds
2 star anise pods
2 cloves
2 tablespoons fish sauce (I like this brand)
1 (8-ounce) package traditional flat rice noodles (find organic rice noodles here)
1 white onion, thinly sliced
2 jalapeno peppers, sliced about ⅛-inch thick
2 limes, quartered
Mung bean sprouts
Hoisin (I use this brand.), for the table
Sriracha (I use this brand.) or homemade fermented hot chile sauce, for the table
Instructions
Parboil the chicken and chicken feet by first tucking them into a stock pot. Cover the bird with water by 2 inches. Bring to a boil over high heat, and allow the chicken to boil for 5 minutes. Turn off the heat, drain off the liquid and rinse any foam or scum off the chicken. Wipe out the pot. Place the chicken and its feet back in the pot.
Split the ginger crosswise. Stem the cilantro, reserving both the stems and the leaves. Cut the shallots in half lengthwise, and then separate the white and light-green parts of the green onions from the dark-green parts.
Add the ginger, cilantro stems, shallots, and root tips of the green onions to the stock pot with the chicken, and then drop in the coriander, star anise and cloves. Pour enough water into the stock pot to cover the chicken by two inches. Bring the contents of the pot to a boil over high-heat, and then immediately turn down the heat to medium-low. Simmer for thirty minutes, and then remove the chicken from the pot. Cut the chicken breasts from the bone, slice them thinly and set them in an airtight-container in the fridge. Return the chicken to the pot, and continue simmering it a further 2 hours. Strain the broth, discarding the solids. Wipe out the stockpot, and pour the strained broth back into the pot. Keep it warm over low heat while you prepare the other ingredients.
Soak the flat noodles in hot water for 10 minutes. While they soak, bring a pot of hot water to a boil. Plunge the soaked noodles into the boiling water about 20 to 30 seconds, until tender, and then drain them. Chop the dark green parts of the green onion very thinly.
Arrange the noodles, sliced chicken breast, sliced green onions and sliced white onion in your bowls.
Arrange the sliced jalapeno, mung bean sprouts, and remaining herbs on a platter.
When you're ready to serve the soup, ladle hot broth over the contents of the boil. At the table, allow guests to add additional herbs, and a squeeze of lime, hoisin or sriracha as they like.
Notes
Yes, you can make the broth ahead of time. Just store it in the fridge, or in the freezer until you're ready to use it.
Using a premade broth will save time. You can use a traditional, long-simmered premade chicken bone broth (like this one) if you like to save time. Simply simmer the cilantro stems, spices, ginger, shallot and green onions in the broth about 20 minutes before straining and serving.
3.5.3229
Where to Find Sustainably-Grown, Organic Rice Noodles
Rice is one of the most water-intensive and most methane-producing crops, accounting for approximately 20% of human-related emissions. As with meat, how rice is grown makes a big difference in its overall environmental impact. Rice grown through SRI (System of Rice Intensification) sees a significant increase in yields while dropping water use by 50% and, as a result, methane production, too. Lotus Foods, uses SRI in its production methods, and I buy their noodles to make pho from a local natural foods market; however, you can also purchase them online here.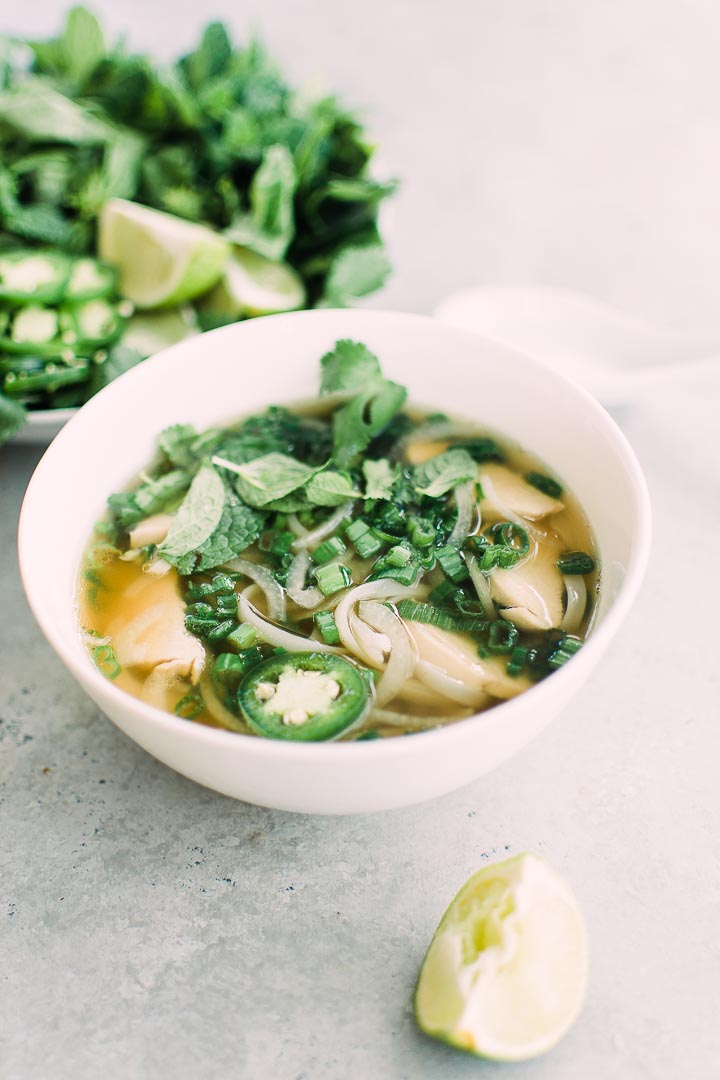 Other Vibrantly Flavored Soups
We eat a lot of soup in our home. You can find many recipes in the cookbook Broth and Stock, as well as all of Nourished Kitchen's soups and stews here, but below you'll find some of our family's favorites.
This Easy Beef Pho is a favorite for weeknight dinners.
Bo Ko is a Vietnamese-style beef stew that is packed with flavor.
Homemade Cream of Chicken Soup is positively lovely, and deeply nourishing.
We love this Yucatan-style Lime Soup, especially when it's topped with fresh cilantro and avocados.
This Thai-Style Chicken Soup is made by simmering fragrant herbs like lemongrass and lime leaf in chicken stock, before dropping in chicken and chiles and swirling it altogether with coconut milk.