There are currently two tubes of cleanser in my shower. Both of them come from US-based brands working with South Korean manufacturers; both of them feature green tea as a star ingredient. Both are green gels packaged in tall, thin squeeze tubes. And, standing side by side on an overcrowded shelf, Krave Beauty Matcha Hemp Hydrating Cleanser and Whamisa by Glow Recipe Green Tea Foaming Cleansing Gel both are overdue for a review.
---
The products featured in this post were originally provided by the brands. This post contains one affiliate link, which enables me to make a small commission on purchases made using the link. The affiliate link is marked with an asterisk(*).
---
Funny story. About a year and a half ago, at the first KCON I attended, I was at a dinner with the creators of both these products: Christine Chang and Sarah Lee, founders of online K-beauty store and skincare brand Glow Recipe, and Liah Yoo, the skincare and makeup YouTuber behind the recently launched Krave Beauty brand. If life were a movie, there would be some serious dramatic and metaphorical significance to that dinner, or at least some heavy-handed foreshadowing. Life isn't a movie, though. No narrative devices here. Just green tea-based cleansers.
Purpose: Krave Beauty Matcha Hemp Hydrating Cleanser and Whamisa by Glow Recipe Green Tea Foaming Cleansing Gel are both water-soluble facial cleansers that claim to provide antioxidants and thoroughly cleanse skin without stripping or drying it out.
Best suited for: The Krave cleanser is best suited for normal to combo-dry or dry skin. The Glow Recipe cleanser is best suited for normal to combo-oily or oily skin.
Do not use if: You are sensitive to glycols (in the Krave Beauty cleanser), fragrant essential oils (in the Whamisa by Glow Recipe cleanser), or anything else in your chosen cleanser's ingredients list.
When and how to use: Use as your primary cleanser in the morning and/or after your cleansing oil or balm as the second step in your double cleanse at night. Wet face and hands. Work cleanser into a lather in hands or apply directly to face as desired. Massage gently. Rinse thoroughly.
Ingredients comparison
Krave Beauty Matcha Hemp Hydrating Cleanser ingredients: Camellia sinensis leaf water, water, glycerin, coco betaine, methyl gluceth-10, ethoxydiglycol, dipropylene glycol, methylpropanediol, sodium chloride, butoxydiglycol, diglycerin, glycereth-26, xanthan gum, camellia sinensis leaf powder, quillaja saponaria bark extract, prunus amygdalus dulcis (sweet almond) oil, cannabis sativa (hemp) seed oil, avena sativa (oat) kernel extract, diethoxydiglycol, coco glucoside, caprylyl glycol, glyceryl caprylate, decyl glucoside, pentylene glycol, 1,2-hexanediol, sodium cocoyl isethionate, butylene glycol, octanediol, panthenol, citric acid, ethylhexylglycerin, caprylic/capric triglyceride, sodium PCA, disodium EDTA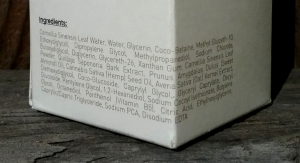 Whamisa by Glow Recipe Green Tea Foaming Cleansing Gel ingredients: Camellia sinensis leaf water, brassica oleracea acephala leaf extract, aspalathus linearis leaf extract, palm kernel/coco glucoside, sodium hyaluronate, spinacia oleracea (spinach) leaf extract, brassica oleracea italica (broccoli) extract, apium graveolens (celery) extract, vitis vinifera (grape) seed oil, diglycerin, camellia sinensis seed oil, lactobacillus/camellia sinensis leaf ferment filtrate, spirulina platensis extract, camellia sinensis leaf powder, scutellaria baicalensis root extract, paeonia suffruticosa root extract, glycyrrhiza glabra (licorice) root extract, aniba rosaeodora (rosewood) wood oil, citrus aurantium bergamia (bergamot) fruit oil, sodium chloride, geranium maculatum oil, rosmarinus officinalis (rosemary) leaf oil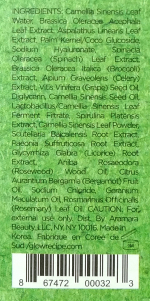 I have a little game I like to play when I'm typing out ingredients lists sometimes. It's called "Skincare or Salad?" and Whamisa by Glow Recipe Green Tea Foaming Cleansing Gel made for a fun round of the game. Spinach, broccoli, and celery? Where are my olive oil, vinegar, and croutons? (And hard boiled egg and grated cheese?)
Krave Beauty's cleanser isn't as heavy-handed with the greenery, but the brand takes a similar marketing approach, playing up the antioxidants in its titular ingredients, matcha (green tea) and hemp.
If these were leave-on skincare products, I'd be much more excited about the Whamisa by Glow Recipe cleanser's extract-heavy formulation than I am. But these are wash-off products, and that means that realistically, most of the possibly beneficial ingredients in them are going to wash off. If they didn't wash off, the cleansers wouldn't be very good.
For cleansers, I look instead at the cleansing agents they use. Neither of these brands uses harsh sulfates in their cleanser. Both rely on gentler surfactants to clean skin. Krave Beauty Matcha Hemp Hydrating Cleanser's main surfactant is coco betaine, while Whamisa by Glow Recipe Green Tea Foaming Cleansing Gel's main surfactant is coco glucoside. Both are milder than SLS or SLES. Comparing the cleansers at this point, it's a wash (pun intended).
Looking more closely, however, you can spot some fragrant essential oils in the Glow Recipe cleanser, while the Krave cleanser specifies that it's essential oil-free. While I personally don't have problems with fragrant oils, they are known irritants for a number of people. In addition, Krave labels its cleanser as vegan and cruelty-free. I find those qualities more meaningful than Whamisa by Glow Recipe's avoidance of parabens and mineral oil, since I agree with Chel from Holy Snails that parabens in skincare are fine. I don't have a problem with mineral oil either. I award the ingredients point to Krave Beauty.
Score: Krave 1 Glow Recipe 0
pH comparison
One of the best things I ever did for my skin was to start paying attention to the pH of my cleansers. I won't go into the subject much here-you can read my cleanser pH primer and get links to lots of more extensive discussion here-but I will say that extended use of any cleanser with a pH higher than 7 always leaves my skin tight, dry, and irritated to the point of redness (or beyond). Meanwhile, although I can find plenty of reasons to dislike a low-pH cleanser, stripped and sensitized skin won't be among them.
If your skin doesn't respond poorly to alkaline cleansers, I envy you. You can have my rejected high-pH products. I'll be over here clutching my pH strips and looking for face washes with a pH of 7 or below.
I used my trusty Macherey-Nagel four-color pH testing strips* to check the pH of the Krave and Whamisa by Glow Recipe cleansers.
Krave Beauty prints the pH of the Matcha Hemp Hydrating Cleanser right on the box, listing it as between 5.0 and 6.0. Slight variances between batches can result in slightly different pH readings from tube to tube, and it's refreshingly honest of the brand to admit to that possibility. My tube tested at about a 6. Pretty decent and in line with the product's stated aim of being gentle to the skin barrier.
Whamisa by Glow Recipe Green Tea Foaming Cleansing Gel tests at a 7, which exactly matches the number Glow Recipe told me when I asked them about the pH of the cleanser. Some pH purists find 7 too high. My skin is fine with it, but 7 is the maximum for me, so this cleanser is right on the edge of acceptability, pH-wise.
The lower pH here means the point goes, once again, to Krave.
Score: Krave 2 Glow Recipe 0
Performance comparison
Now we're getting down to it. Krave Beauty Matcha Hemp Hydrating Cleanser and Whamisa by Glow Recipe Green Tea Foaming Cleansing Gel might sound pretty similar in theory, but in practice, they're surprisingly different.
The Krave cleanser comes out of the tube a thick, jiggly, noticeably lumpy jelly. It holds its jellylike consistency stubbornly even when mixed with water, producing an unusual slippy feeling when massaged over skin. This cleanser feels like rubbing lightly lathered lube all over your face, and I mean that in the best way possible. There's zero drag, zero pull on skin. The cleanser creates a glide that helps minimize any irritation that the act of cleansing might cause. Yes, it kind of looks like snot, and no one in my house cares for the musty, earthy scent of it, but it feels like liquid silk.
Whamisa by Glow Recipe's Green Tea Foaming Cleansing Gel has a standard gel consistency and mixes with water more easily into a moderate lather. One interesting thing to note about this cleanser is that it contains a bunch of powdered green tea, which can settle unevenly in the product. Sometimes you'll get a lump so full of the powdered bits that it ends up providing some minor exfoliation on top of the usual cleansing. Other times, you'll get no powder at all. The lather moves easily over skin, though without the Krave cleanser's Astroglidey feel. This cleanser has a subtle, fresh green scent.
Since Krave's cleanser feels great but smells unpleasant to me, while Glow Recipe's cleanser feels fine and smells fine, I score them both the same here.
Score: Krave 3 Glow Recipe 1
Finally, let's get down to cleansing abilities.
Krave Beauty's cleanser is, as advertised, gentle and barrier-friendly. After consistent, twice-daily use over the course of several weeks, my skin barrier feels just as healthy as it did when I started. While I wouldn't say this cleanser actively hydrates my skin, I will say that it leaves my skin feeling as soft and supple as possible after washing: it allows my skin to retain its own moisture, a good quality in a cleanser.
I do find, however, that when I've worn heavier skincare, sunscreen, or makeup than usual, the Krave Beauty cleanser can fall short of getting my skin completely clean. I've felt a slight residue of product on my skin or discovered a little on a cotton pad of toner after use, as if the Matcha Hemp Hydrating Cleanser isn't fully equipped to tackle long-wearing cosmetics (even after cleansing oil) or extra thick nighttime moisturizers and sleeping packs.
As expected for a skincare line targeted at oilier complexions, Whamisa by Glow Recipe Green Tea Foaming Cleansing Gel cleanses more thoroughly. I never notice any leftover gunk on my skin after using this cleanser, no matter how intense my sunscreen and makeup were throughout the day or my occlusive layer was the night before. The trade-off in gentleness isn't major, either. While my skin definitely feels more deeply cleansed and slightly less bouncy after using this product than it does when I use Krave's, it never feels outright stripped or sensitized, even after going through an entire tube and a half of product. There's a reason I rushed out to buy myself a second tube when my first, PR-provided one ran low.
Since a cleanser's first duty is to cleanse, I give the cleansing point to the Whamisa by Glow Recipe cleanser.
Final score: Krave 3 Glow Recipe 2
Conclusion: Neither of these cleansers is a holy grail for me. They lack that spectacularness that a cleanser like Sulwhasoo's Snowise cleanser possesses. But they also lack the spectacular price point of the Sulwhasoo cleanser, and both of these green tea cleansers have plenty of good points, which is why both of them get to stay in my shower.
Krave Beauty's Matcha Hemp Hydrating Cleanser provides a more pleasurable experience overall and lives up to its promise of being gentle to skin. I'd be comfortable recommending it even for very dry or sensitive skin. When I need thorough cleansing, however, I reach for Whamisa by Glow Recipe Green Tea Foaming Cleansing Gel, and my skin doesn't squeak or suffer because of it.
Which one is right for you? Ultimately, it depends on whether you need a little extra gentleness or a little extra cleansing power.
If I had to choose one to repurchase right now, then despite my preference for the ingredients, pH, and skinfeel of Krave's cleanser, I'd choose Whamisa by Glow Recipe's due to its greater practicality.
Also, one final bonus question that I've been asked several times:
How does Krave Beauty Matcha Hemp Hydrating Cleanser compare to Glossier Milky Jelly Cleanser?
I like Krave's cleanser much better than Glossier's. The intense slip of Krave's cleanser makes using it much more comfortable, and I prefer the earthy smell of the Krave cleanser to the oddly plasticky rose scent of Glossier's. It leaves my skin just as soft and rinses off more easily.
---
Where can I buy Krave Beauty Matcha Hemp Hydrating Cleanser or Whamisa by Glow Recipe Green Tea Foaming Cleansing Gel?
You can find Krave Beauty Matcha Hemp Hydrating Cleanser at the Krave Beauty website. Likewise, you can find Whamisa by Glow Recipe Green Tea Foaming Cleansing Gel at Glow Recipe.