Hey everyone! It's Tieghan here from Half Baked Harvest. I'm back to share one of my favorite cozy, but healthy recipes that's perfect for the end of fall, and on into these cold winter nights.
When the weather is cool and all you want to do is snuggle on the couch with a blanket, this is the perfect dish to make. Since I'm all about the cozy recipes right now, I knew I wanted to make an updated, healthier chicken pot pie.
Enter my veggie filled, gluten free, chicken pot pie. This is one of those recipes that literally warms the soul. I know it sounds cheesy, but it's true. If you're having a bad day, the weather is gloomy, or you just need something to make you feel good inside, this is it.
Let's be real, who doesn't love a good chicken pot pie? It's basically a thickened up chicken soup baked up in between a flaky pie crust. And here's a recipe that everyone should know how to make.
To keep things on the healthy side, I nixed the butter for omega-3 rich, extra virgin olive oil. I then tossed in some veggies, like mushrooms, carrots, celery, and of course, the classic chicken pot pie veggie… green peas.
Tip? Instead of peeling your carrots, save time and leave the skin on! Not only does the carrot skin add nice texture, but it's full added nutrients and fiber that will keep you full longer! Just be sure to buy organic carrots and give them a good scrub before chopping!
To keep the pie extra flavorful, I added my two favorite fall herbs, sage, and thyme. These herbs are hearty and can stand up to the long cooking time of the pie.
For the crust, I decided to keep things gluten-free by using a pre-made gluten-free crust, which you can find at any Whole Foods or Trader Joe's.
What I love so much about this recipe is that you can easily adapt the ingredients to incorporate the veggies you love. You can even make it vegetarian by simply omitting the chicken. Or, if you're cooking for Thanksgiving next week, use that leftover turkey in place of the chicken and make a turkey pot pie! That will be delicious, and a perfect use for all those holiday leftovers!
I've yet to meet anyone who hasn't loved this chicken pot pie. It's warm, cozy, and perfect for eating on a bone-chilling night, while snuggled up by a fire, or nestled on the couch with your favorite blanket. It truly doesn't get much better.
Gluten Free Chicken Pot Pie
Serves: 6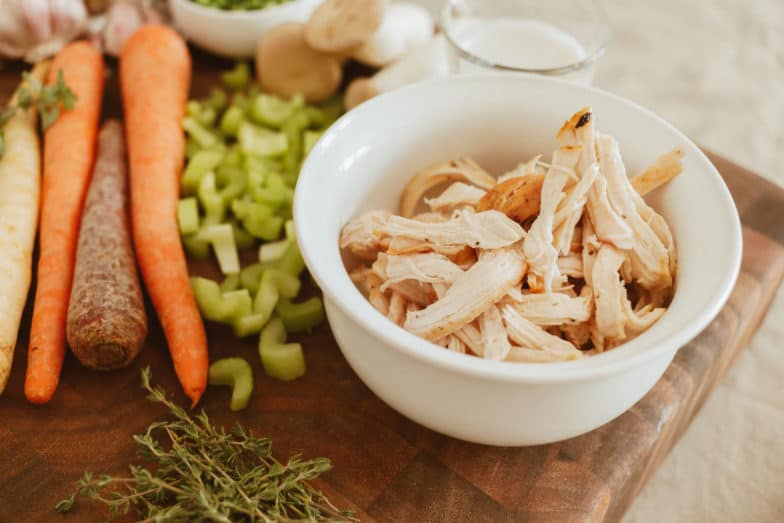 2 tablespoons extra virgin olive oil
1 small yellow onion chopped
kosher salt and pepper
1 cup mixed wild mushrooms, torn
3 carrots, chopped
2 celery stalks, chopped
2 cloves garlic, finely chopped
1 tablespoon fresh thyme
2 teaspoons chopped fresh sage
1/4 cup gluten-free all-purpose flour blend
1 cup low sodium chicken broth
1 cup almond milk
2 cups shredded rotisserie chicken
1/2 cup frozen peas
2 tablespoons fresh parsley chopped
1 gluten-free pie crust
1 egg, beaten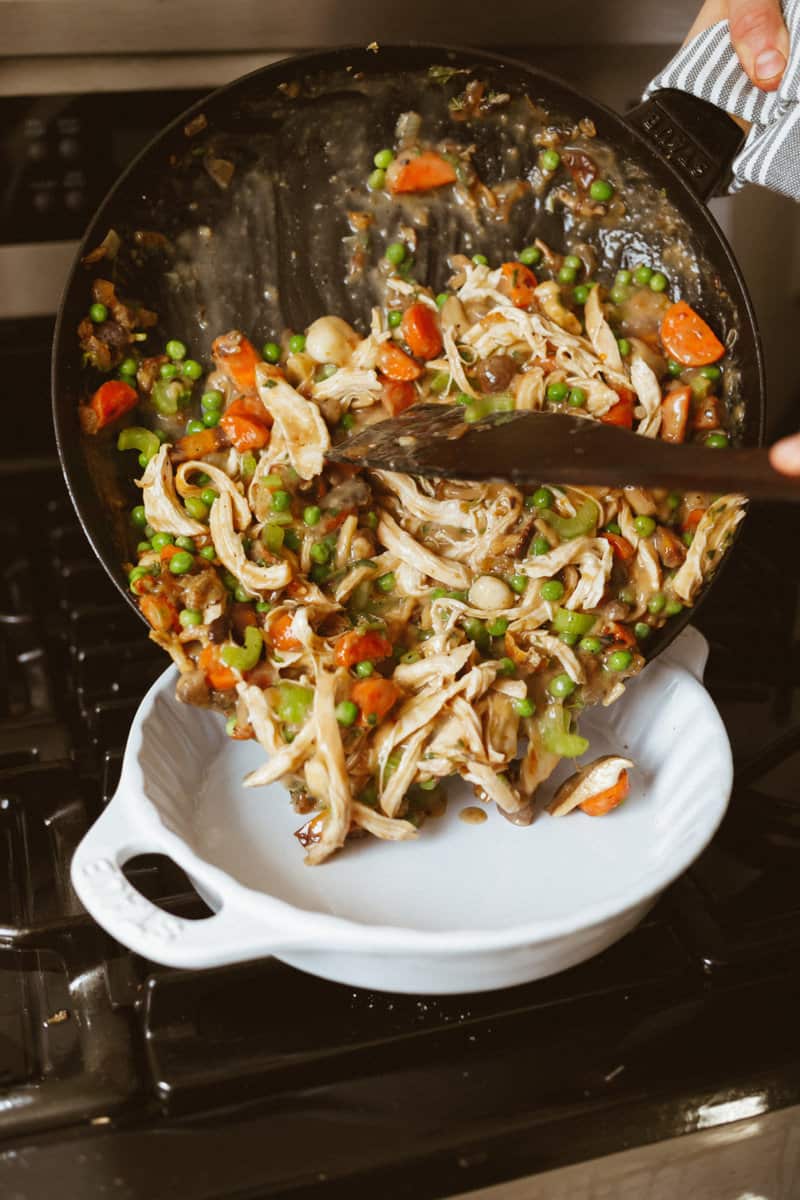 READ ALSO Benefits of Eating Acorns. Learn how to Gather, Prepare and Enjoy!
READ MORE Melt in Your Mouth Chicken Dinner Recipe
Preheat the oven to 375 degrees F. Lightly coat a 9-inch pie plate with olive oil.
Add the 2 tablespoons olive oil to a large skillet set over medium heat. When the oil shimmers, add the onion and cook until softened and slightly caramelized, about 5 minutes, season with salt + pepper. Add the mushrooms, carrots, celery, and garlic and continue to cook until the mushrooms have caramelized about 10 minutes. Stir in the sage + thyme.
Sprinkle the flour over the veggies and cook, stirring to incorporate for a minute. Slowly pour in the chicken broth, milk, and season with salt and pepper. Bring the sauce to a low boil and then reduce the heat to medium and simmer for 5 minutes or until the sauce has thickened. Remove from the heat. Stir in the shredded chicken and peas.
Spoon the chicken mixture into the prepared pie plate. Lay the pie dough over the chicken, gently pressing the dough into the edge of the pie plate to secure. Brush the top of the pie crust with the beaten egg. Transfer to the oven and bake for 30 minutes or until the filling is bubbling and the crust golden. Let sit 5 minutes before serving.
These 3 Beauty Products Are Already In Your Kitchen! Use Them
First appeared on thechrisellefactor.co