Melt in Your Mouth Chicken is a family favorite! It's my version of the classic Melt in Your Mouth Chicken recipe that your mom probably used to make! Simple, flavorful, and so tender…this is a great weeknight dinner recipe.

I seriously can never have too many chicken recipes. We eat more chicken in our house than any other meat for sure, like my Balsamic Chicken, my Cheesy Artichoke Chicken, my Crescent Chicken…the list goes on and on. And real talk, chicken nuggets are basically the perfect food…soooo…
This MIYM Chicken recipe is one of those classics that I am sure you've had at some point in your life. My mom used to make it with mayonnaise and while that was fine, I always thought she may have used a little too much. There is a fine line with mayo in my opinion…a little = good…too much = gross.
Just me?
Anyhow, to sideline that whole debate, I use sour cream in my recipe, which makes everyone happy.
Plus, there's cheese involved in this one, and everyone knows with cheese…too much = perfect.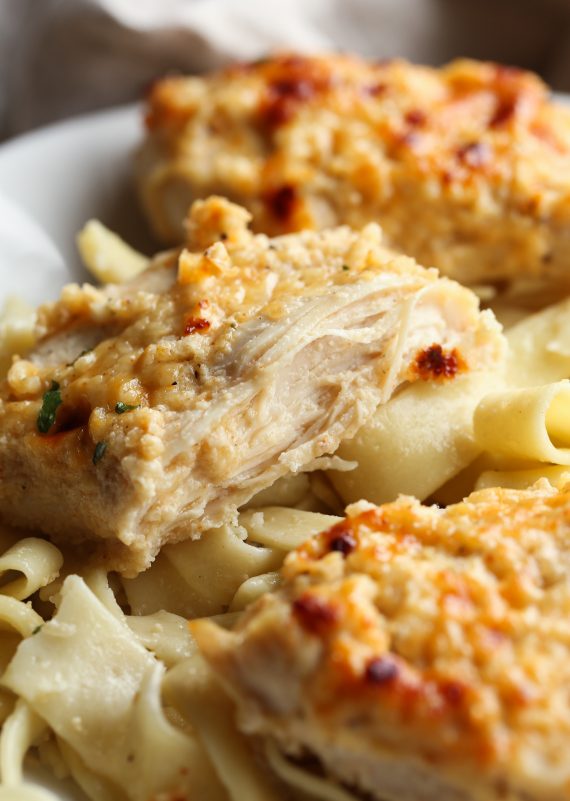 The prep time on this is literally minutes. It's the perfect weeknight dinner, because everyone will love it, and it's done in 30 minutes.
I love serving this with my Homemade Egg Noodles when I have the time to make them. SO good!
READ MORE Slow Cooker Buffalo Chicken Lettuce Wraps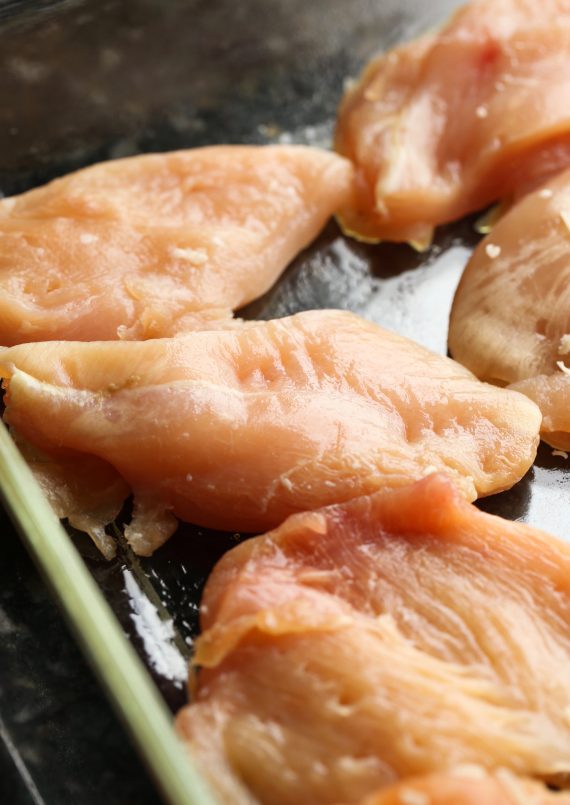 Just place your chicken breasts in a 9×13 baking dish…
And mix up some sour cream, seasonings, and cheese.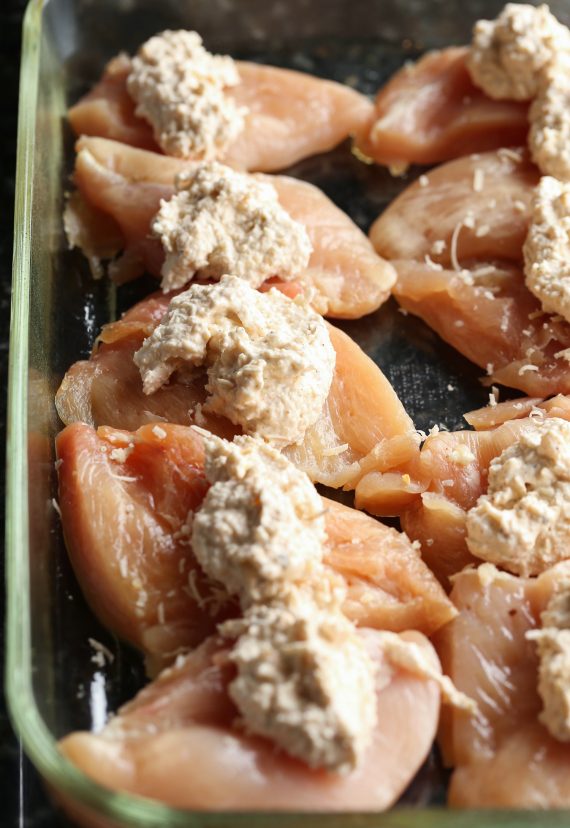 Spread that on top and you probably want to add more cheese.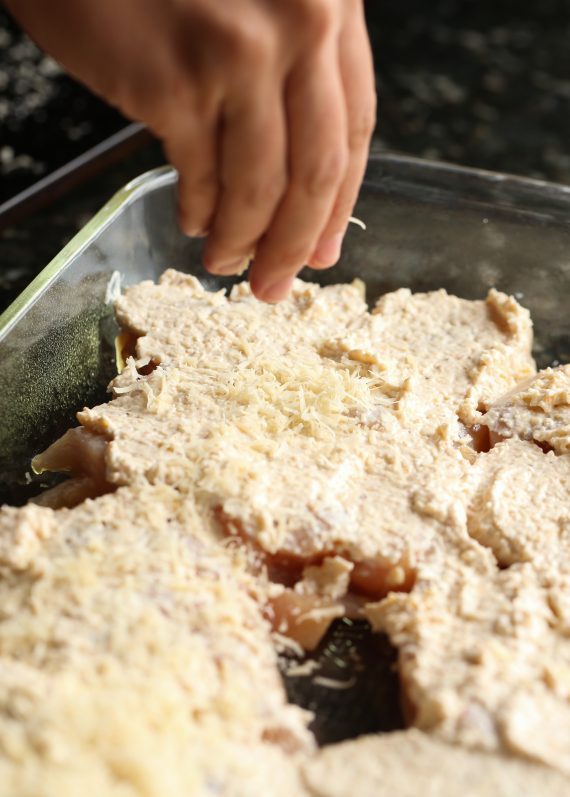 Bake it for 25-ish minutes, and then pop it under the broiler to brown up the cheese on top.
READ ALSO Roast chicken with Brussels Sprouts. The ultimate roast chicken recipe by Souvlakiforthesoul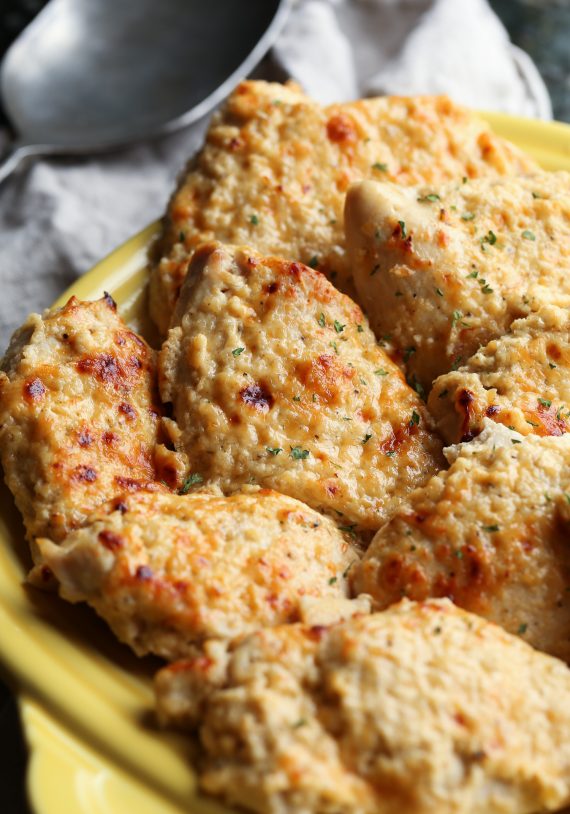 This will be a weeknight staple in your house, I guarantee it!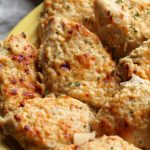 Melt In Your Mouth Chicken Breasts
---
Description
A retro/nostalgic EASY chicken recipe that is in constant rotation in my house!
---
Ingredients
1 cup sour cream
2 teaspoons garlic powder
1 teaspoon seasoned salt
1/2 teaspoon fresh ground black pepper
1 1/2 cups freshly grated Parmesan cheese, divided
3 pounds boneless chicken breasts, trimmed of excess fat
---
Instructions
Preheat oven to 375°F. Lightly coat a 9×13 baking dish with nonstick spray and set aside.
In a medium bowl, mix together the sour cream, garlic powder, seasoned salt, pepper, and 1 cup of Parmesan cheese.
Place the chicken breasts evenly into the pan. Spread the sour cream mixture on top of the chicken. Sprinkle with the remaining Parmesan cheese.
Bake for 25-30 minutes, or until the chicken is cooked through.
Turn the oven to broil and place the pan under the broiler for 2-3 minutes until lightly browned on top.
Serve immediately.