The origin story of Limoncello's Liqueur recipe is shrouded in mystery – the regions of Italy are still arguing who owns the authorship.
The people of The Island of Capri insist that Limoncello was invented by the owner of one guesthouse, Maria Antonia Farace, in the early 1900s, and then her grandson Massimo Canale patented the Limoncello brand. The Sorrentians prove that since the early 1900s the local nobility treated its guests with Limoncello liqueur. Residents of Amalfi believe that Limoncello was prepared certainly from Amalfi lemons, and since ancient times.
Anyway, Limoncello is an Italian drink, famous and beloved all over the world. At what the true Limoncello is called only the liqueur, which is made from sorrentine lemons – incredibly fragrant and tasty.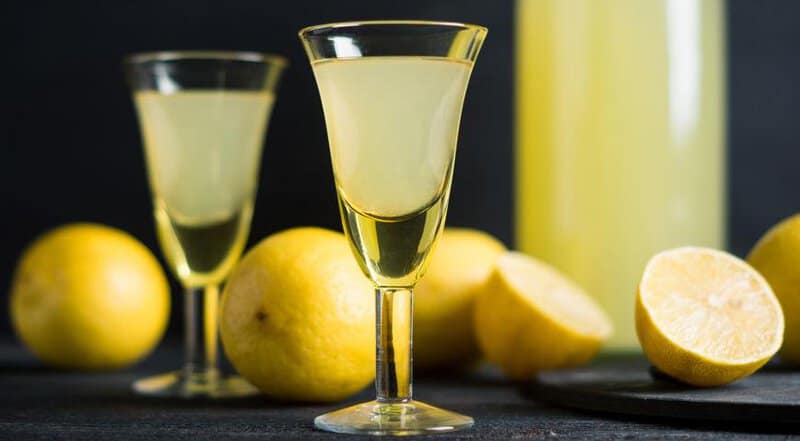 Ingredients:
lemons – 8-10 pieces
alcohol 96% – 500 ml or vodka – 750 ml
drinking water – 650 ml for alcohol or 400 ml for vodka
sugar – 450 grams for alcohol or 300 grams for vodka.

Cooking:
Wash thoroughly and dry the lemons.
With a knife carefully remove the zest from the lemons – the yellow part.
Pour 500 ml of alcohol or 750 ml of quality vodka, close the lid tightly.
Place the jar for 7-10 days in a cool place.
After 7-10 days, prepare the syrup – pour a pan into the water and add sugar.
Put on a slow heat, bring to a boil and cook over medium heat for 3-4 minutes, removing the white foam.
Cool the resulting syrup to room temperature.
Strain the lemon tincture through a sito or gauze, squeeze the zest dry.
Pour the strained chilled tincture into the syrup and mix well.
Pour over the bottles and leave in a cool place to improve the taste to infuse for another 5-7 days.
Bon appetite!
TRY ALSO DRINK ALOE VERA JUICE EVERY DAY!
READ MORE ITALIANA LIFESTYLE OR HOW TO DRINK LIKE AN ITALIAN