Heaven on a plate, these teriyaki turkey burgers with grilled pineapple (bun optional!) are easy enough for a weeknight and special enough for entertaining. The flavor is incredible!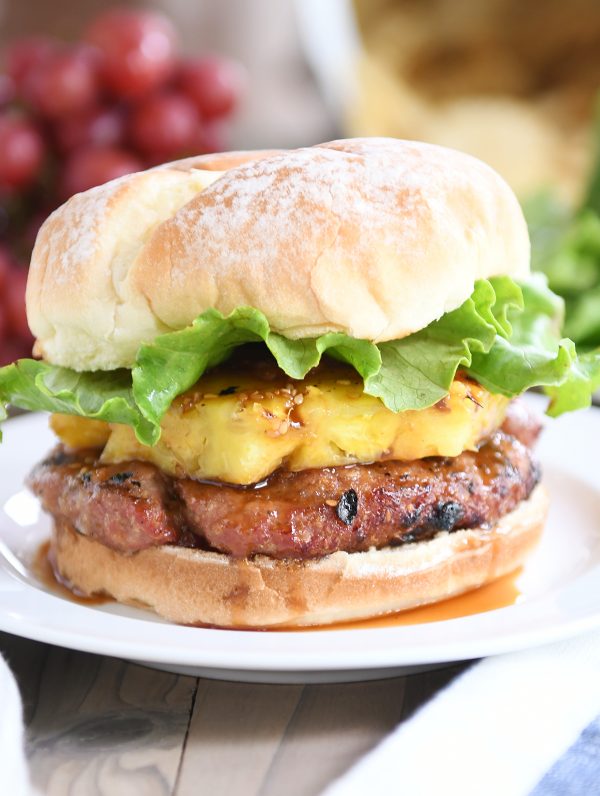 Holy moly. In the words of my 12-year old, these teriyaki turkey burgers with grilled pineapple are totally lit. And I couldn't agree more.
Easy. Delicious. Simple enough for a weeknight dinner but amazing enough for company, these babies are making a solid run for most looked forward to meal of the summer.
While they are superbly delicious dressed up with lettuce and a bun, they are absolutely fantastic served bun-less with maybe (ok, yes) a little slice of Swiss cheese melted on top and extra teriyaki sauce. Whoa-good.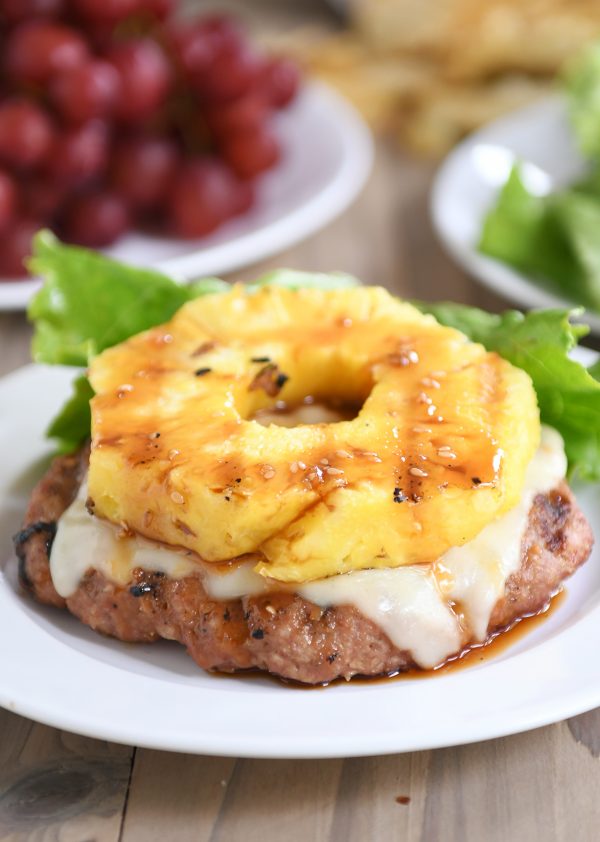 Do you grill pineapple? If not, now is the time. Seriously, pineapple is easily one of the best things to consistently come off my grill. The sweet, tangy flavors of the pineapple caramelize and concentrate into pure magic, and I am unstoppable (speaking of my self-control here) in the face of fresh, juicy grilled pineapple.
For this recipe, I highly recommend getting your hands on fresh pineapple. There's not really a canned substitution that will quite have the same delicious effect.
However! I champion your desire to use what you have on hand or what is easily accessible. And having lived in some very remote places myself that indeed rarely carried fresh pineapple, if all you can get is canned pineapple rings, I'd say go for it. Notes about doing so in the recipe below.
For fresh pineapple, slice rings about 1/4-inch thick or so. Using a sharp knife (or if you're lucky enough to have a round cookie cutter about this size), trim out the core of each pineapple slice.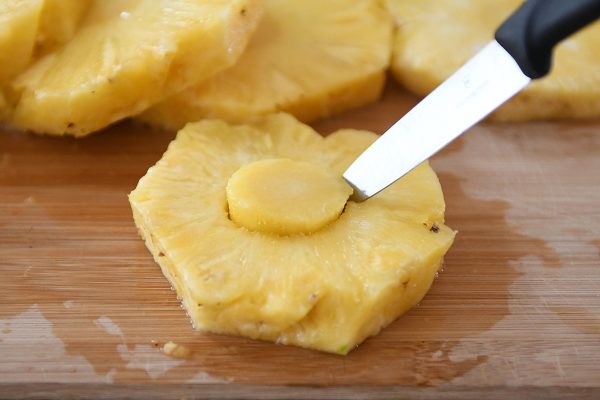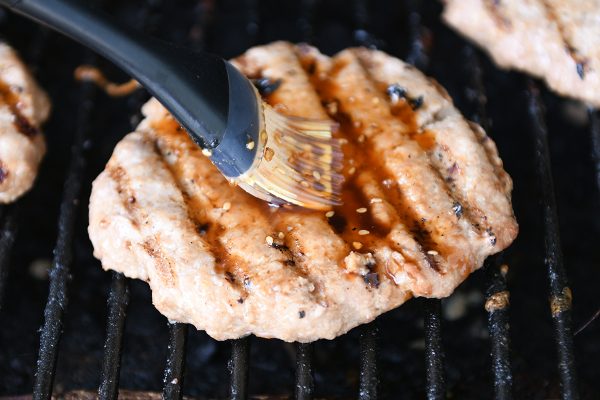 Ground turkey is usually softer in texture than ground beef or ground pork. That means that sometimes turkey burgers can be problematic when cooked on a grill. To help the burgers keep their shape (and for great texture), bread crumbs and an egg are added to the ground turkey mixture. I promise we aren't going for meatloaf here…just a really tender, delicious turkey burger.
For this recipe, I prefer using 85% lean ground turkey (Jennie-O or Butterball brand). I don't recommend the ground turkey that comes packaged in the tubes. It gives me the eebie jeebies, and in my experience the texture is just all wrong and kind of icky.
*If you don't have a grill, I think the burgers and pineapple could easily be cooked in a skillet or on an indoor griddle.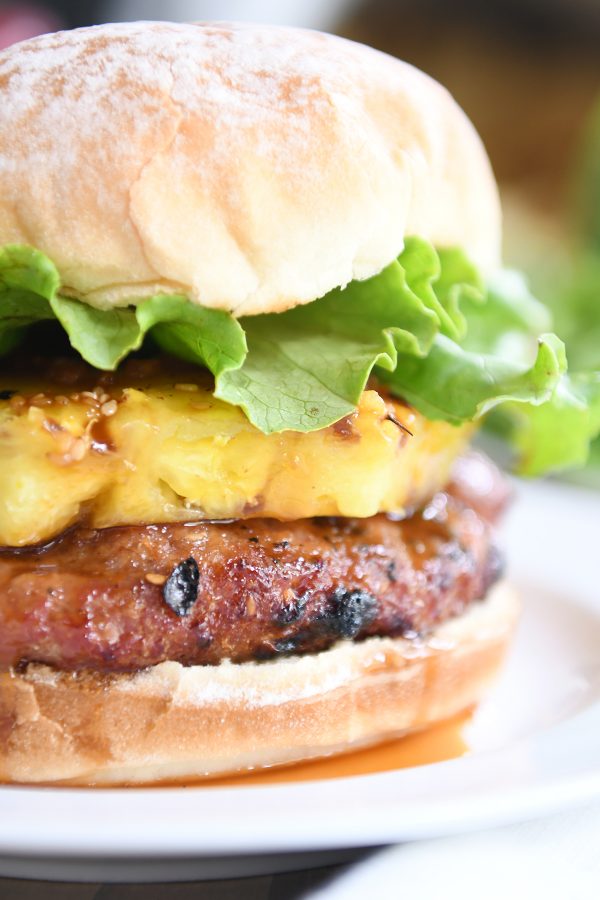 This might be the most important part of the recipe! The teriyaki flavors are what set these burgers apart and get those high "lit" compliments.
I think a really great store bought or homemade teriyaki sauce will work well in this recipe. The most important part is using a teriyaki sauce you really like the flavor of. As in, if the taste makes you gag, you might want to reconsider your teriyaki sauce strategy.
Store bought: Trader Joe's has an excellent bottled teriyaki sauce called soy-yaki; I've also used the Soy Vay Veri Veri Teriyaki sauce.
Homemade: I have a couple homemade teriyaki sauce recipes that appear as part of other recipes; I think either would be amazing in this recipe (here and here). I wish I could say I've tried a homemade sauce for these burgers. But I haven't yet. Blame it on summer. It's been a whirlwind (in all sorts of good and challenging ways). I feel like some days I barely have time to remember who I am and how I got here. Storebought teriyaki sauce it is! 🙂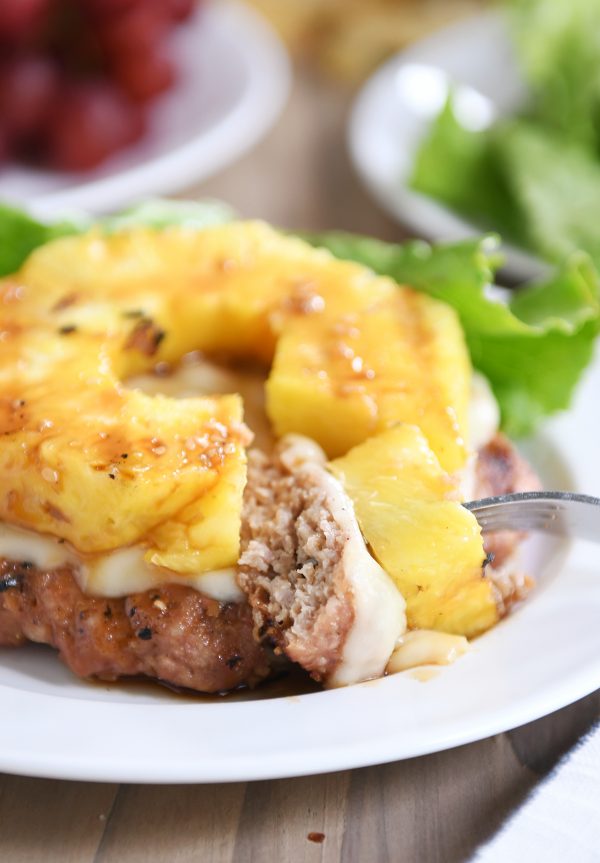 Well. There you go. Teriyaki burgers with grilled pineapple. One of the most delicious meals of the summer and guaranteed to be happening very often around these parts for the foreseeable future.
READ ALSO Unconventional Ways to Eat Pineapple & Important Reasons To Drink Pineapple-Infused Water Every Day
This is a rare zero complaint dinner for us, and I know you know what I mean when I say: you gotta capitalize quickly and strategically when that happens.
Yield:
6 burgers
Prep Time:
25 minutes
Cook Time:
15 minutes
Total Time:
40 minutes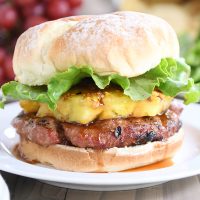 Ingredients
2 pounds ground turkey (see note)
1 large egg
1/2 cup unseasoned bread crumbs (I use panko)
1/4 cup grated onion
1/4 cup teriyaki sauce (see note)
1 teaspoon garlic powder
1/2 teaspoon salt (I use coarse, kosher salt)
1/4 teaspoon black pepper (I use coarsely ground)
6 rings of sliced fresh pineapple, cored (see note for canned)
Hamburger buns
Lettuce
Additional teriyaki sauce
Swiss cheese (optional)
Instructions
Preheat a grill to medium or medium high (I set my pellet grill to 375 degrees F).
In a large bowl, add the ground turkey, egg, bread crumbs, onion, teriyaki sauce, garlic powder, salt, and black pepper. Combine well (I dig in with my hands until it's evenly combined).
Form six burgers (or more, see note below) about 1/2-inch thick.
If meat tends to stick to the grates of your grill, brush the grates with oil or lightly brush both sides of the turkey burgers with oil.
Grill the burgers about six minutes on the first side, flip, baste with teriyaki sauce and grill another 4-6 minutes until cooked through (instant read thermometer registers 165 degrees F).
Once the burgers are flipped, add the pineapple to the grill and grill 4-5 minutes, flipping once. Optional: brush pineapple with teriyaki sauce during last few minutes of grilling.
Serve the turkey burgers on buns with additional teriyaki sauce, lettuce and Swiss cheese (optional). Burgers are delicious served without a bun, too.
Notes
Ground turkey: I use 85% lean ground turkey for this recipe and usually use either the Butterball or Jennie-O brand. I don't recommend using the ground turkey that comes in the tubes – it is mushy and falls apart while cooking.
Teriyaki sauce: Use your favorite brand of teriyaki sauce (Trader Joe's has an excellent sauce; I've also used the Soy Vay Veri Veri Teriyaki sauce). I have a couple homemade teriyaki sauce recipes that would probably work great, too (here and here).
Pineapple: I have only used fresh pineapple; you could experiment with canned. Pat dry and watch carefully on the grill (might be a bit more fragile than fresh pineapple).
Yield: I make six fairly large (but fairly thin) burgers out of this recipe – you could certainly make smaller burgers to yield more or scale down the recipe as needed.
Recommended Products
As an Amazon Associate and member of other affiliate programs, I earn from qualifying purchases.
Recipe Source: inspired by a recipe in Cuisine at Home August 2019