The world is burning! This week shows world-wide heat records around the planet.
► Across the northern hemisphere, the past week has shown some of the hottest temperatures ever seen.
Massive areas of heat pressure all around the northern part of the world has caused these extreme temperatures.
It is reported by the Canadian Broadcasting Corporation that this heat is the cause of at least 33 deaths in southern Quebec alone. The deaths have occurred mostly in and around Montreal, which had record-breaking temperatures.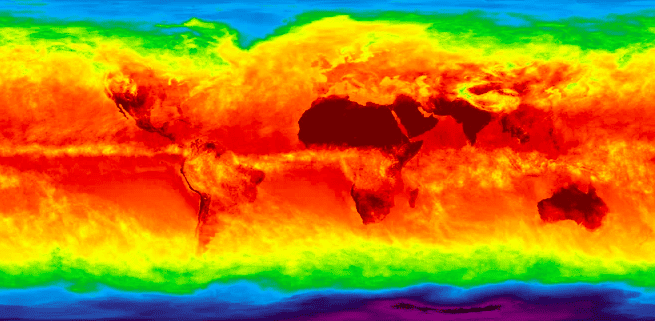 Meanwhile, in northern Siberia, across the coast of the Arctic Ocean, analysis has shown that temperatures reached an extreme being over 22 Celsius (40 Fahrenheit) over the usual heat. While no statistic by itself can be pinpointed to Global Warming, these are the kind of increase in temperatures that should be expected by a globe that is warming up over time. Below are some of the most recent heat records recorded!
Unusual Heat In North America
A gigantic ball of heat pressure has engulfed two-thirds of the United States and southeast Canada for the past week. Not only has it been boiling, but the humidity is also high, leading to the heat being even worse.
Denver tied its record-high temperature of 40.5 Celsius (105 Fahrenheit) on June 28.
Mount Washington tied its record-warmest low temperature of 15.5 Celsius (60 Fahrenheit) on July 2.
Burlington set a new record of its warmest low temperature at 26.6 Celsius (80 Fahrenheit).
Montreal broke its record with an all-time high temperature of 36.6 Celsius (97.9 Fahrenheit).
Unusual Heat In Europe & Asia
Europe and Asia have also suffered outrageous temperatures this past week, as a ball of heat pressure has parked on top of the continents. Britain was consumed by unusually high temperatures that even roads and roofs collapsed under the intense heat.
Scotland broke its old high-temperature record of 32.9 Celsius (91.2 Fahrenheit) with a slightly higher record of 33.2 Celsius (91.8 Fahrenheit).
In Northern Ireland, Belfast reached an all-time high of 29.5 Celsius (85.1 Fahrenheit); Castlederg also made a new record of 30.1 Celsius (86.2 Fahrenheit).
Meanwhile, in Asia, Georgia's capital city – Tbilisi – reached a scorching 40.5 Celsius (104.9 Fahrenheit). Armenia's capital city – Yerevan – set its record for July: 42 Celsius (107.6 Fahrenheit).
In April, Pakistan revealed they had received the hottest temperature ever observed on Earth during that month of 50.2 Celsius (122.4 Fahrenheit).
► What do these other-worldly temperatures mean?
It could be global warming at play, possibly a combination of things. All we know for sure is that the world is indeed getting hotter.