by Cat Cactus, Snow White and the Asian Pear
Sunscreen: like a seat belt, it's something we endure because the alternative possibly leads to death or disfigurement. Wearing it isn't optional, so the best one can hope for is that it's as unobtrusive as possible, but at minimum the seat belt doesn't mash your bosom when you wear it. This sunscreen isn't it. Sunscreens should be cosmetically elegant, meaning light and comfortable on the skin, and they should have full-spectrum high sun protection (SPF 50+, PA+++ or higher), with minimal white cast.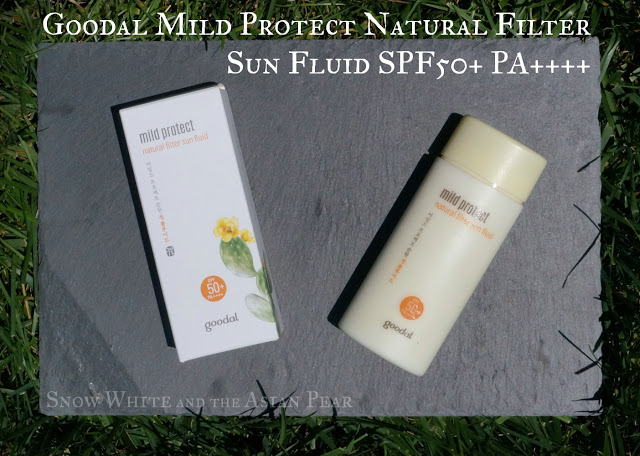 I was definitely feeling the hanbang-inspired packaging this came in
This is pretty easy if you use chemical (also known as 'organic') UV filters, but as they cause skin irritation and reactions for many people (including yours truly), many people with sensitive skin can only use physical (also known as 'inorganic') UV filters. Some of which are white. Literally white pigment. Nanoparticle forms of physical filters are supposed to have less white cast, but there's some debate about their safety. The point of this dry paragraph is that physical sunscreens with minimal white cast are very rare. People like me hunt them in murky corners of the internet and have underground swap networks for decants.
In this post:
Product details
Ingredients
Swatches on NC10 and NC30 skin
What I'll repurchase instead
Final thoughts & why I'll use it up
I had high hopes for this one, because I loved the Goodal Mild Protect Natural Filter Sun Cream SPF50+ PA+++, so surely this almost-the-same-name-but-one-more-PA-rating sunscreen should also be good? Are you looking for the perfect undead base makeup-and-sunscreen combo for your daytime Hallowe'en beach party or possibly playing Marley's Ghost in an afternoon matinée of A Christmas Carol at an outdoor theatre?
No? Then the Goodal Mild Protect Natural Filter Sun Fluid ain't what you're looking for. I'm a Mac NC10 and it looks white as hell on me. I had to double check that it wasn't meant to be a brightening cream. Re-reading the marketing copy while writing this review, I'm beginning to suspect that "light finish" isn't a reference to the texture, it's an invitation to a vampire cosplay. You'll see what I mean. *cue ominous organ music and the flapping of bats*
Just as a quick reminder: this blog uses both affiliate and non-affiliate links, and if you choose to click the former before you shop, your purchase may contribute a tiny amount to the maintenance of this blog. See full details at the end of this post! #receipts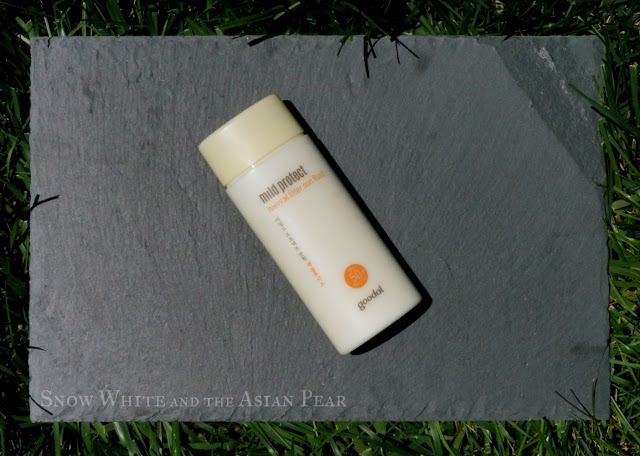 The bottle is a bit larger than most Asian sunscreens I've tried.
Product details
Full product name: Goodal Mild Protect Natural Filter Sun Fluid SPF50+ PA++++
Purpose: A full-spectrum sunscreen with only physical, inorganic filters titanium dioxide and zinc oxide.
Scent: Like it's Sun Cream counterpart, it has a floral scent, so unless you're interested in being not just a mime, but a fabulous, fragranced mime, best to skip it.
Texture: Lovely, sadly. It has a thin, fluid texture that spreads easily.
Quantity: 90ml, which is quite a lot for an Asian sunscreen. I have Japanese sunscreens a third this size.
Rating: 2/5: I'll wear it while gardening or when I know I'm not going to see anyone.
Where to get it: Planning a zombie party, eh? I bought mine from Jolse while it wasn't available anywhere else, but now you can find it on: Amazon | eBay | Jolse | Vuty Design
Repurchase: Hahahaha no. It's a lovely sunscreen to wear, I just can't wear it in public.
Ingredients
So let's just presume that you are going to go camping or gardening or flatly don't care if you look like you've highlighted your whole face with matte powder (ba-dum-tish! Flatly? Matte? I'll see myself out…) and therefore you're interested in the ingredients, here we are: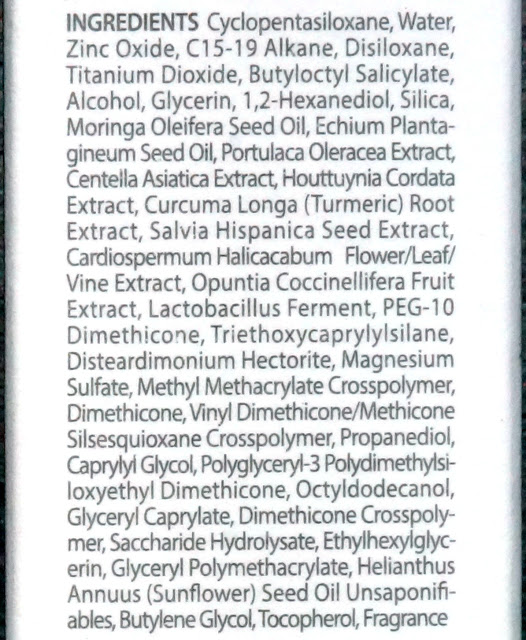 What on earth is Annuus Seed Oil "Unsaponifiables"? Saponification I know, but wut?
Notable ingredients are Zinc oxide and Titanium dioxide, the UV filters. It also contains alcohol, although it's not noticeable for me, which may be a concern for some people. It has a pretty array of plant extracts (Moringa oleifera, Echium Plantagineum Seed Oil, Portulaca Oleracea Extract, Centella Asiatica Extract, Houttuynia Cordata Extract, Curcuma Longa Root Extract, Salvia Hispanica Seed Extract, Cardiospermum Halicacabum Flower/Leaf/Vine Extract, ‧Plant extract, Opuntia Coccinellifera Fruit Extract, Lactobacillus ferment,Helianthus Annuus Seed Oil) but since Korean ingredients list order doesn't matter, it's hard to say if there is enough of any of them to benefit the skin.
Swatches on NC10 and NC30 skin
Since I can get away with a bit of white cast (and I sometimes deliberately use it as primer to colour correct base makeup) I like to coerce my NC30/35ish-when-tanned spouse into swatching things for me. We just bought a house (and are nearing the end of renovations, woo!) so he's been mowing a lot of lawn lately. That's not a euphemism, by the way. We just have large yards. I … I'm stopping now. For some reason, the camera isn't picking up on the obvious difference on my skin, but even if it's not as dramatic as it appears on Dr. Mr. The Pear, it's definitely noticeable on me in person.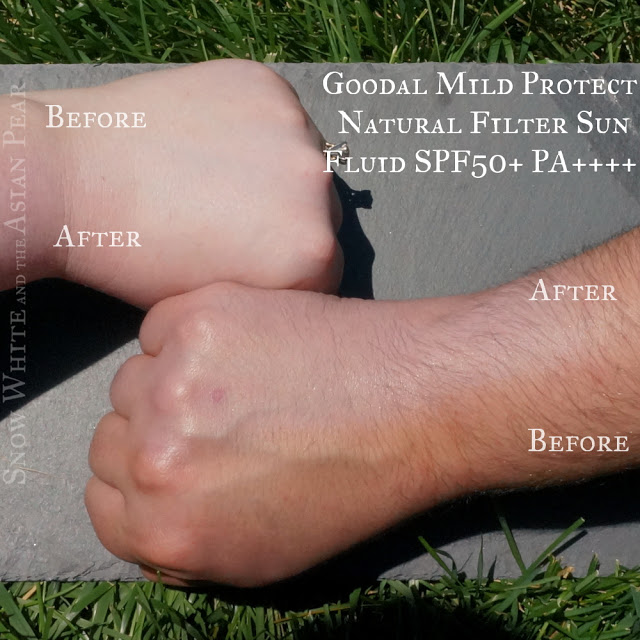 Me and my aggrieved swatch model, demonstrating the white cast of this sunscreen.
Have you ever seen kpop idols who have used very light base makeup with a pink or even blue/lavender tone to "correct" their skin tone? (This is how it's translated, i.e. "colour correcting makeup" in subtitles, at least.) That's what happened to my skin; it seemed to cancel out all the yellow tones in my face and made me look very pink in addition to looking like a half-committed goth. I wore it out once and my husband couldn't stop glancing over at me and commenting, despite not being very aware of makeup or fashion; at one point he helpfully suggested that "maybe it won't be so bad once we get into the shade? Nope, still bad."
It may work for others, though; halfway through this post I went digging for other reviews and found this one by the lovely Evelyn of Korean Beauty Dream, who was able to work with the white cast. Although I hadn't read her review until after I'd written the first 3/4ths of this post, it seems she had the exact same general thoughts about sunscreen that I had when I sat down to write this post. Great minds, or shared universal sunscreen suffering … ?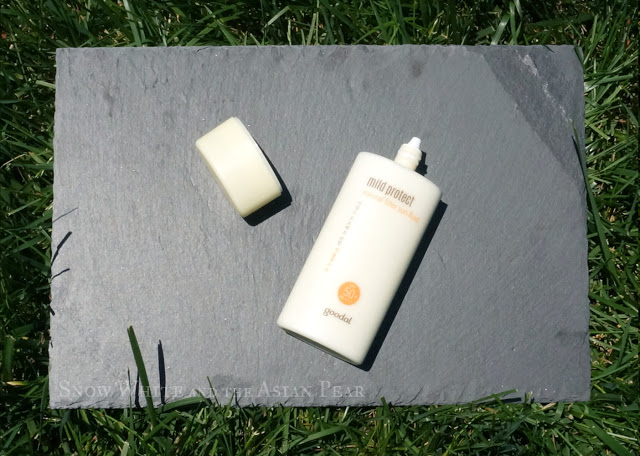 The small nozzle makes it easy to control how much you dispense
What I'll repurchase instead
I am sure this is no surprise, but I'm sticking with the OG version, the Goodal Mild Protect Natural Filter Sun Cream SPF50+ PA+++, because even though it's missing the extra PA rating, it has the most minimal whitecast of any SPF50+ PA+++ all-physical/inorganic sunscreen I've tried. I sent a decant to the lovely @labellevie245, who is an NC25. She quite liked it:
[S]he reported that although the white cast is more apparent on camera, it's not visible to the naked eye and instead looks 'brightening'. She also warns that the 'brightening' effect only lasts for about 20 minutes, and then fades. That's actually a good thing, because it means the white cast isn't hopeless. Now that I've seen it 'disappear' (at least to the naked eye) on my husband's skin, I feel more confident in warning people that it might look odd in pictures if you aren't wearing base makeup over it, but it's less likely to be an issue in-person.
If you don't wear makeup, or you're going to be taking pictures, I think the Sun Cream would still cause issues, but for everyday wear, it's more practical. It seems there is a new version out, which I haven't tested, so if you plan to pick it up, try to get the original version.
Where to get the Goodal Mild Protect Natural Filter Sun Cream: eBay | ClubClio | TesterKorea | Bisou Beauty Bar
Final thoughts & why I'll use it up
Even if this sunscreen isn't fit for public viewing, it's still a super comfortable, lightweight, super high protection (PA++++!) sunscreen that's easy to apply. I have a lot of gardening and renovation plans that keep me outdoors, so I'll need to slather on the sunscreen even if I'm only in our backyard.
The other perk of a sunscreen with a terrible white cast is that it's really easy to see if you've missed a spot? Silver lining, I suppose. It also had a pretty box, it's just too bad that the contents didn't live up to the promise of the packaging.
Have something you'd like to share with me in general? Snap a pic and tag me on Instagram at
**Disclaimer: All products reviewed in this post were purchased with my own money. This blog contains both affiliate and non-affiliate links, and clicking the former before you shop means that this blog may receive a small commission to assist in this blog supporting itself. Please see my Contact Info & Disclaimer policy for more information.