A popular trend in recent seasons is blue hair. But when choosing this option for coloring, it is important to choose the right shade. This will allow you to get the perfect result. How to choose a shade of blue color for hair? Read below:
The undoubted advantage of blue color is that it suits many people. But with skin defects and uneven tone, it is not recommended to choose it. In this case, unusual coloring will add pallor and fatigue to the image.
Features of blue color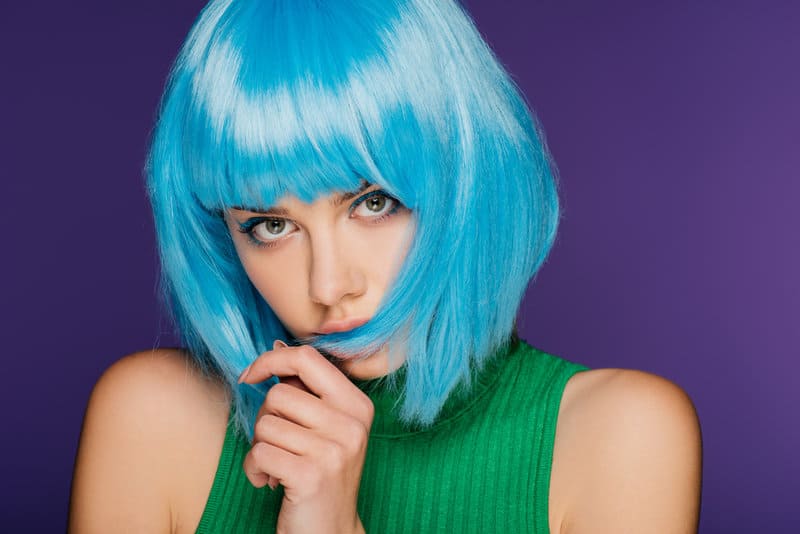 A gentle blue hue tunes in harmony and peace. The following advantages of this color are distinguished:
The ability to create an individual image.
A wide selection of various shades.
Combination with bright and original make-up.
Can be used for different appearance color types.
Suitable for both light and dark strands.
Of the minuses, it is worth noting the inability to predict the result when staining on strands with a porous structure (curly hair). After the painting procedure, special care is required.
Light Blue Hair
To get a light blue tint, you must first go through the procedure for bleaching the strands. This color palette is ideal for natural blondes with skin and eyes in bright colors. Sky tone is perfectly combined with graphic haircuts with strict lines.
For light blue hair suitable bright makeup. For lips, you can use lipstick in tones such as fuchsia and violet. And for the eyes, orange and yellow shades, as well as colored mascara, are ideal.
Bold people who adore an extravagant style when creating images choose hair in a heavenly shade. Of the stars, a new trend was tested by Lady Gaga.
Dark blue tint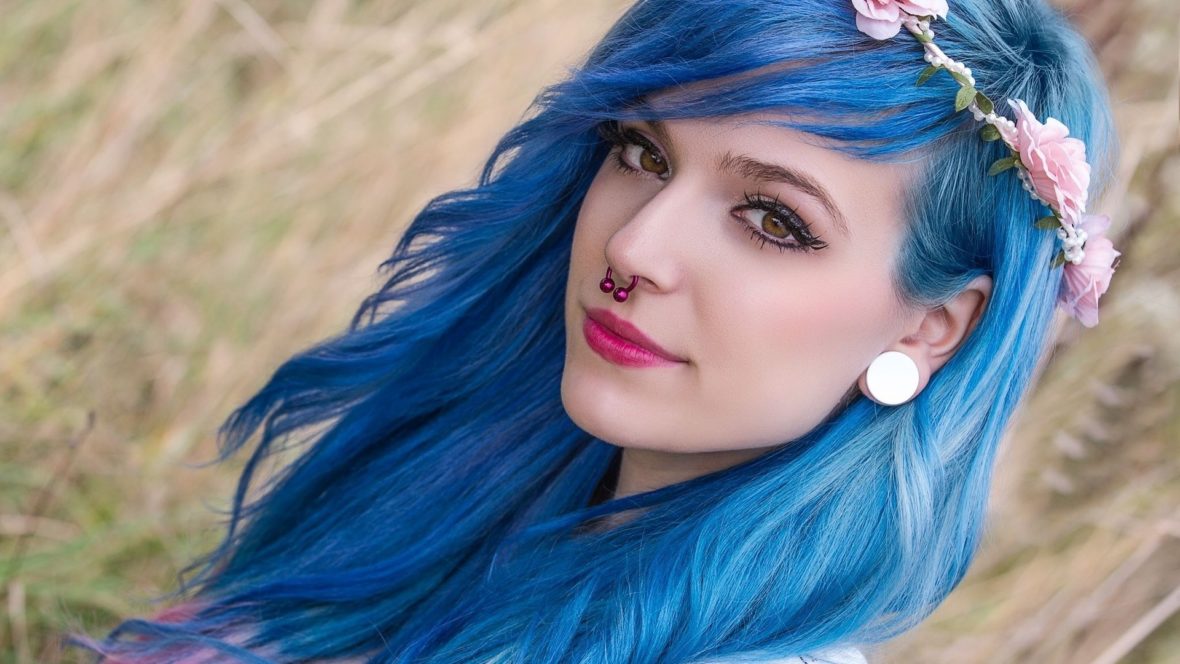 The hair of this shade is wonderful combined with colorful clothes in a street style. This option will especially appeal to fans of comics and Japanese pop culture. The combination of a stylish dress and dark blue strands was skillfully used by Katy Perry.
Light blue curls
This unusual and complex shade can not only refresh the look, but also add negligence. It is important to find a professional colorist who can achieve the right result. A gray haze on light brown strands looks stylish.
In a lush hair, you can add a couple of strands in azure tones or perform smooth gradations from light brown to blue. This option for staining can be recommended for girls with bright eyes.
Gray blue palette
The original decision is chosen by the idol of youth Billy Eilish. But this tone is suitable for more mature women. A bluish gamut will help to hide the gray hair and gives an unusual charm.
To create an exquisite look, you can choose gray-blue strands with an ombre effect. Such a palette will allow you to make both a smooth and more contrasting color transition. For hair with such dyeing, wave laying is ideal.
Blue and white tone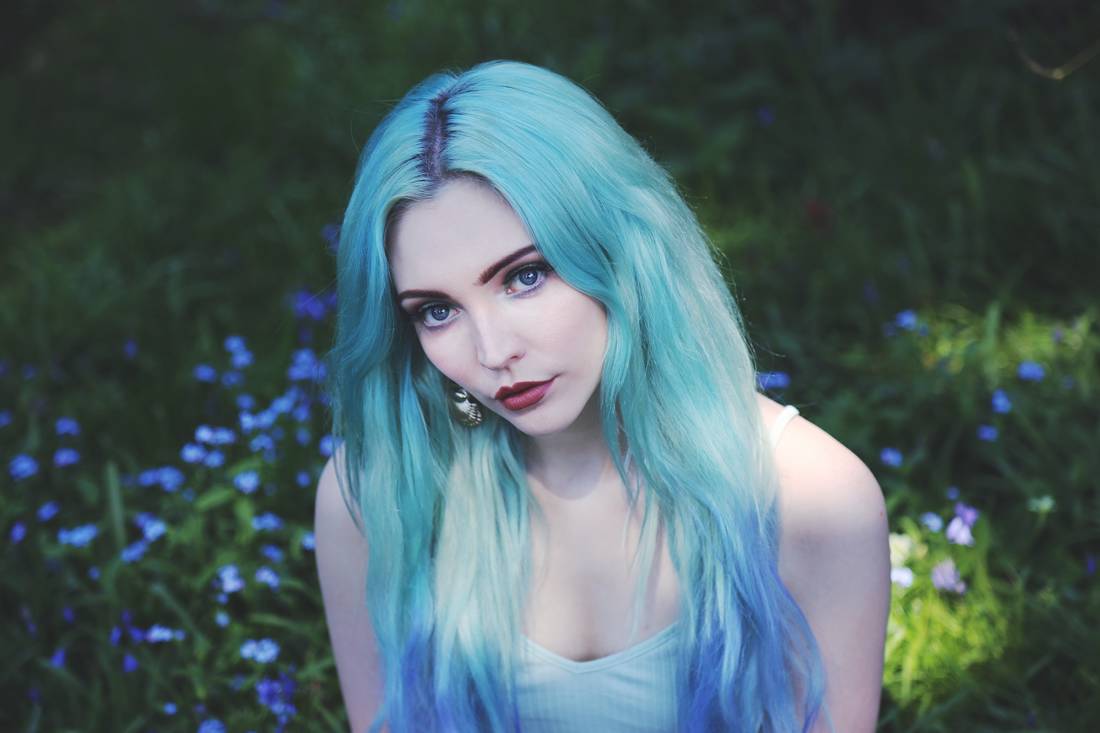 Blue is a combination of white and blue pigment. And the saturation of the tone is determined by the ratio of these components. White curls with a fleur of grayness are excellent for very light women with thin porcelain skin.
To avoid pallor, try adding more blush and mascara. You should not choose clothes of neutral and calm colors. In this case, deeper tones look good.
READ ALSO Smoothness Itself: choosing the best hair removal method for the first time. Is It Possible To Permanently Remove Hair?
Red-blue hair
Red-haired girls should be careful when choosing blue coloring. Such a shade can make pigmentation brighter, and the skin tone is grayish. In the color wheel, blue and orange tones are located on different sides. Colors can get along well in clothes and even makeup, but for hair this is not the best solution. If you have red curls, you should not experiment, and it is better to use your favorite color in the wardrobe.
To make the shade more saturated and update the image, use red tones. This combination not only looks spectacular, but also emphasizes the natural beauty.
The combination of a blue hue and a caret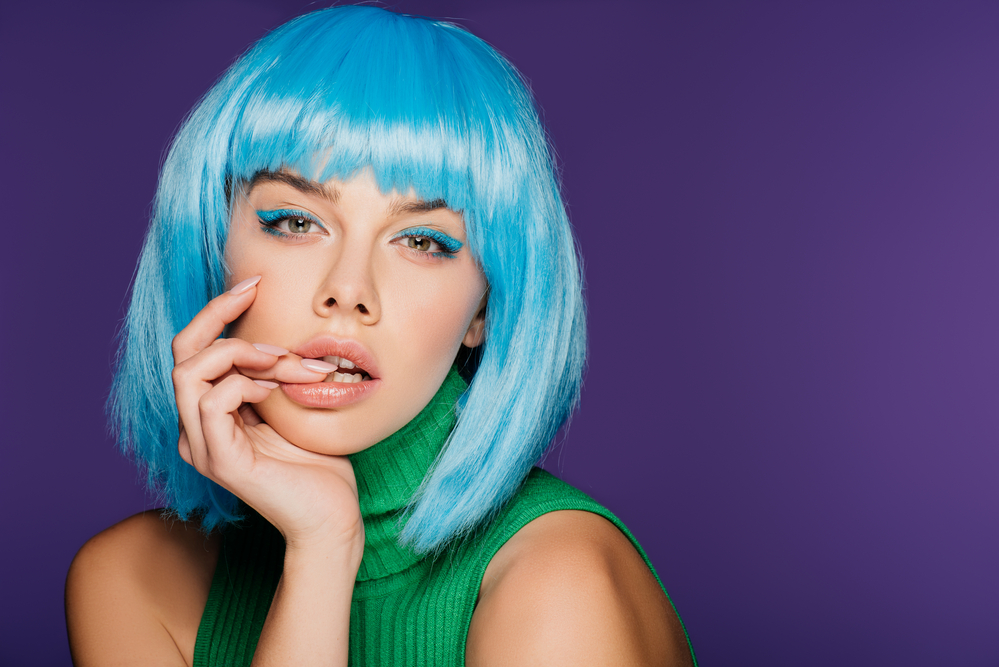 The blue palette is an excellent solution for graphic haircuts. Therefore, a square in such a color scheme looks great. Blue strands can be used in elongated caret variations and in hairstyles with a length slightly lower than the ears. A stylish image will be obtained with a combination of thick bangs and blue curls.
Carers with an unusual palette have already been tried by stars such as Lady Gaga and Katy Perry. An extravagant hairstyle can be combined with bright outfits in red, green and pink colors, and with vamp style costumes. A bright red lipstick will help to complement the image.
Best blue hair colors
Before coloring in blue, you need to decide on a suitable brand. Pay attention to the products without ammonia and with the addition of keratin. This allows you to provide a lasting shade and has a caring effect.
Features of blue hair care after dyeing
Specialists recommend paying special attention to care, since such a procedure involves preliminary bleaching. To maintain the smoothness and beauty of the strands, it is necessary after the procedure to use products for thoroughly moisturizing the hair.
Home care is not particularly difficult. After the main wash, rinse with cool water. It is important to regularly use moisturizers. And the use of irons should be significantly reduced. Frequent use of nourishing masks causes a rapid washout of the shade.
What tone of blue on your hair do you like? Share with us in the comments
Featured image on unsplash.com
READ ALSO Battle Of The Sexes. Seduce A Man And Forget About The War: why women were forced to love the pink color
READ MORE An Ancient Antibacterial Oregon Blue Clay Might Hold the Key to Future Wound Treatment