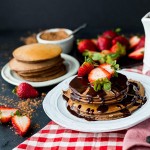 Whether you've woken up heavy-headed unable to function after last night's antics, are seriously missing your go-to morning smoothie or are simply looking for somewhere it's acceptable to start drinking at 11am, London is catching up on the brunch scene and has a whole lot to offer.
So if you're venturing to the capital and wondering when on earth you'll next be getting your breakfast-lunch combo, fear not we've rounded up our 'best of the brunch' to suit any occasion…
1. DUCK AND WAFFLE, City- Brunch with a view
If you like your brunch served with a sky-high backdrop of London, it doesn't get much better than this. Based at the top of Heron tower, the food here is equally lavish. We recommend the house specialty: Crispy duck leg, fried egg, fluffy waffles smothered in mustard maple syrup. It was named after it of course.
2. ATTENDANT, Old Street – Brunch for coffee addicts
At Attendant, they take their coffee seriously. So if sipping on a quality blend surrounded by trendy interiors is your thing, this one's for you. But let's not abandon the food- as innovative as it's coffee is its brunch selection. From Korean salt-beef sourdough baguettes to Dulce de Leche French Toast, need we say more?
3. BALLIE BALLERSON, Dalston – Brunch, balls and booze
This is where the Brunch fun truly happens… a weird and wonderful experience as opposed to just delicious food. Book your tickets in advance to London's only 'Bottomless Brunch' that involves Fire, Ice & Helium cocktails as well as (wait for it) an LED Ball pit to jump/ dance your way into midway through!!! And people say London is eccentric…
4. REGENCY CAFÉ, Westminster- Brunch British 'greasy-spoon' style
There's no pretence here just hearty full-english breakfasts that will take you from zero-to-hero in minutes. Large plates are piled high with the set breakfast deal costing just £5.50. Regency 'caf' is perfect for people on a budget and someone seeking a traditional English breakfast without the riff-raff.
5. THE BREAKFAST CLUB, Soho & others – Brunch all day, everyday
Failed to make it out of bed until 4pm? We've been there. But now you're finally mobile get on down to 80's themed The Breakfast Club where it's breakfast at all hours of the day! It's a popular place, anywhere that serves salted caramel banoffee pancakes should be, so expect to queue for your spot before browsing the 2-page menu for another 30mins (there's too much we can't decide!).
6. BEN'S CANTEEN, Battersea – Brunch with the crew
The Brits love their pubs and Ben's canteen has managed to combine the English pub's relaxed 'let's just stay here all day' attitude with a killer brunch menu and bloody mary's to go with. A local favorite, where you'll find groups of friends hanging out, catching up and most likely telling anecdotes from the previous night.
7. FARM GIRL, Notting Hill – Brunch with a side of superfoods
If you know your cacao from your cocoa, Aussie run Farm Girl in the picture-perfect Notting Hill should definitely be on your to-do list. Optional superfood add-ons, acai bowls, vegan doughnuts AND coconut maple bacon (say whatttt?) are a treat for the taste buds and your camera #nofilternecessary.
8. DISHOOM, Kings Cross & others – Brunch with a cultural twist
Who said bacon and eggs shouldn't be served in a soft, pillowy naan and that toast shouldn't be topped with spiced pineapple jam? No one that's who. If you like combining your brunch excursion with the taste and décor of Bombay, then Dishoom won't disappoint!
Worth getting out of your hostel bunk for? Agreed!
From jurassic coastline, vibrant nightlife and unique landscapes, see what else England has to offer with our Travel Guide.
The post London's best of the brunch appeared first on statravel.com