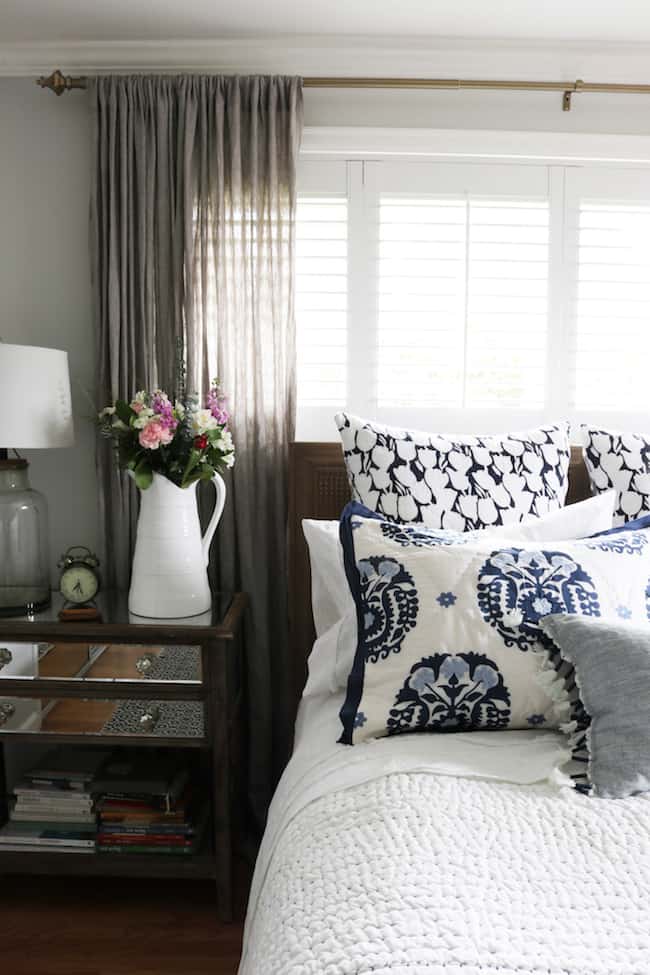 This post in partnership with Serena and Lily – Shop 20% Bedding and Bath Sale!
We made big progress on our Master Bedroom Makeover! Our new bed, bedding, and rug arrived and I'm so in love with it all. You'll even get a peek at our new shutters in this post, but I'll come back another day to share more details on them.
If you're new here and just catching up, we moved in to our house in Seattle about two and a half years ago. When we moved in, the small bedroom designated as our master had yellow walls. As cheery as it was, I was excited to paint our room and make it more cozy.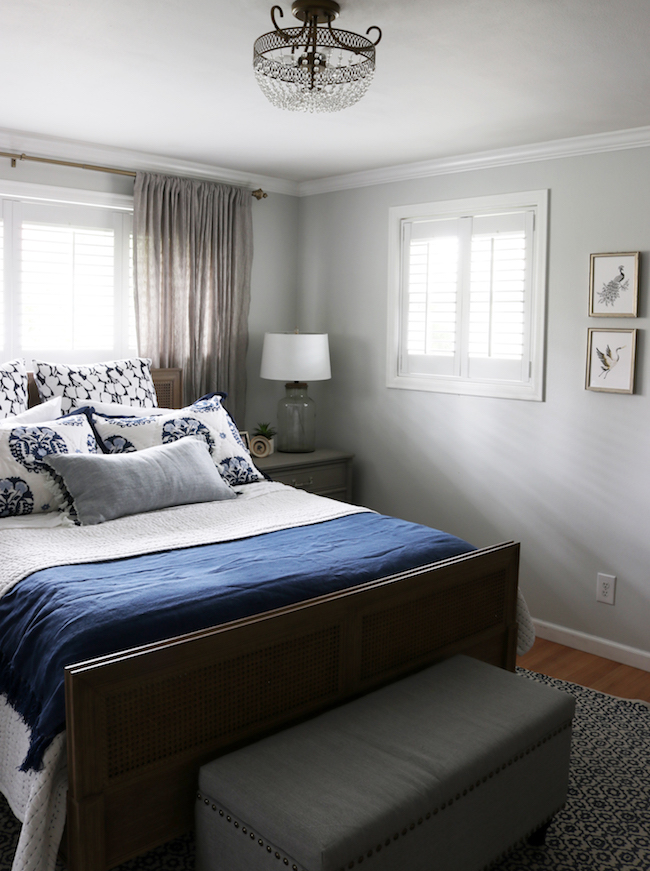 At first we choose a deep plum color that really made this little room feel like a cocoon. We LOVED it! Moving and remodeling is always such a long stressful process, was so nice to have a retreat that was safe and snug for the past two years.
But the time came where we were really make this space our own. We remodeled our kitchen top to bottom, knowing it would become the style setter for the rest of our home. I love when a house starts to come together and feel more cohesive as a whole. It's always fun to see that happen!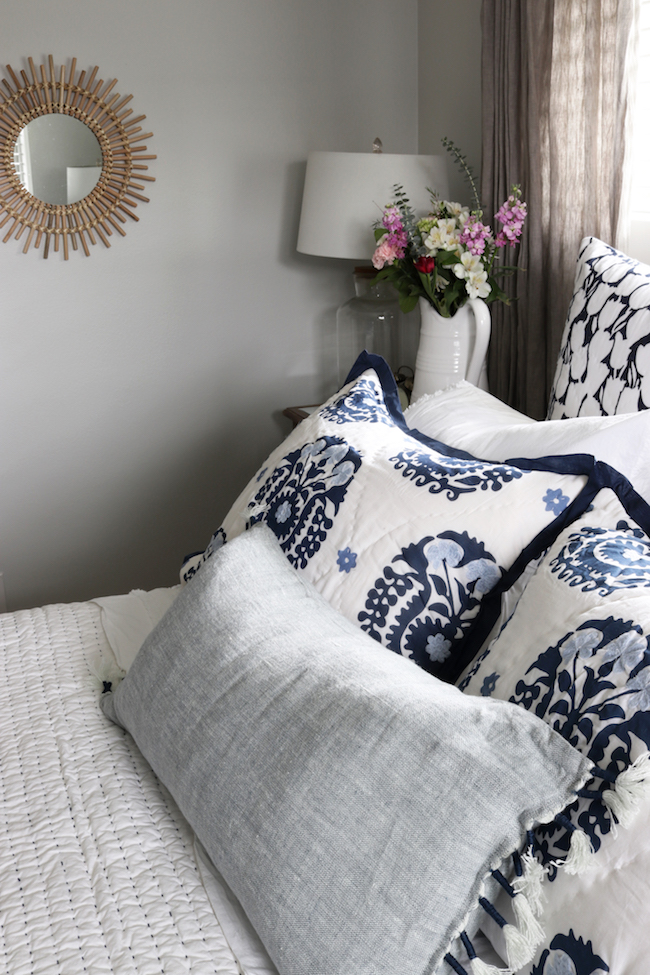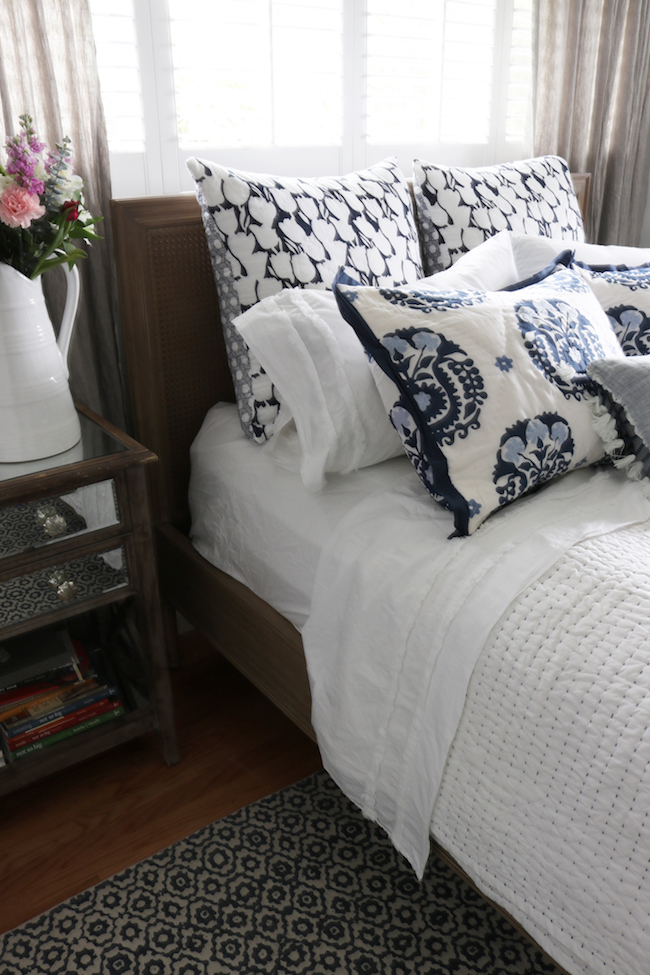 My mom was ready for me to give her sleigh bed back (the one we've used for the past few years). I've had this cane bed from Serena & Lily on my dream room board for a long time! I adore so many things about it. Besides the classic look and cane detail, it's really the perfect scale for our little room (which is 12 x 14, I know some of you have asked the size!).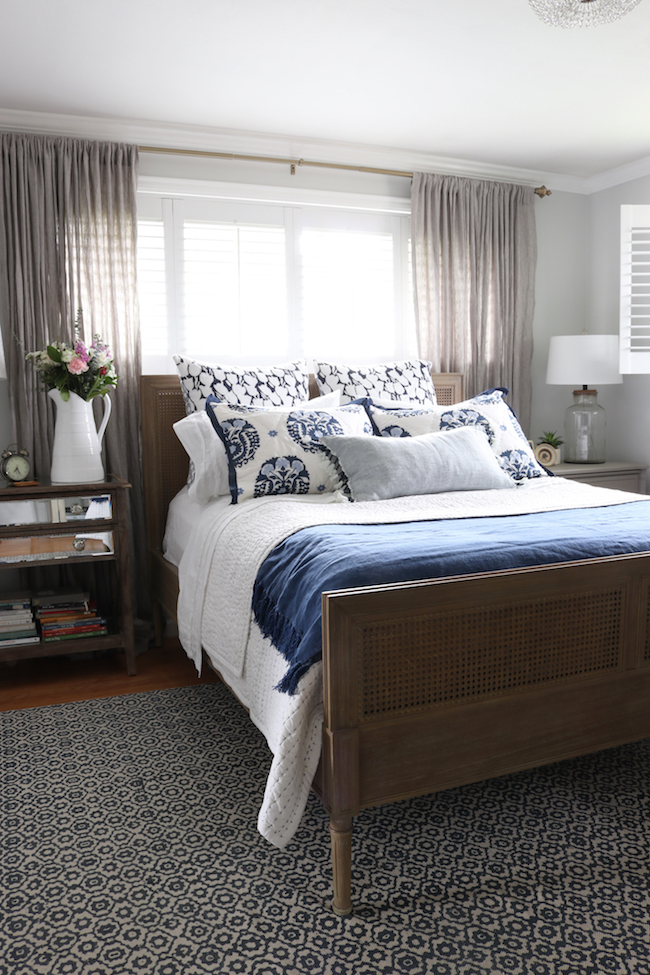 Our other bed was nice but it took up a lot more space visually, as it was curvy, bulky and dark. This one is much more streamlined with a straight headboard and footboard that fits in so nicely in the room. I also love that it is taller off the ground with daintier legs. It's amazing how much more open it feels visually in the room now that we are able to see the rug nearly almost all the way under the bed.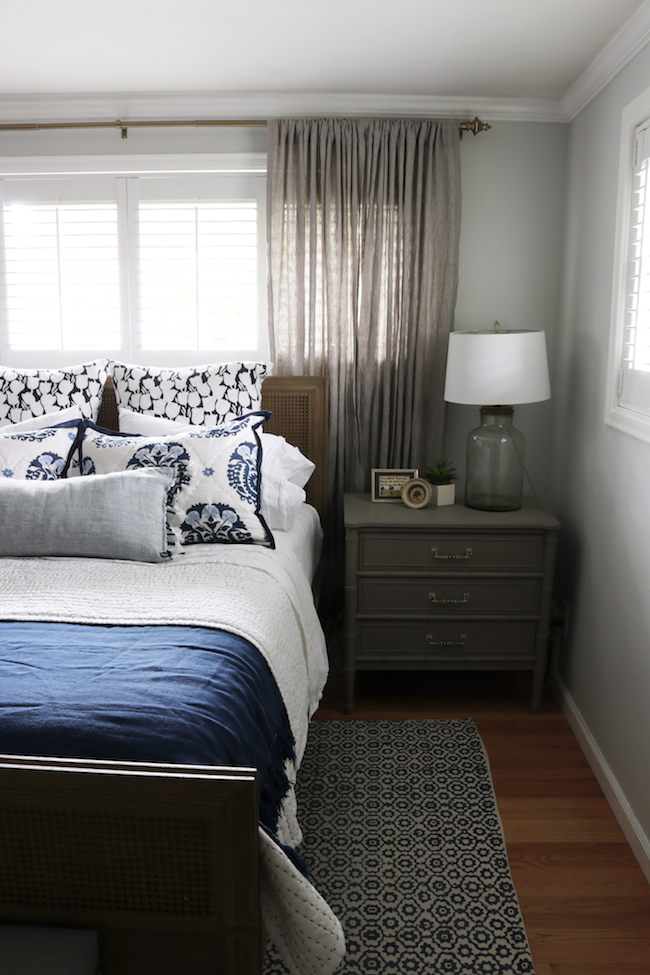 The footboard is just high enough to keep our pup Lily from tumbling out of bed at night, but not so tall that Jack injures himself trying to take a flying leap over it. It's really perfect!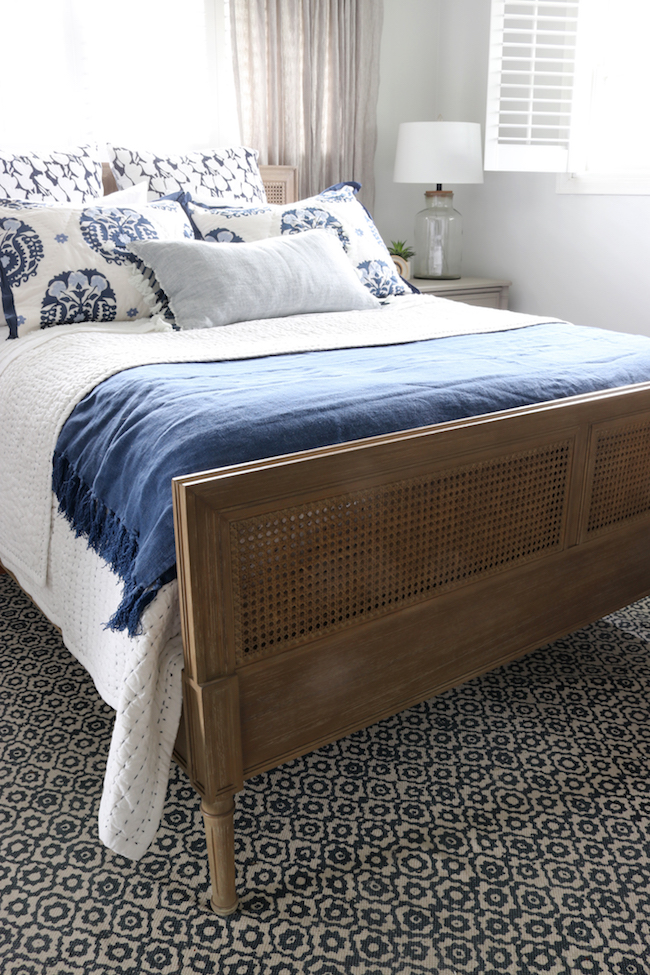 I love that the wood and cane and the white and blue reflect the direction we're going with our home. As our home continues to come together, we'll have a subtle, clean but fun, relaxed coastal edge to every room (which we love and also makes sense with our location facing Puget Sound. Puget Sound is an inlet of the Pacific Ocean, and part of the Salish Sea.).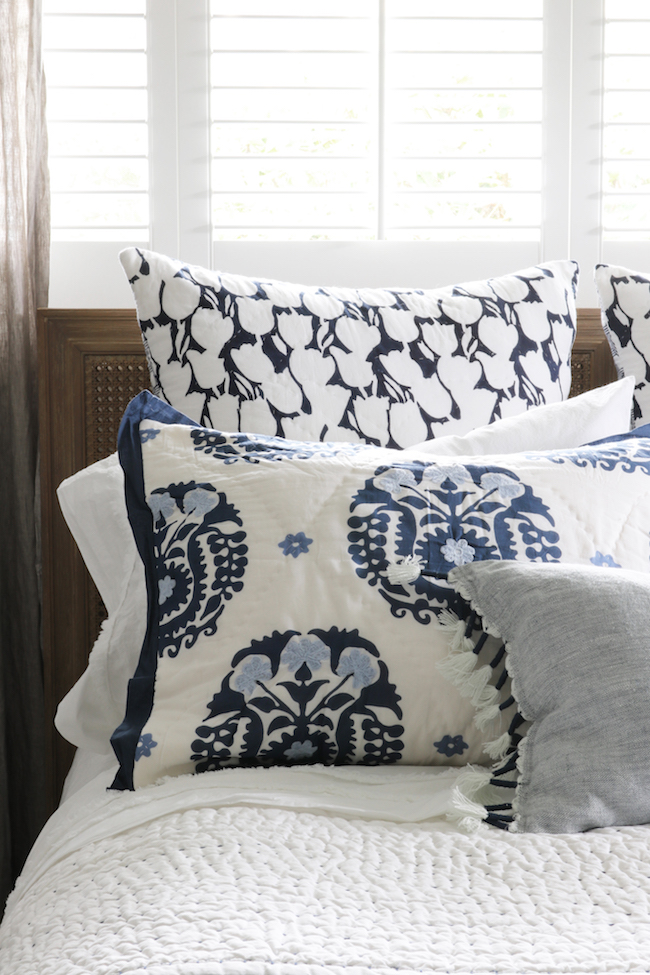 Cane Bed / Rug / Standard Shams / Euro Shams / Linen Throw Blanket / Fringe Sheets / Chambray Tassel Pillow / Stitched Quilt / 20% Bedding and Bath Sale
The bedding is fun wonderful, I love the subtle details such as fun pattern on the shams, the fringe on the sheets, stitching on the quilt, and tassels on the throw. And the whimsical Dhurrie rug is perfect! It lends softness, pattern and pulls the home room together. Also, the sheets are so deep I could actually fit them around my huge mattress without a struggle!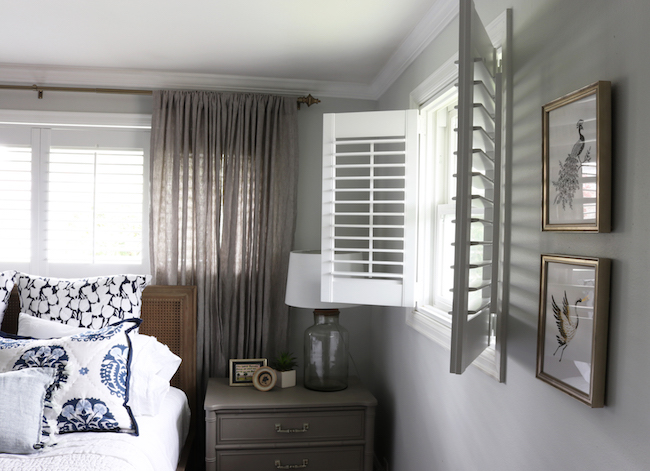 We feel great about our progress! There are still a few more things we plan to update and would like get done at some point (we're still deciding on our mirrored closet doors, for instance), but I think we are at a good stopping point for the time being.
This room feels so serene, comfortable and welcoming!
Want to be reminded where we started?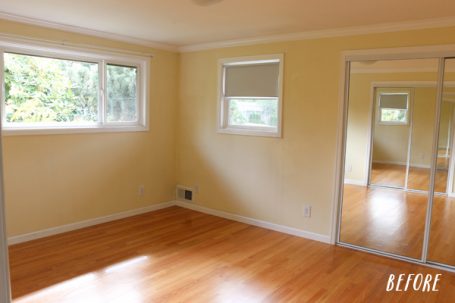 You'll find more on our new paint color here.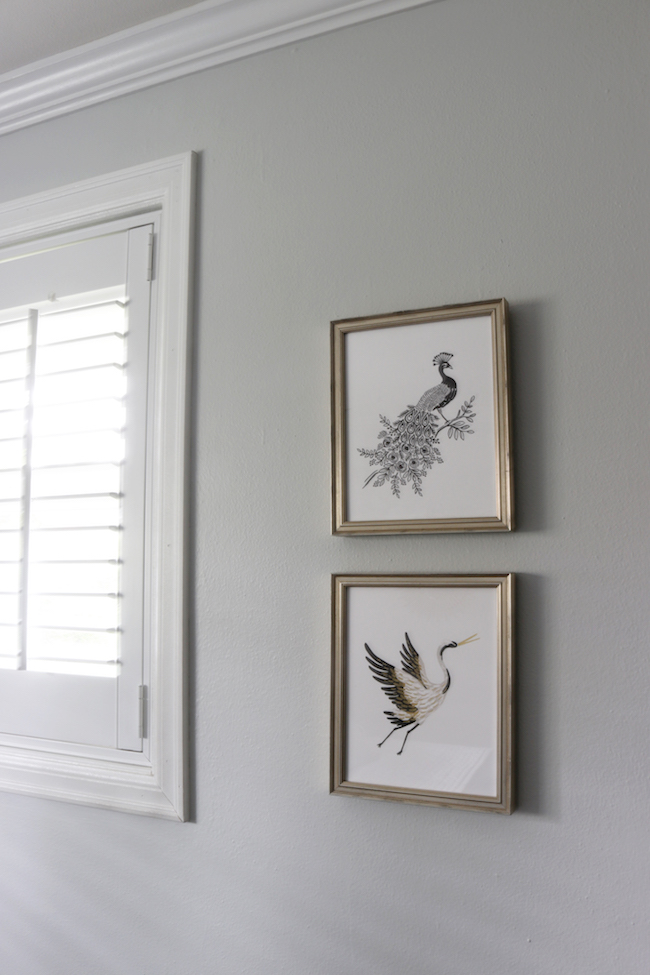 As you can see, we installed our new shutters! We can't wait to give you all more details including the ease of ordering and install, so stay tuned for a post on them. But for now I can tell you we LOVE the shutters and couldn't be happier.
You can go here to order the shutters and get a discount with my referral link.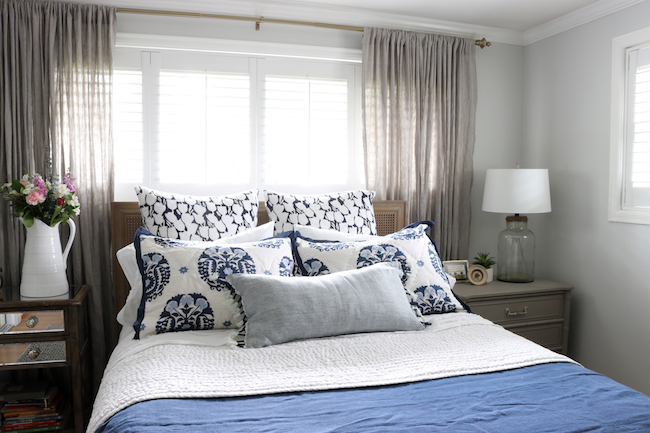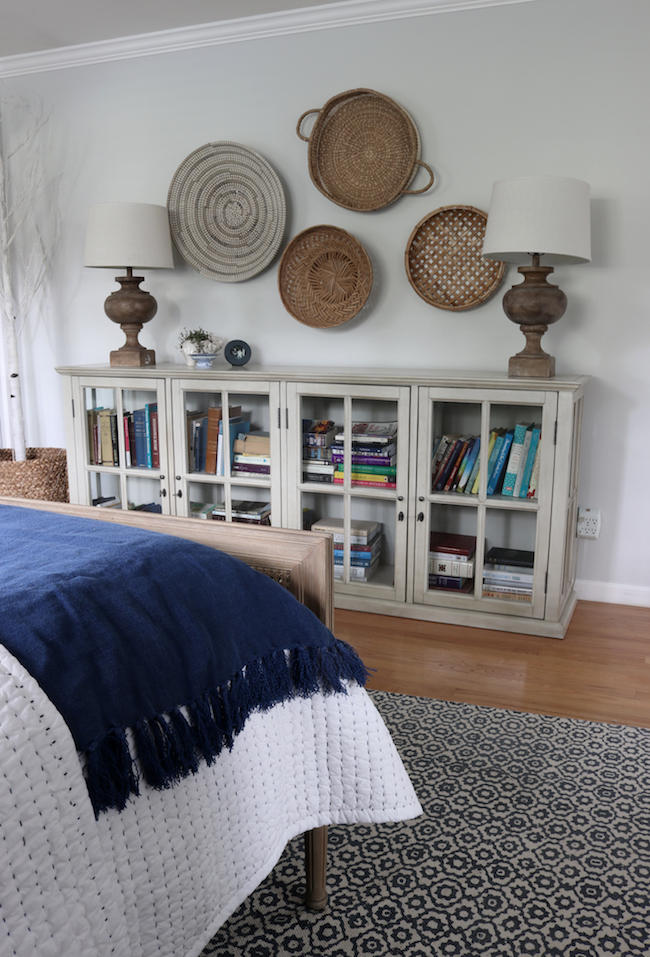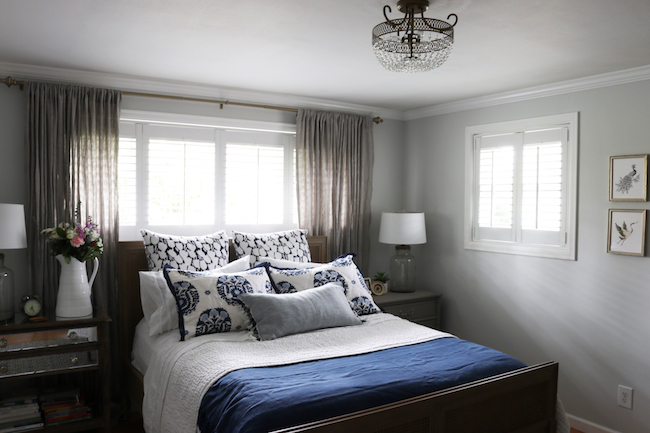 We're so happy with the transformation of this room!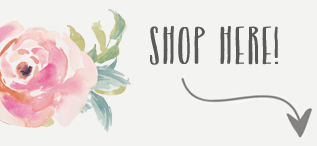 Sources:
(All bedding 20% off!) >> Cane Bed / Standard Shams / Euro Shams / Linen Throw Blanket / Fringe Sheets / Chambray Tassel Pillow / Stitched Quilt / Rug
Wall Color: Seagull Grey by Behr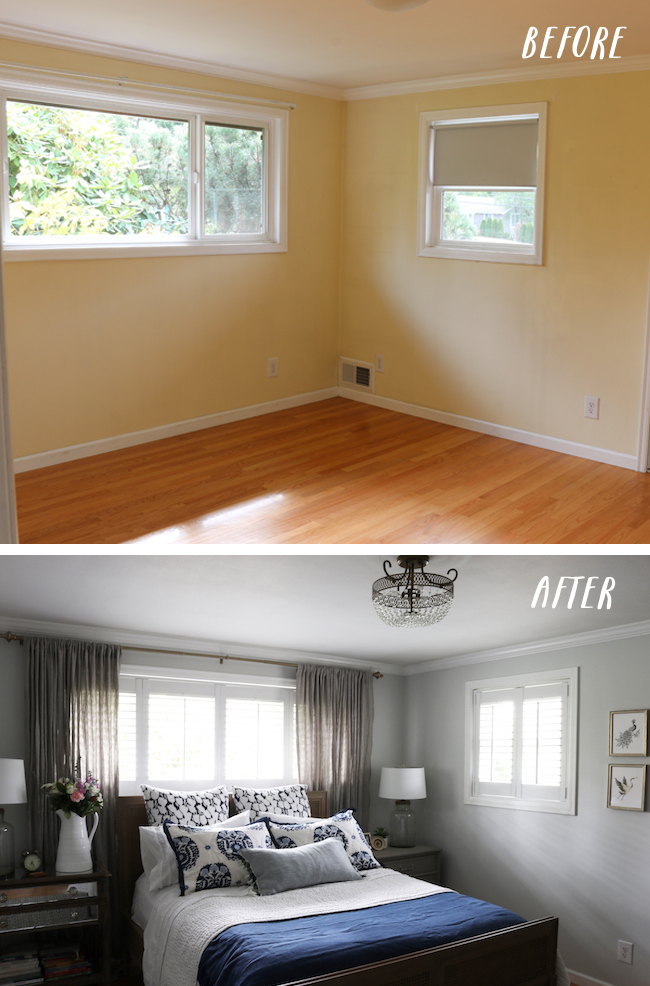 PS. Today is the final day of the Simple Organizing Clutter Confessions Tour and Container Store Giveaway! Go check out today's confessions: Thistlewood Farms, Home Stories A to Z, Reluctant Entertainer, and Domestic Fashionista!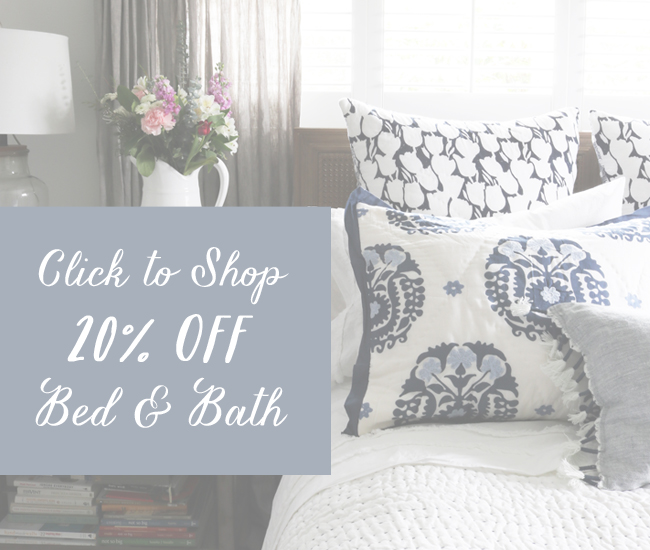 Click here for the 20% Off Bedding and Bath Sale!