Japan is somewhere I think everyone should visit. From futuristic skyscrapers to tranquil bamboo forests and neon arcades to serene temples, it's like nowhere else on the planet.
The food is incredible, the people are ultra polite, and it has one of the most efficient public transport systems in the world. We love the combination of ease of travel and glorious bewilderment.
Japan has so much to offer but where should you start? These are our picks for the absolute best places to visit in Japan, perfect for your first or second trip to the country.
1) Kyoto
If you only have time for one Japan destination, make it Kyoto. This is traditional Japan as you imagined it—geisha in brightly coloured kimonos emerging from wooden teahouses, forests of bamboo, temples and shrines in gold and silver and scarlet, raked gravel Zen gardens, intricate feasts served on lacquered plates, graceful tea ceremonies, and markets full of intriguing but unidentifiable ingredients.
The concrete high-rises of downtown Kyoto can be disappointing, so head out towards the mountains to the surrounding neighbourhoods where you'll find narrow stone streets, old wooden houses, monks in flowing robes, and the sounds of chanting and gongs from the many temples and shrines.
Gion is the place to spot geisha, Higashiyama has many beautiful temples to explore, and Arashiyama, up in the western hills, is one of the most traditional neighbourhoods and home to bamboo groves, quirky temples, and monkeys.
We spent over three weeks in Kyoto and still didn't see everything it has to offer, so make sure you allow as much time as possible for sightseeing and wandering. Kyoto is one of the top Japan tourist spots, so try to visit the popular temples early in the morning as they do get crowded.
In Kyoto don't miss:
Wandering through the red torii gates of Fushimi Inari shrine
Learning to cook traditional Japanese cuisine with Emi
Getting your fortune from a vending machine at Kinkaku-ji (the Golden Temple)
Taking the train to the village of Kibune and walking across the valley to the beautiful Kurama-dera temple
Retreating from the busy streets of Gion to the magical Yasaka-jinja at night
Experiencing Zen Buddhist cuisine at the Tenryu-ji temple
Getting off the beaten track at the quirky Otagi Nenbutsuji temple
2) Tokyo
If Kyoto is the heart of traditional Japan, Tokyo is its ultramodern counterpart. It's here you'll find the skyscrapers, noisy arcades, busy pedestrian crossings, crazy youth fashions, and many many incredibly delicious restaurants. If all you do in Tokyo is eat, you'll have an amazing time—even as vegetarians we ate so well.
Tokyo is also home to some of the weirdest activities we've ever done. From themed cafes (cats, owls, maids, robots, goats—you name it, Tokyo has it) to sensory-overload shows and arcades to cos-play go-karting.
On my first trip to Tokyo I was overwhelmed by the sprawling city and couldn't help comparing it unfavourably to Kyoto. On my second visit I grew to love the city (the food certainly helped) and while it isn't as attractive as Kyoto, there is so much to do that you won't want to skip it.
In Tokyo don't miss:
Dressing up as a Mario character and driving a go-kart on the real roads. Insanity!
Eating in a tiny restaurant on atmospheric Memory Lane
Gazing at the night skyline from the free Tokyo Metropolitan Government Building in Shinjuku
Walking across the famous Shibuya Crossing
Gawping at the crazy fashions of Takeshita Street in Harajuku
Visiting the brilliant DisneySea (one of our top two Disney parks in the world!)
Getting sensory overload at the bizarre Robot Restaurant show
3) Takayama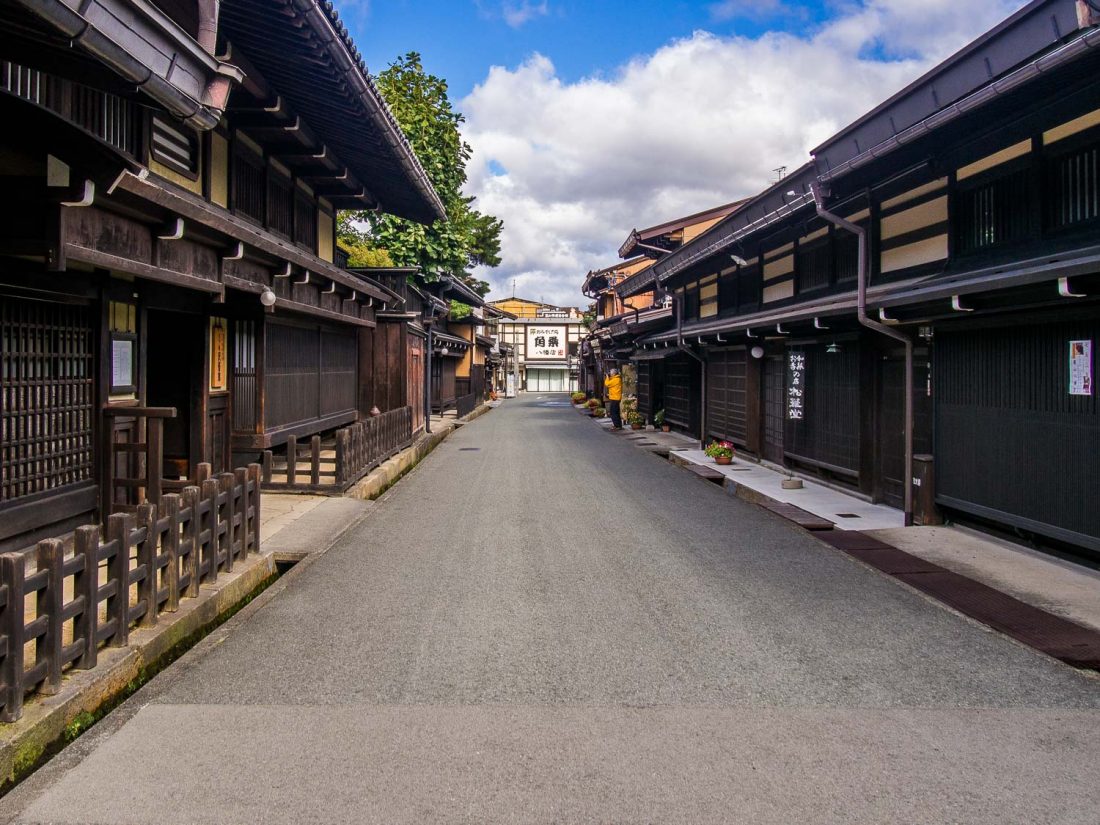 Takayama is an utterly gorgeous small town on the edge of the Japan Alps and one of the best less-visited places to go in Japan. I loved wandering the historic centre full of traditional wooden houses, colourful shrines, neatly shaped trees, and bright red bridges over the river.
There's lots to do in the surrounding countryside and we could easily have spent longer than the two nights we had here.
In Takayama don't miss:
Wandering the old town in the early morning before the crowds arrive
Buying delicious fruit from the morning markets
Snacking on mitarashi-dango (rice balls grilled in soy) from a street stall
Seeing the extravagant floats at the Festival Floats Exhibition Hall
Visiting the Hida Folk Village to see traditional thatched houses
Cycling through the countryside with Satoyama Experience
Where to stay in Takayama: We stayed at Super Hotel Hida Takayama, a good mid-range business hotel near the train station. If you are on a budget K's House Takayama is an excellent hostel. For a traditional ryokan experience Oyado Koto No Yume gets excellent reviews. Find more hotels in Takayama here.
4) Hakone
Mount Fuji is on most people's lists of places to visit in Japan, but this must-see Japan landmark can be rather elusive and is often hidden by clouds. There are a number of places you can see the mountain from, but we decided on Hakone because it's easy to reach from Tokyo and there are lots of other things to do in the area in case we were out of luck with our sighting.
Despite visiting on a cloudy, drizzly day we were lucky that Mount Fuji emerged from the clouds above Lake Ashi and it was magical!
Hakone is also fun to visit because you can do a loop of the sights on different modes of transport—train, bus, pirate boat (yes, really!), and cable car.
In Hakone don't miss:
Buying a Hakone Free Pass so you can hop on and off all the transport options on the Hakone Loop.
Seeing Mount Fuji from the lake or cable car
Eating a black egg cooked in the hot sulphur springs at volcanic Owakudani (not really, these look gross, but the Japanese go crazy for them)
Soaking in an onsen
Staying in a tatami room in a ryokan (traditional inn) and enjoying an elaborate dinner
Wandering the outdoor sculpture gallery at Hakone Open Air Museum
5) Kanazawa
Kanazawa is one of the best cities to visit in Japan, but few foreign tourists make it here. As Kyoto grows in popularity consider turning to Kanazawa instead for a quieter place to experience geisha districts with preserved wooden buildings. There is also one of the most beautiful gardens in the country, a stunning castle, and many art museums to explore.
In Kanazawa don't miss:
Wandering Kenroku-en Garden, one of the top three gardens in Japan
Exploring the wooden teahouses of the geisha districts Higashi Chaya and the quieter Kazuemachi and Nishi Chaya
Experiencing a traditional tea ceremony at the exquisite Gyokusen-en Gardens
6) Nikko
Nikko is a temple town and UNESCO world heritage site in the mountains a few hours north of Tokyo and makes a cool retreat from the city.
The temples and shrines with their vermillion gates and moss-covered stone lanterns are scattered on the wooded hillside. The main attraction is Toshogu Shrine, a stunning complex with more than a dozen lavishly decorated red and gold buildings amongst huge, ancient cedar trees. The crowds can be overwhelming, so afterwards head to one of the quieter shrines.
You could visit Nikko as a day trip from Tokyo, but it's worth spending a night or two to explore one of the most beautiful places in Japan including hiking trails, lakes, waterfalls, and hot springs. The area is famous for its vibrant autumn colours.
In Nikko don't miss:
Visiting Toshogu Shrine early to avoid the crowds
Playing games at atmospheric Futarasan-jinja
Exploring Taiyuinbyo
Hiking up the mountain to the peaceful Takino shrine
Photographing the bright red Shinkyo bridge
Munching on dango (grilled rice balls on a stick) from a street stall
Eating sushi at Komekichi Kozushi
7) Koya-San
Koya-san (Mount Koya) is one of the most interesting places in Japan to experience the traditional side of the country. This secluded and sacred temple town is located in the forest-covered mountains of Kansai and is one of the best places to get a taste of life as a monk by staying in a shukubo or temple lodging.
After wandering around the otherworldly Okunoin forest cemetery, we checked into our simple tatami room at the temple, soaked in the communal onsen bath, and enjoyed a delicious shojin ryori vegetarian Buddhist meal. In the morning we were up early for the chanting and meditation ceremony with the monks.
A temple stay at Koya-san is a fascinating experience and well worth the detour from Osaka or Kyoto.
8) Tsumago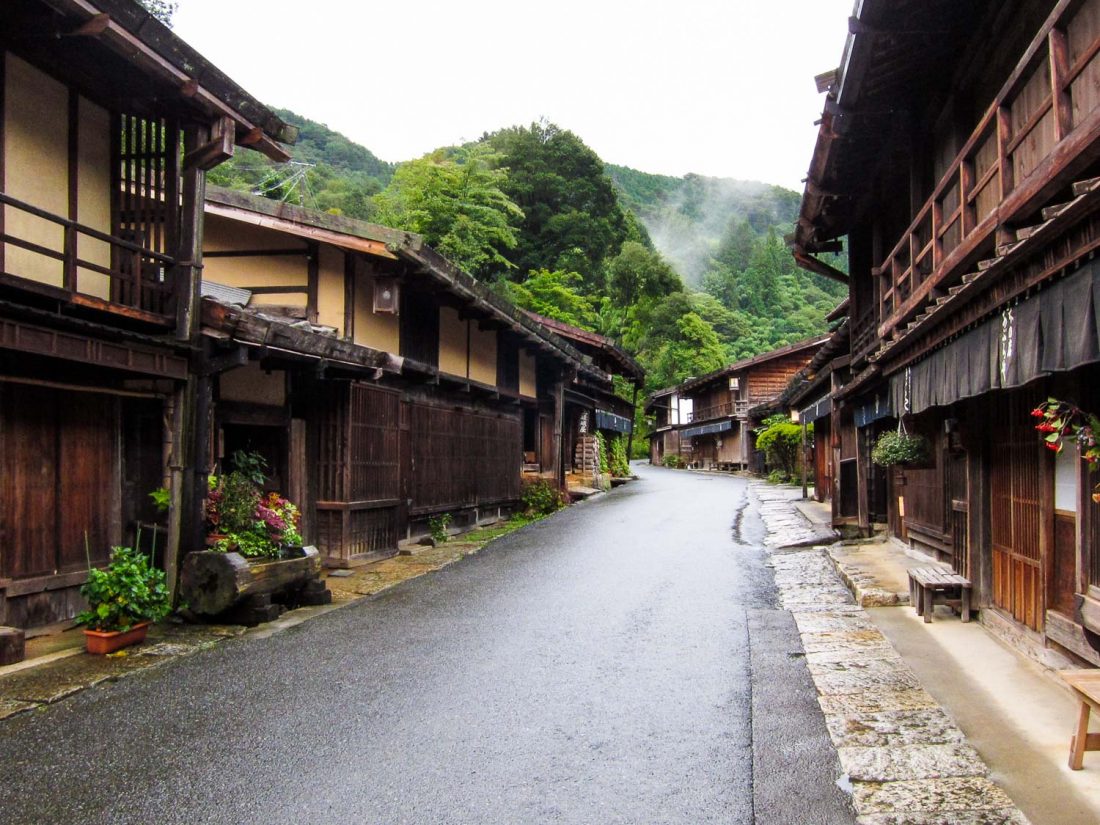 Tsumago is a picture-perfect traditional mountain village in the Kiso Valley. It is one of the best-preserved post towns in Japan and you feel like you've stepped back in time on the traffic-less streets of beautifully restored wooden inns.
During the Edo period 300 years ago, Tsumago was a stop on the Nakasendo Way between Kyoto and Edo (now Tokyo). You can hike part of this trail to the village of Magome in about two hours. Unfortunately, a typhoon prevented us doing this, but it's supposed to be a scenic and easy walk.
9) Nara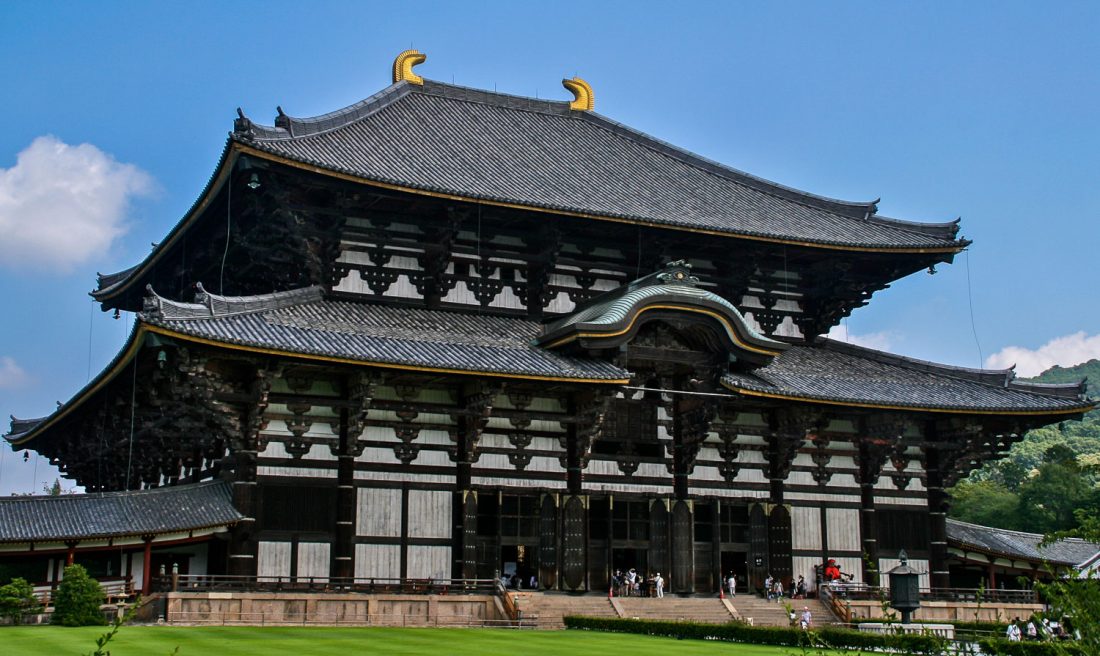 Nara was Japan's first permanent capital and is full of historic treasures including many UNESCO world heritage sites. It's one of the top Japan attractions and makes a rewarding day trip from Kyoto to visit the temples and wild deer in Nara Park.
The Daibutsu-den (Hall of the Great Buddha) at Todaiji is the main sight—it's the largest wooden building in the world and nothing prepares you for the immense sight. Inside is the 15-metre tall gold and bronze statue of Buddha that dates back to 751.
10) Hiroshima
Come to pay your respects to the victims of the atomic bombing at Hiroshima's moving Peace Memorial Museum and Park and stay to explore the modern city that was almost entirely rebuilt after World War 2.
Highlights include visiting the Itsukushima shrine at nearby Miyajima island and trying the delicious local speciality okonomiyaki, a thick pancake of batter, vegetables and noodles.
More Amazing Japan Destinations
There are so many more places to explore in Japan. These Japan tourist attractions and off-the-beaten-path gems are on our list for our next trip:
Osaka – We have spent a night here, but we'd like to explore more of this modern city known for its food and nightlife.
Kamakura – Beaches, Buddhas, hikes and vegetarian-friendly food.
The Izu Peninsula – Rugged coastline, mountains, and hot springs not far from Tokyo.
Shirakawa-go – A village of traditional grass-roofed houses in a scenic setting.
Hokkaido – The northernmost island of Japan known for its natural beauty and outdoor activities.
Naoshima Island – A small island full of modern art and outdoor sculptures.
Takaragawa Onsen – A scenic onsen resort.
Best Places to Visit in Japan Map
Japan Travel Tips
Read our detailed Japan guides for everything you need to know to plan a brilliant trip.
What are your favourite places in Japan? Leave a comment and let us know so we can add them to our Japan bucket list.
If you enjoyed this post, pin it!