I've been wanting to share this recipe for a long time! Harley's been eating these Zucchini Banana Mini Muffins up and the best part? They have no added sugar! I always have a batch of these ready in the freezer for a quick snack or to add to one of her meals. They take minutes to thaw out in a toaster oven and she loves them! They are super moist, taste absolutely delicious and perfect for kids and adults.
Did you know toddlers under the age of two are supposed to avoid ALL added refined sugar? The only "sugar" in their diets should come from the sugar found in whole foods (like the sugar in a whole banana for instance).
Yet, the processed food industry doesn't care – they still add refined sugar to virtually everything. Almost all of the store-bought toddler snacks out there have added refined sugar, natural flavors and other processed ingredients I don't want my daughter eating on a regular basis… even organic ones!
I try to give Harley vegetables with every meal, and thankfully she loves them. If your kids aren't veggie lovers yet, the zucchini in these muffins is a great way to sneak in some veggies, you don't even know they are there. Just make sure to buy organic zucchini to avoid those that are GMO.
When I bake for Harley, I often use organic oat flour – it is unrefined and a good source of fiber and nutrients. Oat flour is made from just 100% whole oats. In fact, if you can't find oat flour at the store you can make your own by placing organic steel cut or rolled oats in a food processor or spice grinder and pulsing until it has become a "flour-like" consistency.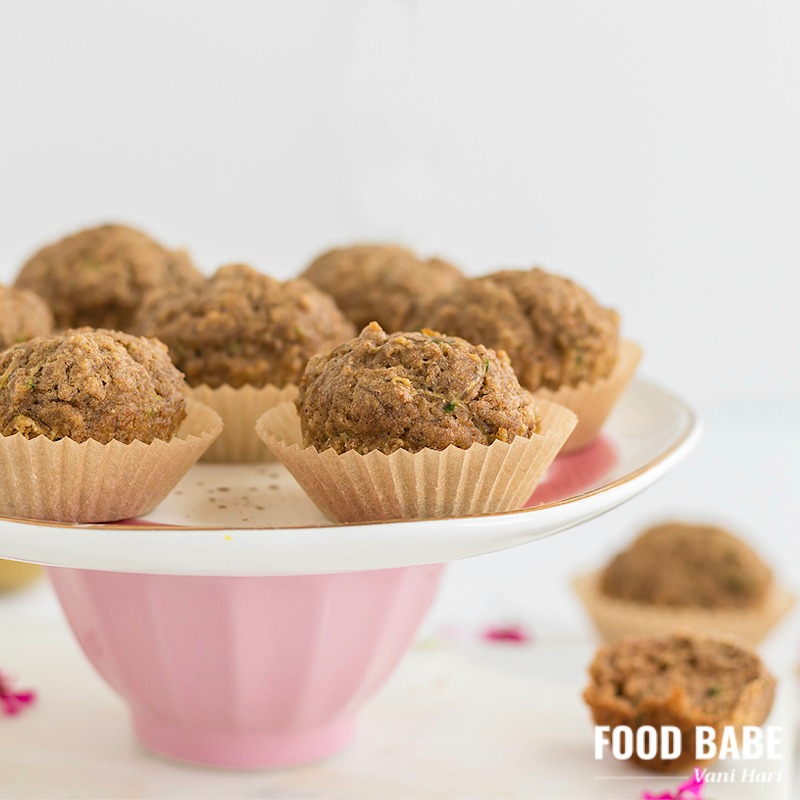 To make these Zucchini Banana Muffins, start by preheating the oven to 350 degrees. Then measure out one and half cups of oat flour into a medium-size glass bowl. Whisk in a teaspoon each of cinnamon and baking soda, a quarter teaspoon of baking powder, and half a teaspoon of sea salt. Mix until well combined…
READ MORE Study Shows What Happens To The Human Body When It Goes Just 10 Days Without Sugar
In a larger separate bowl you'll add all the wet ingredients… two eggs, half a cup of applesauce, a mashed banana, a cup of grated zucchini, and a third cup of organic butter or coconut oil…
I haven't tried it, but you can use "flax eggs" to make these muffins vegan. For each egg (remember there are two in this recipe) simply mix together one tablespoon organic ground flaxseed with three tablespoons water (Let it sit for 15 minutes to thicken before using.)
Whisk the wet ingredients just until combined…
Slowly add the dry ingredients to the wet and mix until just combined. Resist the urge to overmix the batter…
Using a small ice-cream scoop makes this next step super easy. Line a mini muffin pan with non-bleached paper liners or grease your muffin pan with coconut oil. Fill each cup only three-quarters the way full so they don't overflow…
Place them in the oven and bake for 10-12 minutes until done.
You could probably make these in a regular-size muffin pan too. For that, the baking time will be about double (I would say 20-22 minutes).
Let cool slightly before eating to ensure the muffins stay together. I know it's hard to wait… but it's worth it!
READ MORE Whole Wheat Banana Nut Muffins
Store extra muffins in the freezer. You can reheat them in a toaster oven or oven… or let them thaw overnight in the fridge or on the counter the day you want to eat them.
Food Babe's Mini Zucchini Banana Muffins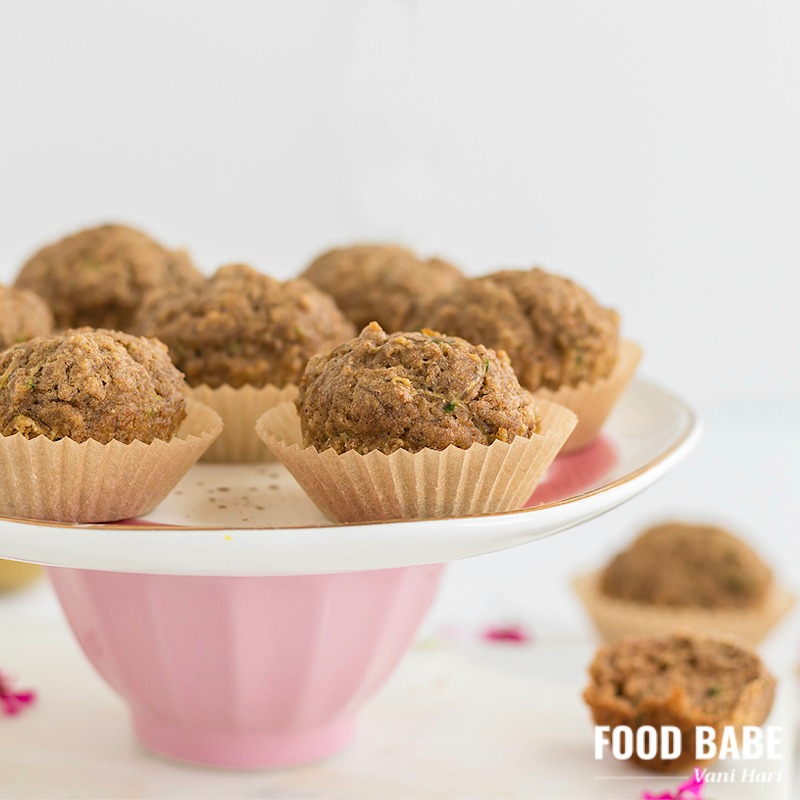 1½ cups oat flour
1 teaspoon cinnamon
1 teaspoon baking soda
¼ teaspoon baking powder
½ teaspoon sea salt
2 eggs
½ cup apple sauce
1 ripe banana, mashed
1 cup grated zucchini
⅓ cup butter or coconut oil, melted
Preheat the oven to 350 degrees.
Add the dry ingredients to a bowl and mix to combine.
In a separate bowl mix together the wet ingredients. Slowly add the dry ingredients to the wet and mix until just combined.
Line a mini muffin pan with liners or grease with coconut oil. Fill until ¾ way full. Place in the oven and bake for 10-12 minutes.
Store extra muffins in the freezer – reheat in a toaster oven or oven or thaw overnight in the fridge or on counter the day you want to eat them. Enjoy!
**Please use all organic ingredients if possible**
I hope your family loves these muffins as much as we do. If you know anyone looking for healthy snacks for their kids, please share this recipe with them!
Xo,
Vani
Posts may contain affiliate, sponsorship and/or partnership links for products Food Babe has approved and researched herself. If you purchase a product through an affiliate, sponsorship or partnership link, your cost will be the same (or at a discount if a special code is offered) and Food Babe will benefit from the purchase. Your support is crucial because it helps fund this blog and helps us continue to spread the word. Thank you.
READ ALSO Sugar Free Low Carb Cheesecake (Keto, Crustless)