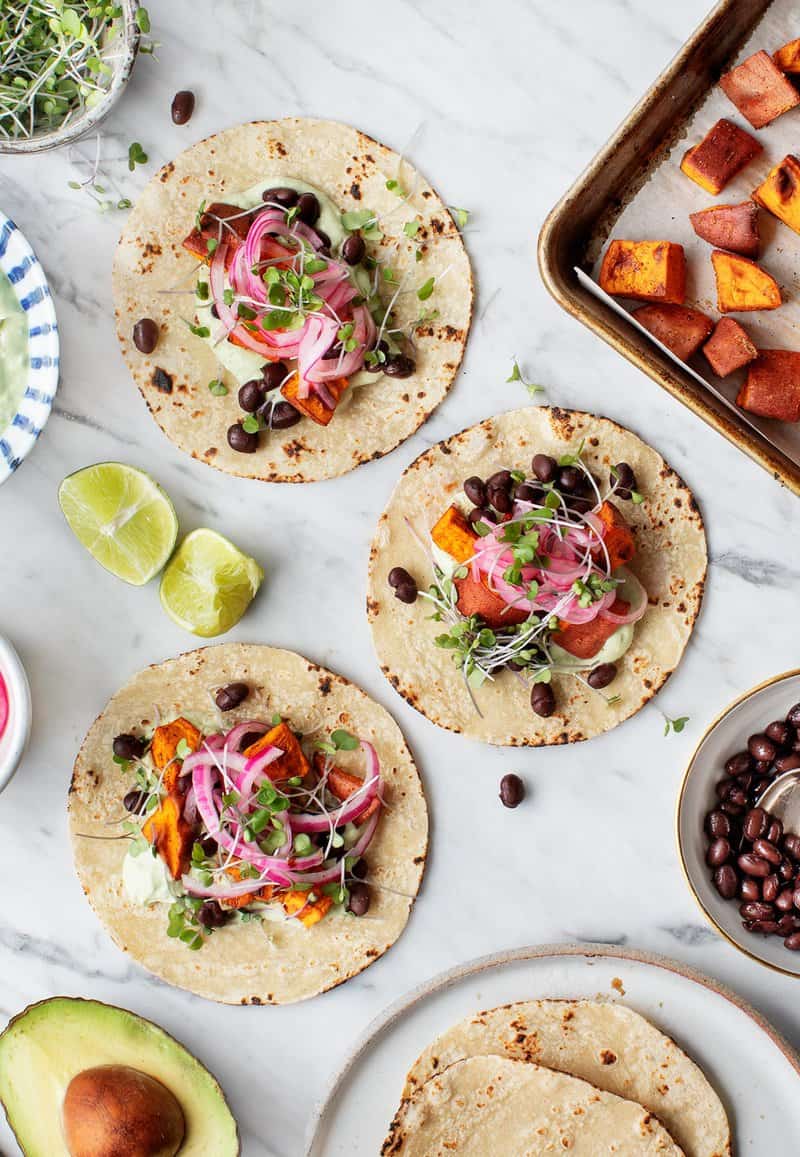 This sweet potato taco recipe is an old favorite that I wanted to re-share with you. I first started making these tacos years ago, but it's one of those recipes that I come back to time and time again because it's such a filling & flavorful vegetarian weeknight dinner option. The list of ingredients is short and the steps are easy – what's not to love? Plus, I just think roasted sweet potatoes are such a cozy wintertime food, especially when they're wrapped up into warm tortillas like a big hug.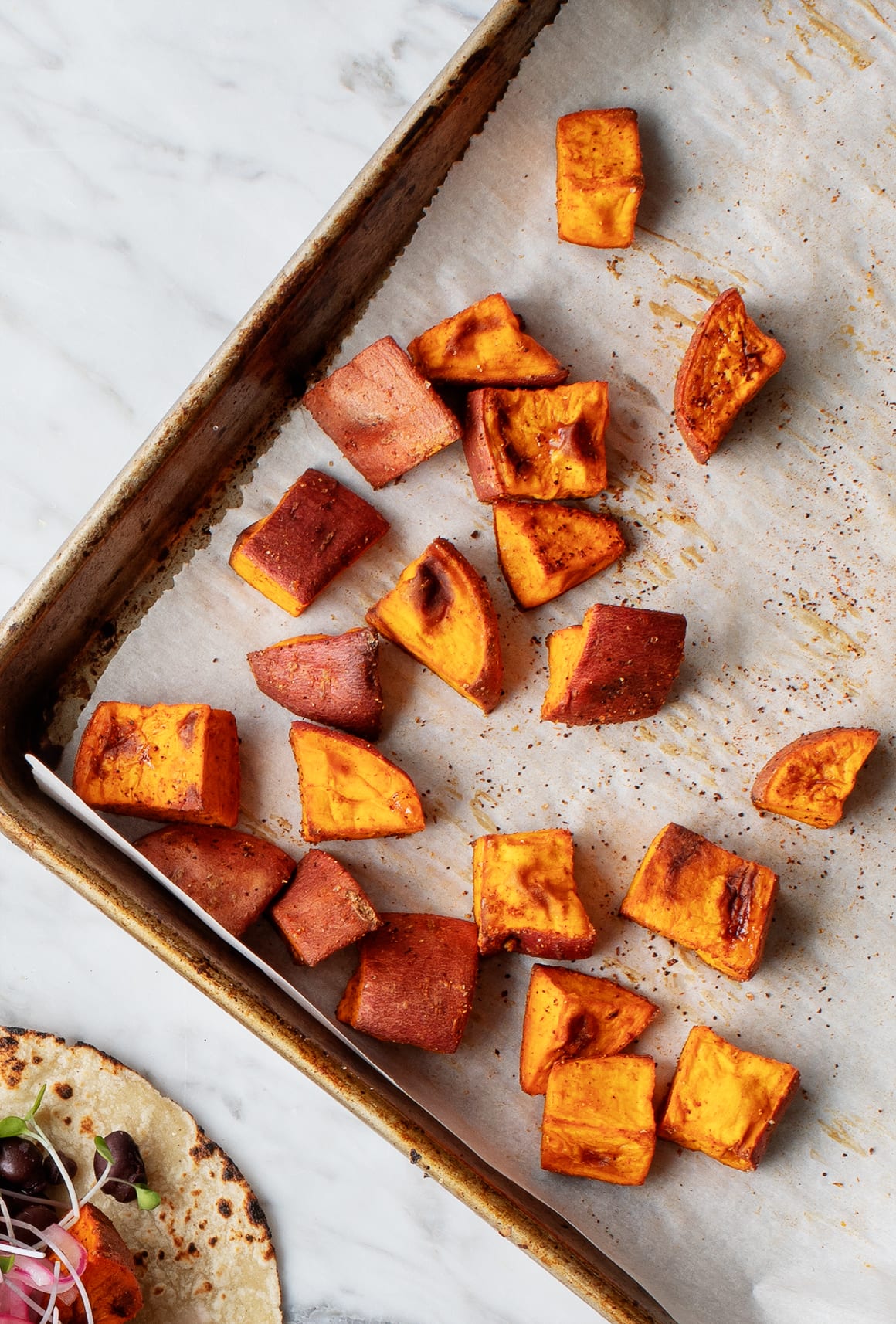 There are basically two steps to the recipe:
Make the avocado yogurt sauce: Simply blend together Greek yogurt, avocado, garlic, lime juice, salt, and pepper. If you're vegan, I've listed a cashew cream option in the recipe below. Vegan mayo would also be a great substitute for the yogurt. For a more herbaceous sauce, blend in a handful of cilantro. If you like things spicy, consider adding a chunk of jalapeño, to taste.
Roast the sweet potatoes with olive oil, salt, pepper, and chili powder.
That's it! Just assemble the tacos with the sauce, sweet potatoes, and black beans. This time, I topped mine with a few pickled onions. In the past, I've topped them with additional diced avocado (see the picture below).
Lastly, I always, always, always finish my sweet potato tacos with a big squeeze of lime for extra pop!
Avocado Sweet Potato Tacos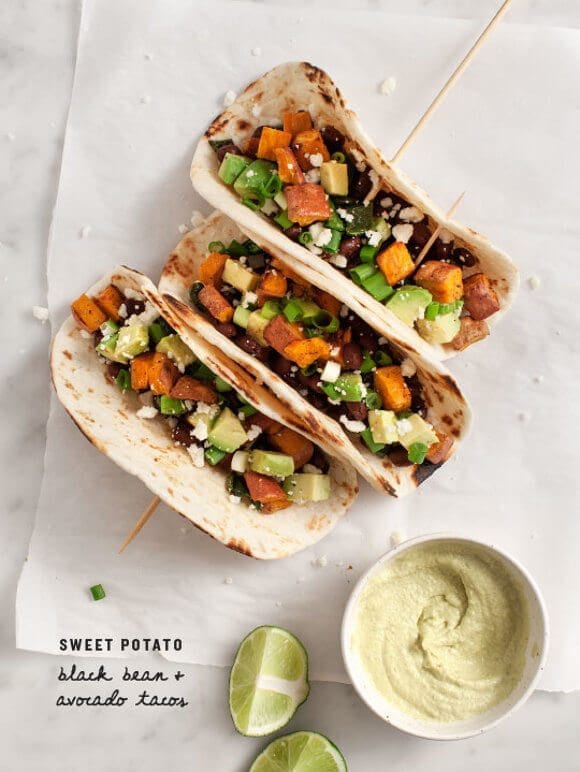 Author: Jeanine Donofrio
Recipe type: main dish
1 medium sweet potato, cubed
Extra-virgin olive oil, for drizzling
½ teaspoon chili powder
4 to 6 tortillas (I like these white corn & wheat tortillas)
1 cup black beans, cooked, drained, and rinsed
lime slices, for serving
Sea salt and freshly ground black pepper
½ cup Greek yogurt
1 small avocado
½ garlic clove
Juice of 1 lime
Sea salt & fresh black pepper
1 small avocado, diced
2 scallions, diced
crumbled feta or Cotija cheese
pickled onions
microgreens or fresh cilantro
Preheat oven to 400° F and line a large baking sheet with parchment paper.
Toss the sweet potatoes with olive oil, chili powder, salt and pepper, and spread onto the baking sheet. Roast for 20 minutes, or until golden brown.
In a small food processor, combine the yogurt, avocado, garlic, lime juice, and a few generous pinches of salt and pepper. Pulse until smooth. Taste and adjust seasonings. Chill until ready to use.
Assemble the tacos with a scoop of the sauce, the roasted sweet potatoes, black beans, and desired toppings. Season with salt, pepper, and squeezes of lime.
Vegan option: Sub cashew cream for yogurt. Blend until creamy: ½ cup raw, unsalted cashews (soaked for at least 1 hour) with ½ cup water. (also, omit cheese)Gluten free option: Sub GF corn tortillas
READ ALSO 17 Recipes to Make With Leftover Ham
READ MORE WOW! Healthy Instant Pot Chicken Tortilla Soup Recipe
First appeared on loveandlemons.com