Tieghan here from Half Baked Harvest, and today I am back on The Chriselle Factor to share one of my go-to healthy, but cozy, autumn recipes, instant pot chicken tortilla soup.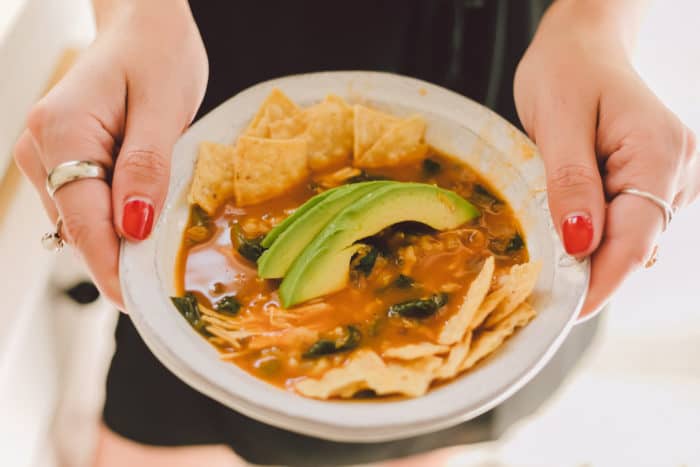 The chilly autumn days and cool nights always leave me craving bowls full of cozy soup. Enter this healthy homemade instant pot chicken tortilla soup. This is warm, cozy, a little spicy, healthy, delicious, so easy, and so quick! I think the one thing that most everyone has in common is a lack of time, especially when it comes to cooking dinner. Trust me, I get it. Life is busy, work can be tiring, and homemade meals fall to the wayside, but that's where the instant pot comes into play.
First things first, have you heard of the instant pot? If this kitchen appliance is new to you, let me explain. Using the Instant Pot is a lot like using a slow cooker, only instead of slow cooking, it's fast cooking. You just add everything right to the Instant pot, set it to pressure cook for twenty minutes and done. You can walk away, fold some laundry, pour some wine, scroll through Instagram, shower, paint your nails, whatever. Then come back when the timer goes off and dinner is ready.
I cooked this healthy chicken tortilla soup in under forty-five minutes using no stove, no oven, and only dirtied one dish, the Instant Pot insert. So simple and easy! But how does the soup actually taste? Delicious, just like a slow-cooked bowl of chicken tortilla soup. The chicken is so tender and moist! After cooking for just twelve minutes the chicken literally falls apart when you go to shred it.
READ MORE Mediterranean Grilled Balsamic Chicken and Olive Tapenade
The Instant Pot is truly one of the best kitchen appliances one can own. It's perfect for making quick soups, tacos, shredded meats, and even pasta. My personal favorite use for the instant pot, hands down, is this tortilla soup. It tastes like it's been cooking all day, but in reality, takes less than thirty minutes.
Healthy Instant Pot Chicken Tortilla Soup
Prep Time: 10 minutes
Cook Time: 15 minutes
Total Time: 30 minutes
Serves: 6
1 sweet onion, diced
1-2 jalapeños, seeded and chopped
2 cloves garlic, minced or grated
1 pound boneless skinless chicken breasts
2 teaspoons cumin
1 teaspoon kosher salt and pepper
3 cups homemade or store-bought red enchilada sauce
3-4 cups low-sodium chicken broth
1 cup cooked brown rice or quinoa
2 cups fresh spinach
juice of 1 lime
1/2 cup fresh cilantro, chopped, plus more for serving
tortilla chips, sliced avocado, limes, shredded cheddar, and yogurt, for serving
Directions
In the bottom your instant pot, layer the onion, jalapeños, and garlic. Add the chicken, cumin, salt, and pepper. Pour over the enchilada sauce and 3 cups broth. Cover and cook on high pressure for 12 minutes.

Once done cooking, use the natural or quick release function. Set the Instant pot to sauté. Shred the chicken, it should fall apart. Stir in the brown rice, spinach, lime juice, and cilantro.

Ladle the soup into bowls and top with tortilla chips, avocado, cheese, and yogurt. Garnish with cilantro and limes. Enjoy!
Best part? It's also healthy and full of protein packed chicken, greens, and fiber. So basically, you should be making this soup from now until winter's end. It's warm, satisfying, quick, easy and so good. Exactly what we all need.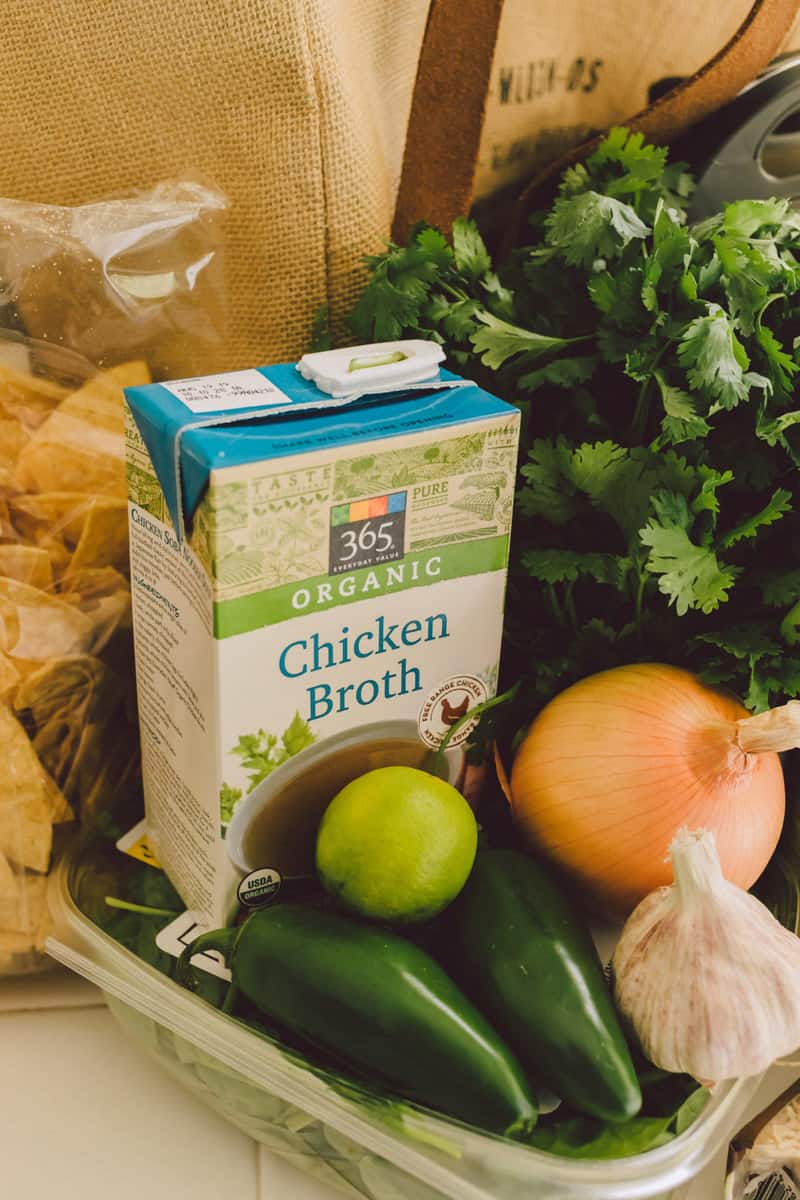 Make this, and let us know if you loved it!
READ MORE Favorite Easiest Red Lentil Dal (Instant Pot) Recipe
PS: If you don't have an Instant Pot, click here and thank us later!
Photography by Karla Ticas
First appeared on thechrisellefactor.com