This Orange Coffee Cake is unbelievably moist and has the most delicious and refreshing flavor. The citrus flavor from the orange adds such a wonderful pop of flavor but is subtle enough not to take over the entire recipe. It makes for the perfect summertime breakfast or treat!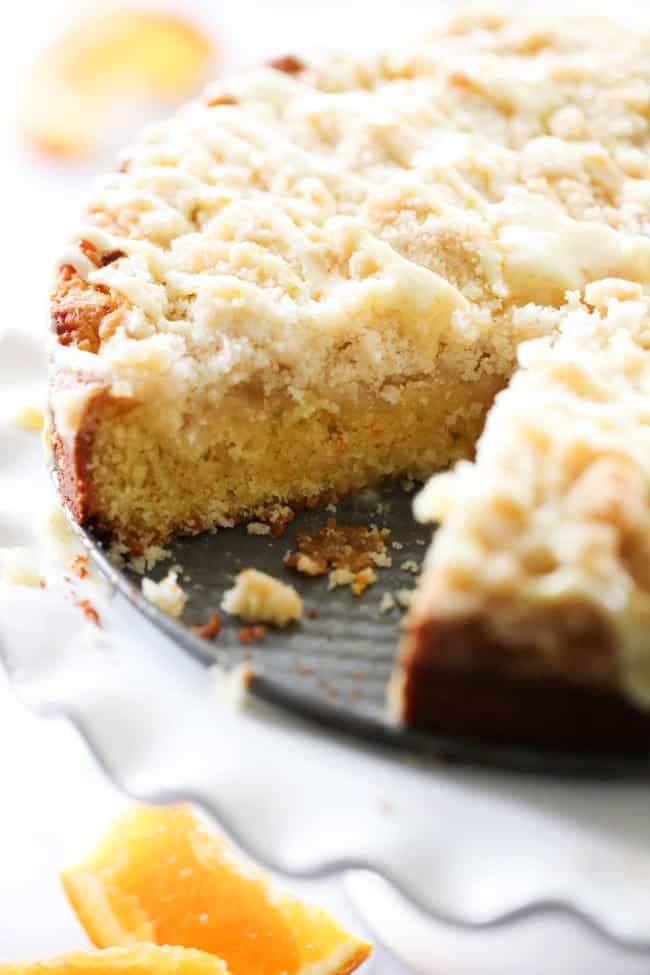 ORANGE COFFEE CAKE
I just returned home from the most amazing girls weekend with my daughter. We went to visit my grandma and I thoroughly enjoyed watching my oldest daughter getting to experience all the fun things I remember doing with my grandma growing up. She sewed pajama pants, made a beautiful decoration for her room, made some quiet time activities and made some homemade strawberry jam. Cooking with my grandma is one of my fondest childhood memories. Its actually one of the reasons I started this blog in the first place. A passion for being in the kitchen and creating runs deep in my family.
Coffee cake is one of the staples I remember my grandma always having when we went to visit her. It soon became my mom's staple. Over time, it became fun to put spins on our classic favorite. Today's coffee cake has to be my favorite one yet. This recipe is beyond moist and has such an incredible refreshing citrus flavor.

WHY IS IT CALLED COFFEE CAKE?
Well, coffee cakes are like they sound, they were/and are paired traditionally paired with coffee. Whether as a breakfast, quick snack, or something sweet to pair with the coffee, they are perfect for anytime or occasion. They are more like sweet quick breads than cakes.
WHAT MAKES A CAKE A COFFEE CAKE?
Traditionally, coffee cakes are moist and topped with a crumb topping or streusel. They also can be drizzled with glaze.
I could not stop at one piece of this Orange Coffee Cake. It reminded me of orange rolls only BETTER! The cake part is so soft and moist and the crumb topping provides a perfect complimenting texture to each bite. It is drizzled with a simple yet outstanding glaze. This will be one recipe I make time and time again and I am sure you will too!
If you like this recipe, you will want to try these: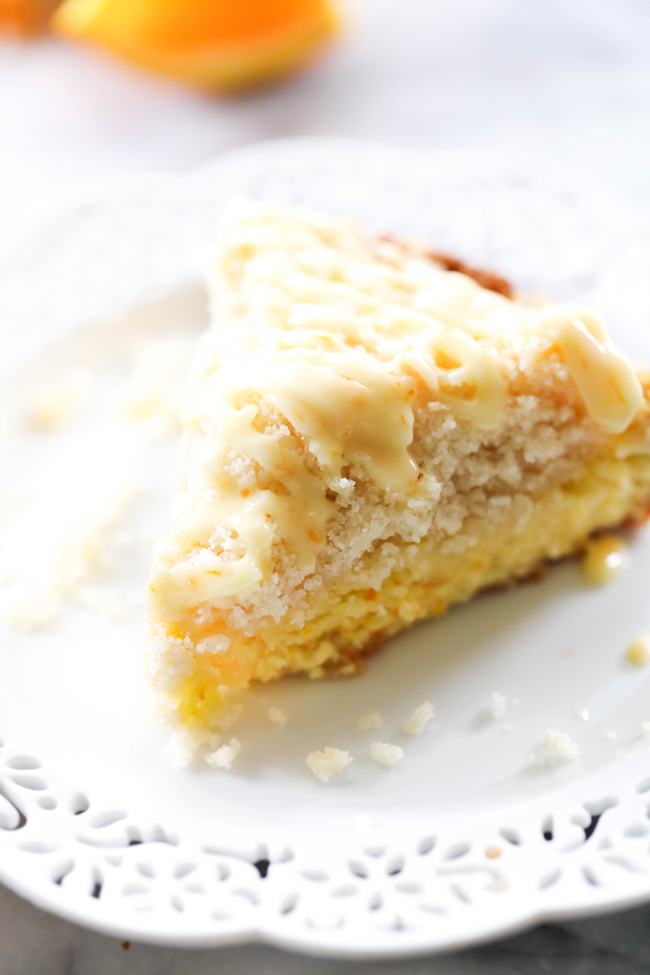 Orange Coffee Cake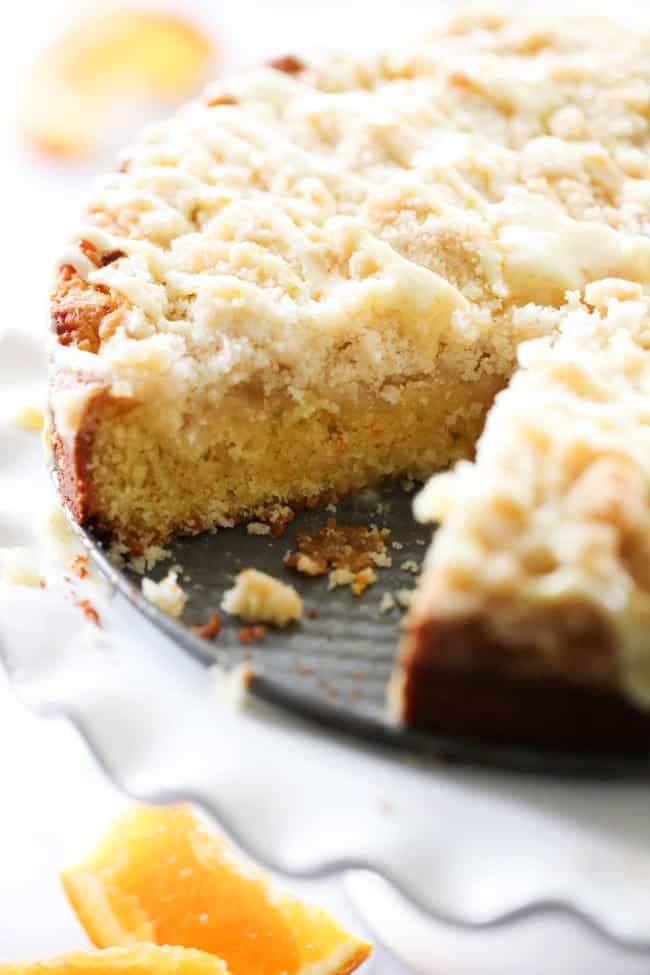 Author: Nikki
Recipe type: Breakfast
1¾ cup sugar
2 eggs
¼ cup buttermilk
¾ cup orange juice
½ cup oil
1 teaspoon vanilla
4 Tablespoon orange zest
2 cups flour
1½ teaspoons baking powder
1 teaspoon salt
6 Tablespoons butter
1 cup sugar
1 cup flour
1 Tablespoon Orange zest
½ cup powdered sugar
3 Tablespoons heavy cream
½ teaspoon orange zest
Preheat oven to 350 degrees F.
Spray spring form pan with vegetable cooking spray.
In a large mixing bowl beat sugar and eggs until creamy.
Add buttermilk, orange juice, oil, and orange zest and mix again.
Sift together flour, baking powder, and salt stir into the wet mixture. DO NOT OVER MIX!
In a small mixing bowl combine butter, sugar, flour, and orange zest and with a fork mix until crumbly.
Sprinkle over cake.
Bake for 30 to 40 minutes or until done. To determine when cake is done insert a long toothpick. If it comes out clean, it is done.
Carefully remove cake from spring form pan and place on cake stand.
Combine all ingredients and drizzle glaze over the top. Serve warm or at room temperature.
Enjoy!
READ ALSO Unique Fairy Cakes by Elena Gnut
READ MORE Lemon Poppy Seed Bundt Cake Recipe
SaveSave
SaveSave
SaveSave