Even though we decided to do brunch for our Friendsgiving this year, that didn't mean we skipped dessert. Far from it! Originally, I had been thinking I'd try to create some kind of cinnamon roll recipe, but then I thought, "You know what's even better than cinnamon rolls? Sticky buns." It was a light bulb moment. (Yes, I have my light bulb moments around food ideas sometimes.) And that's when I decided to work on pecan pie sticky buns for our dessert.
Really, sticky buns are not all that different from cinnamon rolls. The big difference is you bake these with the topping already on the bottom of the pan. Then you flip them out once done. Whereas cinnamon rolls you bake and then add a frosting to them afterward. Both are delicious but I must say, these pecan pie sticky buns really are very pretty in addition to being totally delicious. So they get a few bonus points for that.
Another great thing about this sticky bun recipe is you can make everything the day before—even assemble the dough in the pan. Then, just bake the next morning and you've got sticky buns! I love make-ahead hacks so you don't have to wake up super early in the morning to bake something. I want all the rewards of waking up early to bake sticky buns, without actually having to wake up early. ? So this is another great recipe for the holidays, including Christmas morning.
Here is what the rolls look like just out of the oven. When you flip them out onto a cutting board, you do want to be careful to not touch the hot pan to your skin (obviously) but also make sure the sticky topping doesn't ooze onto your hands or arms because it will be VERY hot just out of the oven. It's best to let this cool for about 5 minutes before flipping … but I know how hard it can be to wait, so just putting a little warning out there. ?
I love that the topping of these sticky buns really does remind me of pecan pie—perfectly appropriate for a Friendsgiving! That being said, if you want to swap the pecans for another nut, you absolutely can if needed. Enjoy! xo. Emma
P.S. I adapted this recipe from these sticky buns I made years ago, which was originally adapted from The Dahlia Bakery Cookbook.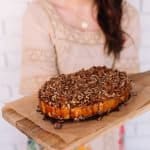 Pecan Pie Sticky Buns
For the dough:
1/2

cup

butter

1

cup

milk

1/4

cup

granulated sugar

1

tablespoon

active dry yeast

1 1/2

teaspoon

salt

1

egg + 1 egg yolk

3 1/2

cups

all-purpose flour
For the filling:
2

tablespoons

melted butter

1/4

teaspoon

granulated sugar

2

teaspoon

cinnamon
For the topping:
1/2

cup

butter

3/4

cup

brown sugar

1/4

cup

light corn syrup

1

teaspoon

vanilla

6

ounces

chopped pecans
In a small pot, melt the butter. Over low heat, stir in the milk and sugar until just warmed and the sugar has dissolved. Remove from heat. Stir in the yeast and allow this to sit and bubble for 8-10 minutes. In a large bowl, stir together the flour and salt. When the yeast is ready, stir it in along with the egg and yolk until a dough begins to form. Turn the dough out onto a floured surface and knead for 4-5 minutes. Place in a lightly oiled bowl, cover and allow to rise for 2 hours.

In a pot, melt together the butter, sugar and corn syrup until the sugar has dissolved. Remove from heat and stir in the vanilla and pecans. Pour the batter into a baking dish.

Roll out the dough on a lightly floured surface into a large square. For the inside, brush the melted butter and sprinkle in 1/4 cup sugar mixed with 2 teaspoons cinnamon. Roll up and slice into cinnamon rolls. Place the rolls in the prepared pan (with the topping in the bottom). Cover well and refrigerate immediately (overnight).

Bake at 350°F for 35-40 minutes until golden brown. Allow to cool for 5-10 minutes. Remove from the oven and CAREFULLY flip the rolls out of the pan, revealing the pecan glaze on top. The best is if you can lay a cutting board or serving dish over the pan and flip it all together.
Credits // Author: Emma Chapman. Photos: Amber Ulmer. Photos edited with A Color Story Desktop.
ALSO READ Morning Glory Muffins Recipe | SimplyRecipes.com
READ MORE Study Shows What Happens To The Human Body When It Goes Just 10 Days Without Sugar
Chocolate Chip Pancakes with Raspberry Sauce Recipe
First appeared on abeautifulmess.com