Each of us has collected something at least once in his life. Look at your fridge? Are there many magnets on it from the countries you have visited? Or maybe you have a collection of coins from different times at home? And stamps, candy wrappers, stickers collected? Stars also have a thirst for accumulation. But when you have millions of dollars in your accounts, you can start collecting things more seriously. So someone collects their own fleet, others collect yachts, others buy dinosaur bones, not sparing it for 2.5 million dollars. They can afford it!
Today in the magazine "Furilia" I will tell you about the 15 strangest collections of celebrities
Typewriters, knives, plastic cups, nail polishes, hangers and even dead flies … Who from the world of show business can boast of the strangest collections that they have at home? Interesting to know? Then let's go!
Tom Hanks and his typewriters
The actor was seriously carried away by the topic of typewriters. At the moment, in his collection there are about 200 copies of different times with different fonts – from Latin and Arabic to Cyrillic. For Hanks, these cars are a kind of talismans, which he does not forget to take with him on tour.
And the actor knows how to fix them. For the best models for his collection, Tom Hanks is ready for anything. So one day the following happened to him. Talking Dead show host Chris Hardwick sent Tom a new copy for his collection, a 1934 Smith Corona typewriter, and an invitation to air. Hanks sent the answer in the form typed on the same machine:
"Dear Chris, Ashley, and the other damn geniuses of Nerdist Industries! Yes, who do you think you are, deciding that I will buy your offer, only having received this wonderful silent typewriter of 1934! Yes, you have lost your mind if you think … that I … Wow! .. what a good move she has … what a rich raspberry … Stop! I'm not some little bipod … and how quietly it prints … OK! I will tell my people to contact you and arrange an interview. Damn you! Tom Hanks".
In a word, Hanks surrendered for such a wonderful gift.
Claudia Schiffer and her spiders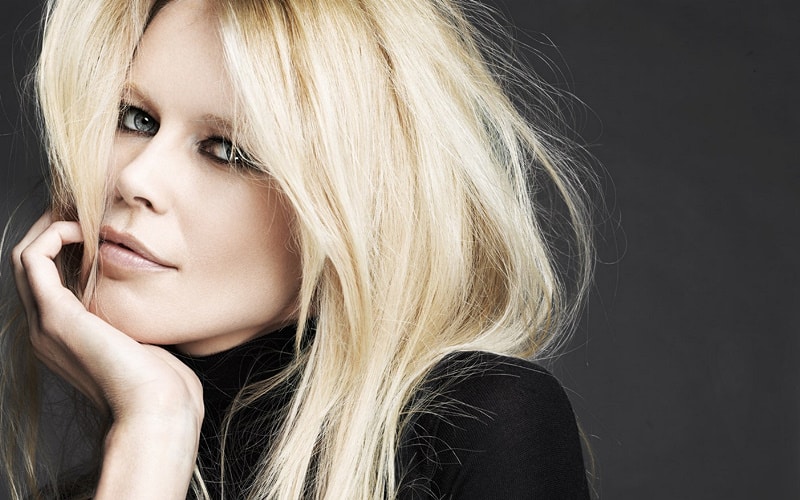 The German model has a craving for these insects since childhood. So during this time she managed to collect a large collection of spiders in dried form. The walls of the model house are decorated with paintings with these arthropods. Even the supermodel devoted a collection of knitwear to the topic of spiders. Schiffer noted that they inspire her, and the model can sit for hours without being distracted by watching how the spider creates a web.
Penelope Cruz and her coat hanger
The Spanish actress has a very large wardrobe of beautiful outfits. But no less than in her wardrobe hangers for clothes – from wooden to plastic, from plain to colored. The only thing is that the actress does not have wire instances. Penelope does not recognize them.
Angelina Jolie and her cold steel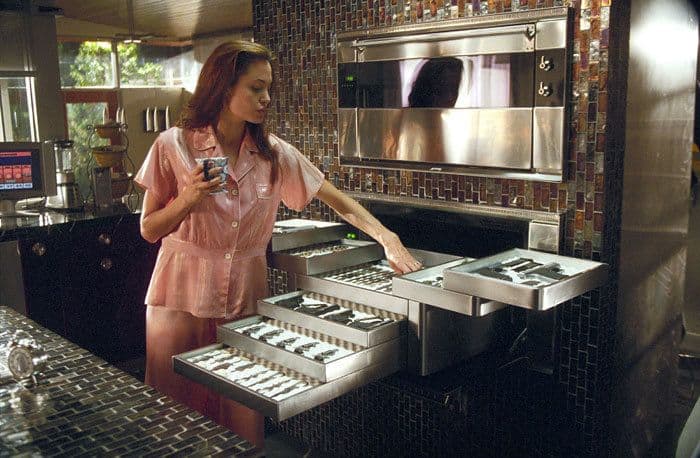 Angelina Jolie is very proud of her collection of knives. This hobby appeared in the actress at the age of 12 years. The first knife in her collection was a gift from her mother. Most of all, Jolie has knives and daggers of the Renaissance and the Middle Ages.
Reese Witherspoon, her plastic cups and vintage lingerie
In the wardrobe of the famous actress, a special place is given to vintage corsets and lace peignoirs, which she buys in antique stores and seeks out at flea markets. Her collection has a lot of antique silk, lace and satin. In addition, Witherspoon collects plastic dishes of the same brand. So the stars collection already has a decent amount of plastic plates, forks and cups.
Keira Knightley and her collection of nail polishes
The actress has a rather modern hobby for herself. She collects nail polishes, which are subsequently actively used. The brand and texture of the varnish does not really matter. The main thing is a bright and unusual color. So recently, the Knightley collection was replenished with a tan that she immediately experienced on herself. But the experiment was unsuccessful. According to the actress herself, her hands were like the smoker's limbs.
David Lynch and his dead flies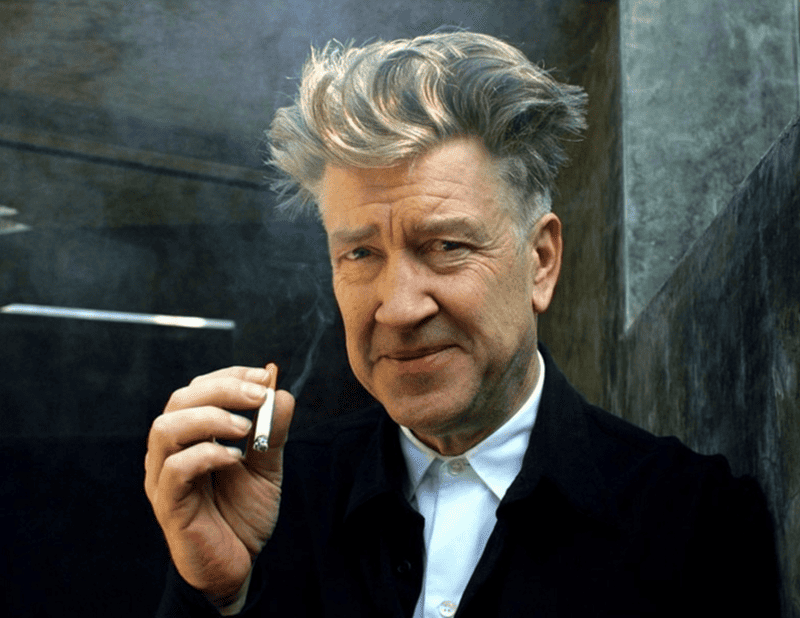 The American director has a rather strange hobby – collecting flies. How does this happen? Lynch catches the flies, dries them and then pastes the wall with them. The hobby is very strange and far from personal. And what's even worse is Lynch's interest in collecting chicken bones, which he proudly displays to all his guests. There is already a question, is everything all right with the director's psyche?
Elton John and his glasses
The singer's collection has hundreds of glasses in expensive frames. Therefore, it is not surprising that a lot of money is being spent on such a hobby. There are also very extraordinary options in his collection, which the outrageous singer often puts on for an exit, for a concert or for an interview.
Joni Depp, his clowns, dolls and other trinkets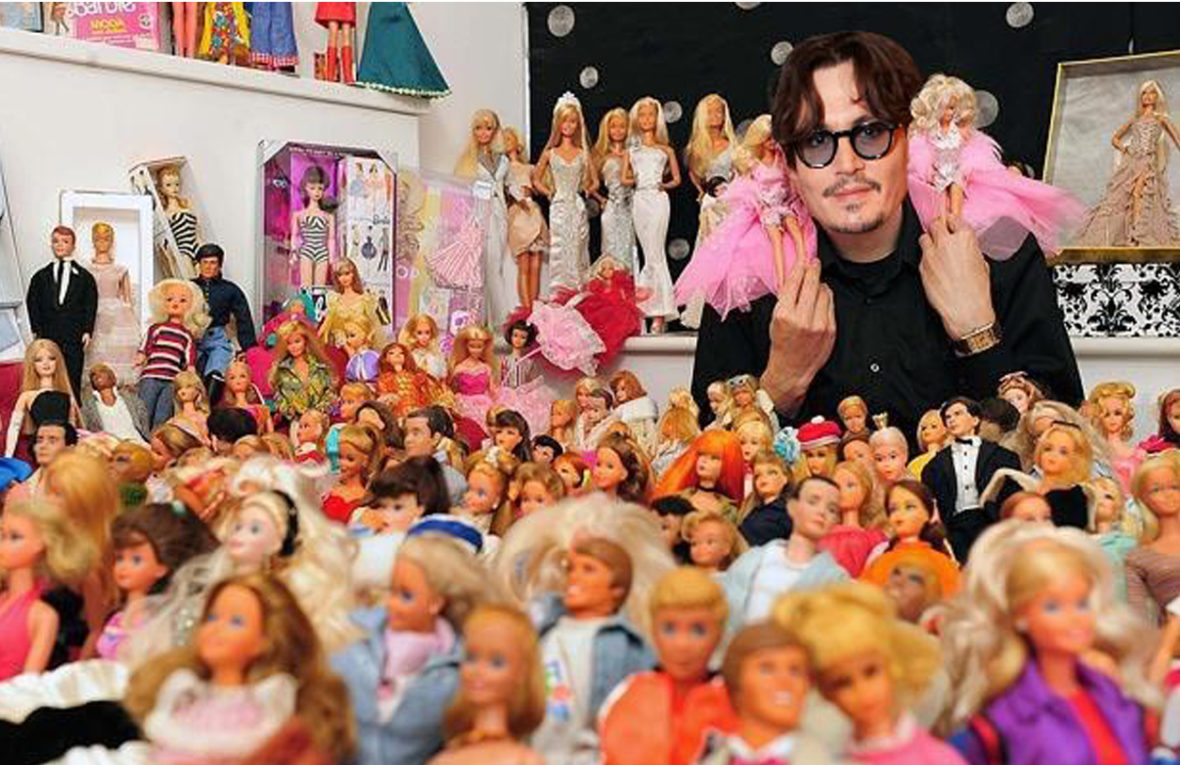 Johnny Depp is also that collector. The actor could not decide on the topic, so he began to collect everything in a row. Depp somehow had a collection of skeletons of pigeons, corpses of bats, dried beetles and old hats, for which, as the yellow press wrote, Vanessa Paradis almost kicked the actor out of the house.
Then Depp switched to collecting Barbie dolls. In the collection of the actor there are dolls of famous people – Elvis Presley, Beyoncé, Lindsay Lohan, as well as dolls of heroes whom Depp himself played at one time – Jack Sparrow and the Mad Hatter. And this is not the limit.
The actor also collects items related to the writer Jack Kerouac. His publications, manuscripts, works, cloak, jacket and even the suitcase of the writer – all this is now in the collection of Depp.
Not without paintings with images of clowns, which since childhood have been a phobia of the actor. In addition to them, Depp has many clown figures.
And the actor loves to collect lamps and furniture in the style of art deco.
Catherine Deneuve and her lipstick
A charming actress is interested in collecting lipsticks. Each trip to the boutique ends with a new acquisition. Today, Deneuve can boast a collection of lipsticks in the brightest shades. Although, looking at the modest makeup of the actress, we can say that she collects lipsticks for hobbies for the sake of, and not for personal use.
Dustin Hoffman and his Teddy Bears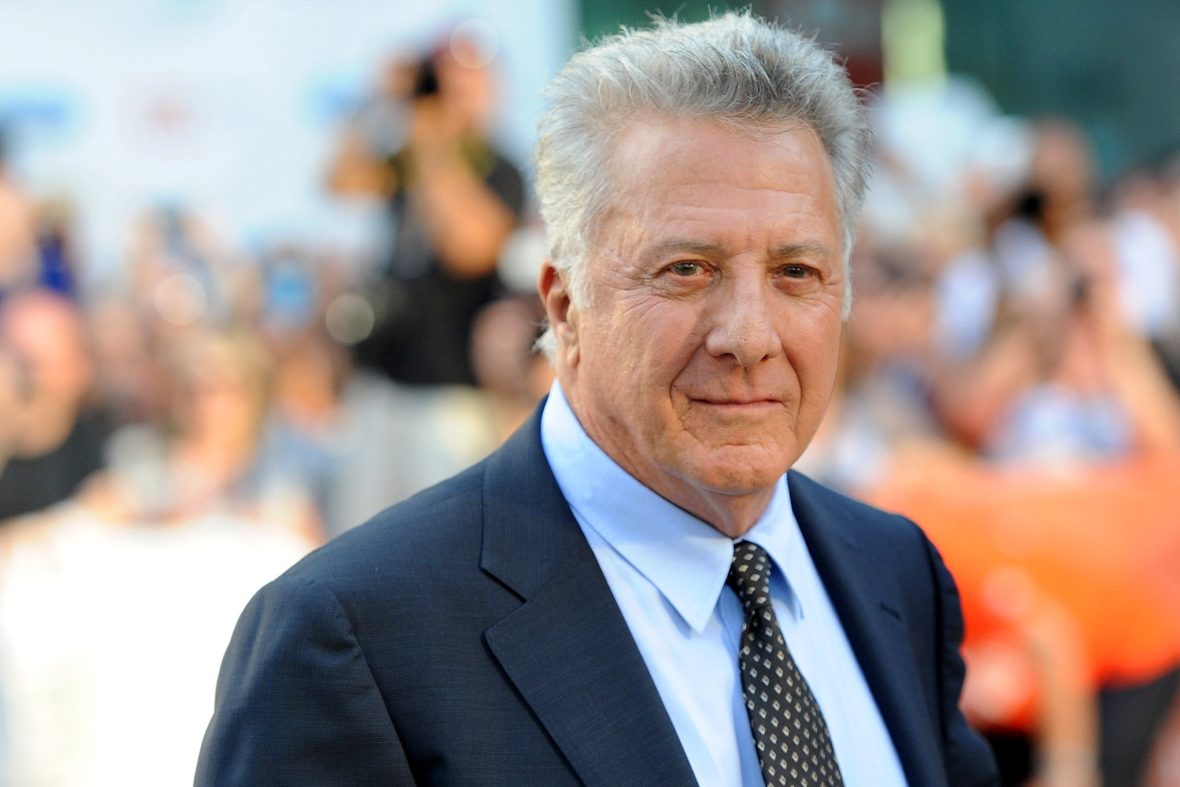 And this actor has a rather strange hobby that is not peculiar to men. He collects teddy teddy bears.
Did you know where the name of these cute toys came from? And they are named after one of the American presidents, Theodore Roosevelt, who during the hunt did not raise his hand to shoot a wild bear.
To date, the actor's collection contains more than 1000 copies of bears of different sizes. Therefore, it is not surprising that Hoffman allocated his toys a whole room for storage. The actor does not stop there. His collection is replenished every time. The best gift for Hoffman for a birthday or any other holiday is Teddy Bear.
Nicolas Cage and his superhero comics
Nicolas Cage is a real Superman fan. This love has grown into a passion for collecting everything related to this character. Today, Cage boasts the largest and most expensive collection dedicated to Superman. The actor also had a very rare copy of Action Comics, which Cage acquired back in 1997 for a fabulous amount of $ 110 thousand at that time, and after 15 years decided to sell for $ 2.16 million and made good money.
Sean Connery and his battle kilts
Being a true Scotsman, Connery set about collecting traditional men's skirts, kilts. In addition, the actor does not miss the opportunity to try on and go out in the most worthy versions of his collection.
And Sir Connery every year organizes a charity show Dressed to Kilt, during which the famous stars try on the Scottish national kilts and go on the catwalk in front of an audience of spectators.
Rod Stewart and his collection of train models
In the house of the British singer, the entire second floor is occupied by a toy railway. The musician spent a lot of money on creating a copy of the city of Chicago in the 40s with parks, houses and trains in miniature. Favorite train models accompany the 73-year-old celebrity on tour.
Demi Moore and her porcelain dolls
Demi Moore is fond of collecting both new and old antique dolls. Now in her collection is just a myriad of copies. In order to understand the extent of the actress's hobby, Bruce Willis had to give his wife a separate house, in which she placed her entire large collection of toys, among which there are very realistic porcelain options with skin no different from human skin and the size of a 3-year-old child. Such dolls are often shown in horror films.
Moore spent more than a million dollars on her collection. And if you add on the purchase of a house, you get a rather expensive hobby.
Have you collected any things in your life?
READ ALSO Film Stars Who Changed Their Appearance For a Movie Role!