Stranger Things Season 3 won't be debuting for another year, but I'm already excited about it. It's ultimately one of my favorite shows. The costumes, storylines, and the characters are all so entertaining. The coolest part is that they shot the entire show in Atlanta as well as the surrounding towns. I always felt like a smarty pants every time I recognized a building in various scenes from our hometown.
Today, we took a little road trip to check out some of our favorite ATLwood filming locations from the show. If you love Stranger Things as much as we do, keep reading for our guide to the 11 best Stranger Things filming locations. We're also including a sneak peek of a location from the new upcoming season.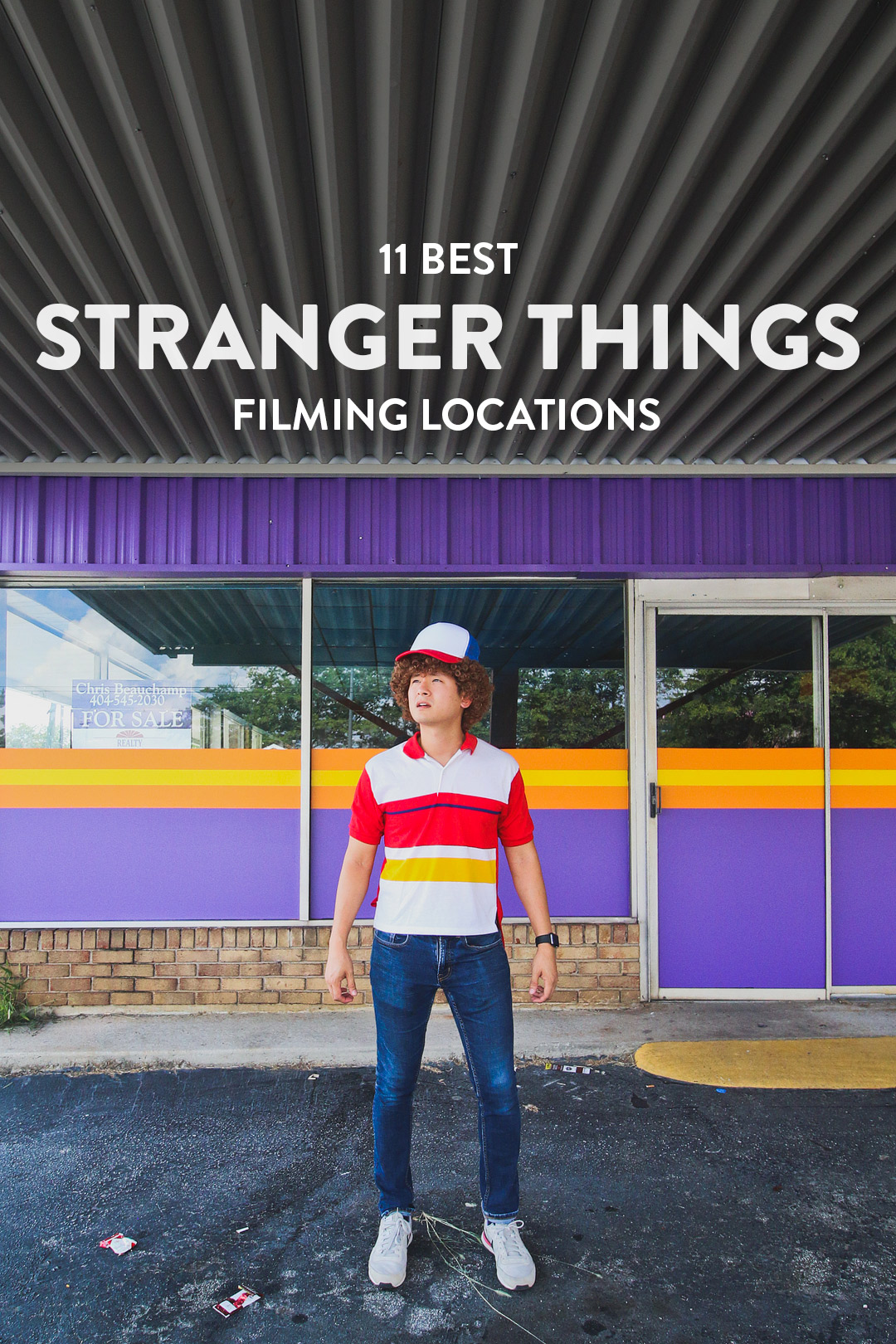 This post may contain affiliate links, where we receive a small commission on sales of the products that are linked at no additional cost to you. Read our full disclosure for more info. Thank you for supporting the brands that make Local Adventurer possible.
11 Best Stranger Things Filming Locations
Spoiler Alert: If you're not completely caught up, you've been warned!
109 S Lee St, Stockbridge, GA 30281, map
There are several shots of Hawkins Middle School in both Season 1 and 2, where the boys attend school. In Season 2, Episode 2, Dustin, Lucas, Will, and Mike dressed up as Ghostbusters as they enter the school. The actual schools used are Stockbridge Elementary and High School.
Content Menu
Hawkins Middle School
The Wheeler's House
Bradley's Big Buy
Hawkins National Laboratory
Hawkins Police Department
Palace Arcade
Downtown Hawkins
Benny's Burgers
Hawkins Library
Melvald's General Store
Hawk Theater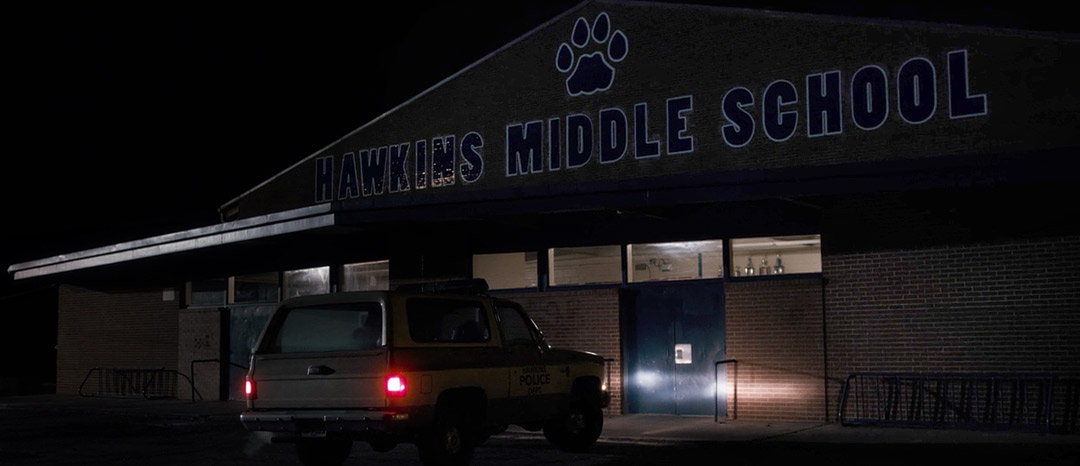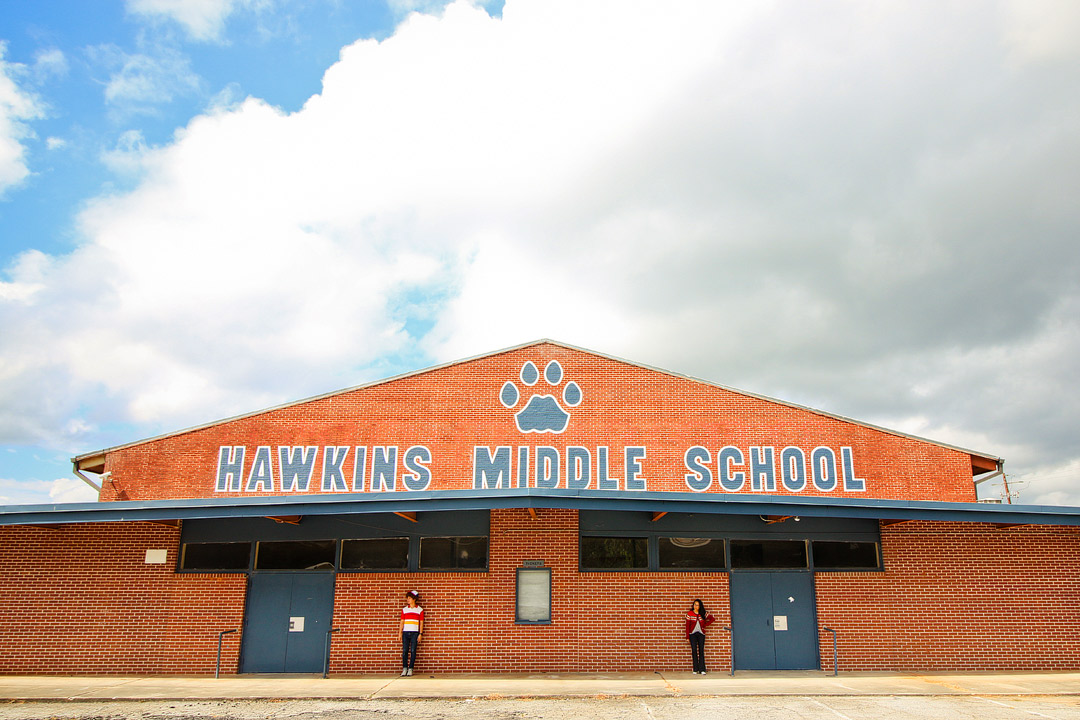 2530 Piney Wood Ln, East Point, GA 30344, map
Mike and Nancy Wheeler's house is located right outside of Atlanta in East Point, Georgia. You might remember their house from Season 1 with a Reagan/Bush '84 campaign sign staked in their front yard.
Note: If you visit, make sure you're not trespassing. The homeowners only allow fans to take photos from the street. After all, it is private property.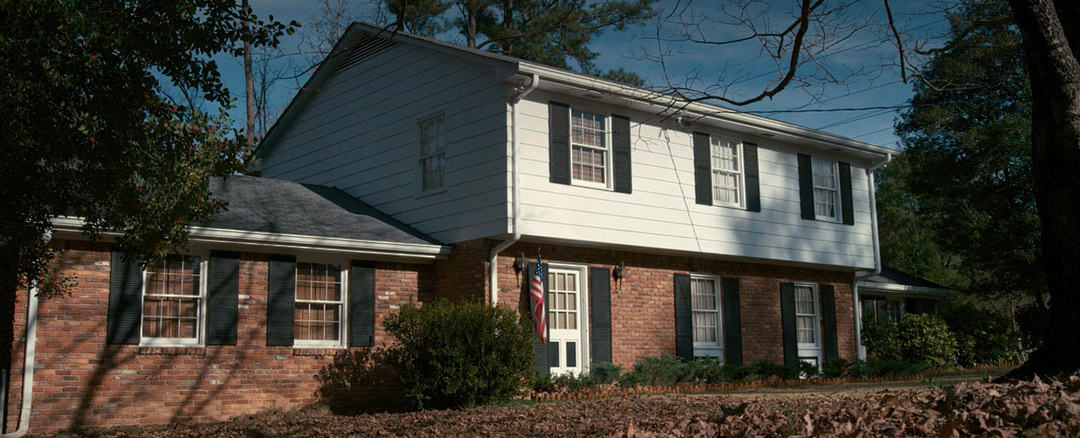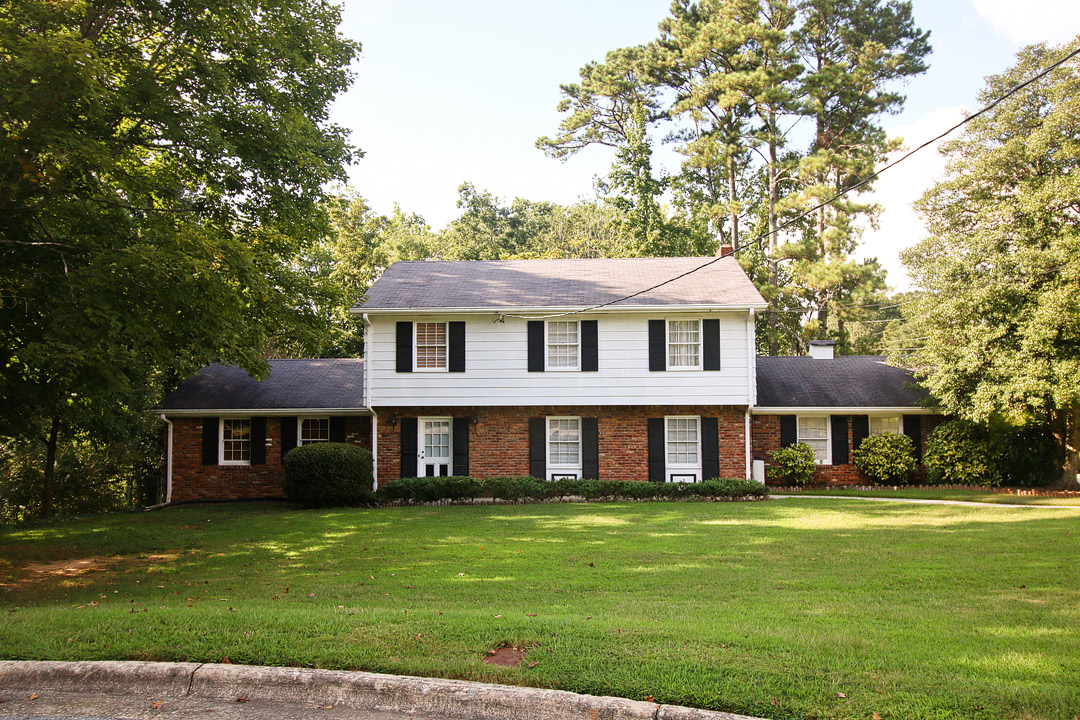 506 Center St, Palmetto, GA 30268, map
I love this scene in Season 1, Episode 6 where Eleven steals a bunch of frozen Eggos from Bradley's Big Guy grocery store. Eleven's personality and powers begins to show as she tears through Bradley's nicely organized shop. You can find the real life Piggly Wiggly store in Palmetto, Georgia. The employees and manager there are so kind! They love hosting fans, as long as you're not with a large tour group. Be sure to pick up some Eggos while you're there.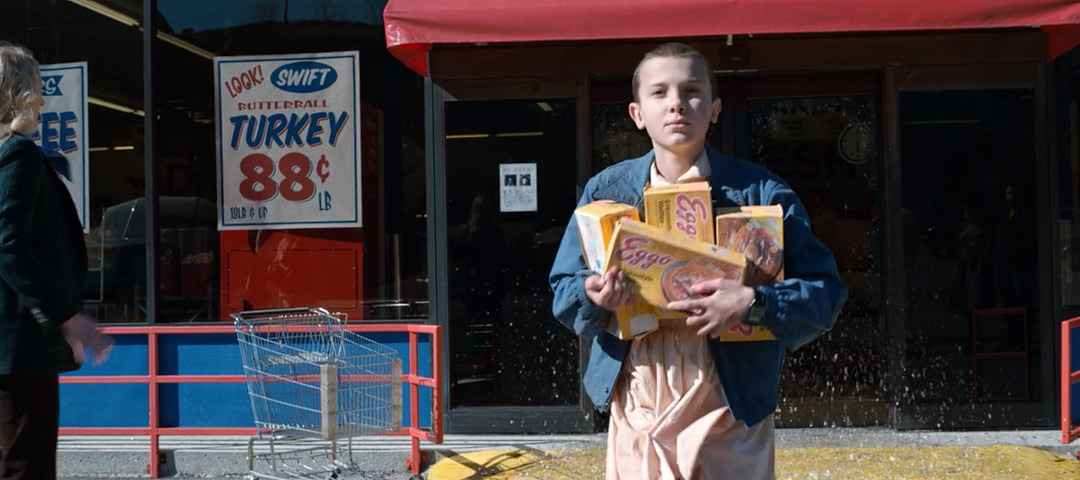 4. Hawkins National Laboratory
1256 Briarcliff Rd NE, Atlanta, GA 30306, map
This iconic building is located on the same street where I grew up. The exterior is an old, deserted psychiatric hospital on Emory University's campus. How fitting, right? This is where the main action took place in both Season 1 and 2. Hopper goes into the Upside Down from the lab to save Will, and it's also where Bob meets his demise. The building is closed off to the public, but you can see parts of it from the street.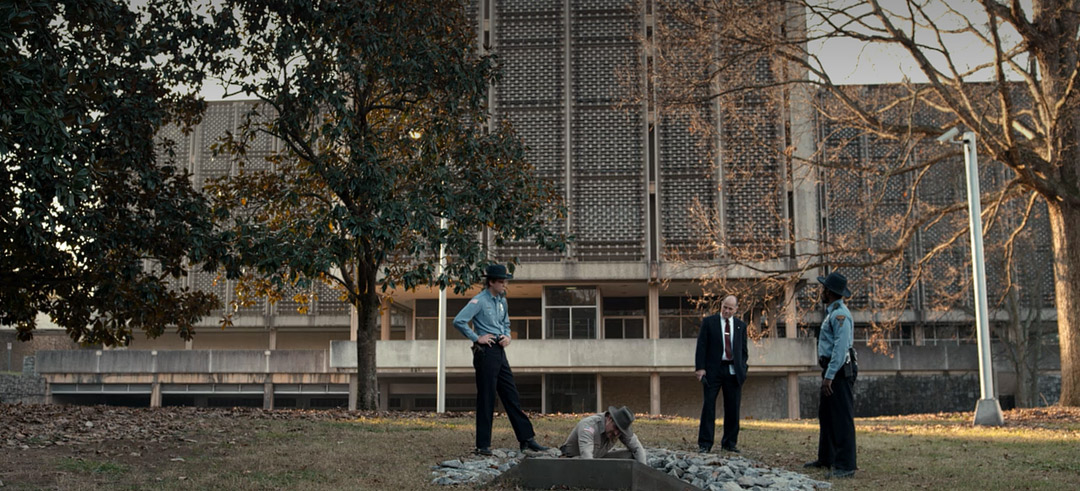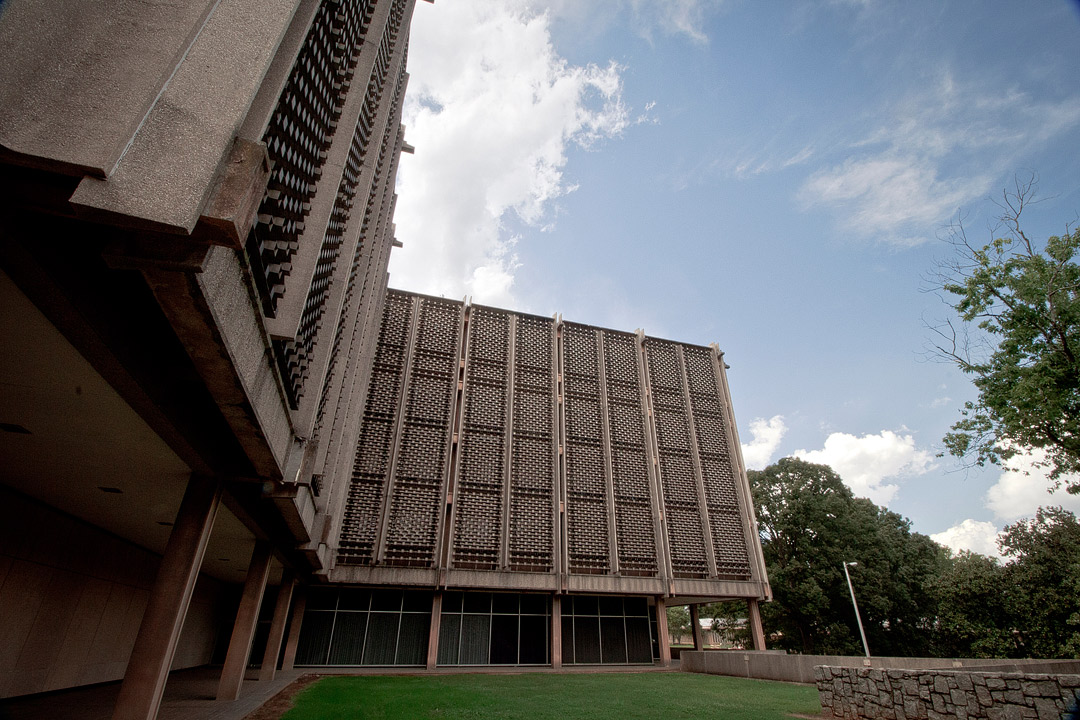 5. Hawkins Police Department
Douglasville, GA 30134, map
Hopper is frequently coming in and out of the Hawkins Police Department. The shoot location is a small building in Douglasville, which isn't too far from Esther's parents' house.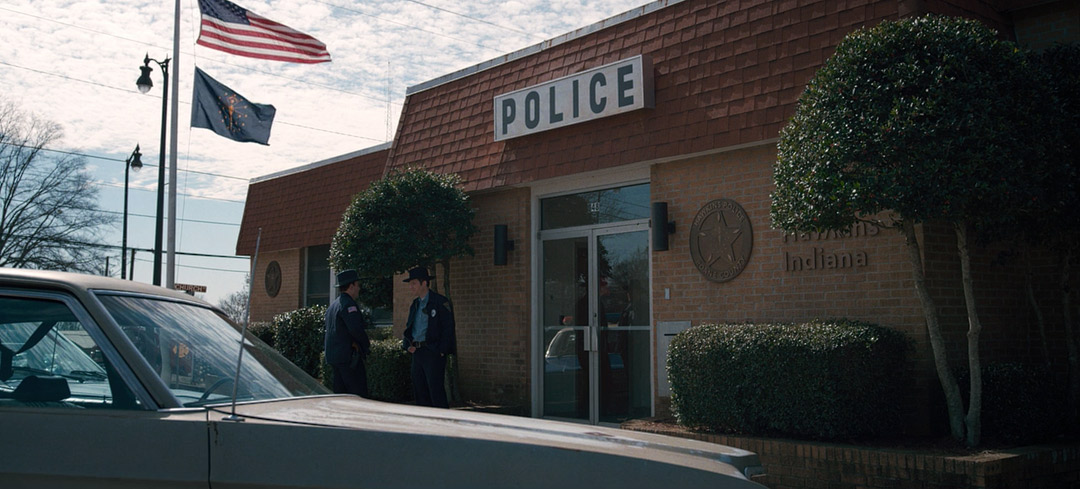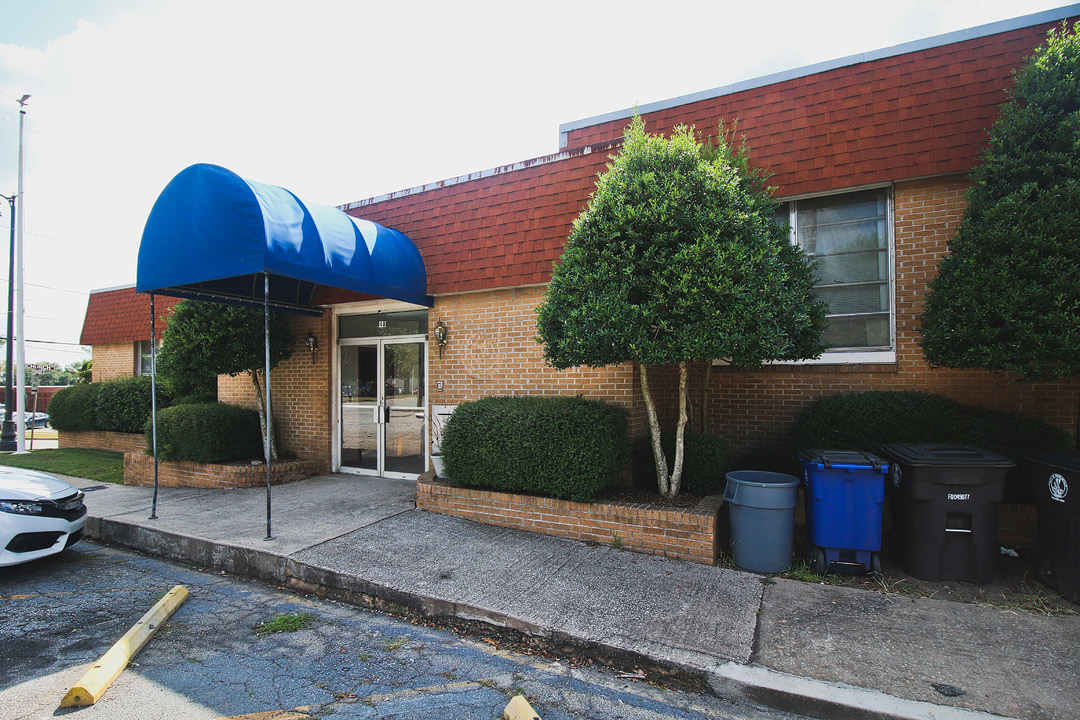 8415 Campbellton St, Douglasville, GA 30134, map
Season 2 opens up with the boys meeting at Palace Arcade. The bright neon lights and colorful games make the arcade one of my favorite Stranger Things film locations. You can still see the paint job on the facade of the empty building, which used to be a laundromat. If you peek through the windows, you'll notice that the checkered floors and blue ceiling tiles are still intact.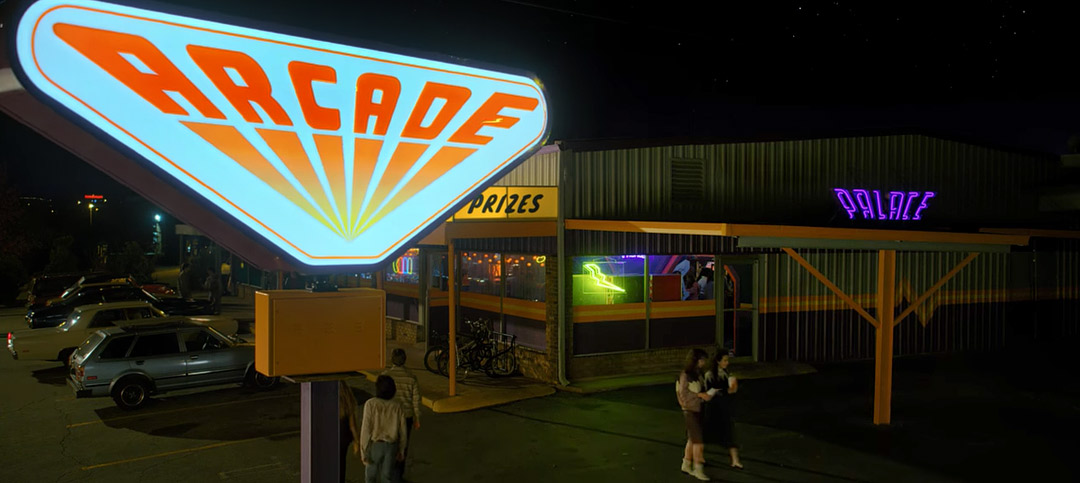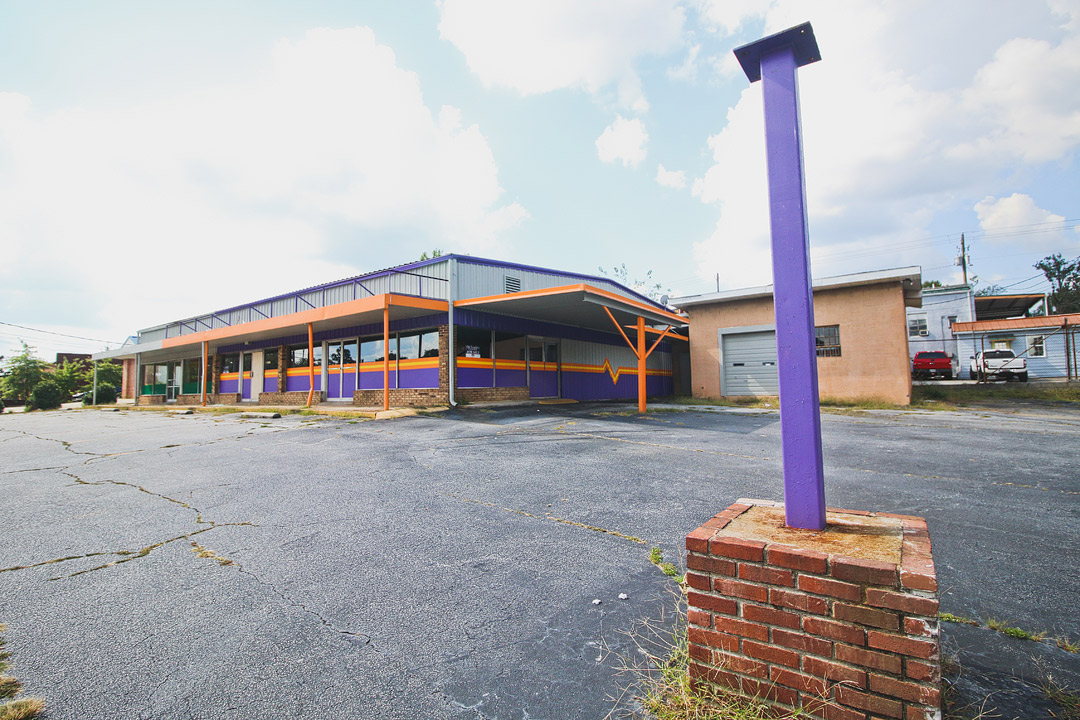 Jackson, GA, 30233, map
Several scenes of downtown Hawkins are actually shot in downtown Jackson, Georgia. Joyce works at Melvald's General Store in Season 1. The Hawk Theatre is also located further down at the end of the block.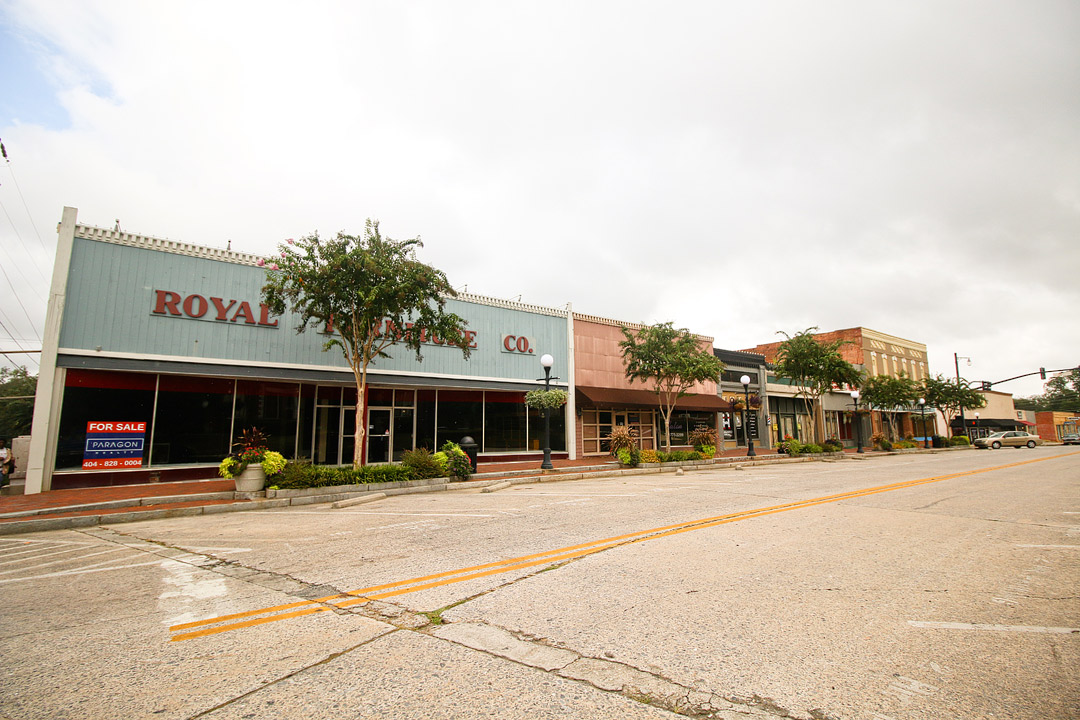 7413 Lee Rd, Lithia Springs, GA 30122, map
Benny's Burgers is the little diner where Eleven first appeared in the show. Benny, the restaurant owner rescues and feeds her and tries to figure out who or what she's running away from. The original restaurant, Tiffany's Kitchen is located in Lithia Springs, Georgia. If you have time, we recommend grabbing a bite to eat here for the full effect and experience. It seems to be a popular spot.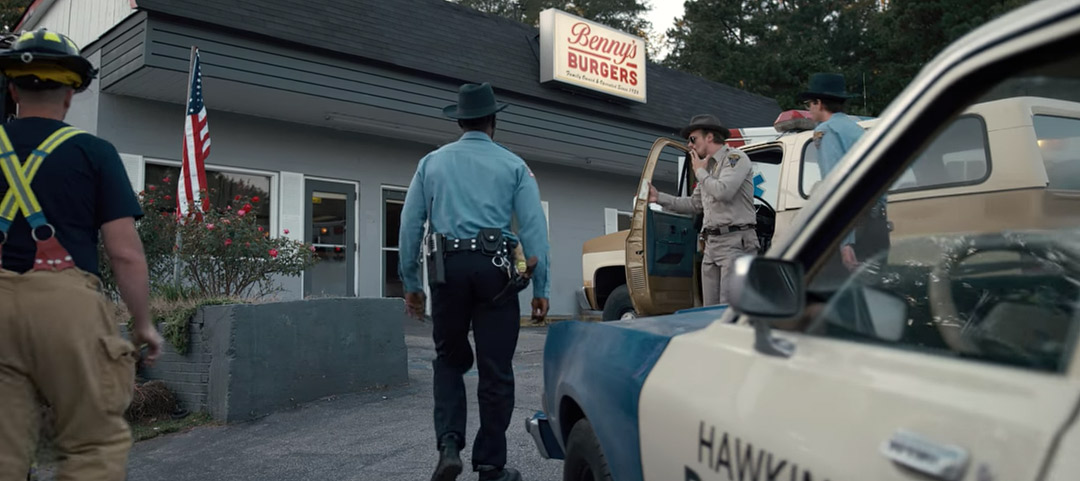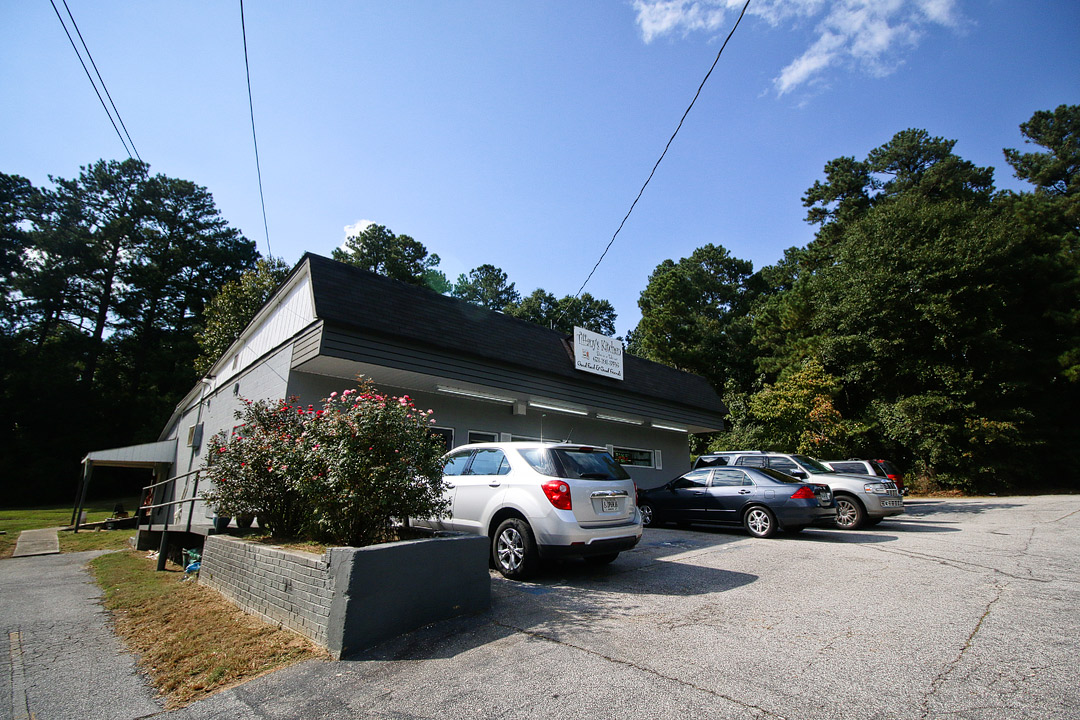 25 3rd St #7, Jackson, GA 30233, map
This building is certainly one of the spookier ones from the show. You might recognize it and the upside down version from Season 1, as seen below. At the present time, the building is the Butts County Probate Court in Jackson, Georgia. It's definitely a farther location from Atlanta, but worth the drive.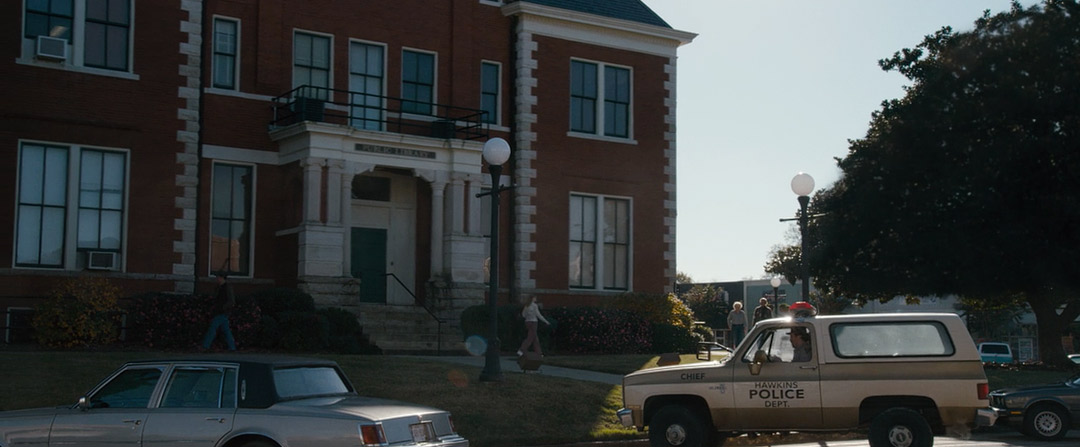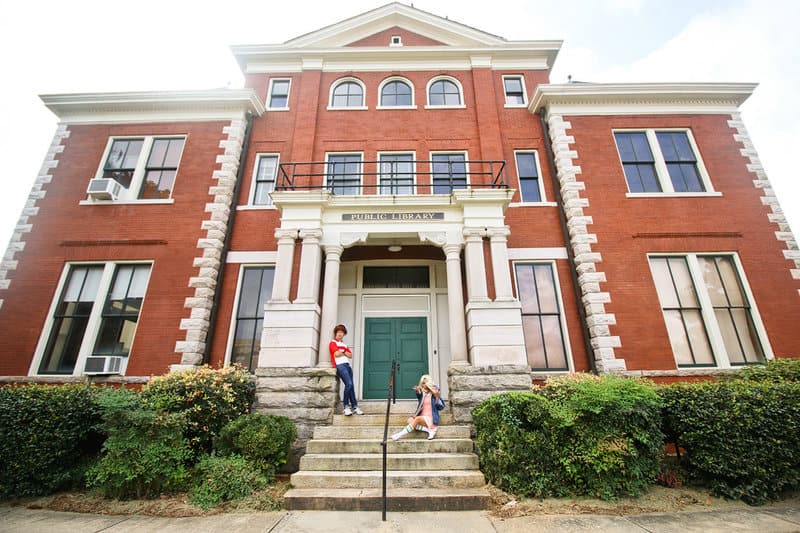 10. Melvald's General Store
4 2nd St, Jackson, GA 30233, map
This is where Joyce Byers worked. In the show, it's located in downtown Hawkins, next to the RadioShack where her boyfriend, Bob works. You can find the original Jackson Drug store in downtown Jackson, across from the public library. During our visit, the signs for Melvald's and RadioShack were still up since they are currently shooting Season 3.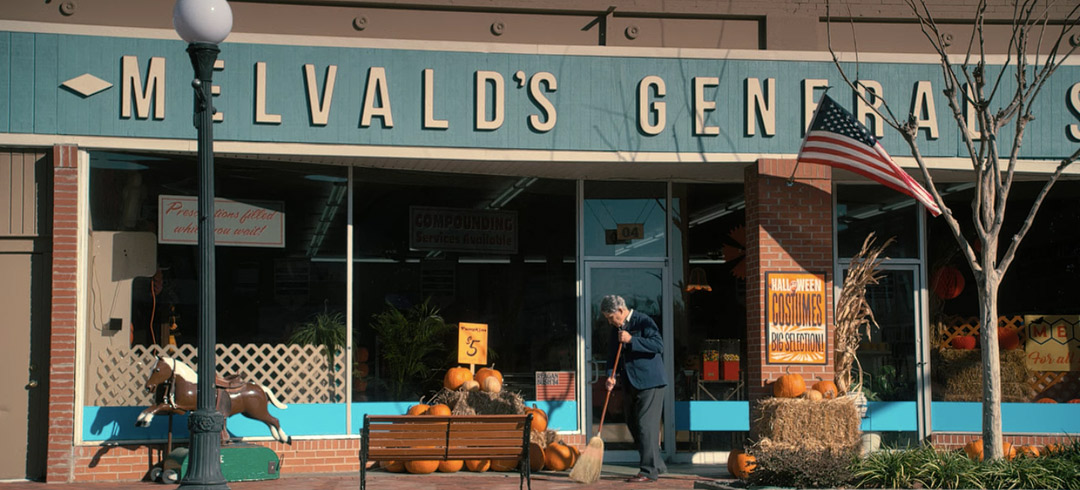 2 Oak St, Jackson, GA 30233, map
You might remember Nancy running toward Hawk Theatre to see the slander written about her on the theatre's marquee in Season 1, Episode 6. It's also the area where Joyce and Jonathan argues about Will's funeral earlier in Episode 4. You'll notice that Hawk Theatre in fact, is not a theatre at all, but Bradley's Olde Tavern.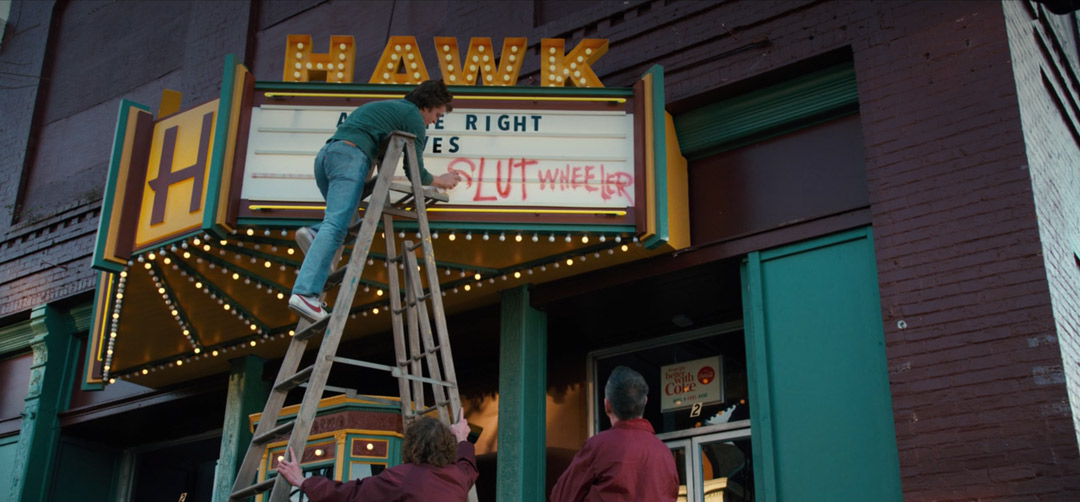 More Stranger Things Film Locations
Starcourt Mall (2100 Pleasant Hill Rd, Duluth, GA 30096, map) –

If you've already seen some previews of Season 3, you'll recall the Starcourt Mall. It looks like there will be a few storylines created around this shopping center, which in real life is Gwinnett Place Mall. It's pretty deserted now but once was a popular mall where Josh and I hung out (actually, mostly loitering) in middle school.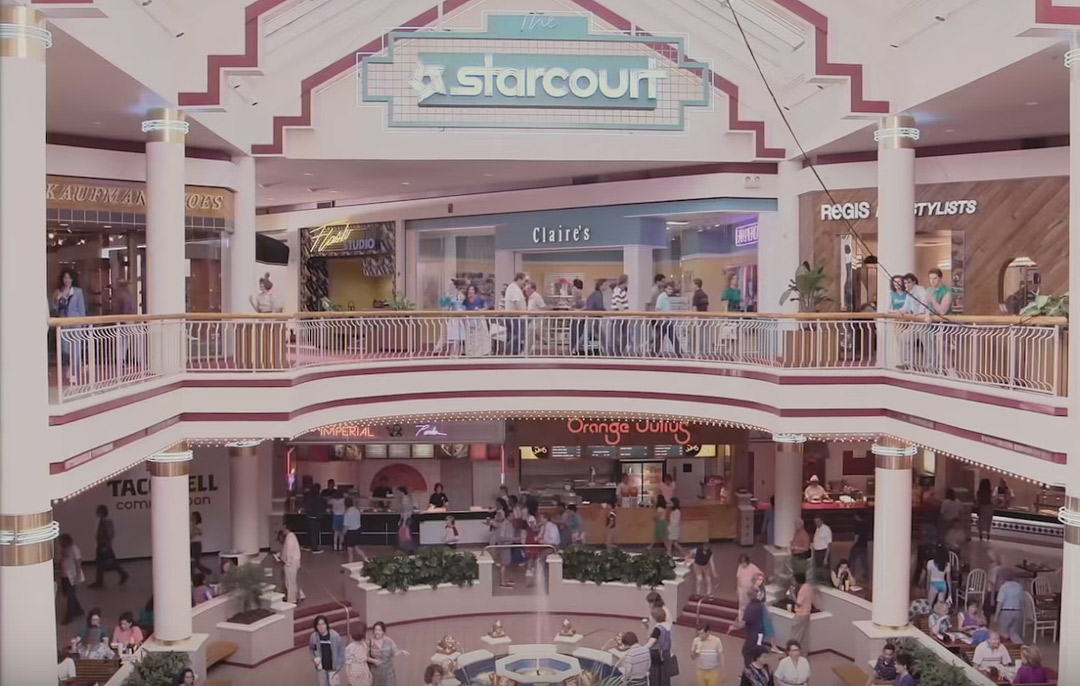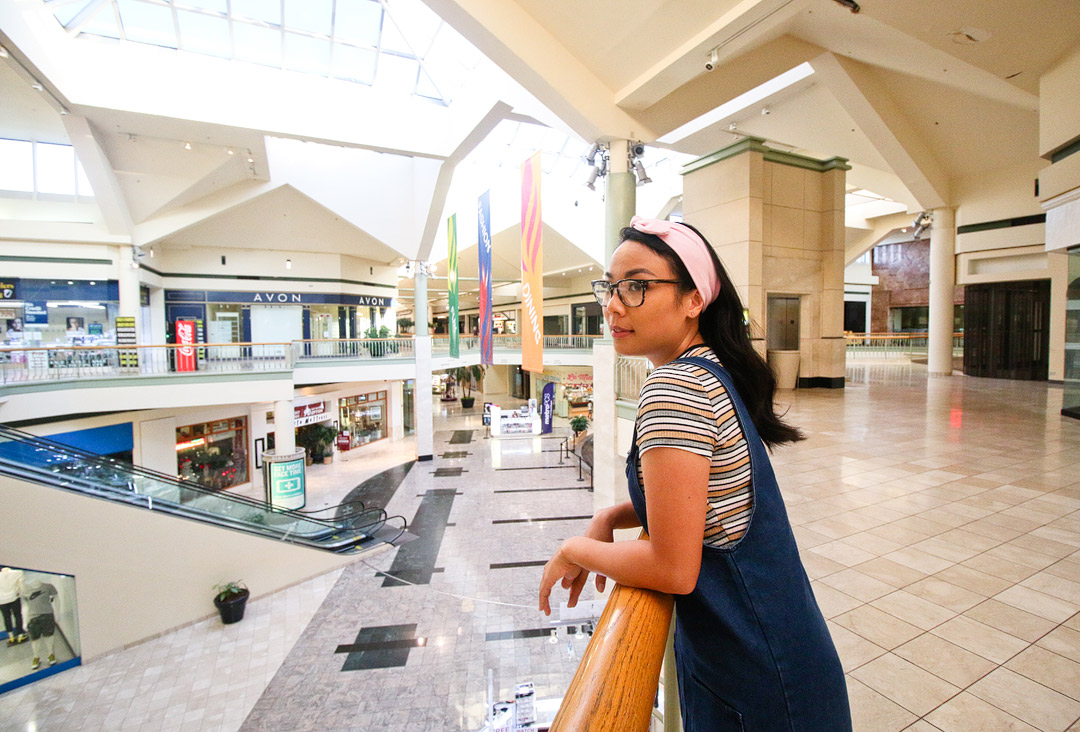 Hawkins General Hospital (2813 E Point St East Point, GA 30344, map)
Sinclair House (2550 Piney Wood Ln East Point, GA 30344, map)
Henderson House (2886 Piney Wood Dr East Point, GA 30344, map)
Holland House (2980 Piney Wood Dr East Point, GA 30344, map)
Harrington House (8253 Carlton Rd Riverdale, GA 30296, map)
Hargrove/Mayfield House (5280 Moore St Stone Mountain, GA 30083, map)
Lonnie Byers' House (930 Garibaldi St SW Atlanta, GA 30310, map)
Ives House (424 Lees Lake Rd Fayetteville, GA 30214, map)
Hideaway (112 N Berry St Stockbridge, GA 30281, map) – Smokin' Cues
Fair Mart (7703 US-78, Winston, GA 30187, map)
The Quarry (Chappell Road Northwest, Atlanta, GA 30318, map)
The Railroad Tracks (1000 Robert E Lee Blvd, Stone Mountain, GA 30083, map)
Cemetery (Bethany Cemetery Fayetteville, GA 30214, map)
Are you all caught up? What are your favorite Strange Things episodes?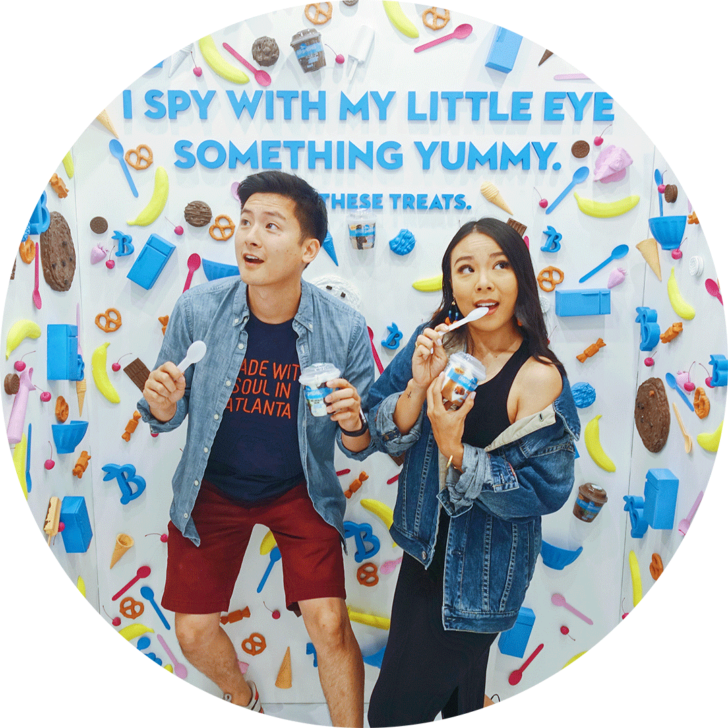 Josh and Macy are southern creative kids who love exploring local and international cultures. They've long believed that traveling is all about getting out of your comfort zone and trying new things. They are currently based out of Atlanta.
First appeared on localadventurer.com
READ MORE UK trip to Manchester – 15 Incredible Things That You Shouldn't Miss
READ ALSO Learn About REAL Places That Could Be PORTALS To Another DIMENSION
READ The Length Of This Finger Is The Secret To Your Personality