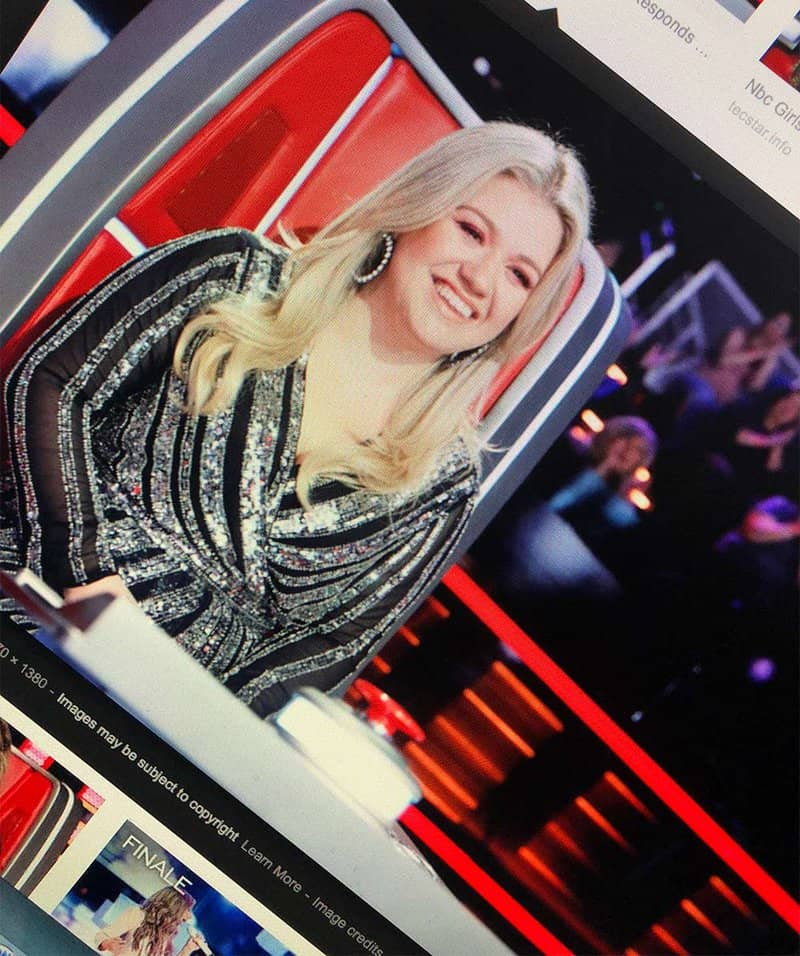 Do you ever watch The Voice? Dude, I've been watching The Voice a lot lately, 1) it seems like they have a new season every 15 minutes, and 2) because I'm a sucker for any combination of the following: joking banter between Adam and Blake, Jennifer Hudson throwing shoes, and Kelly Clarkson talking a mile a minute about something and all of the judges teasing her for it.
Even though (grumble, grumble…) the show usually, as of late, culminates in America voting for a young, pretty pop female singer in the finale, it's my favorite current guilty TV pleasure (that and Midsomer Murders).
Occasionally I yell things like "I would die. I would JUST DIE if I met Mariah Carey in person" at the television, or "I would bet money Kelly Clarkson's wearing Urban Decay Naked Heat."
Speaking of that, THE MAKEUP. It's good. Especially Kelly's. I'm always surprised by the stuff she wears because she really seems to love color and taking risks.
Mariah Carey has also been a guest coach in the last few knockout round episodes, and her style and Kelly's are so different from each other.
I mean, Mariah's makeup always looks damn good, too (Kristopher Buckle is her go-to artist), but I can't remember the last time I didn't see her in anything other than some sort of bronze lid or a subtle smoky eye with the same exact eyeshadow placement paired with either a pink or nude lip.
Her makeup never really changes, but she always looks b-o-m-b.
While I totally get sticking to something that works, I gotta say, Kelly's makeup is so fun, and she always tries something different. In this season so far, she's worn red eye eyeshadow in one show, then a purple eyeshadow in another. I also LOVE that she'll wear different eyeshadow shapes and placements. I tracked down who I think does her makeup for the show, and I think it's
Gloria Elias-Foeillet
, who does makeup for a bunch of celebs (including Missy Elliot!).
Hmm… I just realized something. See the edge of Kelly's lips in the pics with the nude lips? She's wearing dark un-blended lip liner. How very 1997! I wonder if there's a stage makeup reason for that (perhaps to define the edge so the lips look fuller?), because the liner is relatively subtle and not something you see right off the bat unless you're looking closely.
Or maybe she just likes late '90s-style lip looks?
(Now those are some deep thoughts, ha ha!)
Maybe I should just ask, since I've been low-key stalking Gloria's Instagram lately. I really dig how she balances between classically beautiful makeup and artsy looks. She's a new person to follow if you love makeup inspiration like I do. ?
Your friendly neighborhood beauty addict,
Karen
READ MORE Favorite Easiest Red Lentil Dal (Instant Pot) Recipe
READ ALSO How To Take Good Care Of Skin Wherever You Are
First appeared on makeupandbeautyblog.com