Leek can easily be called superfood, because it contains a large amount of nutrients. It is rich in fiber, vitamins and minerals. The most useful is young, whose stems are up to 4 cm thick. Young leek with a pleasant taste, subtle sharpness, it is used in salads raw. But in adult plants, the lower part is a whitish stem with a bulb. There is already another purpose – soups, meat main dishes, pies, casseroles, canned goods.
It remains only to answer the question, what is tasty to cook from it. So that the beneficial properties of the product are preserved. We have prepared for you a selection of simple leek recipes.
Quiche with leek and chicken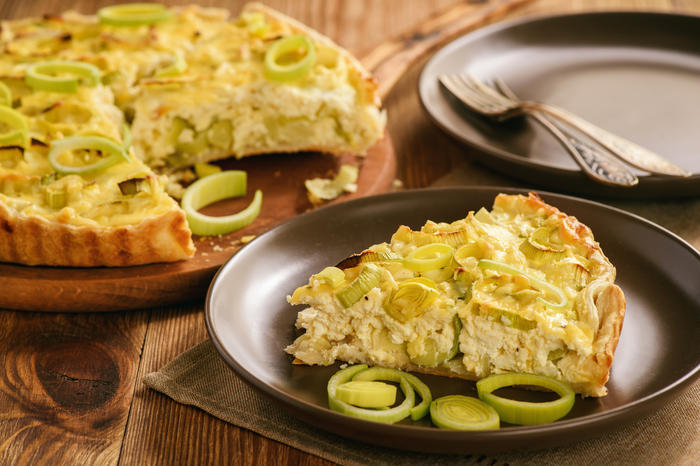 Ingredients:
For the dough :
Flour – 200 g
Oil – 100 g
Eggs – 1 pc.
A pinch of salt
Icy water – 2 tbsp.
For filling:
Minced Chicken – 300 g
Cream – 200 g
Cheese – 150 g
Eggs – 2 pcs.
Leek – 2/3
Salt, ground black pepper – to taste
Cooking method:
Preheat the oven to 200 degrees.
First cook the chopped puff pastry. To do this, quickly grate 100 g of oil from the freezer. Pour 200 g of flour and a pinch of salt. Stir with a spoon so that the flour envelops the pieces of butter. Make a deepening, break the egg. Gently in a circular motion from the edge to the center, collect everything in the center and knead the dough. You may need to add a couple tablespoons of cold water. Wrap the dough in a film and put in the refrigerator.
Cut the leek and lightly fry it.
Fry the minced chicken (add salt and ground pepper to taste to it).
Take the dough out of the refrigerator, roll it out, put it in a mold, put it in the freezer for about 15 minutes.
Then – prick with a fork, cover with foil and cover with beans. Put in the oven for 15-20 minutes. Remove the "load" in the form of beans and put another 10 minutes.
Grate the cheese. Shake 2 eggs separately in a bowl, add a little salt, pepper, pour 200 g of cream. Pour half the cheese onto the dough. Put the fried minced chicken. Above is leek. Sprinkle with the remaining cheese and cover with eggs and cream. Bake at 180 degrees for about 50 minutes.
READ WHY IS ECO-FRIENDLY REALLY JUST ANOTHER TRENDY AND NOT AT ALL ECO-FRIENDLY MARKETING MOVE?
Salad with Leek and Asparagus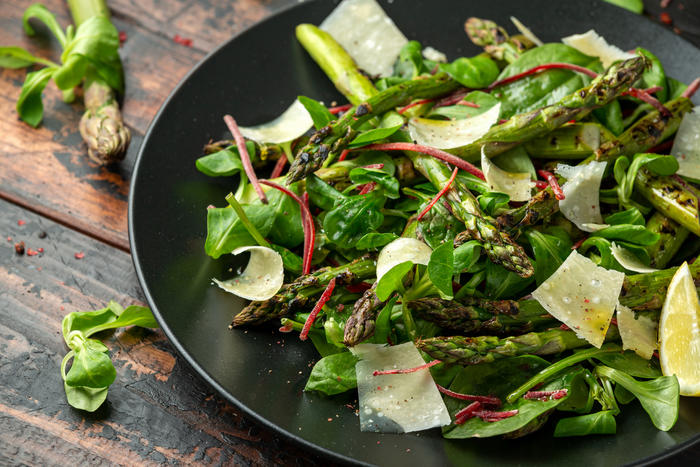 Ingredients:
Asparagus – ½ kg
Eggplant – 2 pcs.
Leek – 4 pcs.
Feta cheese (can be replaced with parmesan) – 100 g
Sunflower Seeds – 50 g
Green onion – 1 bunch
Red chili pepper – 1 pc.
Olive oil – 20 ml
Sea salt – 5 g
Cooking method:
Heat a few drops of olive oil in a heavy frying pan and fry the asparagus for 3-4 minutes to make it softer, then darken a couple of minutes under the lid and put in a separate bowl.
Cut the eggplant in small circles, sprinkle with salt and fry in the same pan (you can not add oil). Cover and simmer for another 10 minutes, then remove the lid and keep the eggplants on fire for another 5 minutes, until they become a smooth golden color. From time to time they can be turned over. Remove the eggplants from the pan and set aside.
Cut leek into thin rings. Add a few drops of oil in the same pan and fry the onions over high heat until golden brown, then cover and simmer for 3-4 minutes until the onions are tender, until the onions are soft. Put it in a colander to stack excess juice.
Chilli and chives.
Cut cooled asparagus into 3 parts, combine with leek, chili pepper and eggplant, sprinkle with green onions and sunflower seeds, pour over the remaining oil.
Break feta into small pieces and sprinkle salad on it. Mix and serve.
Cream Leek Soup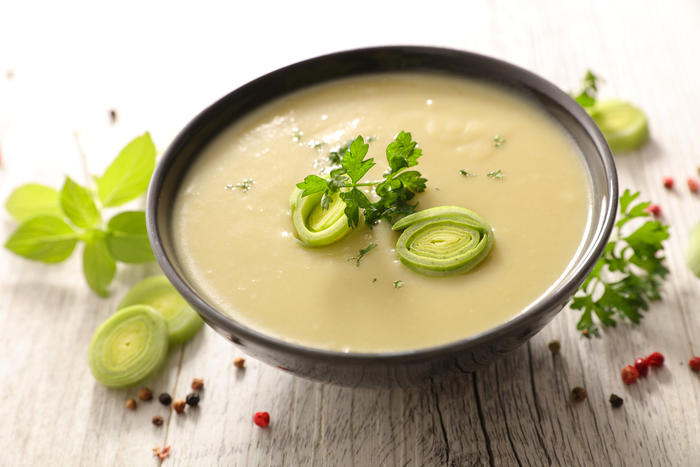 Ingredients:
Leek – 2 stalks
Onions – 1 pc.
Potato – 2 pcs.
Vegetable or chicken broth – 300 ml
Cream – 200 ml.
Butter – 1 – 2 tablespoons
Olive oil
Salt
Cooking method:
Wash the leek thoroughly. Remove the top layer, cut off the dark green top and cut the rest into thin rings.
Chop the onion. Melt the butter in vegetable oil, add two kinds of onions.
Cook them on medium heat for 8-10 minutes, the onion should become very soft (it is important to stew the onion, not fry it!).
Add sliced ​​potatoes and broth, salt. Bring to a boil and leave to cook over moderate heat for about 30 minutes.
When the soup is ready, it remains only to grind the blender to a puree state and allow to cool. To serve, gently mix with cream and garnish with greens.
Bon Appetit!
READ ALSO HOW TO BECOME MORE STYLISH
READ MORE COZY POTATO LEEK SOUP RECIPE