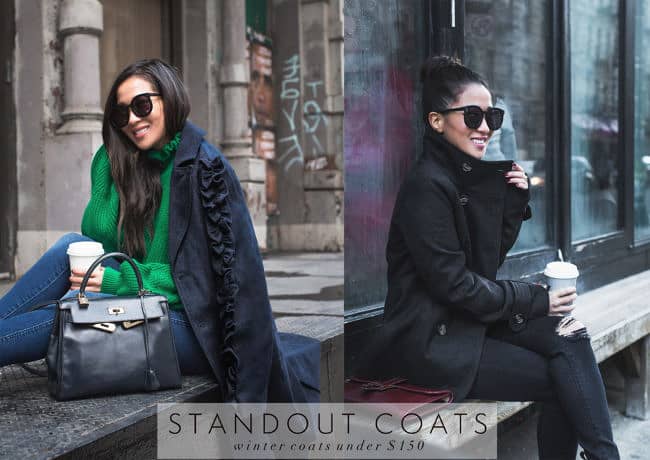 Happy Wednesday everyone!
One of the many charms of fall/winter is the outerwear. Beautiful coats, classic pea-coats, colored coats… a standout piece that adds cheer to cold winter days. For today's post, I'm sharing two winter coats – a ruffle sleeve long coat and a classic black peacoat – that are fun and truly timeless.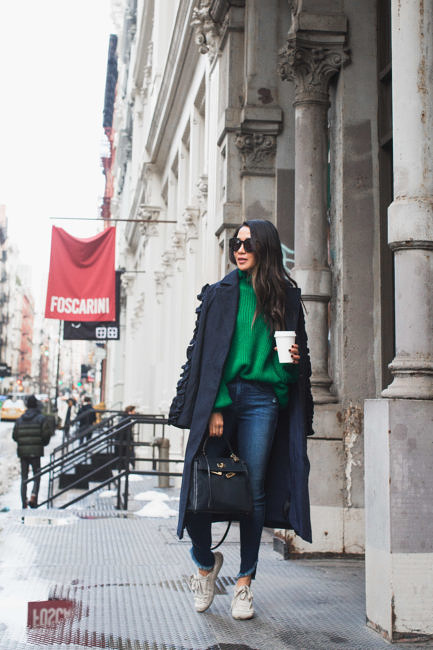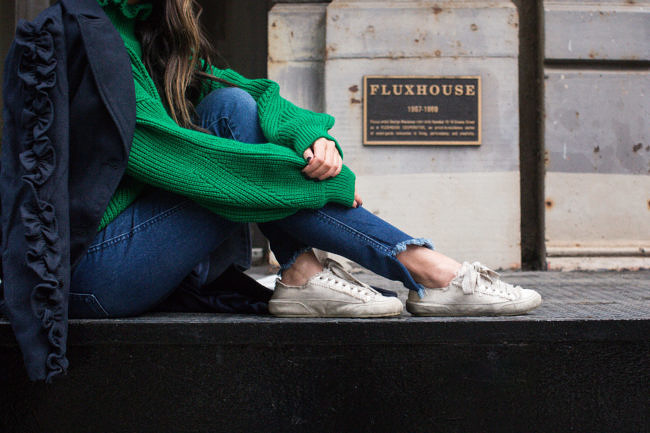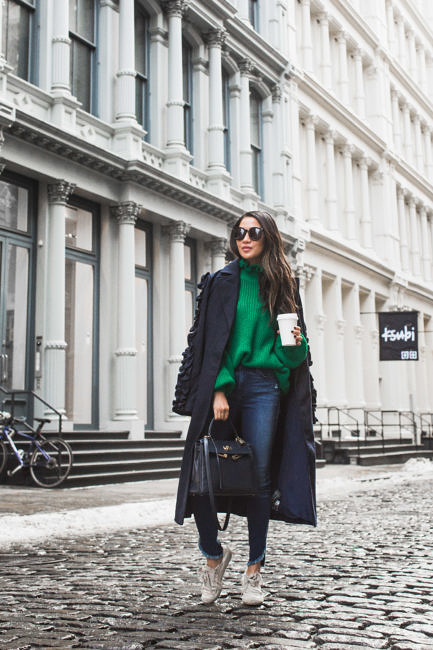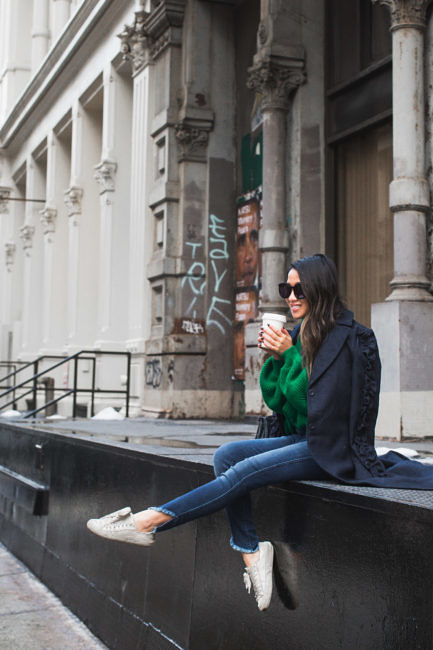 :: Winter Coats under $150 ::
This long coat has the essence of downtown cool mixed with soft feminine flare. I absolutely love the ruffle details! It's beautiful without being overwhelming and it's subtle yet impactful. Pairing ruffles with ruffles, I coupled the ruffle coat with a ruffle neckline sweater. And that pop of emerald green against the navy colors brings brightness to winter blues.
Below is a true classic (and this peacoat is under $40!). With over 1.3K reviews, this peacoat lands at over 4 stars. My favorite part is the high funnel neck. It gives the classic double-breasted peacoat shape a modern twist. It's extremely versatile and can be dressed up with a LBD and dressed down with jeans and sneakers. I also have it in beige (as seen in this blog post), and highly recommend adding a down vest under the coat or a faux fur vest over the coat for extra warmth.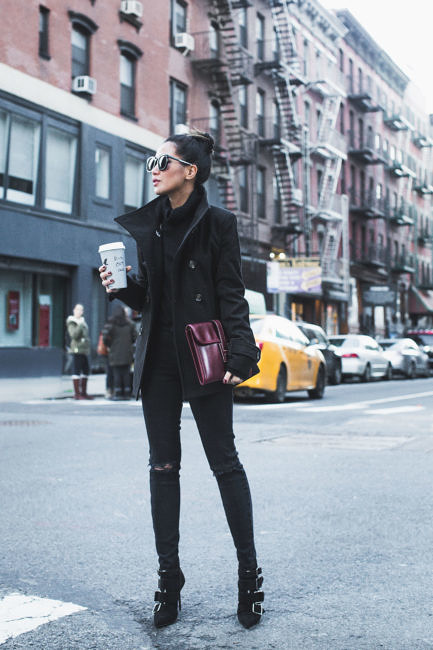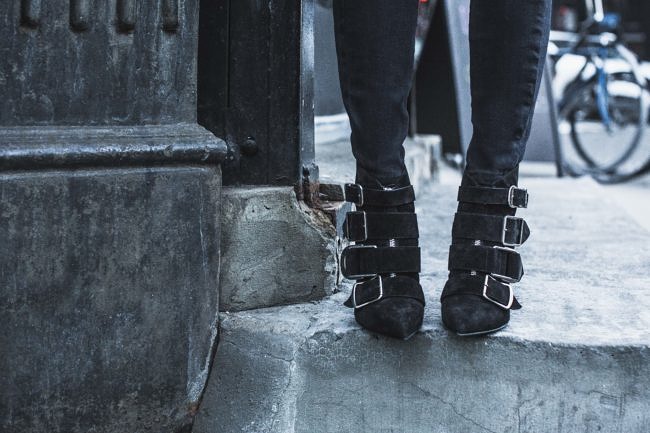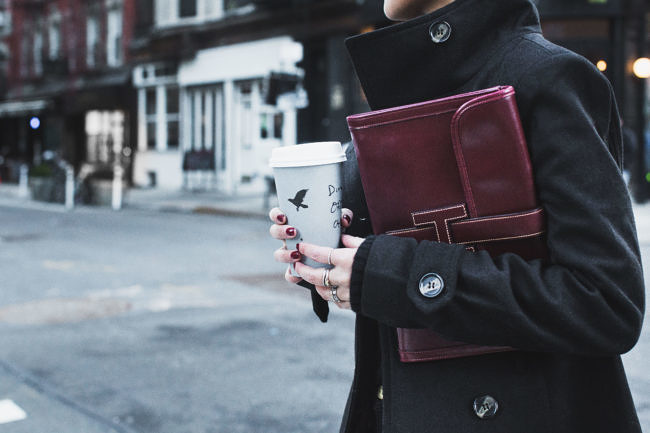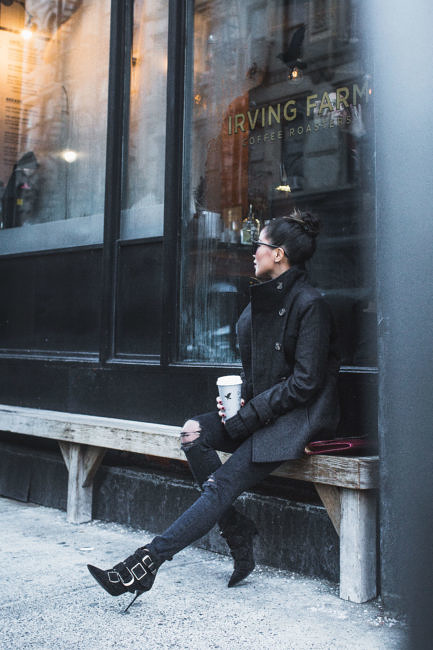 I hope you enjoyed this post! As promised, I will feature more hero pieces under $150. Thank you so much for reading and talk to you soon!
Outfit R U F F L E C O A T :: The Fifth Label* ruffle sleeve coat | Topshop* sweater | 7 For All Mankind* jeans | Pedro Garcia sneakers | vintage Hermes bag
Outfit P E A C O A T :: Thread & Supply* peacoat | French Connection* sweater | Topshop* distressed jeans | vintage Hermes clutch | Burberry boots
*for all items under $150
(function() { window.PinIt = window.PinIt || { loaded:false }; if (window.PinIt.loaded) return; window.PinIt.loaded = true; function async_load(){ // Facebook //load_js('connect.facebook.net/en_US/all.js#xfbml=1');
// Pinterest load_js('assets.pinterest.com/js/pinit.js');
// Twitter load_js('platform.twitter.com/widgets.js'); } jQuery(document).ready(async_load); })();