A skincare routine is just that… a routine. I'm so adamant about mine, I can pretty much complete the steps on autopilot (even when I'm half asleep)!
While my routine has evolved over the last few years, there are a couple of key habits that stay constant and some new ones too! Keep scrolling to discover 10 easy steps you should add to your routine!
1. Double Cleansing
I've been double cleansing for years now. It's single-handedly the most effective way to ensure that all of your makeup is really off. I start with an oil cleanser or a cleanser balm before moving on to a cleansing face wash. It might seem like overkill, but I promise after you do this just once, you'll be amazed at just how much gunk you got off your skin! Thank me later, k?
2. Clay Mask
I do a clay mask 1 to 2 times a week. I have slightly oily/combination skin so this is a really important step for me to do to control my sebum production. I really enjoy this clay mask from Charlotte Tilbury! It's a lot lighter than most clay masks I've tried plus it's easy to remove so that means little to no clean up!
3. Over Night Mask
I give my skin some extra hydration with an overnight mask at least twice a week. I also swear by them on long haul flights! It really gives you the moisture your skin needs when you're feeling dehydrated. I love the Suhlwasoo Overnight Mask as well as this Amore Pacific Moisturizer that doubles up as a sleeping mask!
4. Mild Peel / Glycolic Mask
I stopped doing my peels and glycolic masks once I was pregnant and breastfeeding, but I can't wait to start using them again. Peels are a little more intense for your skin but always leaves it brighter than it was before. I love using the Drunk Elephant Baby Facial! It burns a little at first but it quickly goes away. I used to do a peel like this at least once a week.
5. Face Scrub
A good scrub can do wonders for your skin. It's great to get rid of any dead skin buildup and leaves your face feeling super smooth. I've been using the Summer Friday's Overtime Mask. It works as a light scrub or you can layer it on as a mask. The scrub is very gentle on the skin and I'm obsessed with the scent! I was also able to use it throughout my pregnancy which was amazing.
6. Oil
I always tell people that if you don't have enough time to do an entire 10 Step Skincare Routine, make sure to at least cleanse and add an oil! Oils are incredibly nourishing and moisturizing for your skin. Not a day goes by when I don't use a face oil in my routine! I'm currently loving the Vintner's Daughter Oil which you might remember me talking about in this post here!
7. Rolling
Face rollers are a skincare staple for me now. There are lots to choose from, but no matter how you do it, they're a great way to wake up your face and de-puff any puffiness! I'm currently using this one from one of my favorite estheticians, Joanna Czech!
8. Scalp Brush
This scalp brush is a new part of my routine as I recently discovered it- you might remember me talking about it in this post here! It's already made a huge difference in my hair. I now brush my hair in the shower using this specific hairbrush and it gives my scalp a light massage while helping to get rid of excess oil. It seriously feels so amazing. Another great way to give your hair some love is to use a hair mask… this one here is the one I'm using right now and it's especially great for those of you that have dry or frizzy hair.
Anti-pollution Cosmetics – a New Player on the Beauty Field
9. Body Scrub
Just like the skin on your face, your body can build up dead skin cells and start to look dull after a while, especially during the winter where we tend to be more dry. So every few weeks, I'll give my whole body a good scrub down. Of course, getting a scrub down at a Korean spa is a whole different story but using an at-home scrub like this one by Frank Body is amazing. Did I mention it's under $10?
10. Take Your Vitamins
As funny as it sounds, vitamins are an integral part of my skincare routine. It's just taking care of my skin from the inside out! Of course, it's smart to double check with your doctor before starting to take any supplements- especially if you're breastfeeding or pregnant. To check out my favorite beauty supplements, check out this post here!
READ MORE How Do You Add Hyaluronic Acid to Your Skin Care Routine?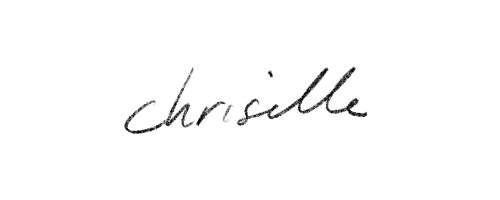 Photography by Karla Ticas
Robe: Lunya | Earrings: Catbird | Headband: Amazon
First appeared on thechrisellefactor.com