4 The Most Delicious Veal Recipes. Veal is the meat of a 4-5 month old calf. It tastes more refined than beef very tender and juicy. Recipes for cooking dishes from this meat can be simple, but at the same time festive.
Veal with oranges and sweet pepper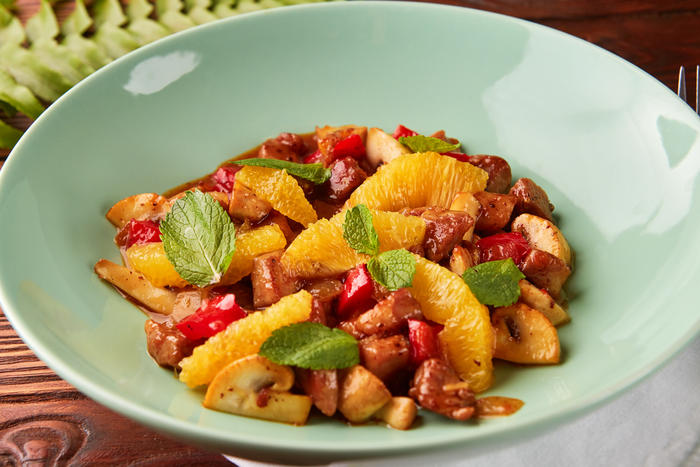 Take 600 grams of veal, 2 tablespoons of soy sauce, 2 sweet peppers, a teaspoon of grated orange peel, 125 ml of orange juice, one and a half teaspoons of grated ginger root, one and a half teaspoons of corn starch, 2 oranges.
Cut the meat into thin strips of 2 cm long, put in a bowl and pour soy sauce. Mix thoroughly and leave to marinate for half an hour. Wash the peppers, remove the seeds and cut into strips 0.5 cm wide. Wash the green onions, cut into 3 cm slices. In a large wok, heat a tablespoon of oil, put the chopped pepper and fry, stirring, for 4 minutes. Transfer to a bowl. Fry the onions in the same pan for a minute. Transfer to a bowl of peppers. Pour the remaining oil into the wok, put the meat and fry for 3-4 minutes. Add to a bowl of vegetables. In a wok, mix the orange zest and juice, ginger, corn starch and warm for 2-3 minutes, then return the vegetables and meat to the pan. Peel the oranges, cut in half and cut into thin slices. Add to the pan and cook, stirring constantly, for 2 minutes. Add sugar to taste.
Veal with Cherry Sauce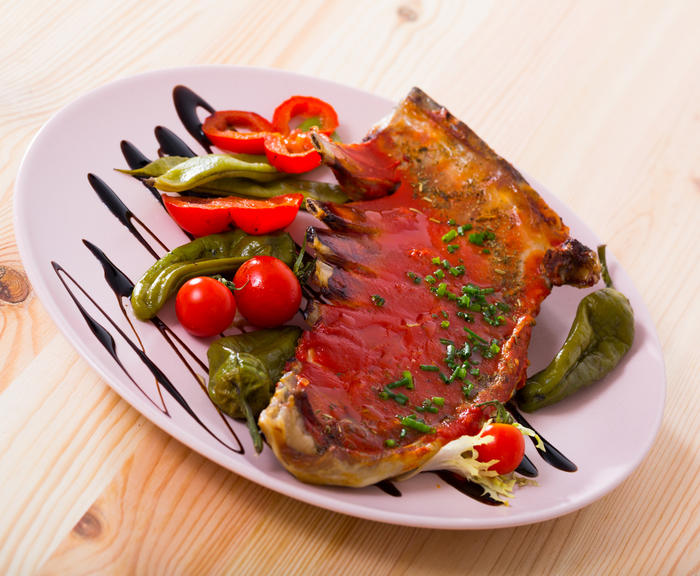 You will need 240 grams of veal, 40 grams of red dry wine, 40 grams of cherries, vegetable oil to taste, cherry tomato, 50 grams of pear, sugar to taste, butter to taste.
Pour wine into a saucepan and evaporate a portion. Add cherries to the wine and cook until thickened. Put the meat on a heated grill and fry it on both sides until golden brown. Bring the meat to readiness in the oven at a temperature of 180 degrees. Cut off a portion of the pear and peel it off. Put a slice of pear in a pan with melted butter, sprinkle it with sugar and fry until golden brown. Put the finished pear on a plate. Put the cooked veal on top and pour the dish with cherry-wine sauce. Add cherry tomatoes for the decor.
Veal ossobuco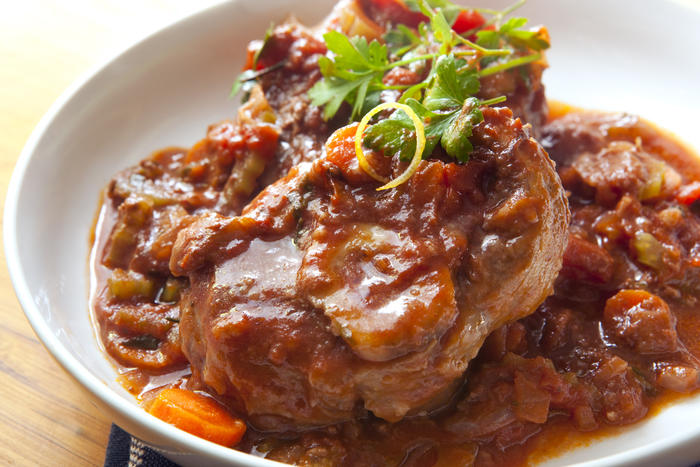 Prepare carrots, 2 heads of onions, 3 stalks of celery, 6 tablespoons of vegetable oil, 3 cloves of garlic, salt and pepper to taste, one and a half kilograms of calf shanks, 2 tablespoons of flour, 500 grams of tomato, a bunch of herbs, 100 ml of white dry wine , and a half cups of meat broth, 2 bay leaves.
Peel the carrots and onions, cut into cubes with celery. Fry in vegetable oil (3 tablespoons) until golden brown. Add thinly sliced ​​garlic at the end. Salt and pepper. Wash the pots, cut off the excess fat and cut into transverse slices of medium thickness. Roll the meat in flour and fry in the remaining vegetable oil until golden brown. Transfer meat to vegetables. Dip the tomatoes in boiling water for a minute, carefully remove and chop finely. Grind greens. Pour the wine into the pan where the meat was cooked and boil it for 5 minutes. Add the broth, tomatoes, bay leaf, herbs and seasonings. Stew for another 5-10 minutes. Add veal with vegetables, if necessary pour in some more broth. Cover and simmer over low heat for one and a half to two hours.
READ MORE Thai Turkey Meatball Soup – The Petite Cook
Veal in creamy mushroom sauce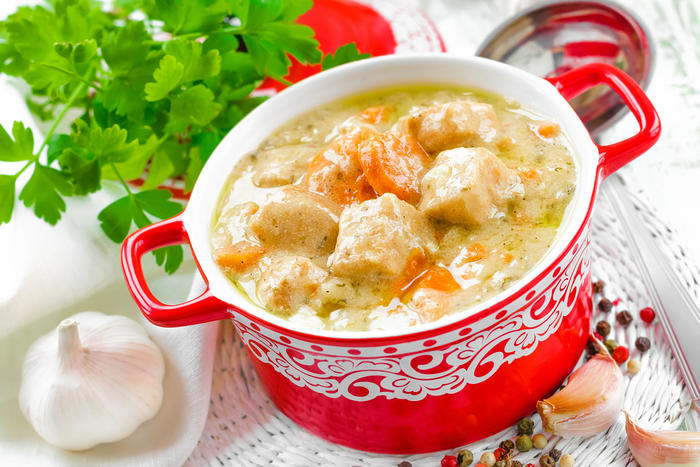 Take 400 grams of veal, salt and pepper to taste, 300 ml of cream, onion, 4 grams of nutmeg, 30 grams of butter, 100 grams of mushrooms, a clove of garlic, 40 grams of flour.
READ MORE Bright-Pink Beet Hummus Recipe in 5 Minutes! Try it!
Cut the veal into long strips. Dry the meat with a paper towel and fry in butter. Lightly salt. Remove the pan from the heat and place in a warm place. Finely chop half the onion, a clove of garlic and one medium white mushroom. In a small saucepan, fry the onion and garlic in butter until transparent. Pour two tablespoons of flour into the onion and carefully grind with a wooden spatula. Pour in the cream and mix everything thoroughly so that there is not a single lump. Add salt and freshly ground black pepper. If the sauce is too thick, add boiled hot water. Add mushrooms and mix thoroughly. Sprinkle a pinch of ground nutmeg in a pair. Cook on low heat for five minutes, stirring constantly. Pour the sauce into the meat. Shuffle. The consistency of the sauce should be like sour cream. Remove from heat and hold under cover for 10 minutes.
featured image credit: unsplash.com
READ ALSO Delicious Turkey Burgers with Grilled Pineapple Recipe