7 Smoothie Recipes To Boost Immune. In the cold winter, the close connection between nature and man is especially felt. Like plants hibernating in the cold and damp, the human body also becomes weakened and loses its protective properties. Lack of fatty acids, a decrease in the immune system, results in frequent colds.
To maintain health, to avoid disease, doctors prescribe vitamin complexes and supplements. And you can take care of yourself and introduce into the diet the reception of irreplaceable utilities.
The usefulness of vitamin smoothies
A thick fruit drink (smoothie) is a great way for a tasty and wholesome breakfast or a very good snack during the day. Its great benefit is in saturating the body with a vital elixir in the autumn period, when the human body is subject to vitamin deficiency.
Probably, everyone knows the fact of the need for daily intake of fresh fruits, vegetables, berries and herbs to maintain internal and external health. But raw and tasteless food bored pretty quickly. The presence of a blender can save the situation and throw a couple of interesting ideas for a real vitamin bomb for a hearty meal. Recipes of the most delicious and beneficial smoothies – further in our material.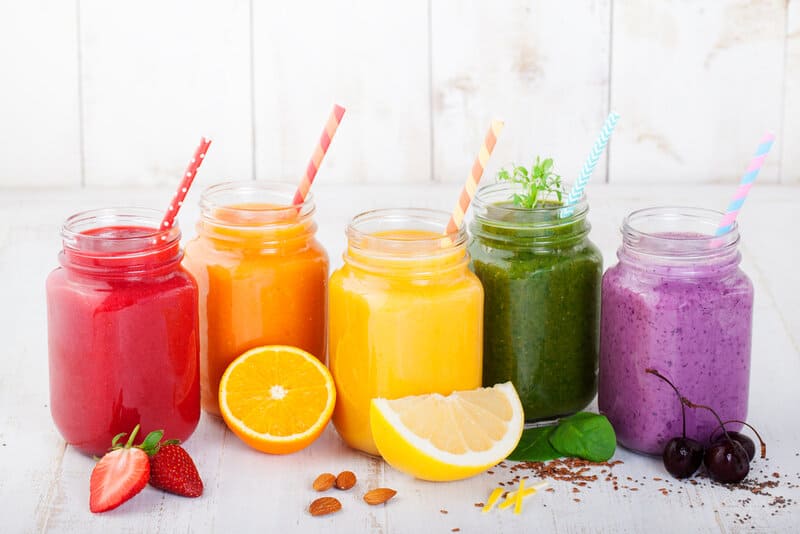 There are numerous and varied recipes for maintaining an organism in any condition. An additional dose of goodies can be obtained from a green smoothie, which includes kiwi, spinach and celery. The lack of protein is made up for with a drink, mixing banana, oatmeal and peanut butter, or a spoonful of protein powder is added. Caught a cold? Take advantage of the beneficial properties of ginger, fruits and berries that are rich in vitamin C and antioxidants. To increase immunity, you should pay attention to the following recipes.
Vitamin C Immunity Smoothies
Vitamin C is taken to prevent colds. A booster cocktail with carrots and orange with antioxidants will help overcome the overtaking ailment.
Ingredients:
half peeled orange;
two carrots;
glass of water;
Apple.
It is necessary to mix all the components until smooth.
Smoothies – Antioxidant
The magic mixture allows you to strengthen the immune system with the help of the contained ingredients and the presence in them of substances that trigger the human body:
Vitamin D – in Greek yogurt;
fiber, protein, antioxidants – spinach;
Vitamin C, D, B6, and B12 – Kiwi
omega – 3 – flaxseed;
berry mix – a significant portion of vitamins C and D.
True, a great combination? Making smoothies is easy.
Ingredients:
kiwi, orange – 1 pc.;
100 g spinach;
half a glass of pineapple slices;
two tbsp. l ground flaxseed;
a glass of Greek yogurt;
a glass of any berries, you can frozen;
half a glass of water (optional).
It is necessary to mix all the components into a homogeneous mass.
Carrot and Ginger Immunity Smoothie
A restorative, astringent-sweet drink, full of substances that have a beneficial effect on the body. The combination of ginger, pineapple, turmeric, lemon and carrots creates an excellent taste and gives great benefits. It has a significant number of benefits related to a positive effect on the digestive system and skin beauty thanks to a natural antibiotic and vitamin C.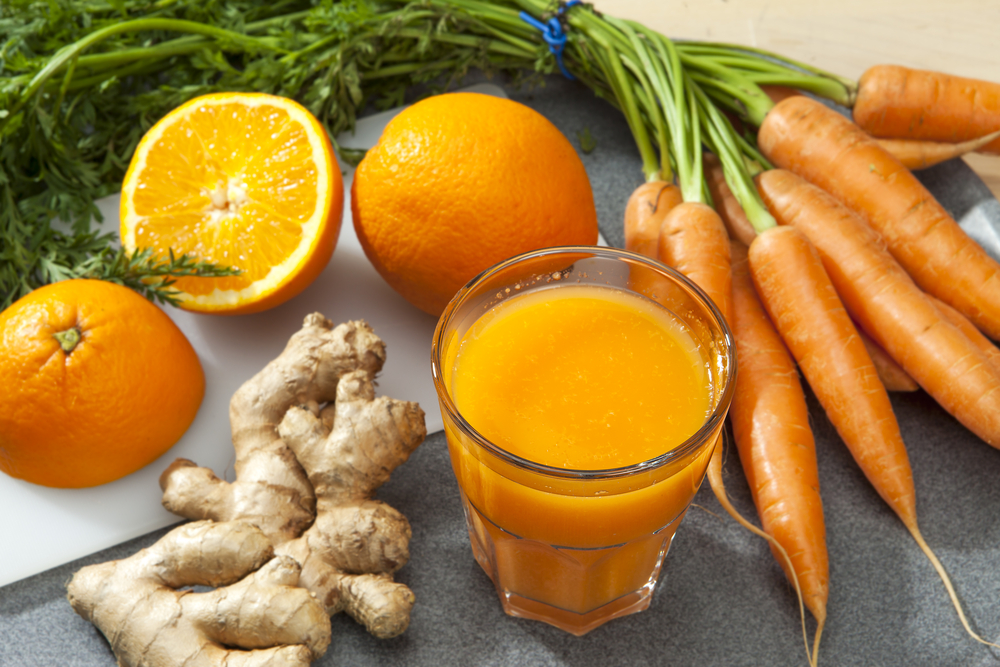 Ingredients:
banana;
half a glass of frozen pineapple;
half of Art. tablespoons grated grated;
1/4 teaspoon turmeric;
2 carrots;
half a glass of water;
Art. a spoonful of lemon juice.
All components must be mixed in a blender until smooth. You can add more water as you wish.
Immune Berry Multi Layer Smoothie
The recommended daily intake of vitamin C is found in kiwi. Fruit is an ideal base for a health smoothie. If you put strawberries, raspberries, blueberries and orange juice there, you will get an incredibly tasty and healthy triple cocktail.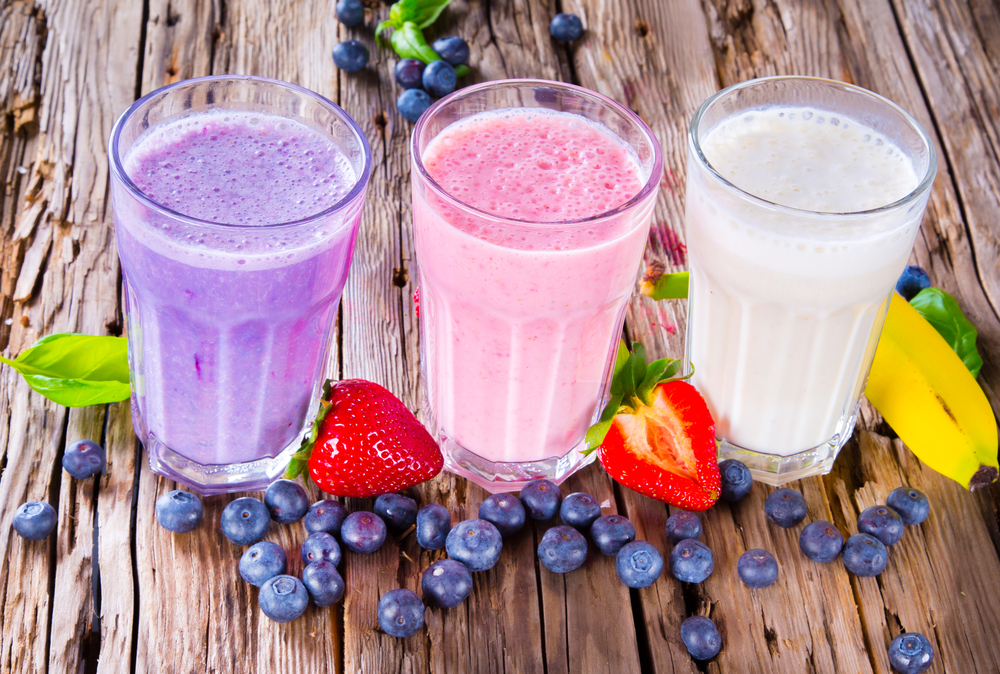 Ingredients:
frozen strawberries – 1 cup;
frozen raspberries – 3/4 cup;
frozen blueberries – 1/2 cup;
Kiwi – 2pcs. to peel;
Fresh orange juice or water – 1 cup.
Stir the resulting fruit mixture in a blender.
Kefir and oatmeal – healthy smoothies
Bored banal oatmeal for breakfast can be replaced with a delicious smoothie with no less benefit than porridge. The following components should be prepared:
100g-150g oatmeal;
bananas – 1 pc.;
200 g of kefir;
pears – 1 pc.
Peeled and sliced ​​banana, washed and free from peel and sunflower seeds, the pear is ground in a blender with the addition of oatmeal. Then you need to pour kefir and beat thoroughly.
You can take more oatmeal, the drink will be more satisfying. If the mixture poured into a glass seems too thick, you can dilute it with kefir.
Strawberry Recipes
Everyone knows that digestion affects immunity. Constant stress, poor nutrition – the cause of bowel problems. A delicious recipe will help get rid of heaviness in the stomach.
200-250 grams of yogurt without additives of any fat content, mix 100 g of strawberry or blueberry berries in a blender, add one or two tablespoons of flax seeds and beat well.
Pour the finished mixture into a container and decorate with berries. With the help of such ingredients, probiotics and prebiotics contribute to the normalization of intestinal microflora.
Superrrr Energy-boosting Mixed Berry Smoothie Recipe
Evening smoothie
A special feature of night drinks is the complete absence of fruit additives and berries. Their base is greens and vegetables. Sugar can increase insulin in the blood, which causes diabetes and overweight.
To do this, you will need:
30 g spinach;
15 g of greens;
30 g avocado;
10 g of spirulina;
100 ml of almond milk;
5 g of flax.
Mix the components using a blender and serve in a tall glass. It is better to take an herbal cocktail a couple of hours before bedtime, not later.
Spirulina contains enzymes, amino acids and numerous vitamins. Flax is a storehouse of unsaturated fatty acids and other valuable elements, so you should include them in your recipes.
Wellness is about taking care of your health. The right way of life is, first of all, good nutrition. Wonderful, delicious smoothie recipes will help diversify your daily diet. Flavored drinks will relieve the deficiency of minerals. The vitamins and antioxidants contained in them will give a person a large amount of positive energy, and will contribute to an increase in working capacity and activity.
Do you like smoothies? What is your favorite recipe? Share it with us in the comments!
Featured image credit: unsplash.com
READ ALSO What Superpowers Does A Pumpkin Have For Your Health? Pumpkin Smoothie Recipes
READ MORE For a Tasty Diet: Simple Recipes Smoothies For Weight Loss