This post is in partnership with Samsung. All thoughts and opinions are 100% my own. Thanks for supporting collaborations we're excited about and that have kept Apartment 34's doors open.
While I still might a have a bit of holiday shopping left, I'm so ready to put up that out of office message and settle in for a long winter's nap. Anyone else with me?? Thankfully, we don't travel during the holidays. But with a toddler and no babysitters in sight we don't do much either. This year, I don't mind one bit. Our house is finally, finally, finally coming together (did you catch this major sneak peek?). So this Christmas I'm fully embracing my homebody ways – especially now that I can tuck into my favorite holiday movies without a behemoth of a TV taking over my living room.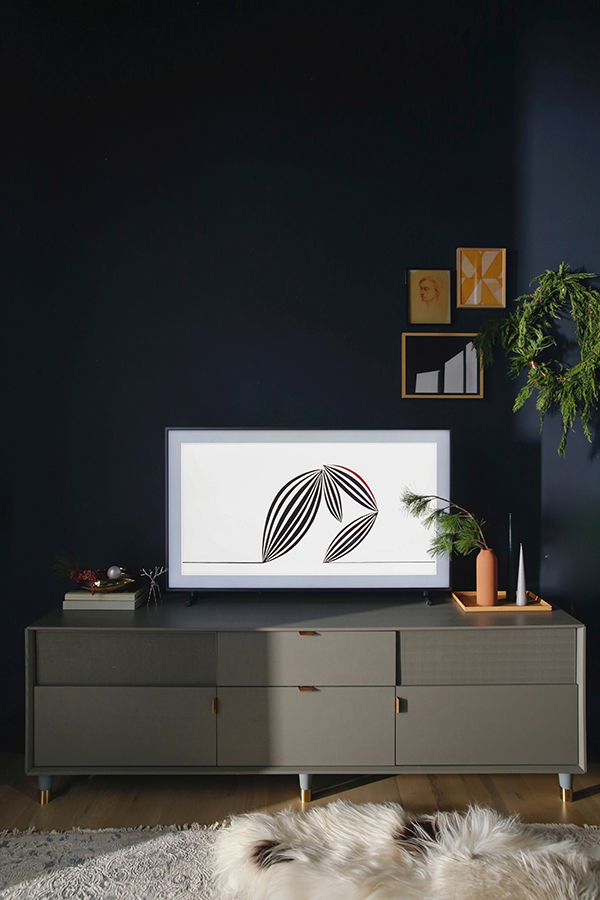 Yup, that gorgeous piece of art taking center stage over my credenza is, in fact, the Samsung Frame TV. This is a TV made for us – the design obsessed, aesthetically-minded out there (no shame in that game). Created in collaboration with designer Yves Béhar, the Samsung Frame is the most beautiful TV you've never seen (catch that pun!). The Frame challenges the traditional black box TV by integrating a beautiful design with the high-quality display we expect these days, especially my tech-obsessed husband. Its customizable frame has the flexibility to perfectly complement any space, with three bezel options in wood, white or metal (mine is metal).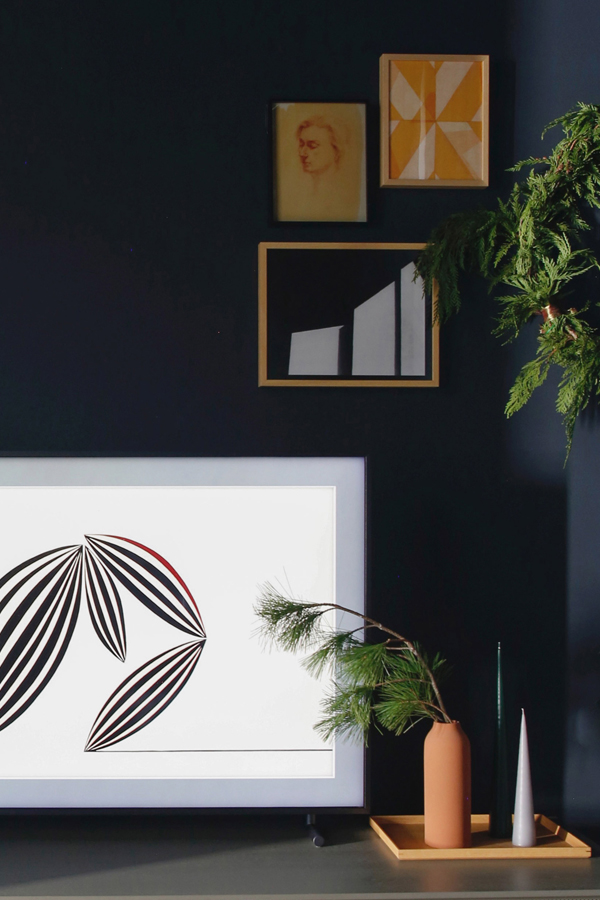 The Frame transforms into a beautiful work of art when you're not watching TV by displaying a gallery of 100 professionally curated pieces of art from different genres. I love how the line drawing I chose pairs so nicely with my prints from Minted. It totally goes with my pseudo-Scandi holiday vibe. You can also upload and display your personal photographs of family and friends if you prefer. One of my favorite features is The Frame's Brightness Sensor. It allows you to enjoy your art in any lighting, automatically adjusting the color and brightness to the ambient light in the room. The art always looks natural regardless of where it is or what the time of day. It's a perfect feature for our moody living room (deets about the room are here).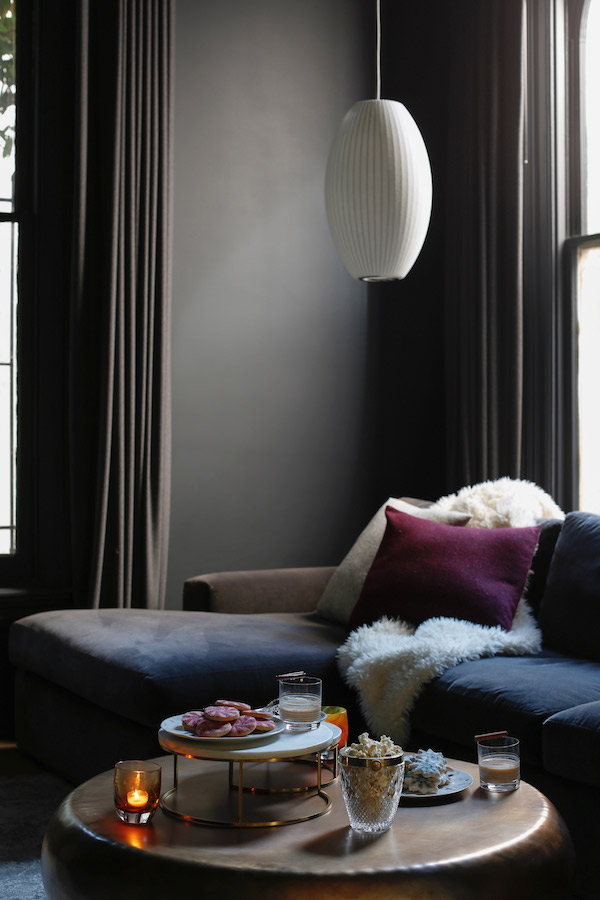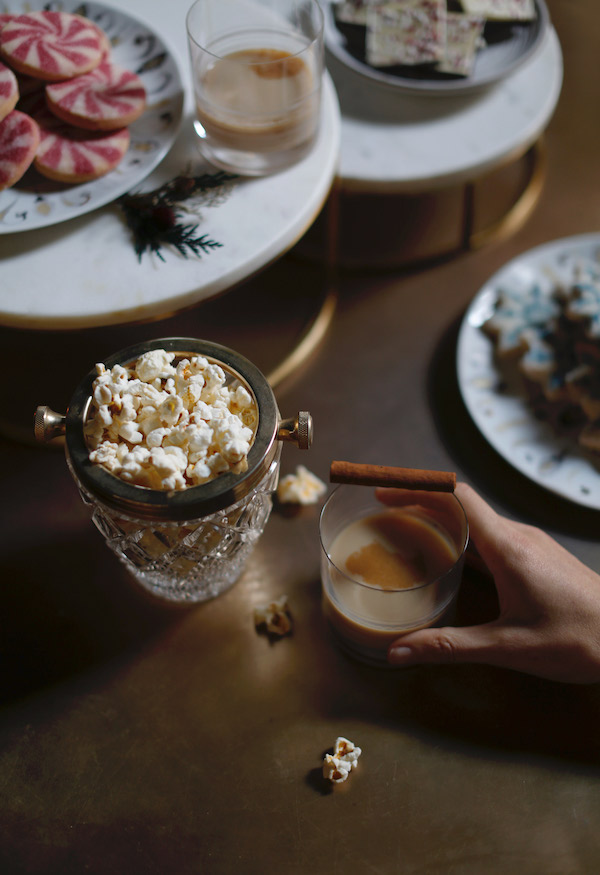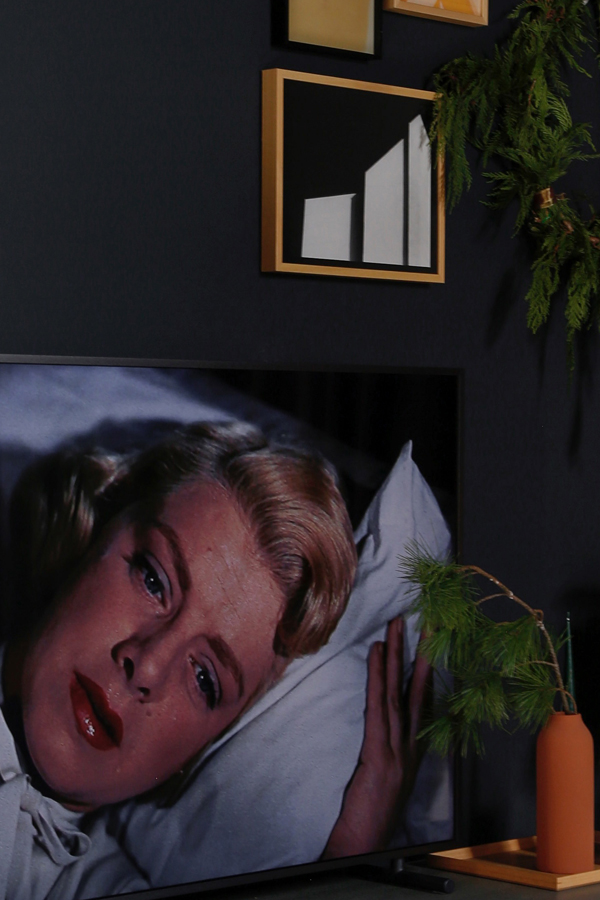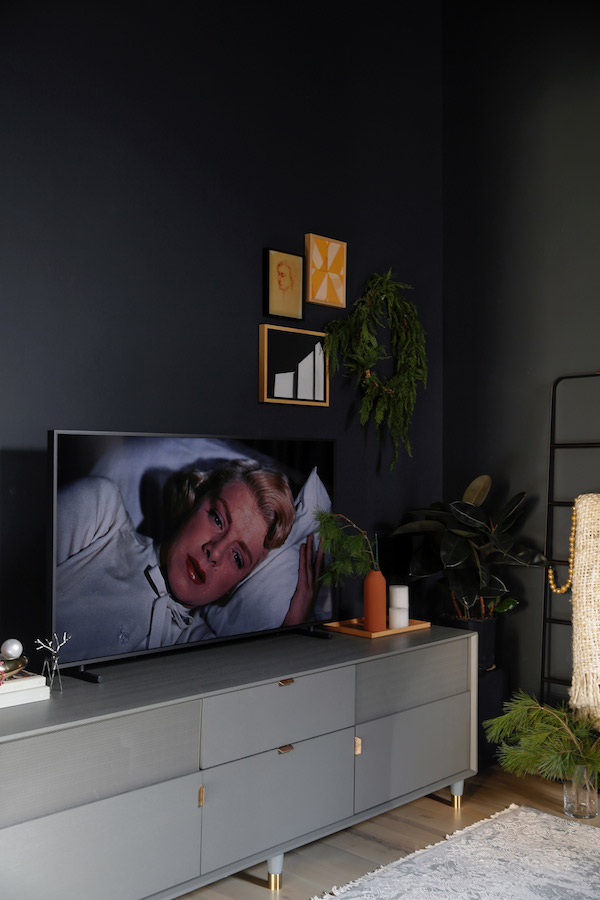 Now that we have The Frame, I love curling up on our sofa with a few Christmas treats and a favorite holiday movie for at-home date nights. While the two-year-old sleeps, we indulge in oatmeal cookies (the liquid kind – details here) and a different movie each night. Required viewing includes White Christmas – love me some Bing Crosby and Rosemary Clooney – and The Holiday, Love Actually, The Family Stone and Elf. There are the Harry Potter movies too (fellow nerds out there??). Regardless of what we're watching, the picture looks great thanks to the lifelike, crisp picture in 4K HDR Pro, which has amazing rich color and contrast with four times more pixels than full HD. That pleases the husband to no end (I think I can tell the difference). But I'm really thrilled that when TV Mode is off and Art Mode is on, the toddler has no idea there's even a TV on the wall. To him, it's just another piece of art. Now that's a Christmas miracle.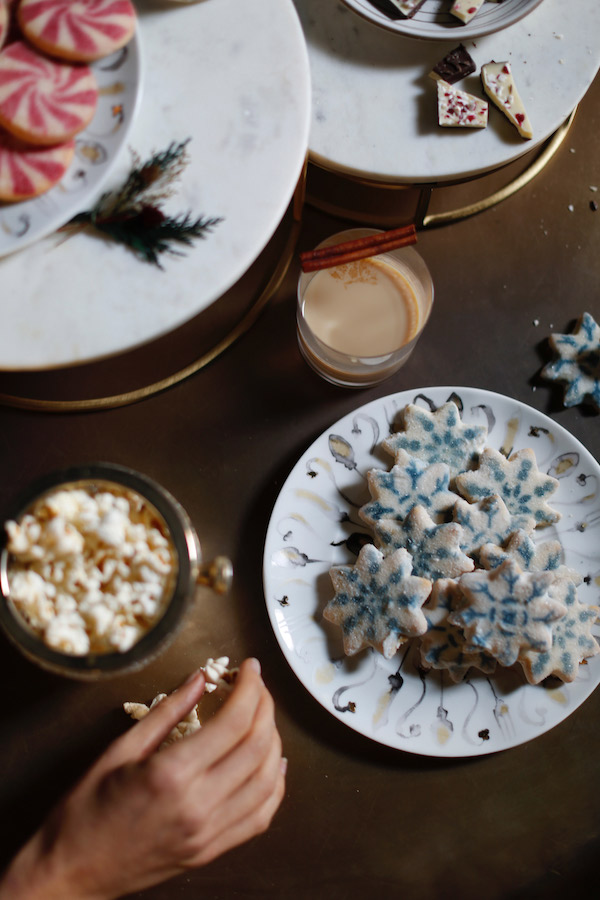 I'm curious – what are some of your favorite holiday movies? Old classics? Current movies? I still don't get the tradition of watching Die Hard at Christmas. Can someone please explain it to me? I could add one or two new movie nights to our rotation. I'll take any excuse to cuddle on the couch from now until 2018.
photography by leslie santarina
The post Have Yourself a Cozy Little Christmas appeared first on Apartment34.