How to cook legendary Marseille soup. Step-by-step Recipe. Translated from French, "bouillabaisse" means "slow cooking." The soup should be cooked for several hours, then it will turn out thick and rich, and the strong broth will absorb all the shades of taste.
Classic recipes are considered Marseille and Norman. IN Norman Buyboys potatoes are added, while in Marseille, the dish is cooked exclusively from seafood. How to cook this legendary Marseille soup, you will learn from this recipe.
Ingredients:
Sea bass fillet – 500 g
Mussels – 300 g
Tiger prawns – 300 g
Tomatoes – 1 kg
Onions – 1 piece
White portion of leek – 1 piece
Garlic – 2 cloves
Fennel – 1 piece
Chopped parsley – 2 tablespoons
Orange zest – 1 teaspoon
Fresh thyme – 1 tablespoon
Bay leaf – 2 pieces
Olive oil – 5 tablespoons
Saffron – a pinch
Cooking method:
Pour boiling water over the tomatoes for 30 seconds. After draining, rinse, peel and chop.
Heat 2 tbsp. l oil in a large pan, sauté onions, garlic, leeks, fennel and parsley for 5 minutes until soft.
Add tomatoes, orange zest, saffron, bay leaf, thyme and 600 ml of water. Bring to a boil. Season and cook for another 20-25 minutes.
Cut the fish fillet into identical pieces, add to the pan. Cook over low heat for 2-3 minutes, without stirring.
Add the mussels and shrimp, cook another 5 minutes, until the mussels open (throw away all that do not open), and the fish will not break easily.
Then get the fish and seafood, set aside.
Strain the broth through a sieve, keeping all the vegetables, return the liquid to the pan, add the remaining oil and boil for 2 minutes over high heat.
Return the vegetables, fish and seafood to the pan.
How to serve
READ ALSO You Will Never Throw Away Orange Peels After Watching This
Serve Marseille bouillabaisse with garlic croutons (cut the baguette, dry and grate with garlic). A good accompaniment to the soup is white wine. And also often boibes is served with rui sauce, which is spread on toasts.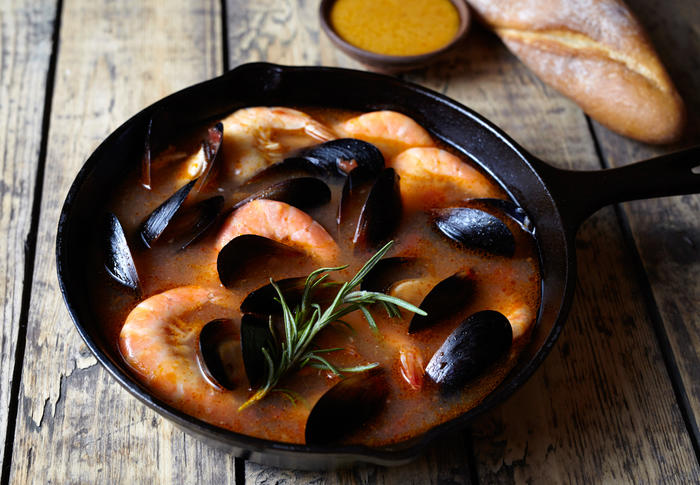 Rui Sauce Recipe
Grind in a blender 2 cloves of garlic, peeled and crushed with 3 tbsp. mayonnaise, 1 tablespoon ground red pepper and 1 tablespoon tomato paste. Season to taste.
Bon Appetit!
Follow "Furilia" on "Intagram" and "Pinterest"!
READ MORE The Most Expensive Seafood In The World: What, where And How Much