IKEA has for the first time published a recipe for famous Swedish IKEA meatballs – now they can be cooked at home, writes Hypebeast. Here's the recipe:
Ingredients for meatballs:
500g ground beef
250g minced pork
finely chopped onion
crushed garlic clove
100g breadcrumbs
Egg
5 tbsp whole milk
salt and pepper to taste
Ingredients for the sauce:
a little sunflower/olive oil
40g butter
40g wheat flour
150 ml vegetable stock
150ml beef stock
150ml fat cream
2 teaspoons soy sauce
1 teaspoon Dijon mustard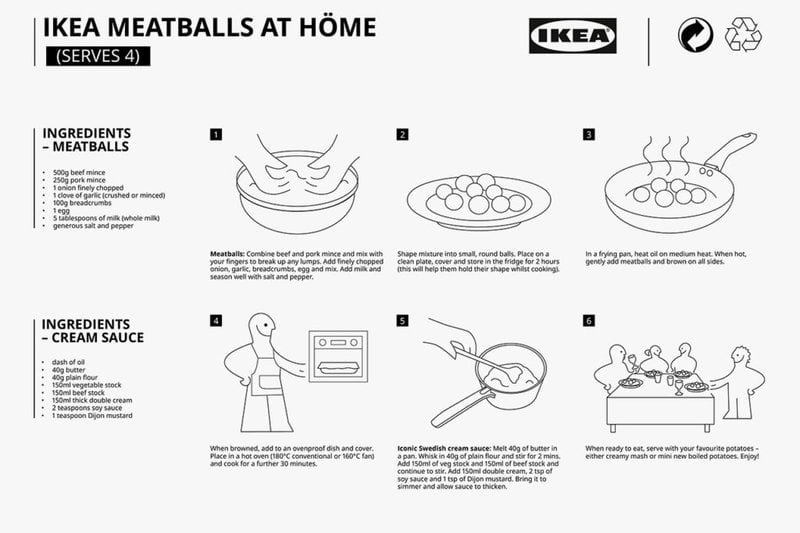 Mix the beef and pork mince, then add the chopped onion, garlic, breadcrumbs, egg and stir until smooth. Add the milk, salt and pepper.
Now from mince you need to roll small round balls. Put them on a plate, cover and refrigerate for two hours – this will help them keep in shape while cooking.
Pour a little oil into the pan. When it is heated over medium heat, gently lay out the meatballs and evenly fry them on all sides.
Heat the oven to 180 degrees. When the meatballs are covered with a crust, place them on a baking tray and place in the oven for 30 minutes.
Time to cook Swedish cream sauce. Melt the butter in a frying pan. Add the flour to the ghee and stir for two minutes. Then add the vegetable and meat stock and continue to stir. At the end add the cream, soy sauce and mustard. Bring to the boil and let the sauce thicken.
It is best to serve meatballs with potatoes.
Stay healthy!
READ ALSO YUMMY KETO MEATBALLS ITALIAN RECIPE
READ MORE BAKED SWEET AND SOUR MEATBALLS