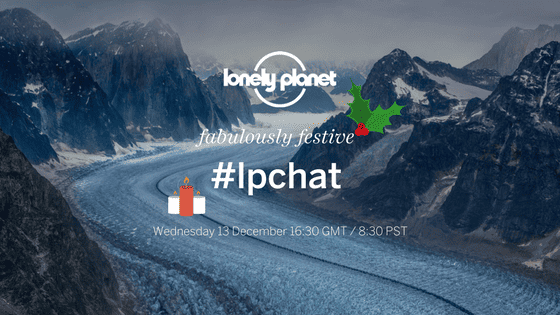 We're well and truly knee-deep in the time of festive cheer, peace on earth and goodwill to all men. How this merriest of seasons is celebrated however, varies the world over. In December's #lpchat on Twitter, we're talking all things Christmas traditions, seasonal travel and worldwide festive celebrations – where are you spending the holiday season this year? Which Yuletide customs could you not be without? What food gets you in a merry mood?
Whether you're celebrating Christmas, Hanukkah, Kwanzaa or just getting generally festive, we'd love to hear about it! Bring your best festive pictures, anecdotes and tales, and we'll see you there on Wednesday 13 December from 4:30pm GMT / 8:30am PST.
Our favourite tweeter will win a free copy of our Best in Travel 2018 to help plan their new year's adventures!
How do I take part?
Follow @lonelyplanet and the hashtag #lpchat on Twitter on Wednesday 13 Dec at 16:30 GMT / 8:30 PST.
Questions will be ordered Q1, Q2, Q3 etc. To answer Q1, begin your tweet with A1. For Q2, A2 and so on.
Add #lpchat to all of your tweets during the Twitter chat, so others (including @lonelyplanet) can see what you're saying.
Bring your best travel tips, pics and ideas (and festive spirit!)
Terms & Conditions: Entrants must be 13 years old or over. Judges' decision is final. Promoter: Lonely Planet Publications Ltd of 240 Blackfriars Road, London, SE1 8NW. The winner will be notified via direct message on Twitter. The winner must claim their prize and provide an address for delivery within 7 days of being notified, otherwise the judges may select another winner. Prize: one copy of Lonely Planet's Best in Travel 2018 in book or eBook format, valued at £9.99/£6.99.