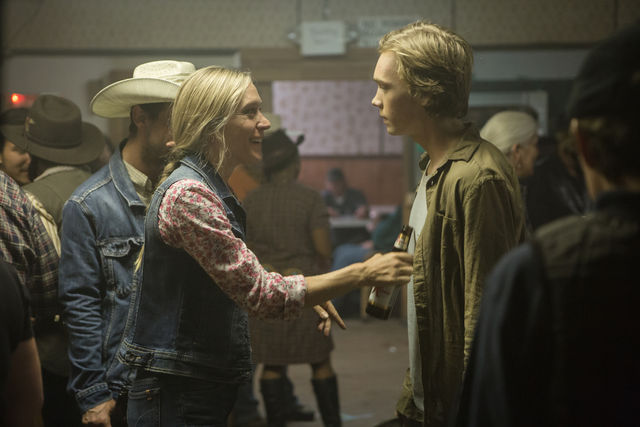 Lean On Pete is in some ways a familiar road trip story — with a horse. When the film, directed by Andrew Haigh, opens, we see 15-year-old Charley (Charlie Plummer) go for a run, pass some horses, and return home to his father Ray (Travis Fimmel). The pair eat breakfast served by Ray's new — married — girlfriend (Amy Seimetz). As we see Charley snatch up the last sausage and then go out for another run as his father leaves for work, we realize that this isn't just a story about a boy and a horse, it's also a story about poverty. Living in a small, mostly unfurnished house in Oregon, Charley and his father are fending for themselves on very little money and very little food — which means that Charley is mostly surviving on cereal, stored inside the refrigerator to keep it away from the roaches. During the day, while his father is away at work, Charley has nothing to do, so he runs.
When Charley meets cantankerous horse racer Del (Steve Buscemi) and gets a job as an assistant of sorts, the job changes Charley's life in for several ways. It gives him something to do with his day; it gives him money to buy much-needed groceries for himself and his dad; and it lets him connect with the horses, especially aging racehorse Lean On Pete — Pete for short. As Charley gets closer to Del and his jockey Bonnie (Chloë Sevigny), he learns that Pete's days are numbered: when he stops winning races, he'll be sent to Mexico for slaughter.
When a violent tragedy separates Charley from his father, Charley takes Pete and sets out in search of his aunt in Wyoming, who he hasn't been in touch with in several years. Charley makes friends (and one enemy) in a series of encounters along the way. We see him meet a grumpy but ultimately warmhearted waitress; a group of young veterans; a young woman whose grandfather berates her because of her weight; and a seemingly-friendly homeless man and his girlfriend. Most of these encounters are a little too neat; the story is at its best in the first half, when it focuses on Charley's relationship with Del, Bonnie, and his father.
It's hard to watch Lean On Pete without thinking of how different this story would be if Charley were a young woman or a person of color: almost all the strangers he meets are eager or at least willing to help Charley, and twice, Charley is stopped by the police but is able to simply walk away because they're hardly paying attention to him. Still, it's rare to see this type of poverty portrayed onscreen, and Lean On Pete does so effectively, thanks to a stellar performance from Plummer. 3/5
More from BUST
"Gemini" Is The Female-Led Murder Mystery You've Been Waiting For
"Roxanne, Roxanne" Is A Joy For Hip-Hop Heads
Why I Needed "A Wrinkle In Time"

Erika W. Smith is BUST's digital editorial director. You can follow her on Twitter and Instagram @erikawynn and email her at erikawsmith@bust.com.