Chia seeds, originally from Latin America one of the most popular superfoods.
Superfoods are the roots, seeds, flowers, algae, berries, leaves and stems of plants that have a high concentration of nutrients that are unique in their properties.
As with every superfood, a beautiful legend is also associated with chia seeds. It is believed that they were one of the main foods in the diet of the Mayans and the Aztecs. It was believed that 1 tablespoon of seeds per day is able to maintain a brilliant physical shape for 24 hours. And traditional doctors treated joint diseases and skin problems with chia seeds.
What are the benefits of chia seeds
They contain about 20% of high-quality vegetable proteins, 34% of healthy fats, 25% of fiber useful for intestinal microflora, and also a significant amount of antioxidants and vegetable calcium, magnesium, zinc and calcium.
Chia actively reduces cholesterol in the body, leads to a decrease in atherosclerotic plaques in blood vessels, normalizes blood pressure, and reduces the risk of stroke and cardiovascular diseases.
This superfood brilliantly removes excess water from the body.
How do they "work"
If you soak the chia seeds in water, after a few minutes a jelly-like layer forms around each grain. When such a gel with the beneficial chia seed inside gets into the stomach, a barrier is created between the digestive enzymes and the food they eat. This contributes to the slow conversion of carbohydrates into sugars, and this allows you to maintain low blood sugar levels for a long time.
READ 7 MOST SPECTACULAR OUTFITS OF THE GOLDEN GLOBE -2020
Chia Oat Pudding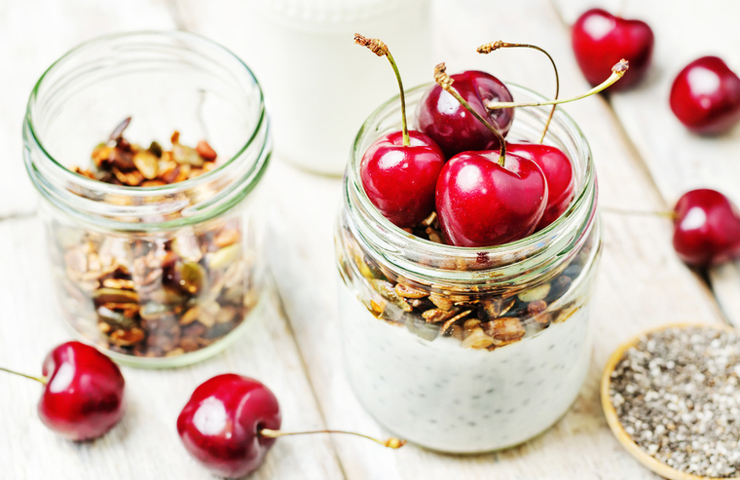 Ingredients:
Chia seeds – 2 tbsp. l
Almond milk – 100 ml.
Gluten-free instant oatmeal – 4 tbsp. l
Any seasonal berries – 100 g.
Cooking:
1. Soak two tablespoons of chia in 100 ml of almond milk and leave in the refrigerator overnight.
2. Pour four tablespoons of gluten-free oatmeal with cold, clean water. Throw the oatmeal into a colander, so that the glass is all water.
5. Remove the seeds from the berries by cutting them in half.
6. To collect dessert, put oatmeal, chia, oatmeal, chia, and berries on top in a glass.
READ ALSO PROTEIN SUPERFOOD: 7 REASONS TO INCLUDE CHIA SEEDS IN YOUR DIET
Banana Pancakes with Chia and Coconut Caramel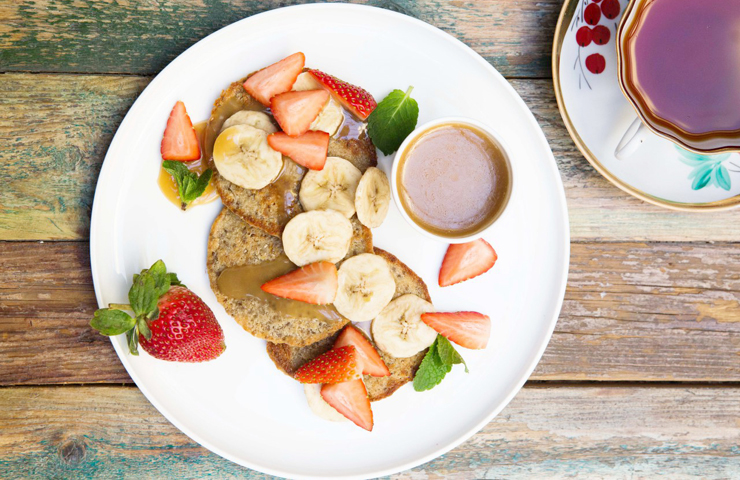 Ingredients:
Oatmeal – 50 g
Banana – 50 g
Maple Syrup – 20 g
Chia Seeds – 10 g
Almond milk – 50 ml
Coconut milk – 100 ml
Cane Sugar – 20 g
Coconut Sugar – 30 g
Pink salt – 5 g
Cooking:
1. Mix the flour, bananas, maple syrup, chia seeds, almond milk and let the dough brew.
2. Cooking caramel. Mix coconut milk with coconut sugar, pink salt and cane sugar. Constantly stirring, evaporate the resulting mixture in a saucepan on fire.
3. When the caramel is ready, we start cooking pancakes: fry in a pan on each side for 4 minutes.
4. Put the finished pancakes on a plate with bananas, sliced ​​in circles, and pour with caramel.
READ VEGAN CHOCOLATE CHIA MOUSSE
Chia Seed Salmon
Ingredients:
Salmon – 500 mg
Chia Seeds – ½ cup
Sesame – ¼ cup
Lemon juice, salt and pepper to taste.
Cooking:
1. Sprinkle fish pre-seasoned with lemon juice and sesame seeds and chia seeds.
2. Lay the pieces of salmon on a baking sheet and bake for 10-15 minutes on each side at a temperature of 180 degrees.
3. Serve with stewed vegetables, spaghetti, rice.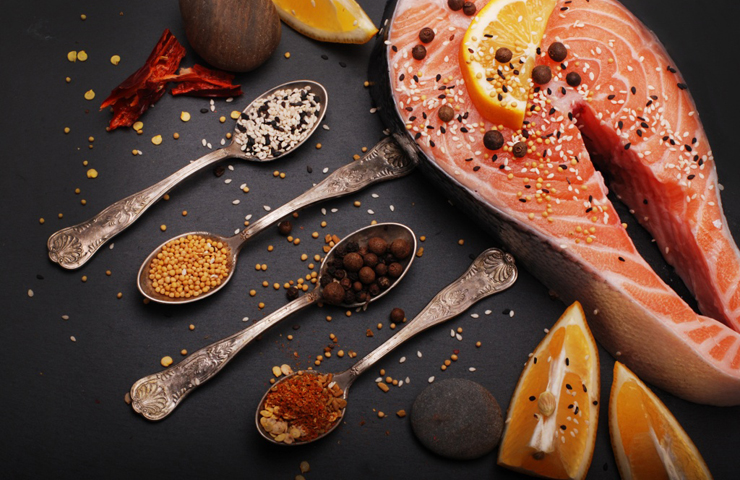 Bon Appetit!
DON'T MISS WHAT SUPERPOWERS DOES A PUMPKIN HAVE FOR YOUR HEALTH? PUMPKIN SMOOTHIE RECIPES
READ MORE STRENGTHEN YOUR MUSCLES WITH NUTRIENTS WHEN YOUR BODY IS AT REST.