"Weightless and melting pleasure!", "It is impossible to tear myself away to the last spoon," – this is the description of those who try it. Light, airy, perfect dessert!
Floating islands (FR. Iles flottantes) – this is the most delicate French dessert, which is prepared from custard and meringue. It is interesting for its original presentation: protein islands float out of custard in the sea.
The dessert is older than the age of the microwave (it was invented earlier), and according to the original recipe, the protein souffle was boiled in milk. That is, it was necessary to form with the help of two spoons lumps of whipped with sugar proteins, then put them in boiling milk, then catch them with a slotted spoon. But if there is a microwave in the house, then this step can be easier.
Therefore, we publish an adapted version, which was created specifically for lazy, in a hurry and terribly busy sweet tooth.
Floating Islands Dessert Recipe
Ingredients:
6 eggs
0.5 liters of milk
A pinch of vanillin or its pod
100 g sugar
40 g powdered sugar for proteins
READ BATTLE OF MALE AND FEMALE COLORS. SEDUCE A MAN AND FORGET ABOUT THE WAR: WHY WOMEN WERE FORCED TO LOVE THE PINK COLOR
Cooking method:
Stage 1. Making custard.
First you need to separate the yolks from the proteins. Next, put the milk, put half of the sugar in it and a pinch of vanillin or a vanilla pod.
The milk must be boiled and boiled for several minutes so that it is saturated with the smell of vanilla.
While milk is being heated, beat the yolks with the second half of sugar until white.
As soon as the yolks are whipped and the milk is heated, pour the milk in a thin stream, constantly stirring into the whipped yolks.
Then this mixture should be put on a small fire, continuing to stir constantly so that the custard thickens. But in no case bring to a boil. You can put a container in which you have yolks with milk in a water bath. Cook for a while, until the custard is of such a consistency that it begins to envelop the spoon.
READ ALSO GENTLE ECLAIRS WITH CUSTARD: A STEP-BY-STEP PHOTO RECIPE!
2 stage. Cooking "Islands"
Beat the chilled proteins (after separation, put them in the refrigerator) with a pinch of salt at medium speed, gradually adding powdered sugar. Beat until firm foam.
Take cups or cookie cutters and spread in them a spoon whipped with powdered sugar proteins. Squeeze the protein foam well with a spoon so that there are no empty places, because the "islands" will not be even and smooth, but "embossed", although also edible.
Then put these cups in the microwave for 30 seconds at maximum power.
If you don't have a microwave, and you want to try such a dessert, try to make it in the classical way (boil in milk) or in the oven.
After 30 seconds, remove the forms with the souffle from the microwave. You can slightly pry them with a knife. Let cool for 5-7 minutes.
And then pour into vases, plates, bowls, etc. custard, and put on top of each floating island.
You can pour melted chocolate.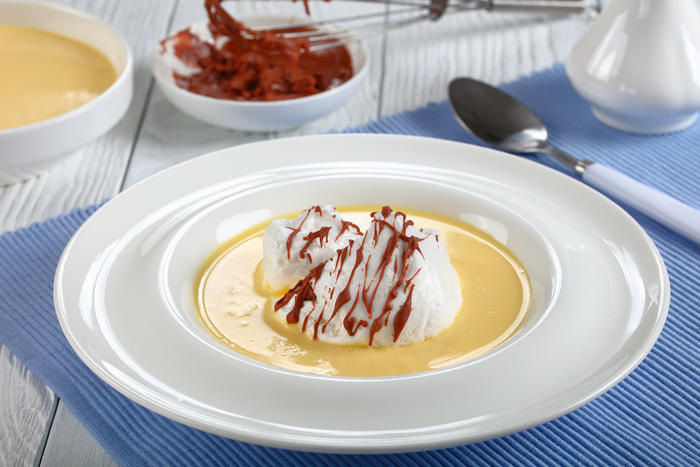 Enjoy your meal!
READ MORE LA BEST LUNCH SPOTS
DON'T MISS ITALIANA LIFESTYLE OR HOW TO DRINK LIKE AN ITALIAN